Stacking jewellery is no longer just for the brave or bohemian. Having been around for a good few years now, there are plenty of different ways to stack your jewellery. Jewellery stacking can be done with rings, bracelets, necklaces or earrings!
Here we share our tips on stacking jewellery with style and give you our take on this jewellery trend.
Stacking jewellery is brilliant in so many ways - first and foremost to make your own jewellery collection versatile without spending a fortune. If you choose pieces that can be mixed, matched and stacked, there are endless style possibilities.
Ranges that can easily be collected and stacked also make brilliant gifts. If you know someone who has a particular stacking range or style, it's super simple to choose a gift you know they will love. Many jewellery brands have stackable options so here are some of our favourites.
Annie Haak stacking bracelets
Annie Haak is famous for her easy-to-wear beaded bracelets. These bracelets are hand threaded on high quality elasticated jewellery thread so they are easy to take on and off. You can also readily change your style with just a few bracelets in your collection by mixing and matching.
The other great thing about Annie's bracelet collection is her bracelet stacks. With a bracelet stack you can purchase a set of bracelets at a reduced price per bracelet. Annie Haak's designs really are one of the easiest ways of stacking jewellery with style.
[gallery size="medium" ids="778,779,777"]
Crafted from sterling silver and a range of crystals, stones and charms, Annie Haak bracelets also come in rose or yellow gold plating to give the mixed metal look. With just a few of each metal, you have a super versatile range of stackable delights. The bracelets can be worn alone or in a combination to suit your mood, outfit or occasion.
Annie Haak Designs also include necklaces, earrings and rings, but her bracelets are our most popular collection. Shop Annie Haak Designs here.
Swarovski Remix collection
Remix by Swarovski is a unique system of jewellery strands that can be worn as bracelets, necklaces, chokers and more.

There are endless ways to wear this collection, which makes it extremely versatile for any occasion. Simply snap the magnetic ends together to create longer strands for chokers and necklaces, or wear as individual stacking bracelets.
You can even make bracelets in different styles like double wrap bracelets, stacking bracelets or single bracelets. Necklaces can include a choker, short necklace, Y necklace, long necklace or strandage necklace. Then layer up if you like or add charms for added personalisation and to tell your story.
Check out our blog on 'How to wear Swarovski Remix', and on how to enhance your Remix with Charms in our 'Charm your way to unique style' blog.
Shop Swarovski Remix here or find out more about Remix and why we love it so much.
Kit Heath layering necklaces
Kit Heath is a British designed range of beautiful sterling silver jewellery, in particular necklaces of varying lengths and styles that can easily be stacked and layered.
[gallery size="medium" ids="782,781,783"]
Made from 925 Sterling Silver, Kit Heath's pieces are inspired by eternal themes of love, friendship and the beauty of nature, creating jewellery that will be treasured for years to come. With motifs including leaves, hearts, moons and stars, there are pieces for every occasion that can be worn alone or layered to make a bigger statement.
We especially love the Stargazer range which has expanded from its original offering and now comes in a mixed metal and gold plated range. Or to see all our Kit Heath designs shop all Kit Heath Jewellery here.
Diamond ring stacking with style
Ring stacking has been a thing for quite some time. Wear several rings on one finger or spread out across your hand, leaving at least one finger bare for maximum effect without looking like you've raided Mum's jewellery box.
There are many ranges of stacking rings, but you don't have to stick with a particular brand or range. The great thing about rings is there are all round, so you can wear different styles and brands together.
Diamond bands are particularly stunning for stacking. Different diamond cuts, metals and styles can be stacked or spread over one or both hands, giving an unmistakeably high end look.
You can be a little bolder with your wedding and eternity rings, with many beautiful shapes and cuts available.  Shop our range of diamond bands here.
You don't need many to create a stunning look - start with just two rings and build up your collection at different milestones. Diamond jewellery is no longer just about weddings - find out more in our blog on 'The changing face of diamond jewellery'.
[gallery columns="2" size="medium" ids="788,787"]
But if diamond rings are out of your budget, Swarovski has a large range of crystal rings that also give fabulous sparkle and will give your budget a lot more leeway for additions to you collection! Try any combination of Swarovski rings and don't be shy. Mix and match different shapes, sizes, colours and metals.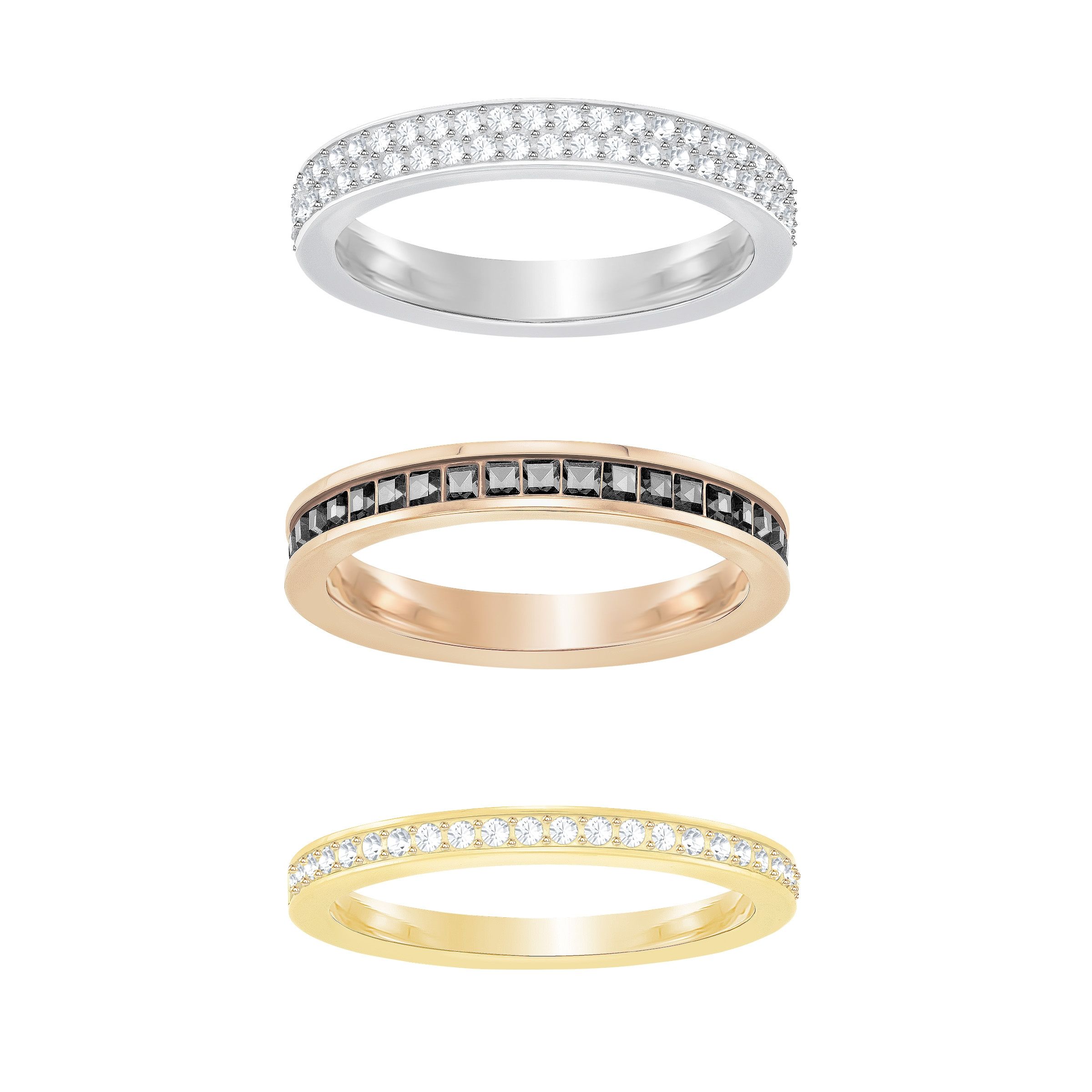 Perfect jewellery gifts
And don't forget that if you are looking for ways of stacking jewellery with style, we offer free UK delivery, next day delivery for a fee. We even ship internationally if you are outside the UK but find your perfect piece on our website.
Find out more about our delivery options and get your perfect piece or a brilliant gift online at Niche Jewellery.
Each order comes beautifully presented in jewellery gift packaging, ready to give or receive. And with delivery available to a different address along with a free gift card and message, you can rest assured your gift will be sure to show how much they mean.
And the best thing about layering and stacking jewellery styles as gifts is that once you gift a piece, you can always add to their collection. For the next birthday, Christmas or occasion, simply choose another piece from the same range. This way you can give the gift of stacking jewellery and build on it to give you gift ideas galore.
Happy stacking!