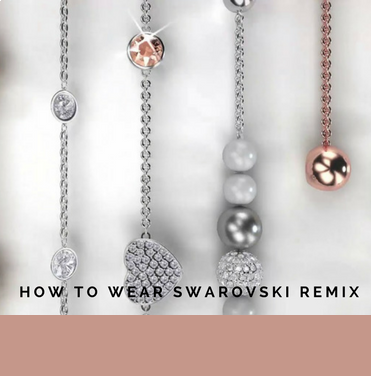 The Swarovski Remix Collection is one of our favourite ways to mix and match jewellery. These innovative magnetic clasp strands can be connected to create endless possibilities. If you've ever wondered how to wear Swarovski Remix, we're here to help.
Swarovski has added even more sparkle with this versatile range of mixable strands with magnetic clasps and a variety of charms, allowing you to connect them together in different ways to create you own looks. We love this range because it represents fantastic value, enabling you to use the same piece in so many different ways.
We've collected some favourite style ideas to inspire you, but the options are truly endless! Shop the Remix Collection here to find your favourites. And the best thing is that you save on each additional strand you buy, making Remix a fantastic and affordable way to get the most out of your jewellery.
Let's start with the basics...
Swarovski Remix Bracelet
Whether it's one or multiple, the bracelet is the most obvious way to wear Remix. There are of course outfits that only need a hint of sparkle, or layer up the strands for a more standout look. Choose your favourite charms and wear alone or together for a range of different looks.
[gallery size="medium" orderby="rand" ids="378,377,379"]
One Remix strand can be worn as a bracelet and two strands as a double bracelet. Add more strands to create a longer wraparound, or multiple stacking bracelets. Just within the bracelet world, there are already so many different ways to wear Swarovski Remix.
Swarovski are renowned for their innovation because they bring out new designs and collections each season, so there are always new strands to collect. This also means you can stay right on trend because there is always a 'latest' design.
Swarovski Remix as a Choker
With only two to three Remix strands you can turn your bracelet into an on-trend choker. Ruby Rose shows off an edgy look with two strands to create a single layer choker. Or layer them up for a more dramatic look like Karlie Kloss. Even wear your choker with day or work wear.
[gallery size="medium" ids="385,384,386"]
Choker style tends to wax and wane, but they never completely go out of style. According to Forbes, chokers are back in a big way for Spring 2020.
Necklace created from Swarovski Remix
Once you have a small collection of Remix, upgrade your bracelet or choker to a necklace. Simply clip your strands together to create different necklace styles, including single, multi-layered or the on-trend Y shaped necklace. Go contemporary, romantic or all business. The choice is yours.
[gallery size="medium" ids="383,381,382"]
Layer one or more necklace styles and lengths, create more and more looks with each strand you collect. Or wear as a continuous strand for a more relaxed look.
Remix with Swarovski jewellery
Why just stick to the Remix range? Mix and match it with other Swarovski jewellery, to maximise your sparkle and style. Wear with a Swarovski Watch or stack of Swarovski Rings.
[gallery size="medium" ids="390,391,392"]
Many of the Remix pieces also tie in with key Swarovski collections, such as the new Eternal range featuring natural motifs like flowers and dragonflies. The Flower strand and Dragonfly strand mix and match well with this collection.
Out of the box styling
Take even more inspiration from the Elle Style Guide to Swarovski Remix, where we've sourced some of these fabulous looks, including the innovative ideas shown here - you can even use your Remix as a belt, headband or on a tie-front top.
[gallery size="medium" ids="387,389,388"]
Shop the Remix Collection here to find your perfect strands - shop more strands and save on each one to create your perfect combination.
Find out more about Swarovski's Remix Collection and pricing.
Great value jewellery
One of the reasons we love Swarovski Remix so much is because it represents excellent value. Firstly because you can wear it in so many ways that it can replace a lot of one time wear pieces.
Instead of buying a piece of jewellery and wearing it once or twice, with Remix you can recreate new pieces for any occasion with just a few strands. This makes it a sustainable and eco friendly way to buy jewellery and wear it again and again.
Secondly, with each additional Remix strand you buy, you save more. Each strand retails at £49 but you get £9 off RRP when you buy two strands, all the way up to a staggering £66 off when you buy 5 strands.
Shop Swarovski Remix at Niche Jewellery and get free UK delivery. Next day delivery is also available, and we also ship internationally.
Happy Remix designing!

Find more inspiration on our Pinterest board Swarovski Remix Style.
Note: To keep you updated with the latest jewellery news and trends, we refresh key blog posts from time to time. This post has been revised for the latest content as of 31 March 2020 in order to bring you the most up to date information.