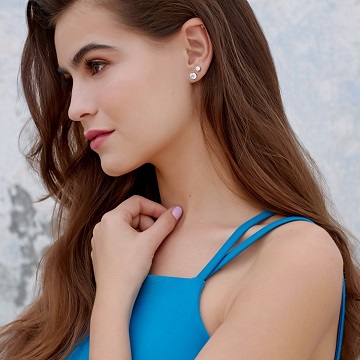 Layering and stacking of earrings is a wonderful trend in jewellery this year. You can create endless styles using different earring shapes and sizes, whether with a single pair of earrings or multiple ear piercings. Choose stunning hoops, studs or statement earrings.
If you are thinking of having your ears pierced for the first time or adding a new ear piercing, we can help. We offer ear piercing at our Leigh-on-Sea jewellery shop.
Choose your earrings and experience our safe and gentle ear piercing technique, starting from just £25 for earrings and ear piercing.
Inverness ear piercing system
The system we use for piercing ears is safe, gentle and sterile. It's quite unique in that the earrings you choose from our selection are stored in an airtight cartridge and are dispensed straight into the ears.
When we were looking to select a method of ear piercing, we were impressed with this system which has been in use for 45 years now in jewellery stores, department stores, salons, pharmacies, doctors' offices, and body piercing shops in over 27 countries around the world.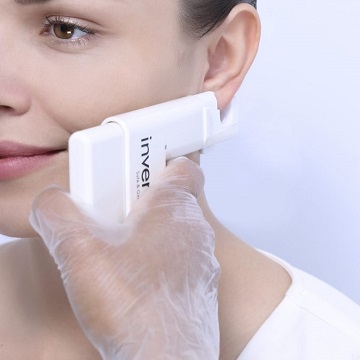 The Inverness System has two unique features designed to ensure the safest ear piercing experience possible.
Firstly, Inverness has a fully enclosed earring capsules that prevent the earrings from being exposed to potential contaminants prior to piercing. The earring capsules are packaged in sealed, sterilized cartridges that are not opened until selected for piercing. Unlike other systems on the market, the earrings are never exposed until they are safely inserted in the ear.
Secondly, the earring Safety Back™ allows for the safest healing possible by shielding the piercing tip and preventing the earring back from being squeezed too tight. This allows for proper airflow and prevents the earring back from becoming embedded during the healing process.
To provide you with a comfortable ear piercing experience, all Inverness piercing earrings are carefully crafted with a sharp tip. For your protection, each earring comes with a Safety Back™ designed to cover the sharp piercing tip. We recommend checking that your Safety Back is securely in place daily, ideally after cleaning your piercing and before bed.
If you would like to get your ears pierced at Niche Jewellery simply drop into store, contact us to make a private appointment or book online.
Children's ear piercing
When getting your child's ears pierced, their safety and comfort is always going to be a priority. The Inverness system is gentle on both children and adults. Unlike loud piercing guns that shoot a spring-loaded piercing earring through the tissue, the hand-pressured instrument is very smooth and quiet. And unlike piercing with a needle, the sharp tip is not exposed to the external environment and the pressure can be evenly controlled by the instrument we use.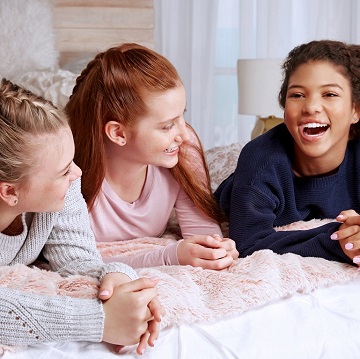 It pierces your ears and attaches the Safety Back™ in one quick, smooth motion. The Inverness piercing earrings are specially designed with ultra-thin piercing posts & a finely honed piercing tip to help the earrings glide through the lobe as easily as possible. In fact, most people report they feel little or no discomfort at all when they are pierced with the Inverness System.
Ear piercing aftercare
We will provide you with detailed aftercare instructions following your piercing. You should only switch into new earrings after the healing period. Newly pierced ears are very sensitive and require special care and attention.
If you take your earrings out for any length of time during the healing period, the holes may close or you may find it to be very difficult to re-insert earrings into a piercing hole that has not fully healed.
The recommended healing period is 6 weeks for earlobe piercing and 12 weeks for cartilage piercing.
Cartilage ear piercing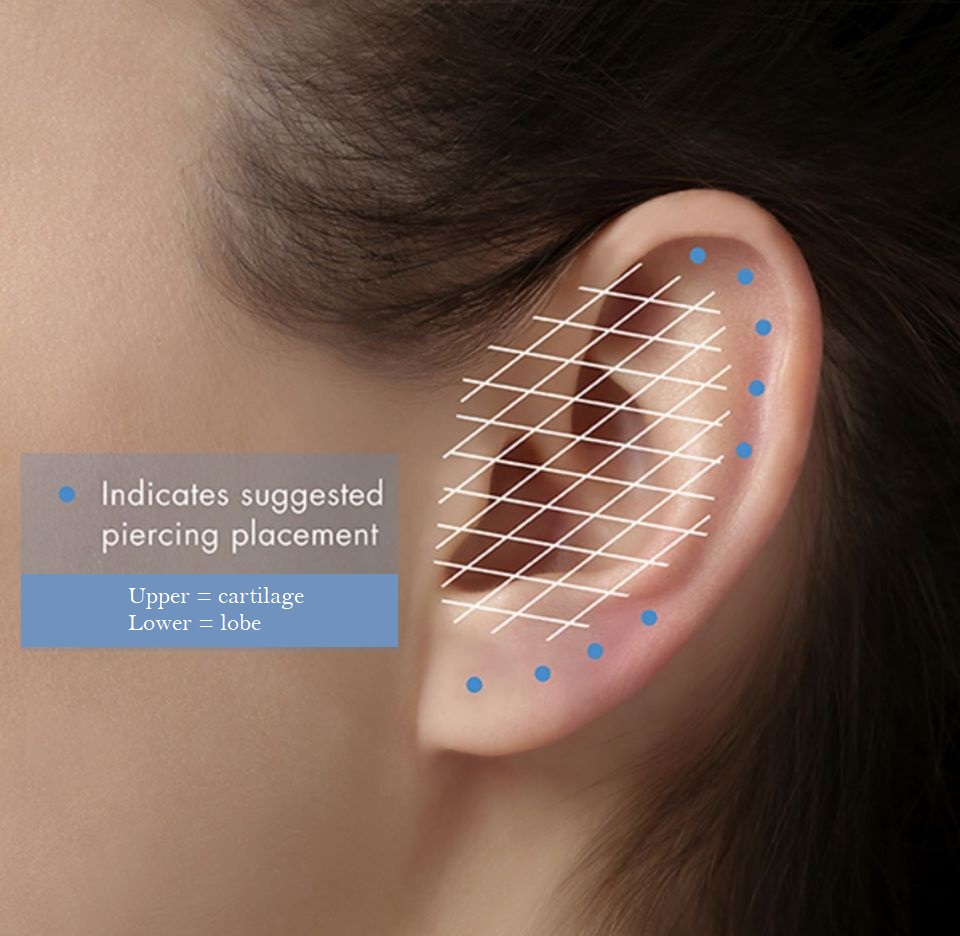 Cartilage ear piercing is a little different from lobe piercing. The main difference is that the healing time for cartilage is longer, so you need to be a little more patient before changing your new earrings for the first time!
We can pierce up to the top of the outer ear, which turns into cartilage above the earlobe itself. We don't pierce in the area marked by the white area. The top five placements are considered cartilage, whilst the lower four options are lobe piercing. Cartilage ear piercing with the Inverness System is just as gentle as a lobe piercing.
Cartilage differs from the earlobe mainly because it has a limited blood supply. As a result, a cartilage piercing takes longer to heal. Inverness recommends that you leave your piercing earrings in and follow your aftercare instructions for 6 weeks after an earlobe piercing and 12 weeks after a cartilage piercing.
Earring styles
If you are looking for a new pair of earrings or are looking to give earrings as a gift, we've got you covered.
Find the perfect stud earrings, hoop earrings or statement earrings in our carefully curated earring collection.
Earring trends do vary from year to year, but some very strong trends for the past few years have included asymmetric earrings, multiple earrings, hoop earrings of all styles, and simple but stunning stud earrings that can be mixed and matched!
Here are some of our favourite earring styles for this year, but if you want even more inspiration, shop our full earring collection here. We are an authorised stockist of stunning earrings from brands including Swarovski, Thomas Sabo, Ania Haie, Kit Heath and more.
Whether you have one set of ear piercings for a single pair of earrings or multiple ear piercings, you can create endless styles using earrings of different sizes, designs and materials.
Earring gifts
If you are sending gifts from Niche Jewellery direct to friends or loved ones, add a free gift message to make the experience more personal. Gift messages are included on a free custom printed message card. Each item is delivered in luxury branded jewellery gift packaging, in turn wrapped in tissue paper for a gift opening experience.