Styling with Nomination Italy

Nomination Italy creates stylish and affordable jewellery with Italian flair. Originating in Florence, Nomination comes straight from the heart of the Italian centre of fashion and high-quality craftsmanship.
The founder of Nomination wanted to create innovative modular bracelets for women and men of all ages and backgrounds. From there the Nomination charm bracelet was born, along with a stunning collection of jewellery including necklaces, watches and rings alongside the iconic Composable bracelet.
One of the things we love most about Nomination charms is the vast range of designs. Featuring different metal colours and stones, occasions, people and sentiments, you can create a completely unique design.
Nomination bracelet
Nomination has popularised the use of stainless steel in jewellery design. Hard-wearing and hypoallergenic with a non-tarnish silver-grey appearance, stainless steel is now recognised as an excellent base for fashionable jewellery at an affordable price.
Many of the charms in the Composable bracelet collection are embellished with yellow or rose gold, sterling silver, and different coloured stones or birthstones.
Although Nomination includes jewellery of all types, their charm bracelets are one of the most popular designs.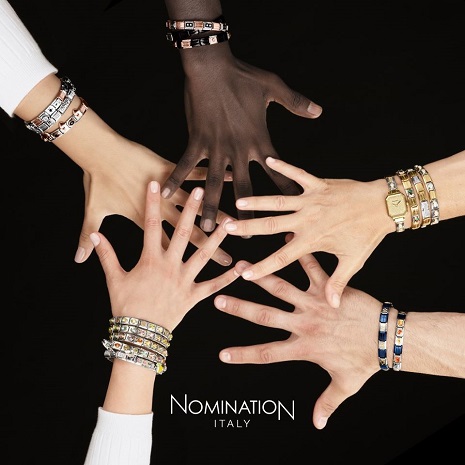 How Nomination Composable works
Composable is the modular bracelet you can personalise. Individual stainless steel links of different styles and themes are attached together using an ingenious spring mechanism.
You can combine these links to create a bracelet spelling out your own name, representing loved ones, or with colours and themes that inspire you.
Once you purchase a base bracelet and replace the tiles on your bracelet with beautiful charms, one by one your Nomination bracelet takes shape. And the best thing is the spare links can then be used to form you next bracelet!
You can also create a watch or necklace with the same Composable concept.
How do I style Nomination?
Styling with Nomination is easy. Add meaningful charms to represent loved ones or pivotal moments and milestones.
Or simply style in your favourite colours and stones. Add charms that show you are and what you love doing.
For inspiration on our different themed charms, browse our range of Nomination charms for different occasions and interests.
And you can even stack your bracelets with each other and with other bracelets for different looks. Then add different jewellery pieces like watches or the SeiMia collection for an even more stylish combination.
Find out more about styling Nomination in our blog How to wear Nomination charm bracelets.
Get started with Nomination
Begin with a starter bracelet and one or more Nomination charms. There are endless ways to tell your story with charms and symbols. Start with just a few charms and collect more when you deserve a treat.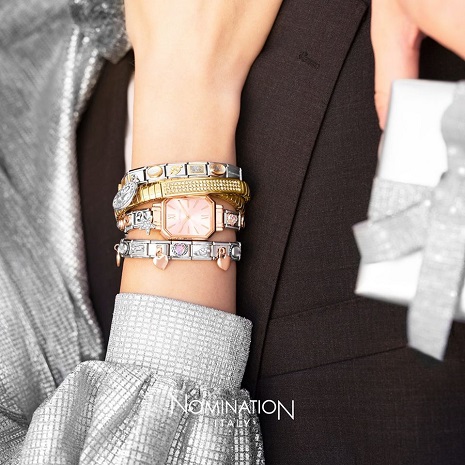 Add to your collection with birthday and Christmas gifts. With your Niche Jewellery account you can create a Wishlist and email hints to friends and family. Simply create an account and start your wish list today.
Find your unique style and tell your story with Nomination charms and jewellery. With Italian design flair and affordable jewellery options, Nomination also makes the perfect gift for someone to start or add to their Nomination collection.
Niche Jewellery is an official Nomination stockist. We offer free delivery and easy returns.
Create beautiful and on-trend jewellery looks with Nomination and make your jewellery completely unique to you.
Discover our beautiful charms from Nomination.
Find a selection of our charms right here on our website, or for an even bigger range visit or contact us to see if we have what you are looking for in our Leigh-on-Sea store.