One of our favourite things about jewellery is its versatility to help you customise your look for the season. Here in the UK, we have very distinctive seasons, each bringing its fashion challenges!
One of our favourite brands for creating your own style is Les Georgettes by Altesse. Les Georgettes has created a unique range of bangles, rings, necklaces and earrings which can all be worn alone or customised with reversible leather inserts for maximum styling options.
This means you can wear each piece of Les Georgettes in many different ways, enabling you to create a new style and look for each season. In a world of disposable fashion, this is one small way you can create a more sustainable jewellery collection for yourself.
Jewellery style for Spring
When Spring surprises us, suddenly there is more daylight, warmer temperatures and its time to cast aside the black wardrobe of Winter and announce the arrival of Spring with your wardrobe and accessories!
Mixing and matching Les Georgettes jewellery is one of the best ways to create a style that is suitable for Spring, using colours that reflect the season and your mood.
The great thing about Les Georgettes is that each piece of jewellery represents the possibility of many styles, thanks to the unique and innovative reversible leather inserts.
Whilst a high quality Les Georgettes piece of jewellery retails for between £40 and £122, a Les Georgettes leather insert to completely change its look can be purchased for as little as £9 for an 8mm bracelet, ranging up to £20 for the widest 40mm bracelet.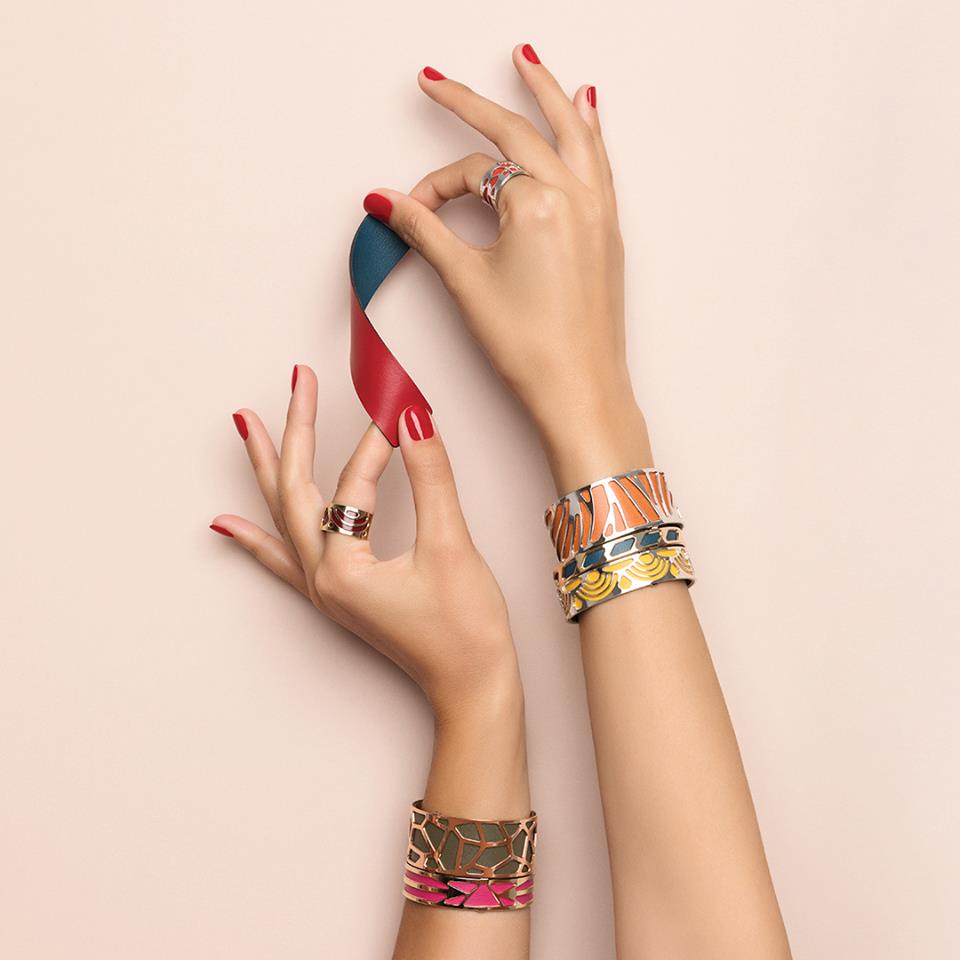 Each piece looks stunning on it's own, or open up a whole new set of style possibilities by adding one or more leather inserts to mix, match and style with any outfit, for every occasion. With such affordable leather inserts, you can really make each piece of jewellery work for so many different looks and events.
Spring brights
This bright and cheerful look features a 40mm wide gold bangle in the floral Nenuphar design, but there are other lovely floral designs such as Lotus, Rosee and Floral.  Get inspired with our range of Les Georgettes bracelets, available in four different widths and three metal colours.
The featured leather is perfect for Spring, conjuring the colour of daffodils to add some sunshine to your day. For a ladies' lunch, a day at the races or evening at the theatre, team Spring brights in your outfit with a contrasting leather.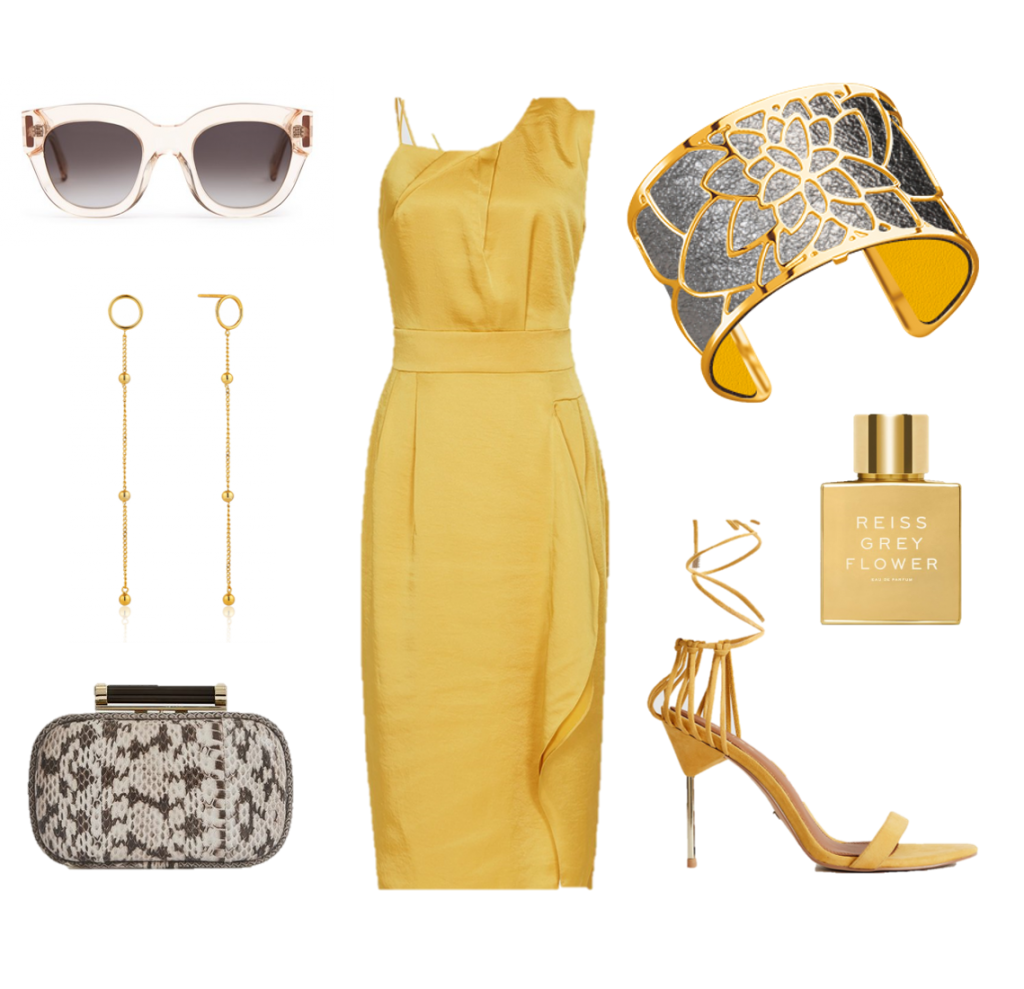 We've also added gorgeous modern drop earrings by Ania Haie to this look, to show just how easy it is to mix and match Les Georgettes with other brands and styles.
Contrasting colour
Or go for a different colour combination - switch it around and with a more subtle outfit with a bright and wear the boldest side of your leather insert. With this look, you can also switch the leather and match with these gorgeous blue Swarovski earrings. This is just one example of how versatile Les Georgettes designs can be.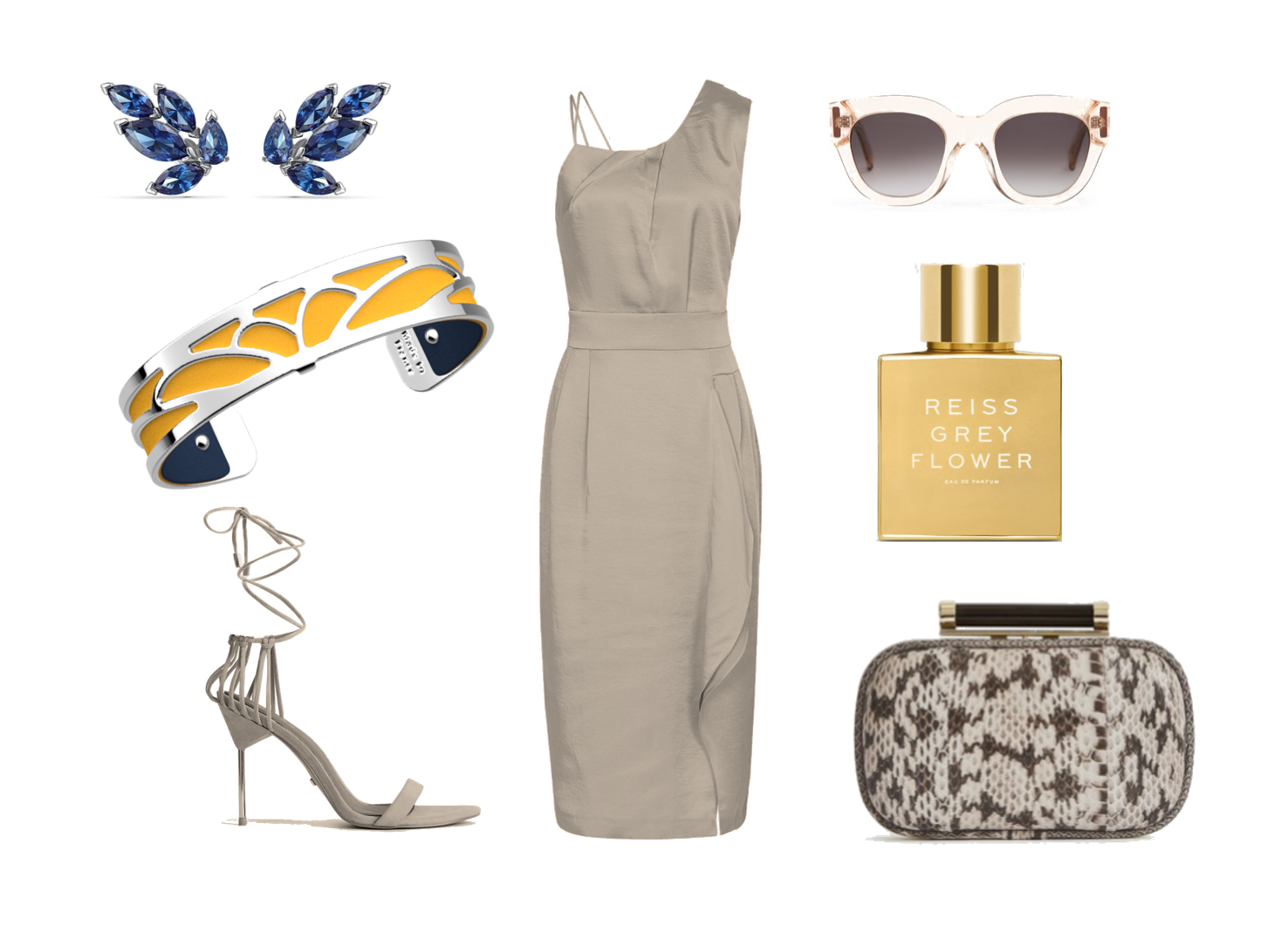 A contrasting set of colours is a great way to make sure you can mix and match to create brand new looks. Don't stay safe with the same colour palette. Add complementary colours and don't be shy with the use of colour in Spring, whether it's for the basis of the look, or highlighting accents.
Casual cool
With a flip of the leather, wear the very same bracelet with a more casual outfit, perfect for a Spring brunch or end of Winter getaway. The playsuit is here to stay, so why not embrace the trend and showcase your most up-to-date style this Spring? We love this Hazel printed playsuit by Reiss. Wear with tan accessories for an extra touch of casual elegance.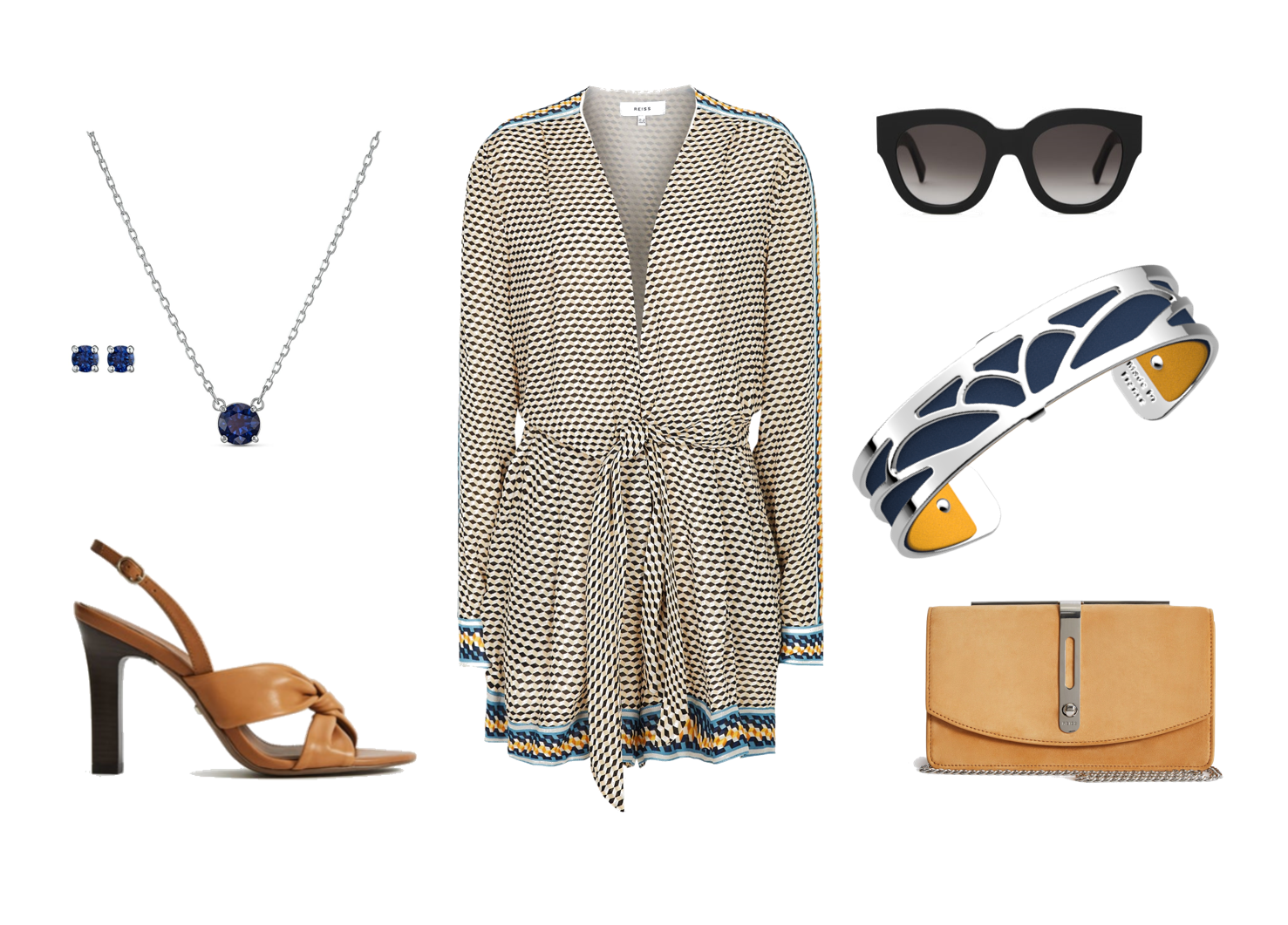 A soft Spring look
For a more refined look, choose silver and blush to go with that wedding or garden party frock. Team with contrasting colour details like these subtle turquoise highlights to add some fun.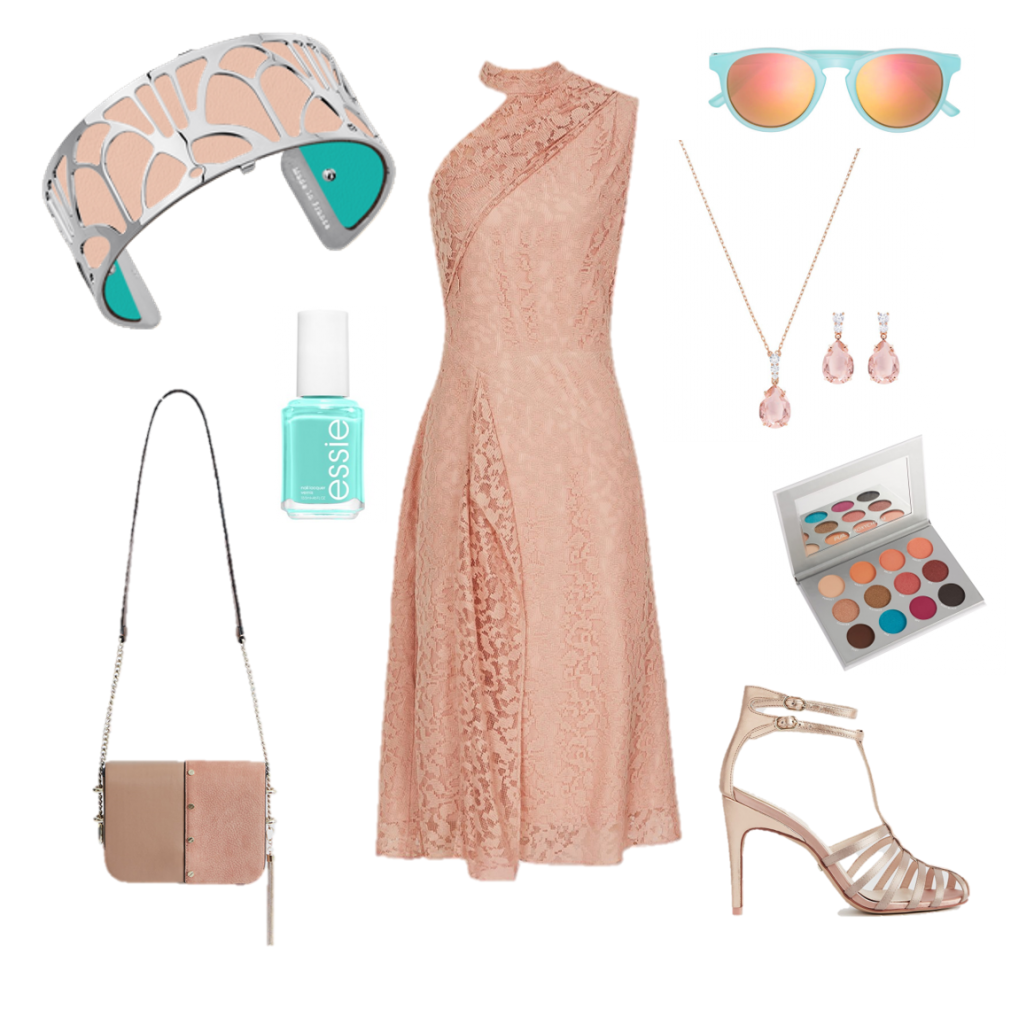 Blush is the perfect rosy hue for Spring, being soft and feminine but still makes a statement.
A touch of the tropics
Tropical style will be back in Spring / Summer 2020 after being a big trend in Summer 2019. Tropical leaves, flowers and animals will all be making a resurgence as the weather warms up. And with it come the deep hues of green, blue and red to reflect the flora and fauna of the rainforest.
With this look, a gorgeous green Reiss dress is the star of the show, and is teamed with nude accessories and gorgeous gold plated Les Georgettes bangle and earrings rom the tropical leafy Fougeres design range. This is how you can wear Les Georgettes on its own for a stunning look.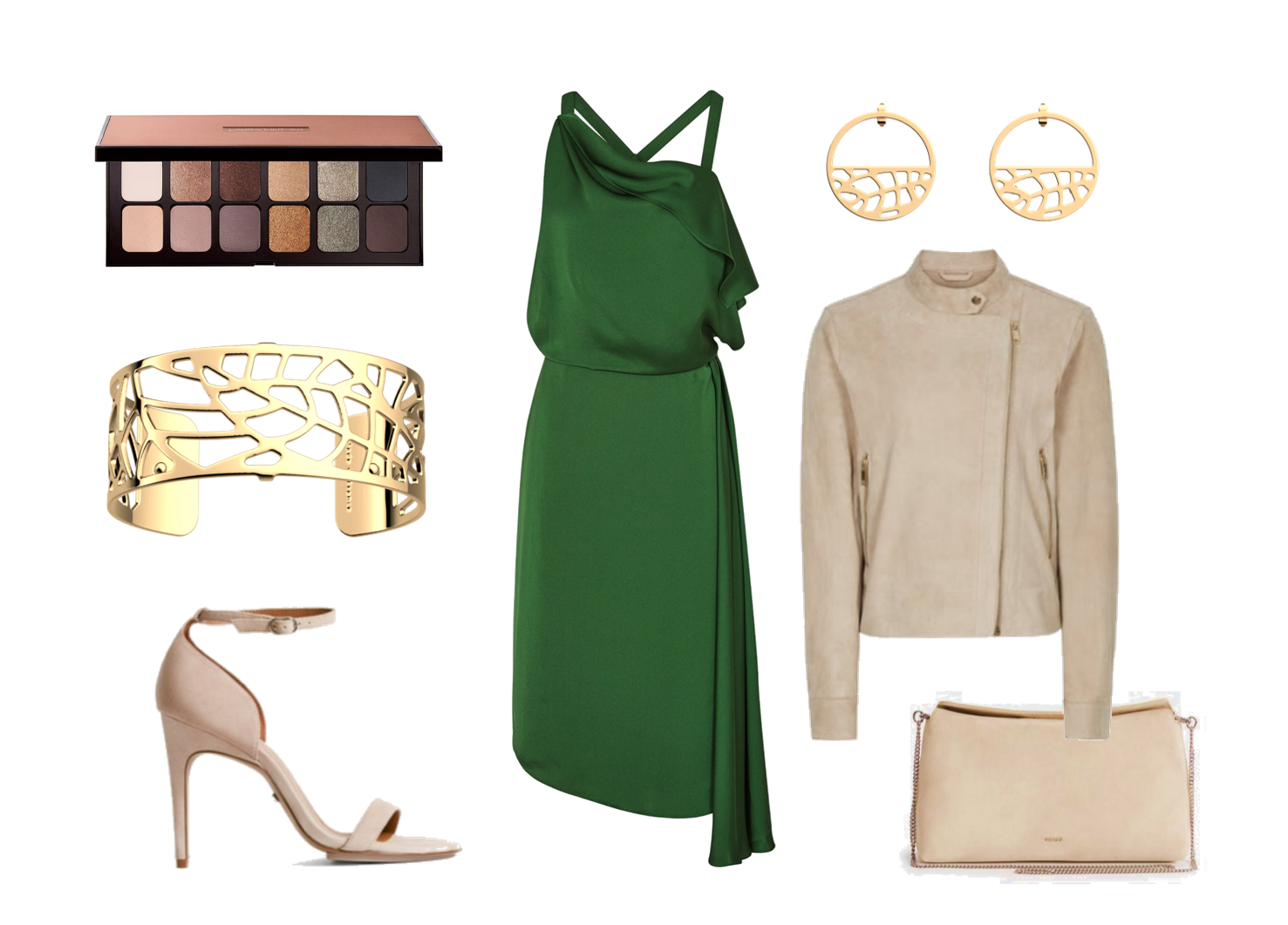 Green and gold is a gorgeous combination that we are sure to see more of this Summer. If you have these or similar pieces from Les Georgettes, the addition of reversible leather inserts for the bracelet and earrings will create a whole new look for a different outfit or occasion.
Why we love Les Georgettes
There are many reasons - but one of the main reasons we love Les Georgettes is its uniqueness in the jewellery market and its incredible versatility, not to mention chic French style.
Experiment with four different bangle widths, three metal colours and many leather colour combinations to create your perfect looks this Spring.
Les Georgettes pieces are all handcrafted in France, with the range expanding all the time - rings, pendants and earrings are now available. They are created in hard-wearing brass with either silver, rose gold or yellow gold plating.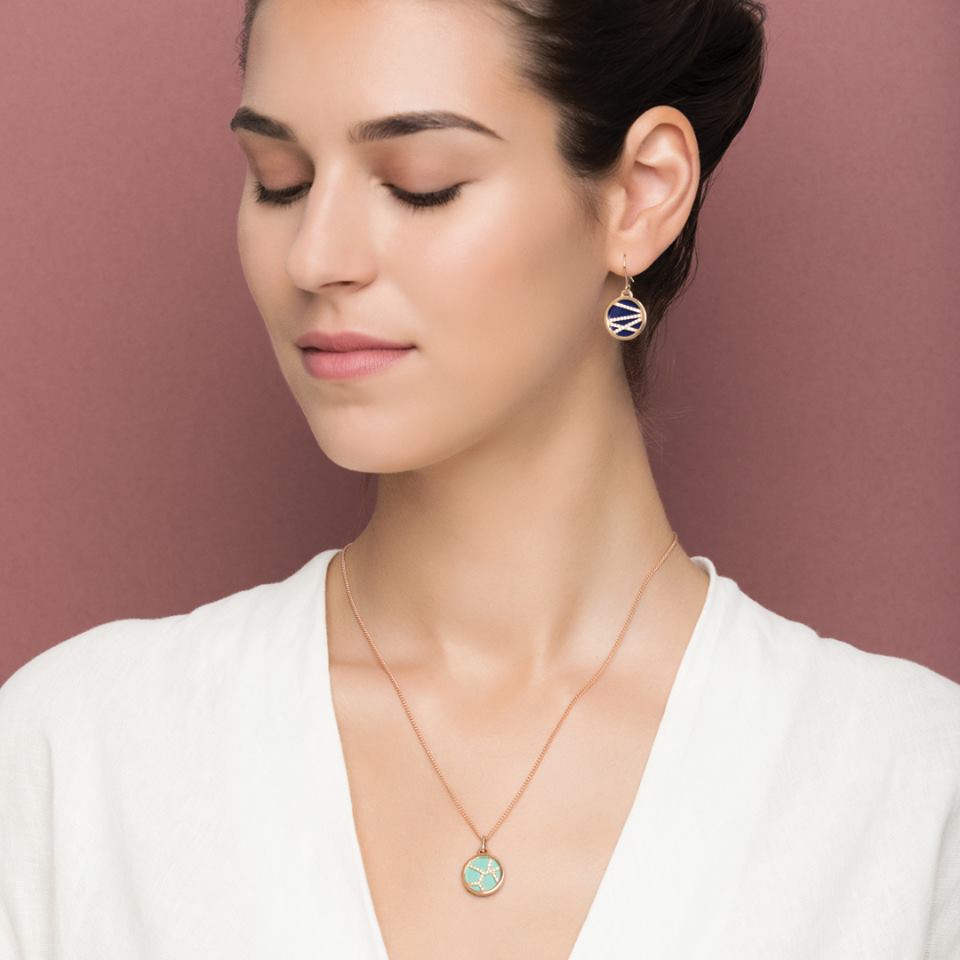 Shop Les Georgettes online here.
If you are local to Essex, you can always call or drop into our Leigh on Sea store for friendly and helpful advice on all our ranges, or to upscale your unique style with Les Georgettes.
Discover the brilliant concept of Les Georgettes jewellery today - read more in our blog: 'Spotlight on the designer - Les Georgettes'.
To keep you up to date with the latest style news, this blog has been revised for content and accuracy in March 2020.