Les Georgettes is a unique, patent pending jewellery concept jointly created by France's leading jewellery manufacturer Altesse and leather goods manufacturer Texier in Brittany. Officially recognized as part of France's National Heritage, both of these companies are part of the Renaissance Luxury Group.
Together they have created Les Georgettes, a growing range of customisable jewellery. Starting with cuff style bracelets, they created a versatile product. You can wear this range alone or have colour added using a reversible leather insert, giving multiple looks from one piece of jewellery.
In addition to their iconic customisable bracelets, there are also necklaces, earrings, rings and even watches and handbags!
At Niche Jewellery, we are proud of our relationships with high quality jewellery manufacturers like Les Georgettes who create trend-led jewellery concepts, yet release designs that will last in terms of their workmanship and quality of materials.
Why we love Les Georgettes
What's not to love? It is stylish, easy to wear and incredibly versatile. In our opinion, Les Georgettes is one of the best value designer jewellery ranges available in 2020 for these reasons.
1. Versatile jewellery
We love how you can change your look with a flip of the leather. The designers release gorgeous designs each season to reflect the mood and style of the time. There are so many leather inserts to choose from, you can create colour, sophistication, sparkle, or subtle style even with one piece of jewellery.
Each piece also looks beautiful on its own as well as matching perfectly with other pieces or stacking together for an on-trend look.
The bracelets are the most popular jewellery type with our customers, and are available in 4 widths, 3 colours, and many designs for maximum style possibilities! Some designs are even embellished with zirconia detail for added sparkle.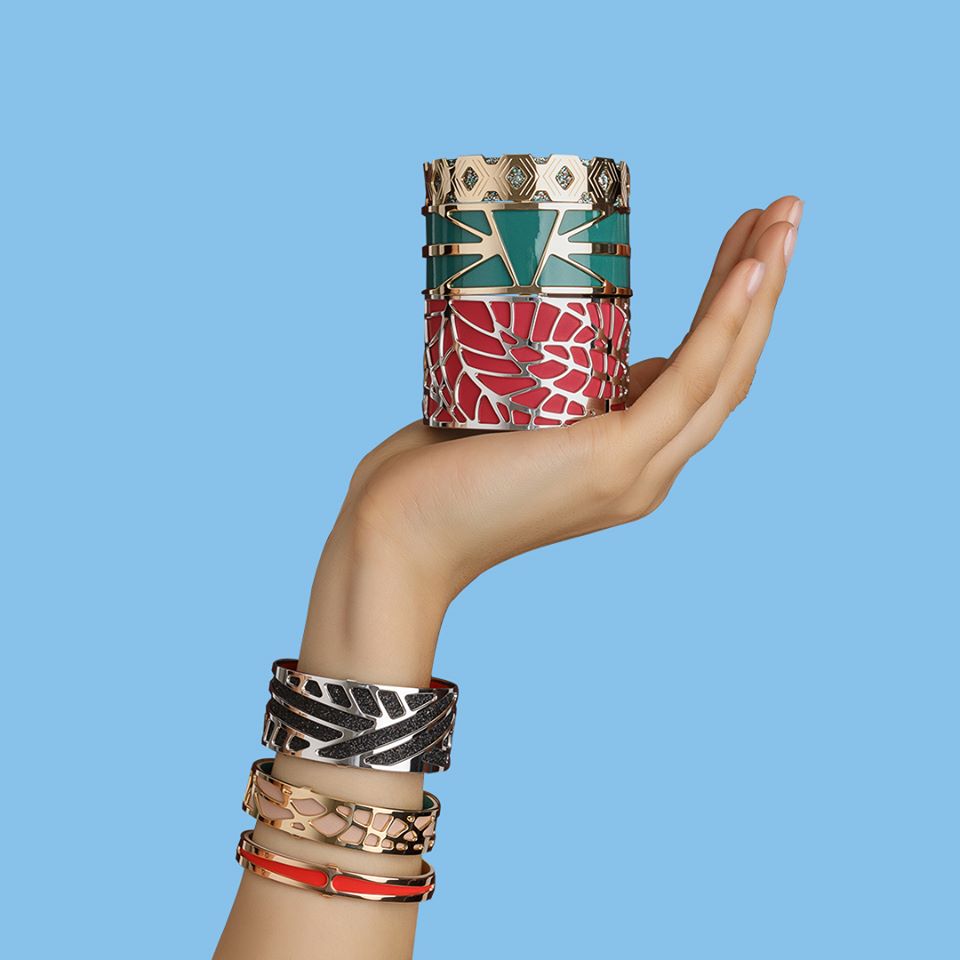 You can easily style it with work wear, evening wear, weekend wear and more. Find out more about styling the collection in our blog 'Your Spring style file, featuring Les Georgettes'.
2. Bold and stylish jewellery
Not only is Les Georgettes one of the most versatile jewellery ranges on the market today, it is also super stylish. The versatility helps you create a bold and unique look.
Give an edge to any outfit with the your own unique look. From subtle to bold, create the look you want with different colour inserts for different occasions.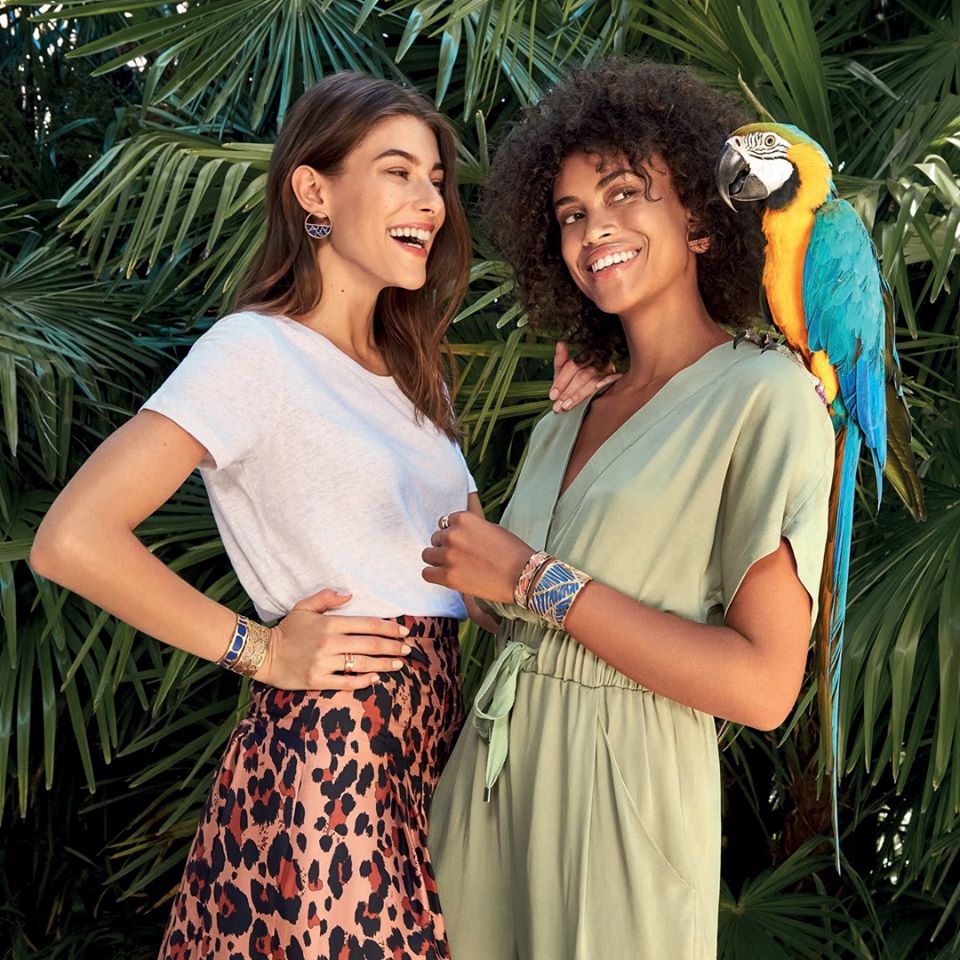 The different widths and finishes available, combined with different colour ways, mean endless style possibilities no matter the season or occasion.
Les Georgettes is an innovative concept, where you will see fabulous new designs each season. With so many different ways of wearing, their designs make for brilliant Mother's Day gifts ideas 2020.
3. Easy to wear jewellery
One of the best things about Les Georgettes jewellery is how easy it is both to style and to wear. The cuff design of the bracelets makes it incredibly easy to put on and take off. The bracelet naturally moulds to your wrist shape over time. There are no more fiddly clasps to get an instant jewellery lift!
Switching the colour is also super easy, with small prongs that keep the leather in place. It's a doddle to change the colour or remove altogether for a more subtle look.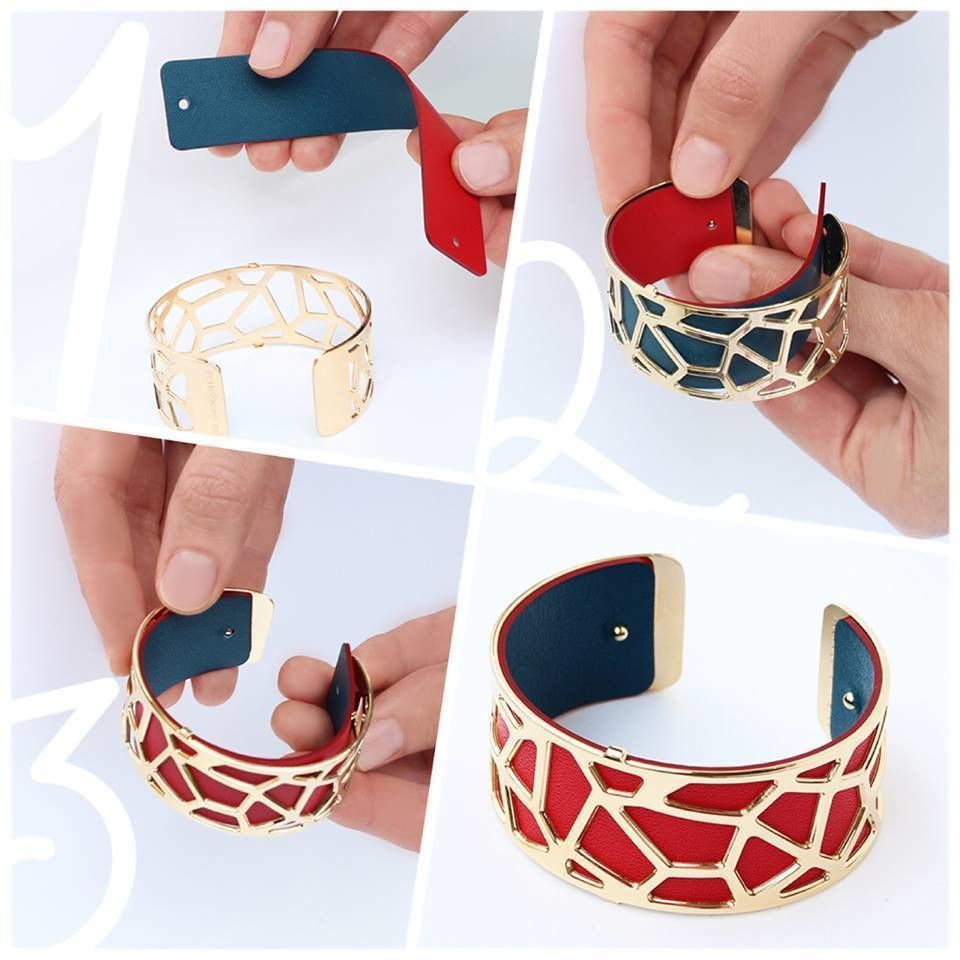 Find out more about how to adjust your style in this short video on our YouTube channel.
Shop Les Georgettes jewellery.
4. Handcrafted in France
Les Georgettes' team of 250 craftsmen create your jewellery using traditional savoir-faire in their workshops in regional France. French style, made in France and brought the short distance to the UK for you.
But don't just take our word for it, see this stunning jewellery for yourself at Niche Jewellery or browse our Les Georgettes online jewellery collection.
Les Georgettes jewellery is crafted from a brass base for tensile strength and flexibility, with high quality and hardwearing plating for designs that will last.
5. Always on trend
We love the fact that the brand is always pushing the boundaries of style. They create new seasonal designs and expand from the original cuff bracelet into different designs to make even more of your jewellery customisable.
Rings, earrings and watches are now available to customise in the same way, with reversible leather inserts for a quick style update. There is also a precious range which is embellished with white zirconia for added sparkle.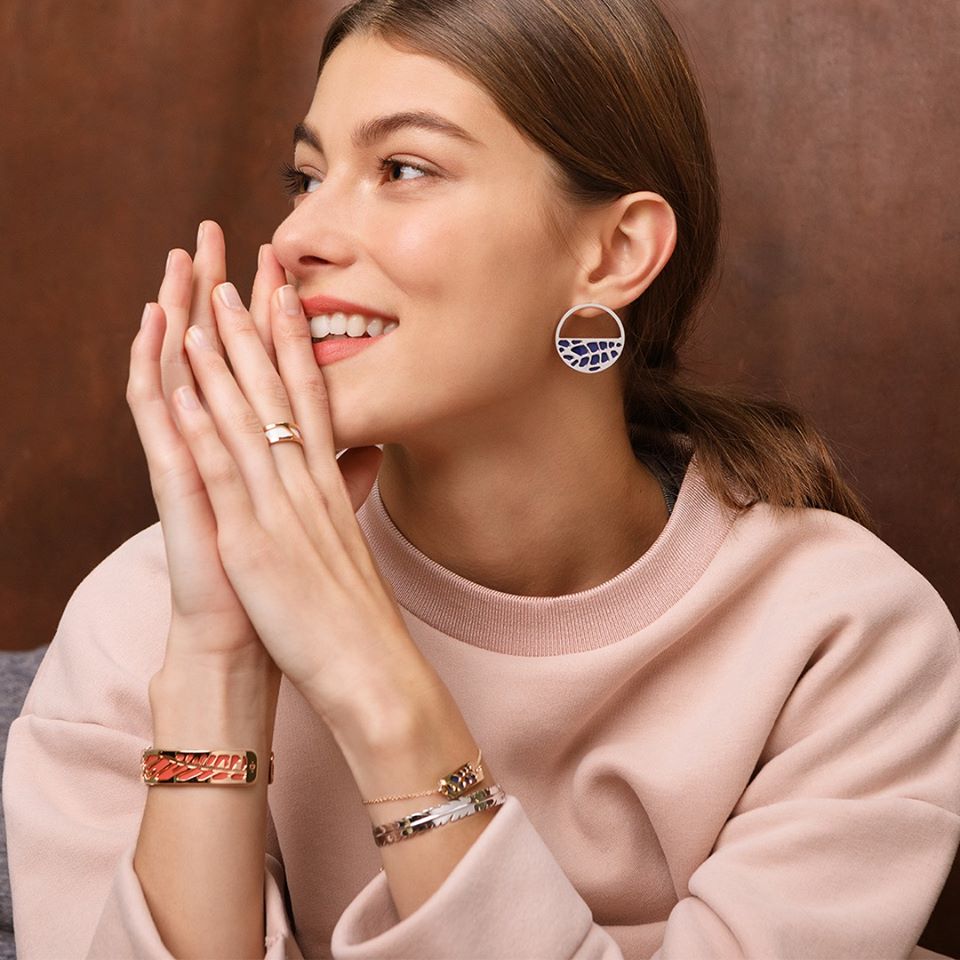 Whilst signature designs like Perroquet and Girafe are a mainstay of the collection, newer designs like Rosee, Lotus and the 8mm width bracelet range add extra style options for your collection. Try the customisable tool on the Les Georgettes website to visualise your design.
This really is one of our most versatile jewellery ranges. Customers want jewellery that works for them without making their jewellery box overflow. Les Georgettes is also brilliant to choose the best gifts for friends and loved ones.
Or if you want even more inspiration, take a look at our full range of bracelets for women.
In Les Georgette's own words
In their own words: 'With Les Georgettes, change the colour of your jewellery  to match your outfit, your handbag... or your mood!'
"You can trust us, we're experts at this!  From design to production, Les Georgettes™  were conceived just for you, for all those special moments in your life.."
Les Georgettes is firmly rooted in iconic French style, in fact the company dates back to 1905.  It's also an award winning brand with some of the accolades including:
Winner of 'Brand to Watch' - UK Jewellery Awards, July 2018
Finalist and Highly Commended award in the 'Fashion Jewellery' category - Professional Jeweller's C

ollections of the Year, December 2017 & 2018

Winner of 'Editor's Choice for Visual Excellence' - IJL, September 2017

Winner of 'Best Stand' - CMJ, March 2017
Who is wearing Les Georgettes jewellery?
None other than Brigitte Macron, the French First Lady, wears this brand of jewellery.
The hashtag #lesgeorgetteslovers on Instagram has been used almost 8000 times, which is testament to the brand's popularity with stylish women and influencers alike.
Wearers can tag their images of Les Georgettes jewellery using this hashtag for a chance to be featured on the Les Georgettes Facebook page.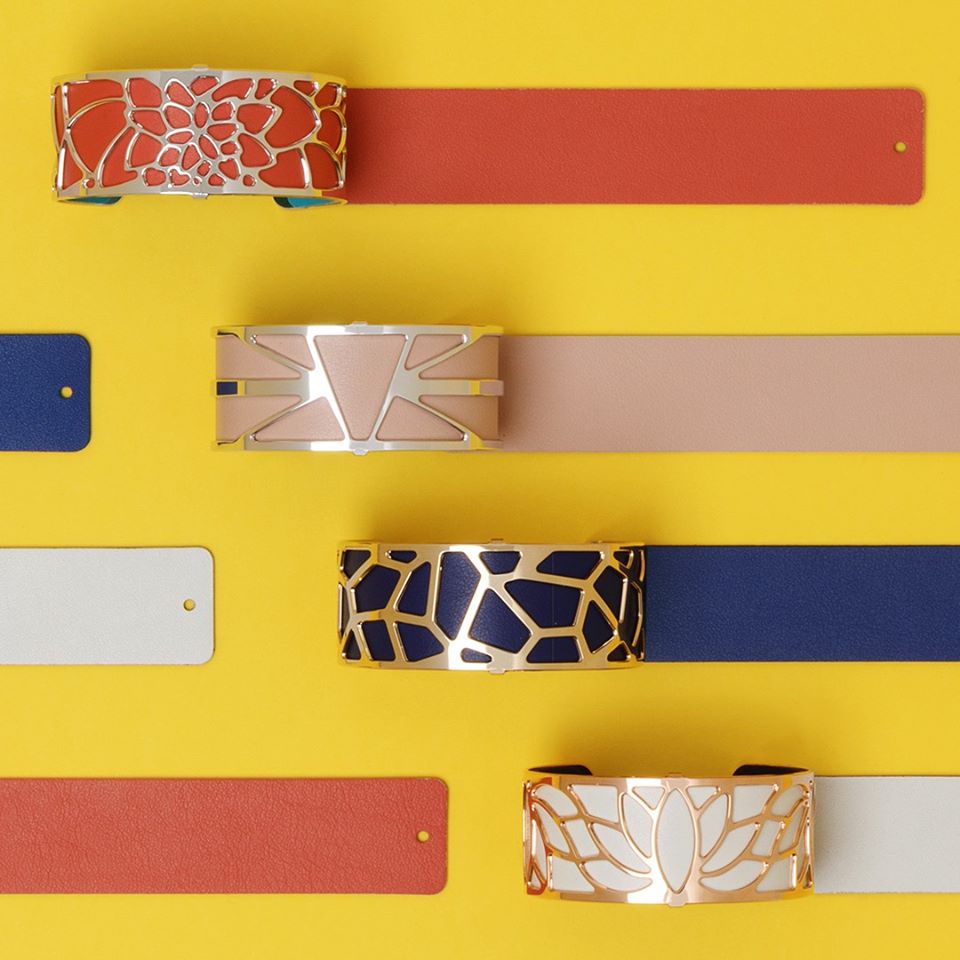 Our favourite pieces
We love so many of the new pieces coming in for next season, which will soon be available in store and on our website. And as for the most popular design, Girafe has been our best-selling range to date.
It's always hard to choose, but one of our favourite designs is Maillon. Available in 4 widths and 3 finishes, its style is bold but unfussy. We especially love it in the yellow gold finish.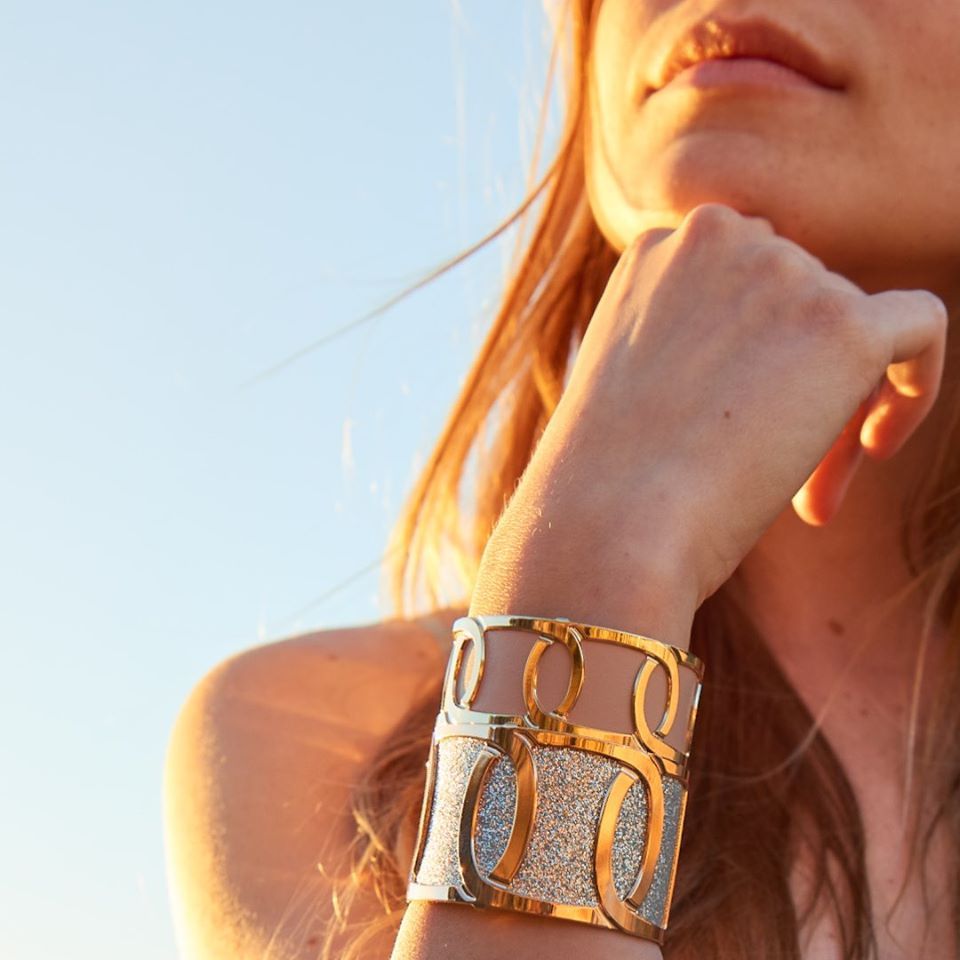 With so many beautiful designs to choose from, there is something for everyone among this collection. Les Georgettes jewellery makes a fantastic gift with its versatility. Each piece is beautifully packaged in a colourful box, all ready to give or receive.
Where to find it
For almost as long as it's been available in the UK, we have stocked this French designed and crafted brand at Niche Jewellery in Leigh-on-Sea, and continue to be a proud partner and official stockist of Les Georgettes Jewellery.
You'll find it on many a style conscious woman. Soon you'll love it as much as we do and will want to explore its style and versatility in your own jewellery collection!