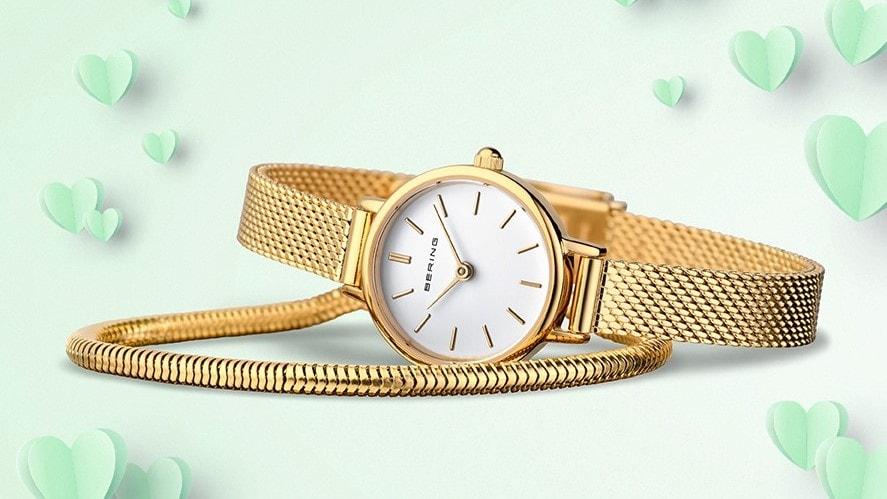 Here we share our top tips for choosing women's watches in 2020. It has been quite a year so far - or not quite a year as it turns out. We are only in April and already it's clear that this year is one like no other.
But whether time is flying or dragging for you in 2020, one thing is clear. Watch trends will be different. There's really no need to bust out the Rolex for a day of self-isolation, working from home, or daily exercise.
For times like this, a timeless and minimalist watch design is perfect. It's easy to lose track of time when all your days seem to blend into the next. Keep wearing a watch, but switch to a sleek and comfortable design.
It also needs to be affordable. Times are tight for many, so a luxury watch with a luxury price tag may not be on the cards any time soon. Here are our top tips on 'lockdown' women's watch style for 2020.
A clutter free watch face
There is something very calming about a clean watch face. No numbers, perhaps just subtle markers. Or even a completely blank watch face. It's therapeutic to look down for the time and find a minimalist haven on your wrist.
That's not to say there isn't a place for nature inspired themed watch faces. Just save these for special events and occasions when you need a bit of frou frou. Women's watches can get away with being floral and pretty. Just wear them for weddings, garden parties and the like.
This is one of our favourite minimalist watch looks as posted by @yeaseullee. The Summery styling makes us want to take off on a bicycle along the coast.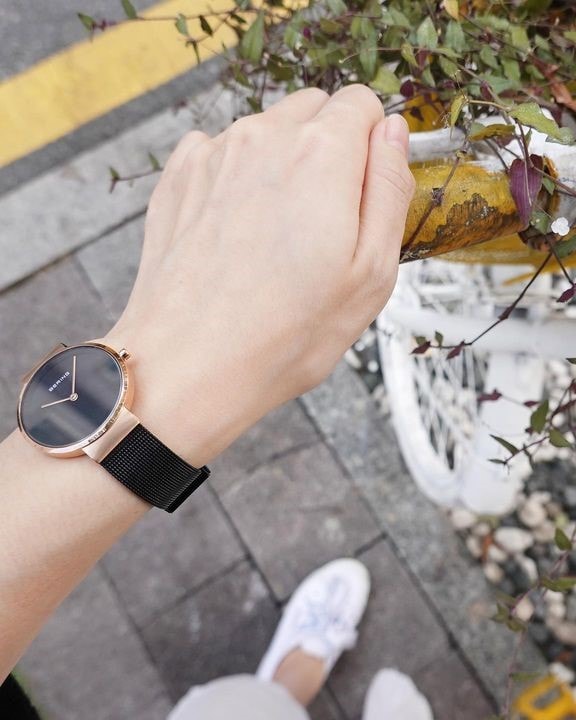 You can find a lot more style inspiration in Bering's stylebook. It's the place where Bering publish their favourite pics by fashion savvy instagrammers.
A comfortable strap
The worst thing is when a watch strap snags the hair on your arm or is too tight. You want a comfortable strap that is loose enough for the watch to move slightly on your arm.
Just how loose is of course a case of personal preference. I actually like a very loose watch that is more like a bangle. You don't have to wear it that loose, but a tight watch will dig into your arm and cause swelling either side. Not a good look.
Calvin Klein do some lovely bangle watches that are super comfortable to wear. And they feature in Trendspotter's 20 Top Designer Watches for Women. Bonus.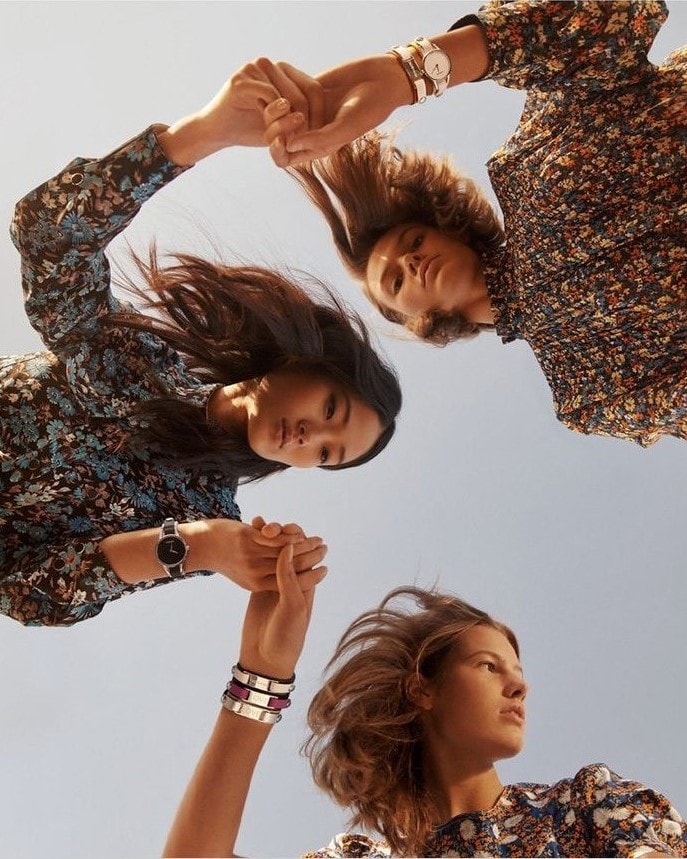 One of the great things about women's watches is that you can go for more of a bracelet style strap. Lucky for us, we're not bound by quite as tight style conventions as the blokes are.
An easily adjustable strap
On the topic of watch straps, things can change. A few too many lockdown snacks may leave you wanting to loosen the watch strap. Or increased stress might send it the other way. So you want to be able to easily adjust the strap. A Milanese watch strap with a handy slide adjuster is perfect.
In our opinion, this Classic Polished Gold Watch is one of Bering Watches masterpieces. It has an easily adjustable strap, a clean face and a mixed tone look. Blend gold and silver for a look that is very much on-trend this year. Oh, and it's gorgeous. Just saying.
We adore this look by @anakawecka which styles the watch with three of my favourite things. Coffee (though I prefer a cortado or cappuccino!), beach shells (cowrie shell jewellery to be precise), and a passport to travel again once we are allowed!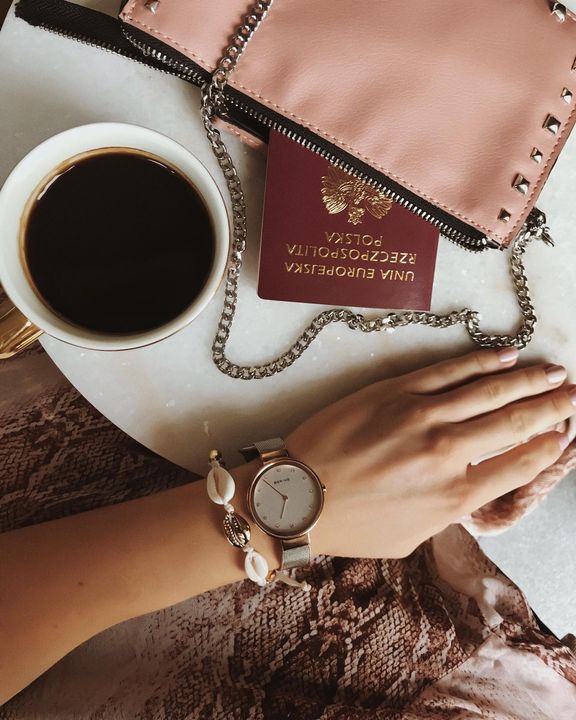 And I'll let you in on a secret. This is my current everyday watch. Hence the high praise, but also evidence that it's the perfect women's watch.
Neutral colours
Like a patterned watch face, there is definitely a place for colourful women's watches. Like a red watch at a Christmas party. Or a brightly patterned strap when worn with a white summery blouse on a picnic in Hampstead Heath.
But for the year 2020, we are loving the neutral colours. Calming and versatile, your classic metal colours like silver, gold, rose or black will serve you well this year. They'll go with anything, and when you do feel like a bit of a fashion lift, team them with colourful bracelets.
This look is lovely for relaxed weekends. It would be perfect for that first tenative social gathering after the social distancing restrictions are lifted.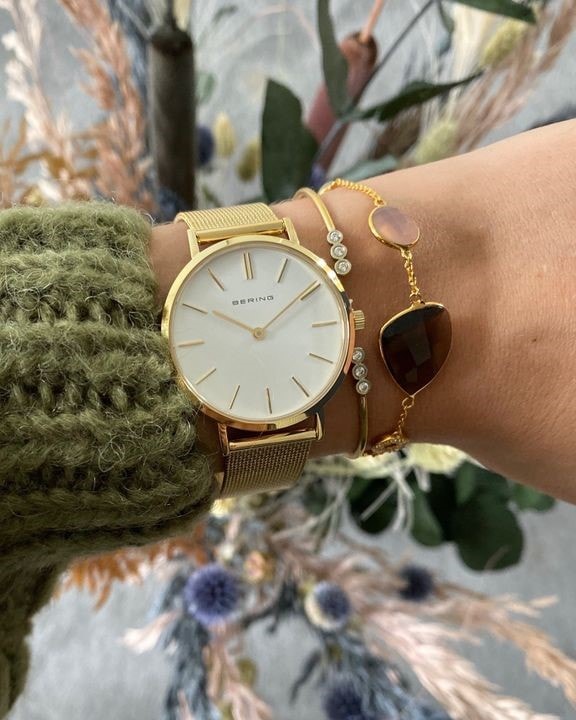 We love the gemstone bracelet to add a playful mood to this classic Bering ladies watch.
Back to work
Whilst many of are still working, a lot of people have had to adapt their work environments. If you're working from home you might be dressing down apart from what can be seen on a video conference call.
But when it's time to go back to the city, the office, the shop or other workplace that is currently closed, here's the perfect watch.
It's part of the Max Rene design range, this Bering Max Rene Polished Silver Women's Watch doesn't shrink away from the spotlight. With a 31mm case it's a good size and a simple but elegant design.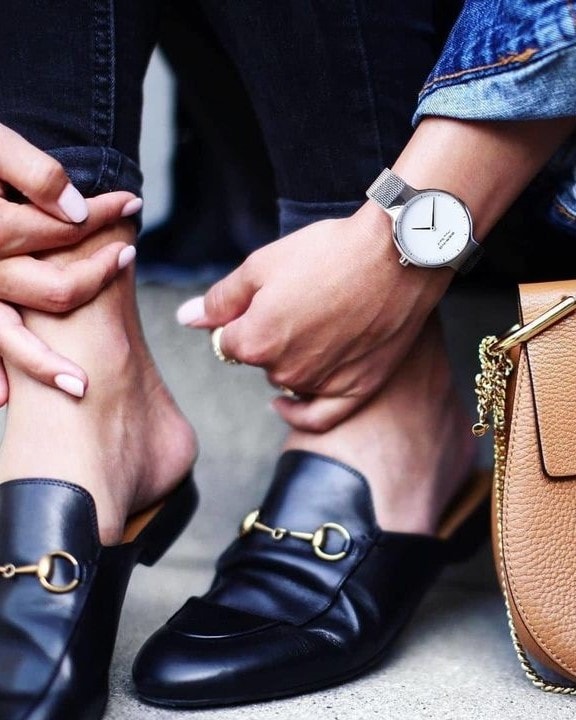 Its classic silver finish can literally be worn with any outfit, but we also think it's the perfect simple elegance for the workplace. The polished silver case and Milanese strap will take you from the office to wherever you want to go.
Women's watches for every occasion
But if you don't find your perfect watch amongst our collection of Bering watches or Calvin Klein watches, take a look at Obaku watches. Obaku watches is another Danish watch brand but in this case the inspiration the classic Danish design tradition combined with the Asian Zen Philosophy that focuses on the essential things in life.
Another place to look, which is last in this post but certainly not least, is Swarovski ladies watches. With a fantastic range of women's watches, Swarovski is your go-to if you love sparkle. You can stick with neutral tones yet still add some bling to your day or evening.
Recently we are crushing on the Swarovski Crystalline Aura ladies watches. Available in silver or rose with a metal bracelet, then there is also the grey leather watch strap design. So if you love a bit of sparkle or are looking forward to an event later in the year, try these gorgeous watches.
Here is our personal favourite, the silver tone Aura watch.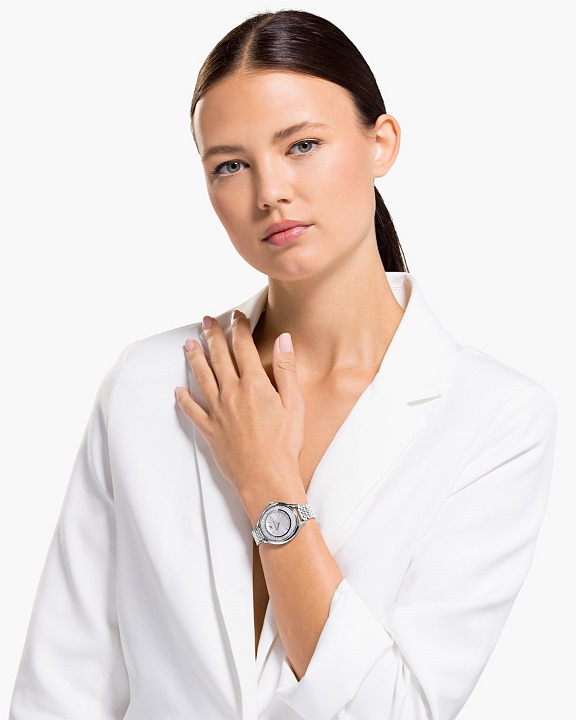 So there you have it. 2020 may be unusual in the extreme, but you can add calm to your everyday with a timeless watch design.
Need more inspiration? Shop all women's watches.
Happy watch hunting!