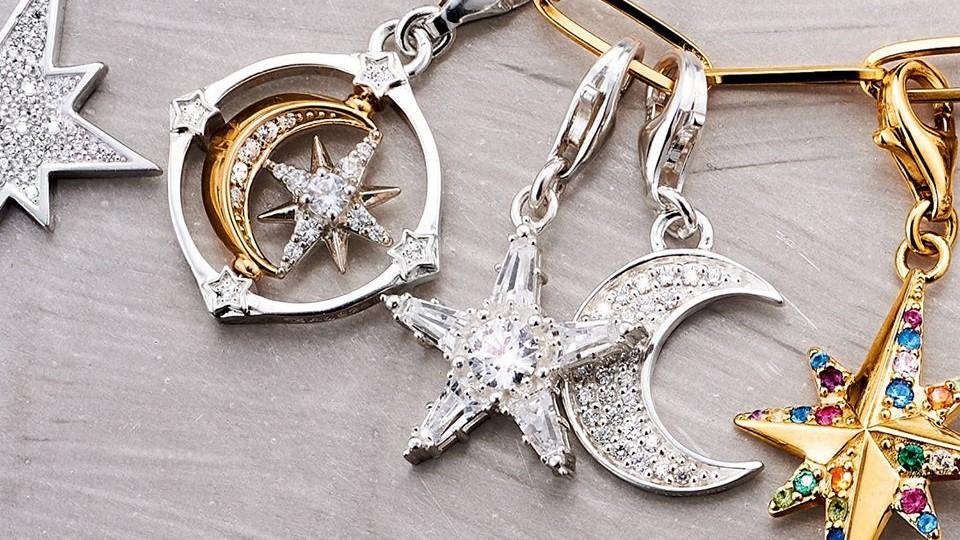 Thomas Sabo charms are a fantastic way to customise your jewellery. The lobster clasp makes each charm so easy to add to a bracelet or necklace, to re-arrange or to swap to a different piece of jewellery.
This makes Thomas Sabo charm bracelets and necklaces a uniquely versatile jewellery range. There are also so many different charms to choose from, it's easy to tell your story through Thomas Sabo charms.
So here are our top tips on styling with Thomas Sabo Charm Club.
Thomas Sabo charms with meaning
It's lucky there are so many Thomas Sabo charms to choose from. There is a gorgeous range of charm pendants ranging from £24 through £140 for the larger, more intricately crafted charms.
You can choose one or more charms that represent a meaningful occasion, interest or connection. Signify a birthday with a number charm or a birthstone charm. Or simply choose charms with a theme, like summery plants and animals or celestial sun, moon and stars.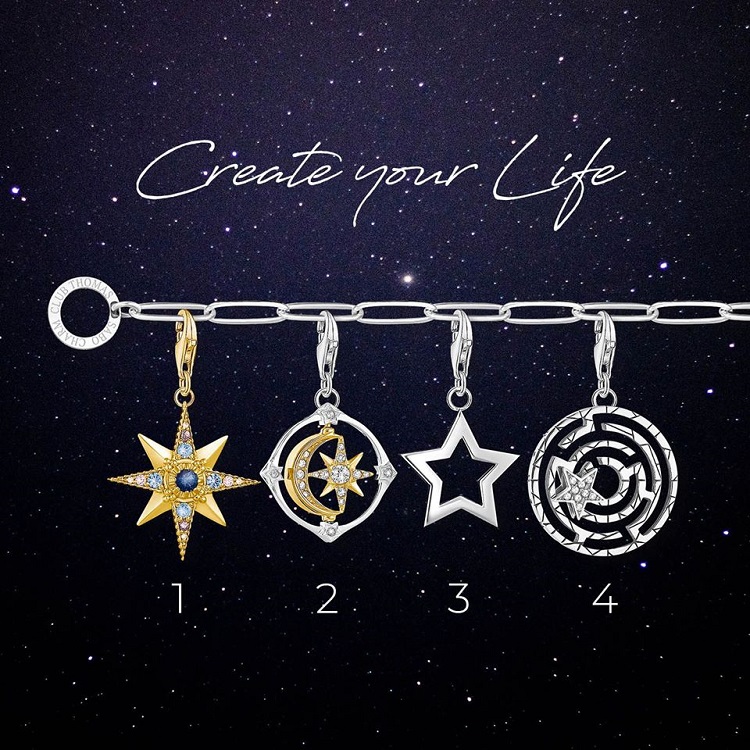 The Treble Clef charm and Music Note charm are perfect for music lovers. Or choose from beautiful hearts, stars, butterflies, feathers and other meaningful motifs.
Browse our Thomas Sabo Charm Club collection.
Wear carriers without charms
One of the things we love about Thomas Sabo charm bracelets and necklaces is that they are stylish as standalone pieces. A lot of charm systems don't quite look right until you laden them up with charms. But not with Thomas Sabo Charm Club.
On the contrary, Thomas Sabo charm carriers are designed so you can wear them with or without charms. We especially love the long link charm bracelet in gold. This is an attractive, on trend Sterling Silver bracelet plated with 18ct yellow gold.
Fashioned in an on-trend paperclip style, it looks just as sweet with or without charms.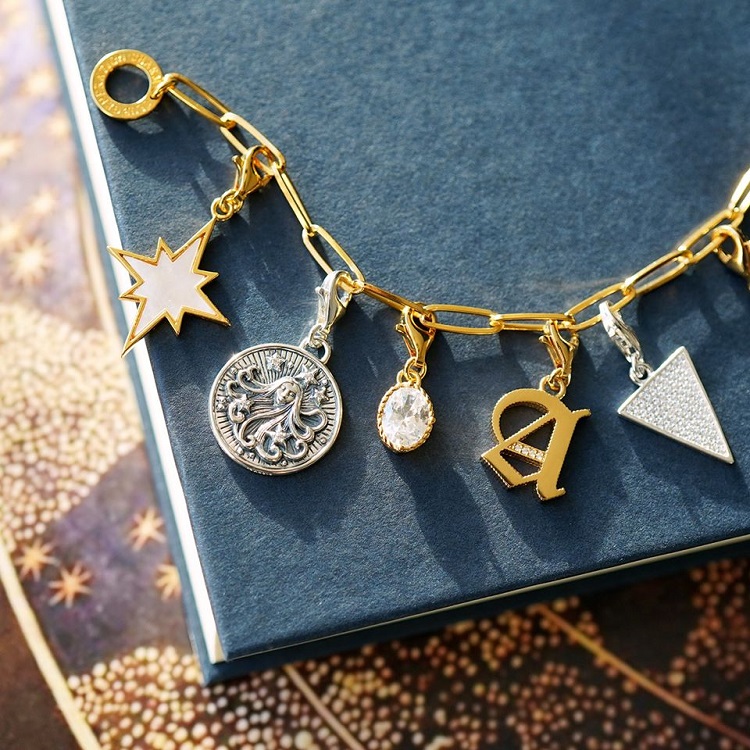 It is adjustable because the lobster clasp can be used to close the bracelet at any point. It does come in different size options, but within each one of these sizes the bracelet is adjustable.
Dress it up with charms or wear on its own for an on-trend minimalist look.
The same goes for the Charm necklaces. You can wear many of these on their own, but simply add one or more charm pendants for a whole new mood.
Charm necklace and charm bracelet
We love versatile jewellery because it is such good value. With just a few pieces, you can have so many different looks. Once you have one or more Thomas Sabo charms, you can easily interchange them between a charm necklace and bracelet.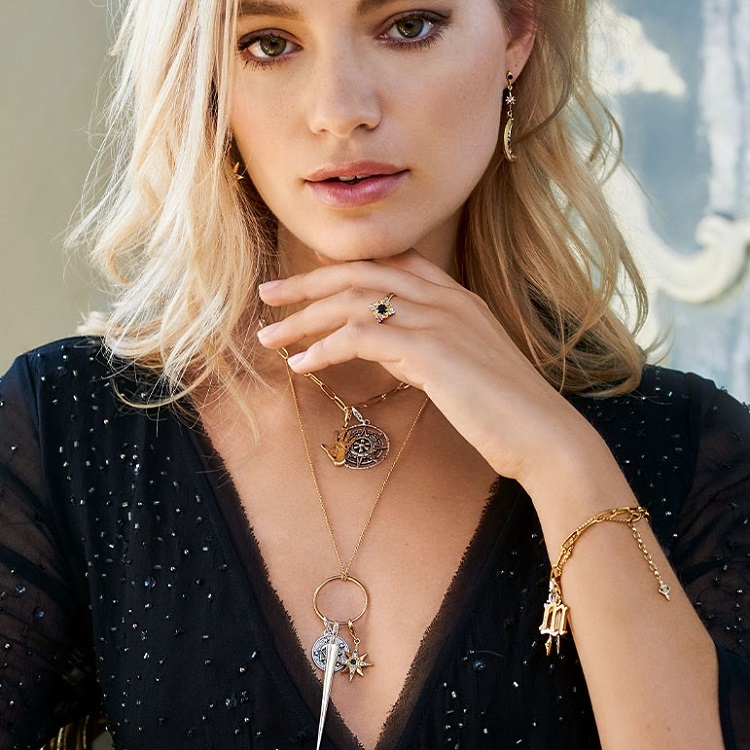 When you consider the fact that charm carriers can be worn alone, that's a lot of combinations! With the easy open lobster clasp, it's a cinch to rearrange your charms. So it's definitely worth investing in both a charm bracelet and necklace, even if you only have a few charms.
That way you can create several different pieces of jewellery for different occasions. The options are endless. The lasting trend of mixed metal makes this even easier to do. Your pieces don't even have to be in the same finish.
Create a wish list
Another great thing about Thomas Sabo Charm Club is the gift ideas it can generate! You can create an online wish list to keep track of the charms and other Thomas Sabo jewellery that you would love. This can be emailed to loved ones who ask about gift ideas to provide some inspiration. Or you can just use it to keep track yourself.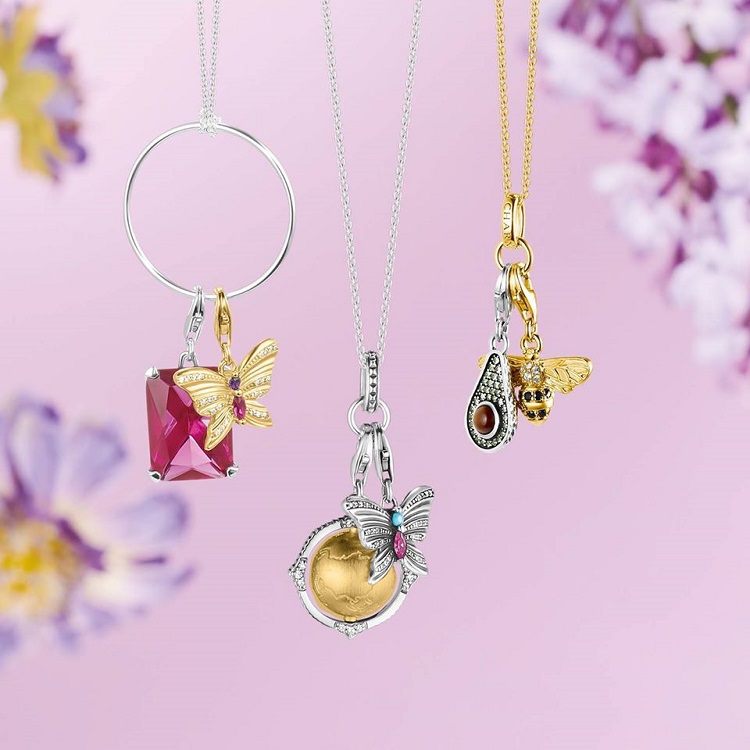 Either way, you can create a dream set of charm jewellery and slowly work towards it. But don't forget that even with one or two charms and either a necklace or charm bracelet, you can already create several different looks.
Get gifting
Thomas Sabo jewellery makes a wonderful gift. The charms in particular are meaningful and versatile. Even if they don't have a Thomas Sabo charm bracelet, the lobster clasp means the charms can be added to lots of different jewellery pieces.
The quality and craftsmanship of Thomas Sabo jewellery is another reason it is a great gift. The attention to detail of the design and the variety of charm pendant designs makes it a very desirable gift. You can always find a charm for the sentiment you want to communicate.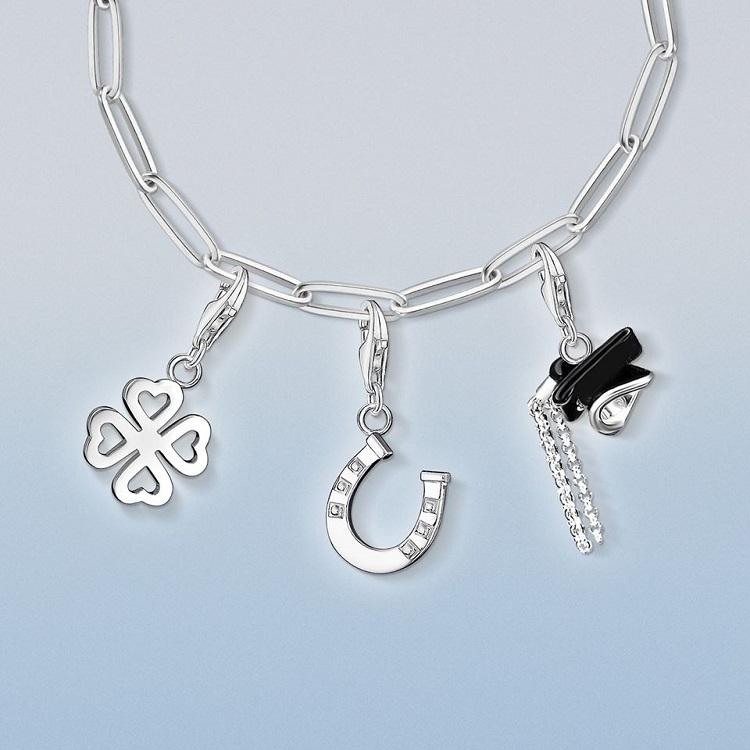 Who wouldn't want to receive a thoughtful and meaningful jewellery gift of the highest quality? Whether its a graduation gift, birthday gift or Christmas gift, choose a message for the occasion.
Style for the season
Once you have a small collection of Thomas Sabo Charm Club pieces, you can bring out the different charms for different seasons. In the Summer go for whimsical natural and fun charms, and in the Winter choose stars, moons or snowflakes.
For Spring, charms like these feather and dragonfly motifs are stunning.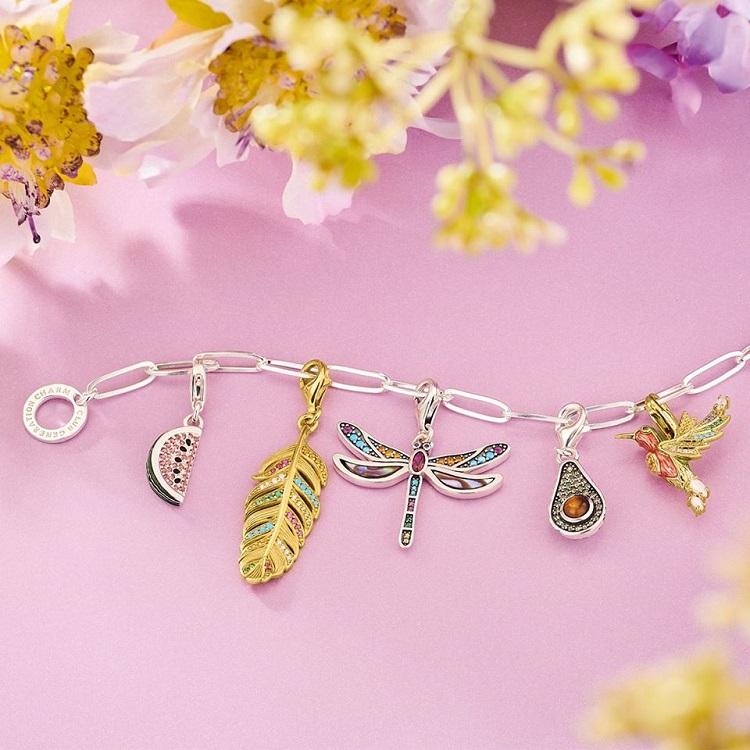 And when Autumn comes, simply change over your charms to Autumnal themes.
Style for the occasion
Many people the world over are isolating at the moment due to the coronavirus outbreak in 2020. If you are working from home, your outfit and jewellery choices will be different to what you would normally wear to work or out and about.
But you can still style with casual chic jewellery even if you're not in your city office or other place of work or business. Or if you are a key worker, style for relaxation in your down time.
Here is our home working style today! Complete with charms to symbolise how we are feeling at the moment.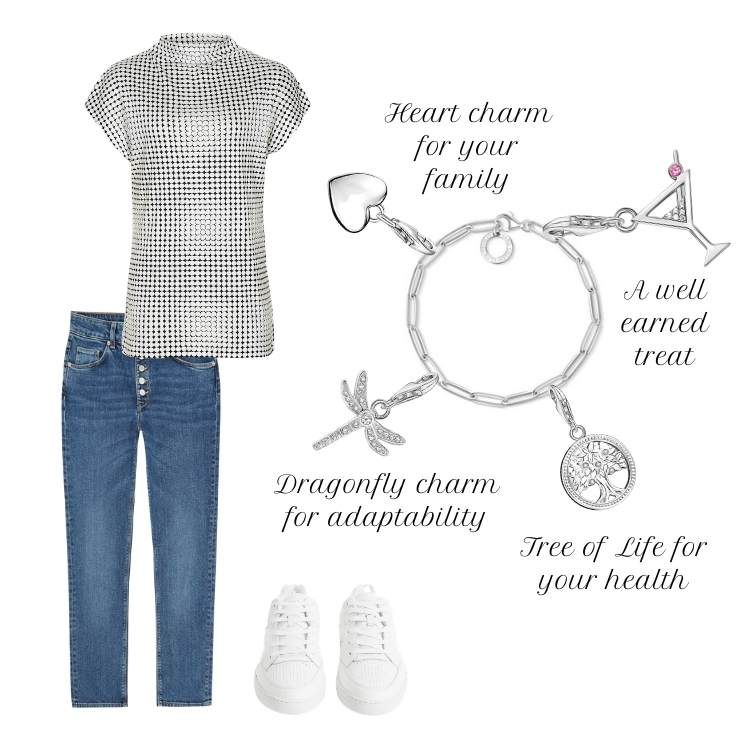 We love Thomas Sabo for its unique style, and the Charm Club collection is one of our favourites. It's great for gifting, and wonderful to mark the moments, interests or milestones in jewellery form.
Shop our collection of Thomas Sabo Charms and Charm Bracelets here.