Annie Haak Designs is the original stacking jewellery brand, creating high quality stackable sterling silver designs. Annie has just celebrated her 10 year anniversary in March 2020!
In her own words: 'Ten years of designing beautiful stacks with heaps of meaning, all handmade with love'. As well as stackable bracelets which are hand threaded in the UK, Annie also designs stunning necklaces, earrings, rings and bangles.
At Niche Jewellery, we are proud of our relationships with high quality jewellery designers like Annie Haak. Annie is a designer who moves with the trends, yet creates pieces with high quality workmanship and design.
Annie Haak Designs is one of our most collectible jewellery ranges. Our customers love to build a stunning bracelet stack or choose the best gifts for friends and loved ones.
Why we love it
Where do we start? Well, it's stylish, meaningful and easy to wear. In our opinion, one of the most versatile jewellery ranges available in 2020.
1. Stylish jewellery
We love how it looks. Gorgeous 925 Sterling Silver beads in different sizes, shapes and textures, with beautiful charms and hearts. Some have engraving and mixed metals, and other pieces feature plated yellow gold or rose gold beads or charms.
Each piece looks beautiful on its own or can be stacked together for the ultimate arm party. Annie Haak's bracelets are our most popular jewellery type with customers, but many also love her earrings, necklaces and rings.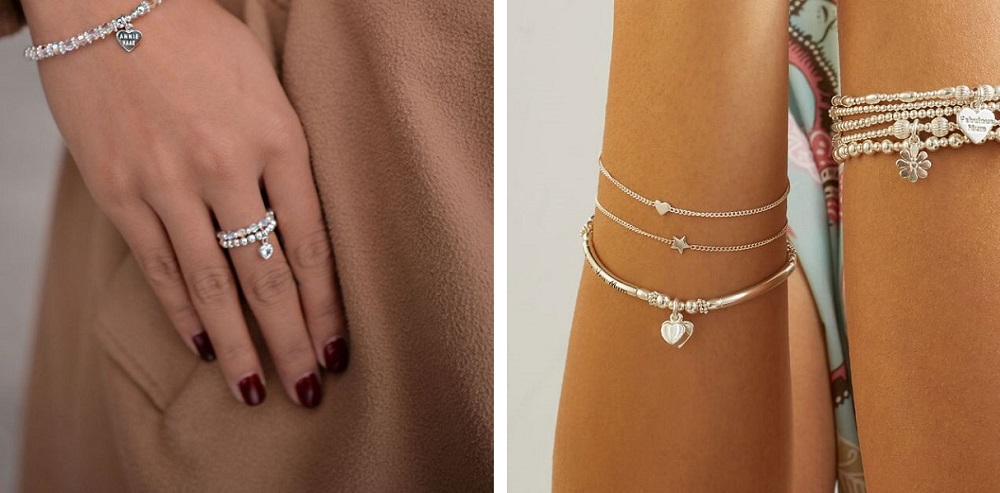 You can easily stack it and create your own style, yet every piece goes with the others. Annie Haak Designs really is mix and match jewellery style at its best. Mix and match Annie Haak's handmade designs to take you from the office to the beach. Or to the shops and out for dinner and back to the cocktail bar!
2. Meaningful jewellery
Not only are they stylish, versatile and easy to wear and stack, many of Annie Haak's designs carry special meanings. Charms like My Guardian Angel, engraved hearts with special messages, and Fatima's Hand are just some of these.
Each season Annie brings out new designs, many of which carry mottos and make Annie's bracelets a fantastic gift. 'Fabulous Mum' or 'Best Mum' or 'Love you Mum' are all beautiful sentiment and make for brilliant Mother's Day gifts ideas 2020.
3. Easy to wear jewellery
One of our favourite things about Annie Haak Designs is how easy they are to wear. The high quality jewellery elastic means that the bracelets are quick and easy to put on and take off.
How often have you started to put on a bracelet, only to find that you can't actually do the clasp up yourself? Most of us are incredibly busy with work, family, and life in general, so it's invaluable to have a set of jewellery that you can easily slip on without fiddling about.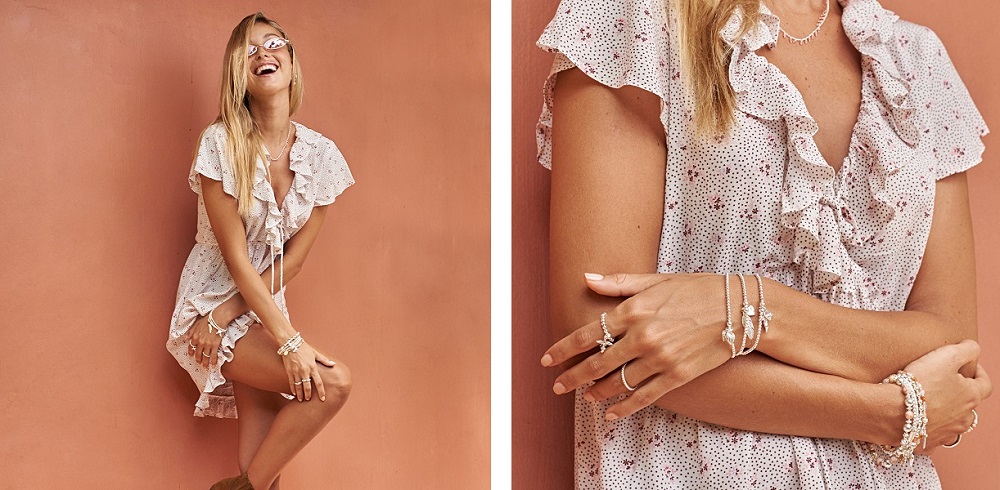 4. Award winning jewellery
Annie holds awards including the Lux Award for Best Bespoke Handmade Jewellery in 2018 and for Best Handmade Sterling Silver Jewellery in 2017. She also holds the UK Enterprise Award for Independent Jewellery Company and Sterling Silver Jewellery Collection in 2019.
But don't just take someone else's word for it, see Annie Haak jewellery for yourself at Niche Jewellery. Or browse our Annie Haak online jewellery collection.
5. Socially conscious jewellery
We love it when our designers create ranges to raise money for charities and support important social causes. As a local independent business, we also support local charities and fundraising efforts, and feel happy when our designers do too.
Dementia Support - Sage House is Annie Haak's chosen 2019/20 charity. Annie's Memories Matter Bracelet Stack raises awareness for the Sage House Hub based in West Sussex.
100% of proceeds from this stack go directly to the charity. This helps to fund the care and support Sage House offers to people affected by dementia. Many of us know someone with dementia and so it's a worthy cause.
In Annie Haak's own words
"The ANNIE HAAK DESIGNS style is to seek harmony, with jewellery that can be worn individually or stacked proportionately for added panache. The use of colour – using Swarovski gemstones, crystals or other semi-precious stones - adds an important design element, as do affirmations that make people feel good or add a touch of significance to an item."
Annie gets much of her inspiration from the life and style on the island of Bali, where she spends a lot of her time. Her influences are gathered from many aspects of Bali life. This includes nature, the magical people and colours and patterns found in the local markets and villages. We love the fact that her designs are based on the things she loves and places she explores.
Who is wearing Annie Haak jewellery?
Check out Annie's blog from July 2019 for styling tips from the influencers who love Annie's designs as much as we do, including Sara from @welliesandchampagne and Emma from @_sash_.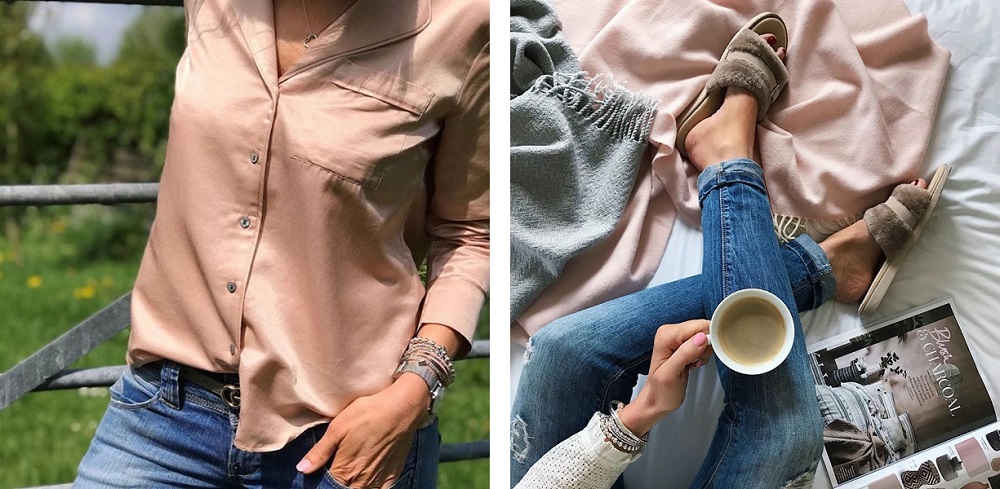 See more on Instagram at @anniehaakdesigns. There are so many different ways to wear Annie's collectible designs, and Instagram is the perfect place to browse style ideas and find inspiration!
Our favourite pieces
It's hard to choose, but if we had to pick a couple - any of Annie Haak Frankie's bracelets and rings (available in silver and mixed metal) go beautifully either alone or in any stack, and Annie Haak Yard of Silver is a timeless classic that's hard to go past as part of your collection of as a special gift.

We are also loving some of the new pieces coming in for next season. Another great thing about Annie Haak jewellery is that you have new designs each season, including limited edition pieces. This means you can create a jewellery stack that is truly unique to you.
Some of the designs, such as Frankie's Bracelet and Frankie's Ring, stay in the signature collection and continue to be available online jewellery, but limited edition designs are also very special.
With so many beautiful designs to choose from, there is something for everyone among Annie Haak Designs, whether it's Annie Haak bracelets, or Annie Haak earrings, necklaces or rings. Annie's designs make fantastic gifts as many carry special mottos. Annie's jewellery also comes in beautiful packaging, all ready to give or receive.
Where to find it
For almost a decade, we have stocked this British designed and handmade brand at Niche Jewellery in Leigh-on-Sea. We are still a proud partner and official stockist of Annie Haak Designs.
You'll find it on many a style icon, influencer and everyday style conscious woman. And soon you'll love it as much as we do and want to find it in your own jewellery collection!
Shop Annie Haak jewellery here.
For the best jewellery information and news, this blog has been updated for content and accuracy in March 2020.