As the first of a series of blog posts on some of the wonderful jewellery designers we stock at Niche Jewellery, we delve here into the world of Sif Jakobs.
Spotlight on the designer
Sif Jakobs is the woman behind the jewellery - a range of sparkling sterling silver and zirconia jewellery in modern, inspiring designs suitable both for the every day and for evening wear.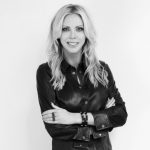 In person she is stylish, striking, yet approachable, always keen to discuss her designs and inspirations.
Sif was born in Iceland, educated as a goldsmith in Sweden and has travelled all over the world. Although based now in Copenhagen, Italy was her second home for a number of years.
Her love for Italian style is a major inspiration, and the reason why each of Sif's collections is named after an Italian city.
She as built her brand over a number of years into a widely recognised individual look.
Why we love it
What we love about Sif Jakobs' designs is their sparkling simplicity, whether a classic piece or a cutting edge on-trend design.
The clear and sometimes coloured zirconia used in many designs give the luxury of sparkling design at affordable prices. Always based on high quality sterling silver, Sif uses 18ct yellow or rose gold plating to add variety to the finish.
[gallery ids="757,759,756"]
In her own words
Sif has said that she possesses an artistic soul and a passion for creating. Her bubbly personality and instinctive sense for quality and design underpin her inspiration - to create glamorous designs with a touch of luxury.
"Travelling is my inspiration – I love to see what is happening around the world and to be inspired by current fashion trends. I wish to create jewellery that gives a feeling of luxury. Simple and beautiful style – everyday".
[gallery size="medium" ids="749,750,751"]
Who is wearing it
Sif Jakobs designs are favoured by many a celebrity, including Alesha Dixon, comedian Katherine Ryan, and the one and only Nicole Scherzinger.
[gallery columns="4" size="medium" ids="752,753,754,755"]
Our favourite pieces
We love them all! But here are just a few of our favourites from the AW18 release.
We love the 18ct gold plating and the multi-coloured zirconia. Shop Sif Jakobs here.
[gallery size="medium" columns="4" ids="763,762,760,761"]
Where to find it
Niche Jewellery is proud to be an official stockist and partner of Sif Jakobs Jewellery, adding to our collection of her designs, and bringing in new styles with each new season released by Sif.
We stock Sif Jakobs designs in our Leigh-on-Sea store, with a range of pieces also available on our website.
Shop our range of Sif Jakobs Jewellery.