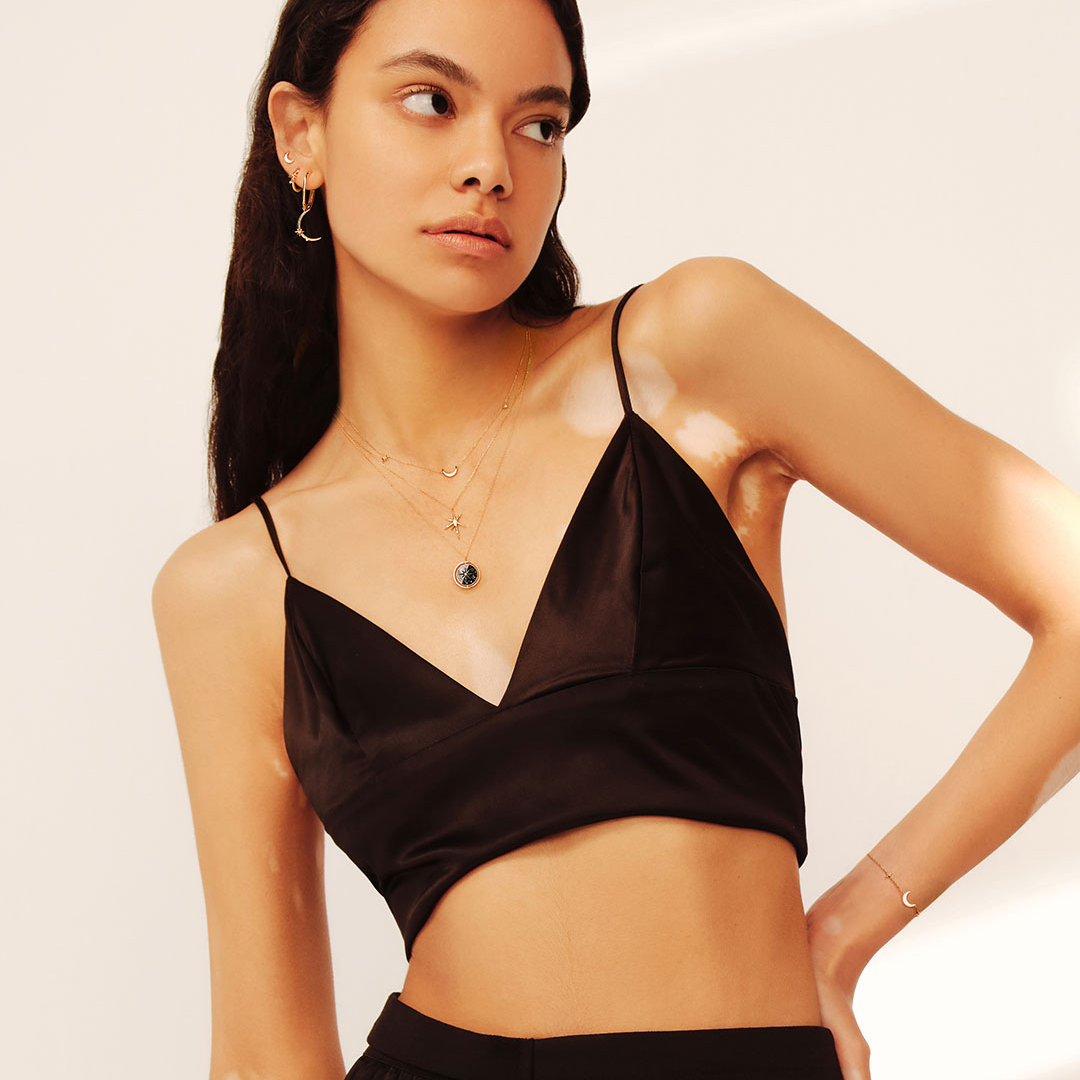 Party jewellery? Yes please! What will you be wearing this party season? Find the perfect pieces to go with all your favourite party outfits with our handy guide.
What party jewellery will you be wearing this year?
Party season is nearly upon us, which means you need to get planning all those party outfits - and the perfect jewellery pairings to go with them!
Luckily, we've put together everything you need to know about party jewellery, from choosing the right pieces to styling them for the maximum impact. 
Choosing the right party jewellery
When choosing jewellery for a party, there are a few things you'll want to keep in mind, from the type of event to the style of your outfit. Not to mention comfort and colour. 
What's the occasion? 
If you're going to a formal event, you'll want to choose more classic, elegant pieces. A pair of diamond-esque earrings for instance, a pearl or tennis necklace. If none of those are your style, a classic gold chain or modern sculptural silver piece will also look stunning with formal wear. For a more casual party, you can get away with something more fun and funky, like a statement necklace or a pair of colourful earrings.
What are you wearing?
Once you've got your ideal outfit in mind, the accessorising fun can begin! There are a few things to bear in mind. 
You'll want to choose jewellery that complements the neckline and style of your attire. For example, if you're wearing a V-neck top or dress, you might want to choose a necklace that draws attention to that 'V'. But if you're wearing a halter top, you'll probably want to avoid necklaces and look for a pair of large hoops, or long dangling earrings to accentuate the illusion of a long, slender neck.
The colour of your outfit will also impact your jewellery choice. Chunky silver and gold, for instance, look great against monochrome and neutral colours like black, brown, white and cream. They also stand out against single block colours like red, blue and purple. 
However, if you're wearing colour you may also want to consider choosing jewellery that complements or contrasts with a shade you're wearing. Again, this might depend on the occasion. For a more formal event, for instance, you might want to keep it simple and choose jewellery that complements what you're wearing. Picking out a particular shade with a gemstone in the same colour, for example. Whereas if you're hitting the bars and clubs, or heading to a party, you might want to go all-out and wear a contrasting or even clashing shade. Red and pink, for example, or pink and yellow. Modern, flashy crystal pieces are a great way to bring the colour to your look in a big way. Check out Swarovski's party range for some real showstoppers!
Personal style
Finally, your personal style will also obviously come into your choice of jewellery. Do you prefer classic and understated jewellery, or do you like something more bold and eye-catching? There's no right or wrong answer. And sometimes, it's even fun to choose something completely unexpected and out of your comfort zone. But whatever you wear, choose the pieces that make you feel confident and beautiful.
Styling Party Jewellery
Once you've chosen your jewellery, it's time to style it for maximum impact. Here are a few tips:
Layering is a great way to add interest to your look. Try wearing multiple necklaces or bracelets at once.

Don't be afraid to mix and match metals. Gold, silver, and rose gold can all look great together.

Statement pieces are a great way to upcycle your daytime outfit to nighttime chic. Keep a pair of statement earrings in your handbag for those impromptu nights out.

Have fun and enjoy trying new styles and pieces.