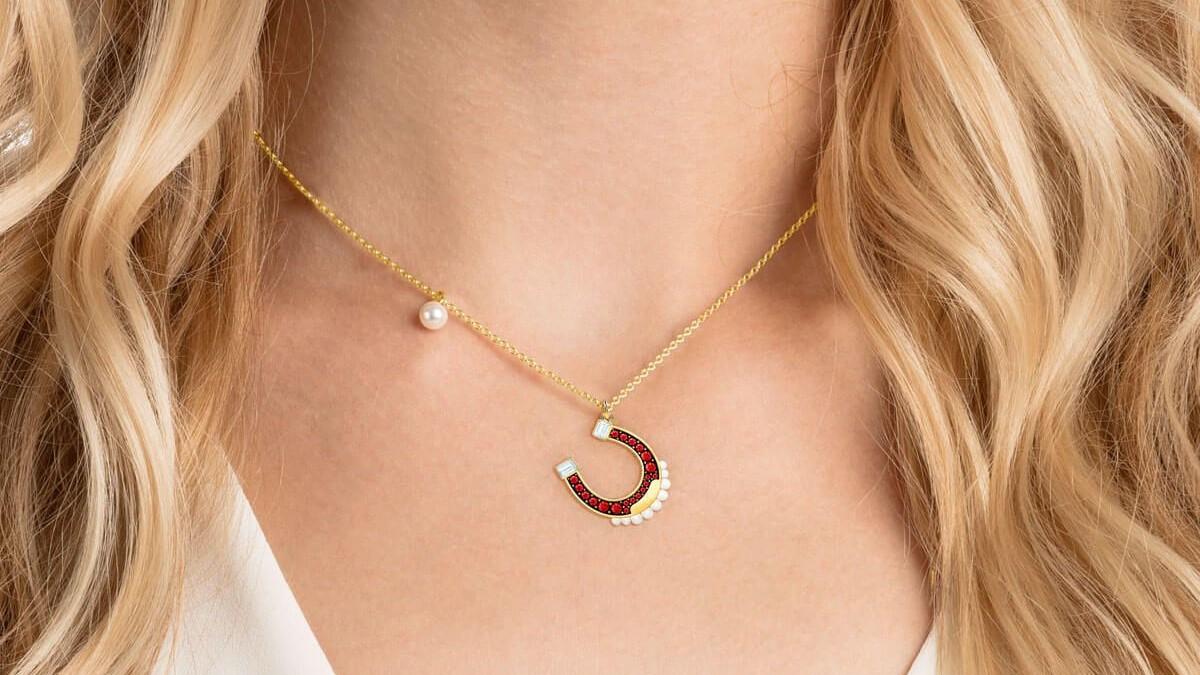 Do you have a July birthday or a friend to treat this month? Here we give you ideas for July birthstone gifts. Paint the town red with bright ruby tones to celebrate.
But if you don't have the cash to splash on genuine rubies, there are plenty of gorgeous alternatives to celebrate a July birthday. Or simply shine bright with red tones in the Summer holiday season.
Ruby red July birthstone
Rubies are considered the king of gems and represent love, health and wisdom. What more could you want in life?
The July birthstone can also stir the imagination. Some believe that wearing a fine Ruby bestows good fortune on the owner.
Ruby combines beautifully with diamond for a stunning contrast. These Brown & Newirth earrings are the perfect gift for someone special with a July birthday.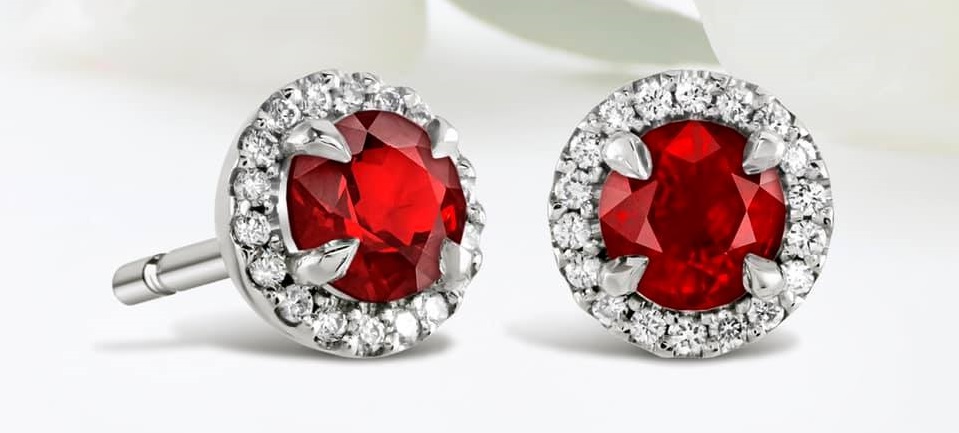 But since Rubies are valuable precious stones, stunning alternatives include red zirconia or Swarovski crystal.
Or if red is not their colour, go for a zodiac gift. Here are some ideas for July birthstone and birthday treats!
Sparkle with Sif Jakobs
Sif Jakobs has been known for some years for her stunning Sterling Silver and white or black zirconia jewellery. However in recent years she has introduced more colour to her collection.
We love the red zirconia Ellera Earrings and Valiano Bangle. These pieces feature 18ct yellow gold plating for a touch of luxury. Red and gold combine beautifully for a regal but on-trend look.

Sif Jakobs Jewellery is known for its affordable yet luxurious designs.
Crafted in sterling silver and featuring sparkling zirconia, Sif Jakobs Jewellery is both high quality and easy on the budget.
Ruby and diamond designs
This stunning ruby and diamond ring from Brown & Newirth will definitely set the heart of your loved one on fire. With channel set round brilliant rubies and baguette diamonds, it is crafted in 18ct white gold.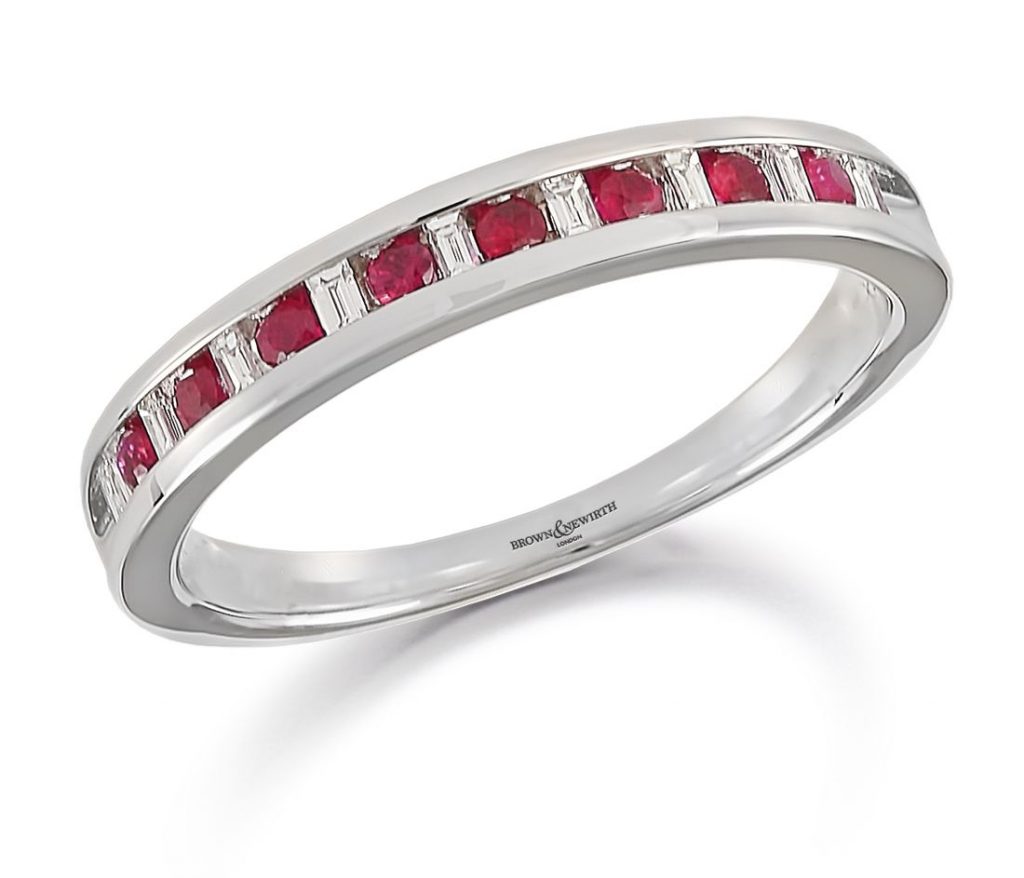 The combination of round and baguette cuts gives a contrast that catches the eye. Symbolising eternal love, the eternity ring is a wonderful gift for an anniversary or birthday.
The rubies stand out against the diamond and silvery tones, creating an eye-catching design.
With Brown & Newirth you can choose from a large range of designs and have a special ring handcrafted to order here in the UK.
Find out more about ring design here.
Thomas Sabo Together Collection
If you are looking for a more affordable token of love, go no further than the Thomas Sabo Together Range in rose gold plated Sterling Silver adorned with synthetic red corundum to give a deep red look of rubies, without the price tag!
The deep red has slightly more pink tone than natural ruby, which gives a playful and romantic look.

There are also stunning Thomas Sabo charm designs in red.
The great thing about a Thomas Sabo charm bracelet is that it looks equally stylish when worn alone, with just one charm, or with a full collection of charms.
For more inspiration on charm bracelets, carriers and charms, shop Thomas Sabo Charm Club.
Or as a fun gift for a friend, try cute designs in red from Swarovski. A piece of Swarovski jewellery or crystal incorporating red tones is a perfect for the July birthday girl.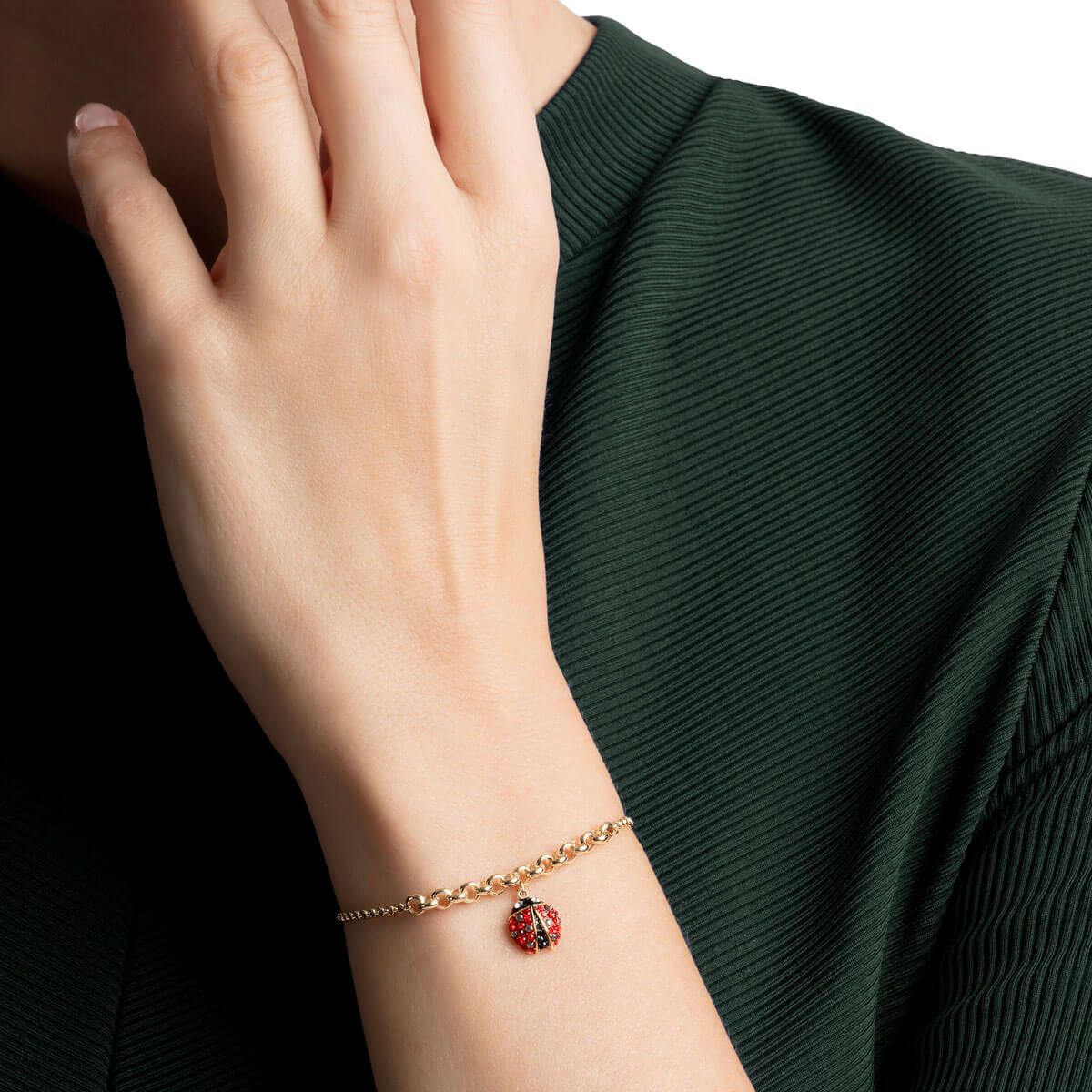 Swarovski crystal and jewellery make brilliant gifts. Add sparkle to her day without breaking the bank.
Take a look at our gift finder for even more gift inspiration.
Birthstone bliss
These birthstone earrings and necklace with disc also make a fantastic gift or July birthday treat to yourself. Presented on a custom sentiment card, these simple birthstone designs are the perfect affordable gift.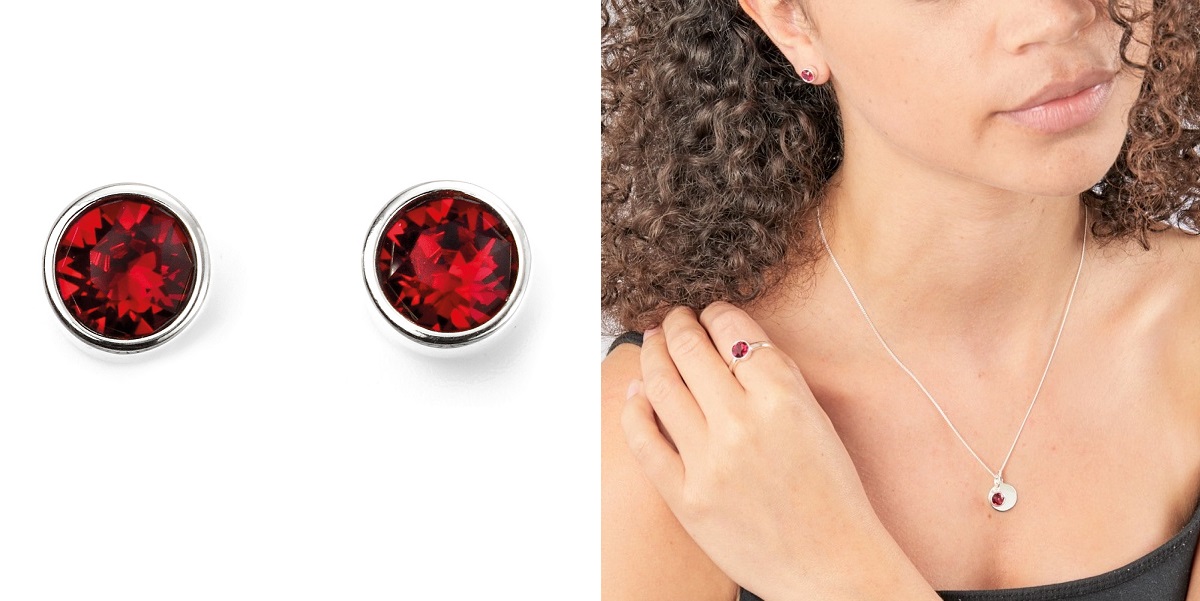 Find the perfect personalised gift.
Nomination charms
Nomination bracelets and charms make the perfect birthday gift. With Composable bracelets you can create your own unique style using stylish and meaningful charms.
A birthstone charm or a zodiac charm is the perfect addition to a Nomination bracelet. Whether for your own birthday or a friend's Nomination charms are the perfect gift or treat to yourself.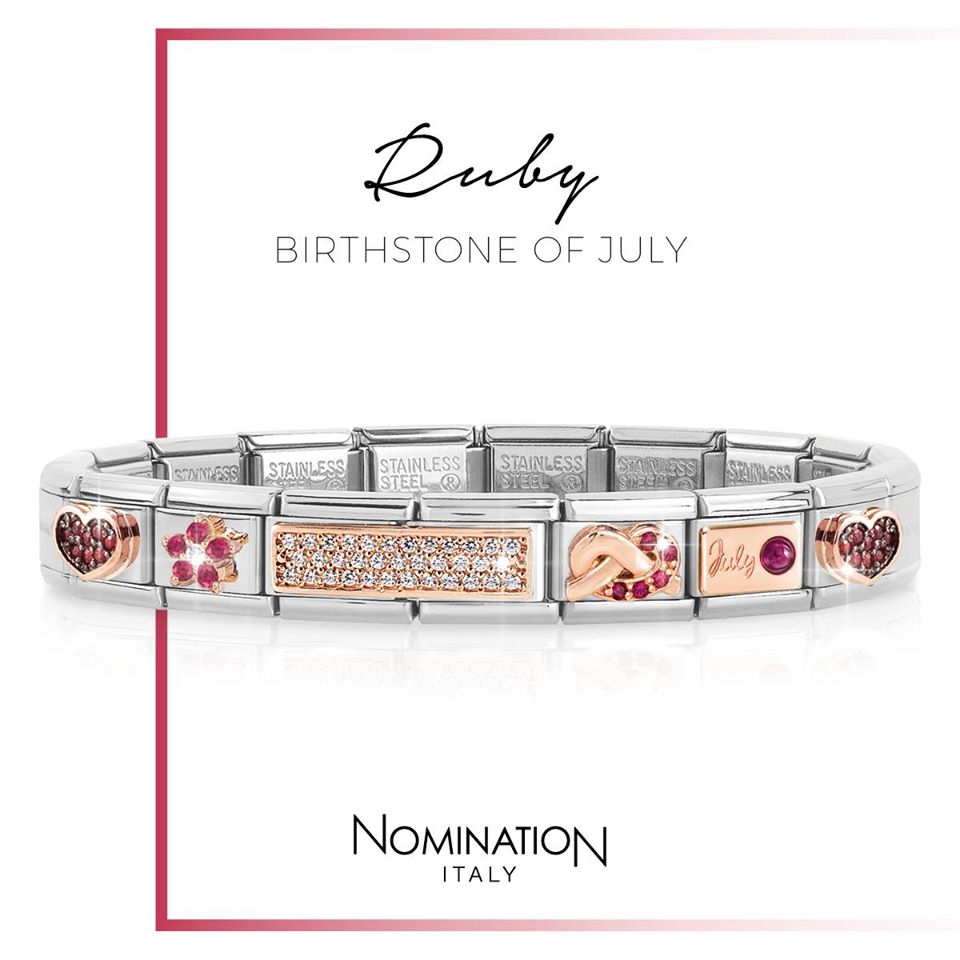 Find our more about how to style Nomination.
Zodiac gifts
If your July birthday girl isn't necessarily a fan of red, why not consider a zodiac gift?
The July zodiac signs are Cancer from 1 - 22 July, or Leo from 23rd July.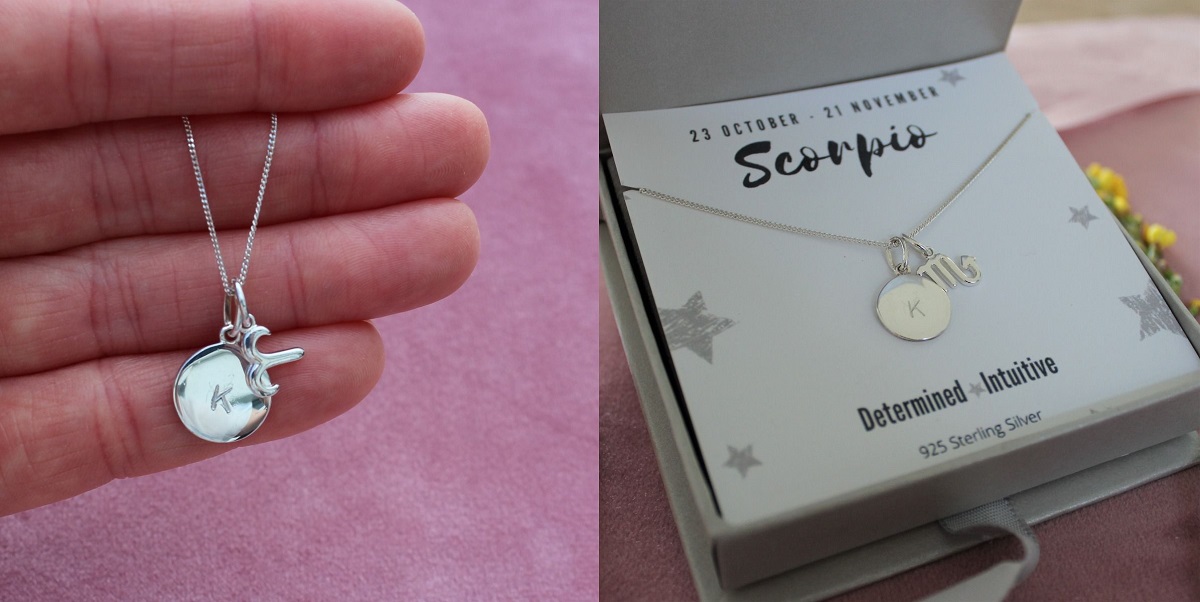 With this Zodiac pendant and disc in Sterling Silver you can choose your zodiac sign. To further personalise the gift you can also choose a hand stamped initial and a message to appear on the card the necklace is presented on.
More inspiration
Still need more inspiration?
Shop more July birthstone ideas here.
Happy July birthday!
At Niche Jewellery we love helping you find your perfect gifts and jewellery. From time to time we update our blog postings to make sure we bring you the latest in jewellery style tips and advice. This blog has been updated in July 2021 for accuracy and completeness.