Browse our Christmas Gift Guide for jewellery gifts that dazzle and delight your family and friends.
Christmas is a time for glitter and gold. Luckily, we specialise in Christmas gifts that sparkle. 
We've got Christmas jewellery gifts for all your family and friends. And to make your Christmas shopping easier, we've put them all together in a handy Niche Online Christmas Gift Guide.
It features all our favourite jewellery and glittering Christmas gift ideas to delight every age, taste and budget. So whoever you're buying for, we'll help you put a smile on their face this Christmas.
You can even add a personalised message to your gift and send it straight from the store, saving you a trip to the post office.
We also have a click and collect service for local customers and offer free UK delivery for everyone. 
But first, the important bit. Choosing!

Choosing the perfect jewellery gift
We know choosing the perfect gift can be a challenge.
So to make it easier, we've broken our Christmas Gift Guide down by person and budget. Selecting our favourite items for him and her, from stocking fillers to showstoppers.
Which means, once you've found your perfect gift, you simply hit the 'buy' button and add a message of your choice. Then collect from the store or send straight to your loved one.
Easy as mince pies. Mmmmmm, mince pies.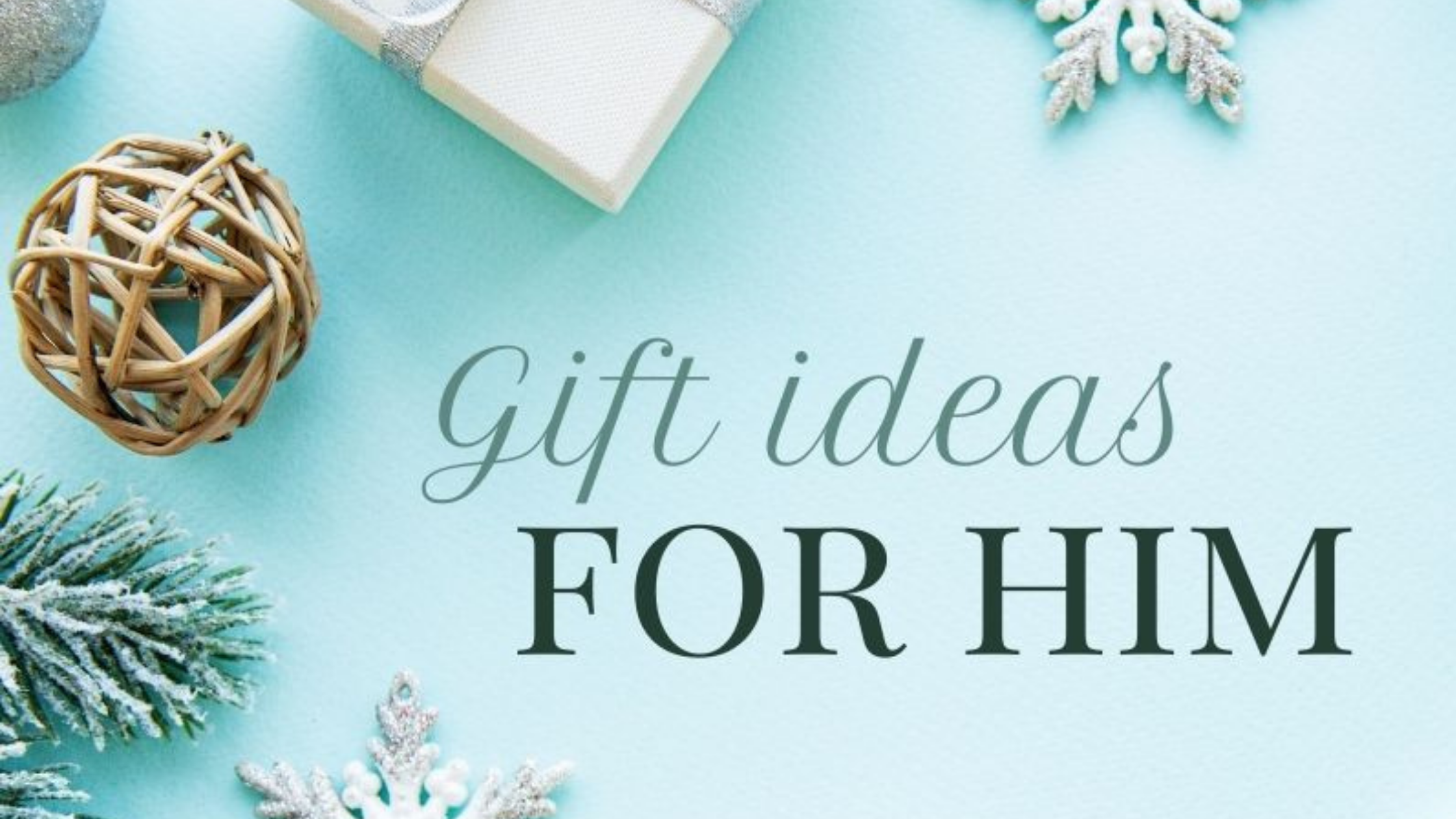 Let's be honest, men can be tricky to buy for. There are only so many socks one man can wear and slippers are so last year.
But don't worry, we've put together some interesting gift ideas to suit every man in your life. 
Whether you're buying for a sophisticated gentleman, young adventurer or the one you love, our Christmas Gift Guide has something for every age, taste and interest.
Stocking fillers: Better than socks
Need an extra treat for the stocking pile? Because we've got plenty. And no socks to be seen!
This Unique and Co Men's Dark Brown leather bracelet (£39) for instance, makes for a much more exciting and stylish accessory to find in your stocking.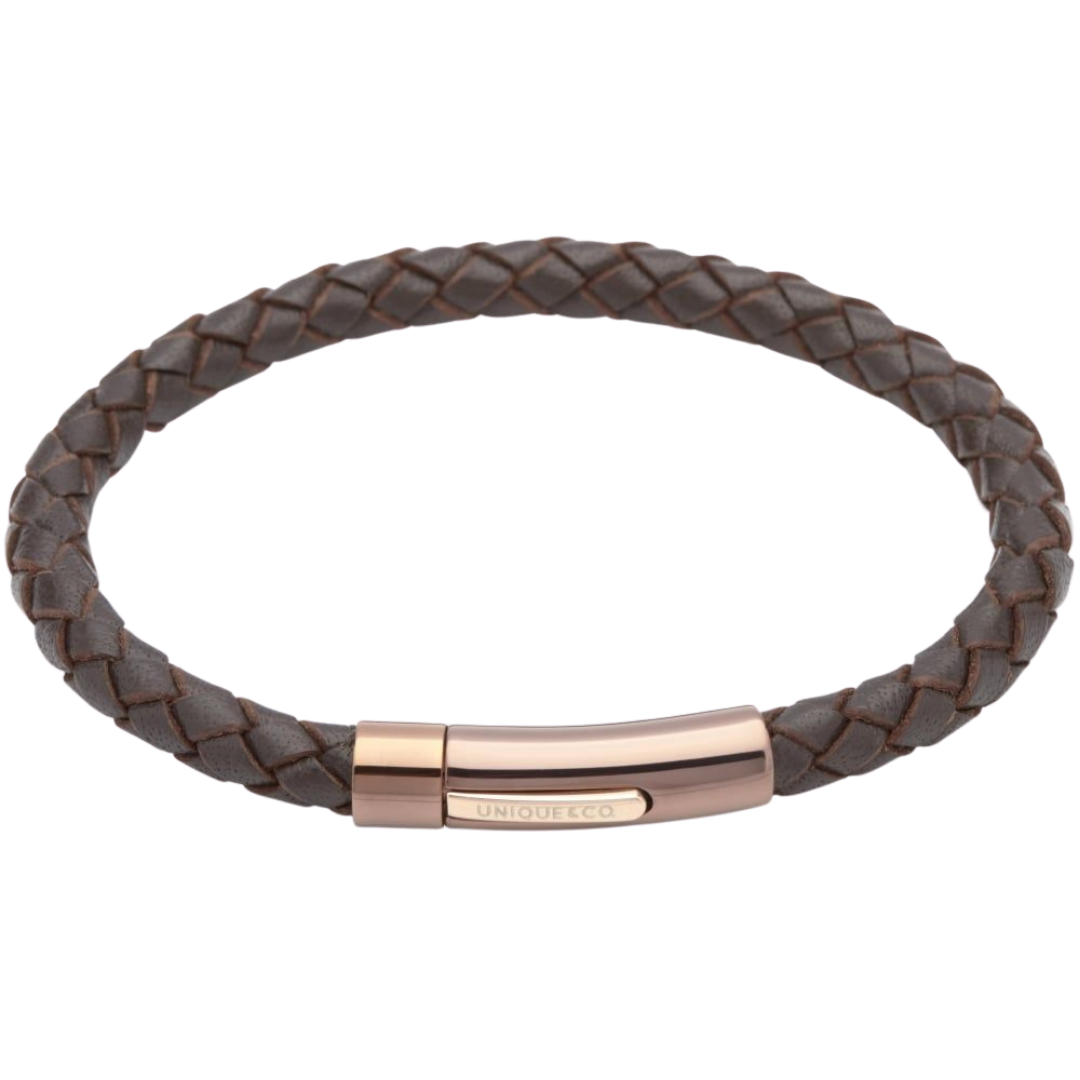 Made from genuine dark brown leather, with a trendy rose-gold plated clasp. It will make a great small gift for friends, family or even sweethearts.
And if the man you're buying for is more a man of steel than leather, no problem. Unique & Co also make this Antique Black Plated Steel wide-link chain bracelet (£35)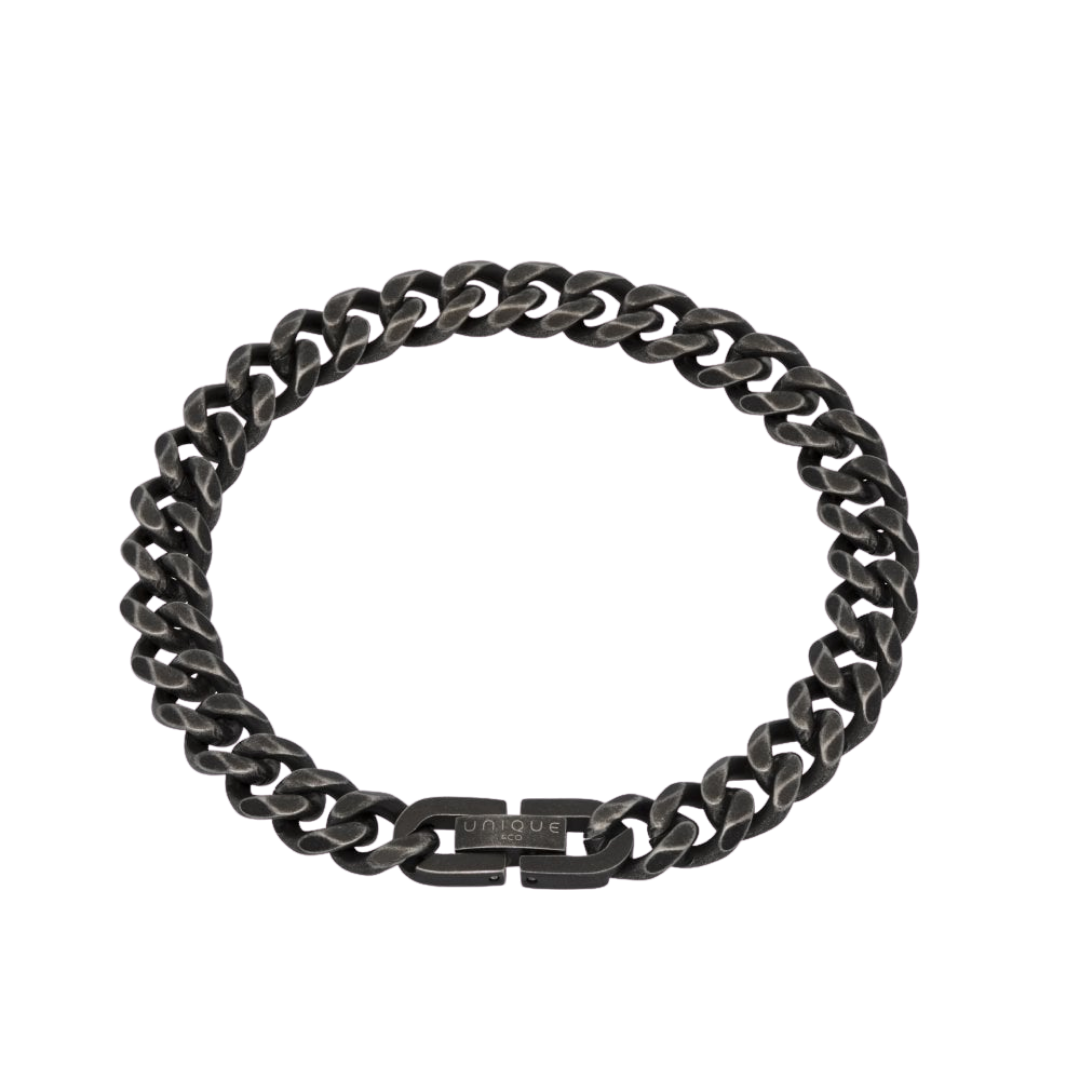 Inspired by architecture and engineering, it's crafted from hard-wearing stainless steel with black plating. So it's beautiful and practical for everyday wear. 
Christmas gifts for Him under £100: For those who appreciate the finer things
Because jewellery comes in styles and shapes to refect every personality, it can make a thoughtful gift for whoever you're buying for. 
For instance, a pair of silver cufflinks are an ideal gift for those men who appreciate the finer details of fashion. And we have pairs to reflect every interest.
For rugged sailors and men who love the sea, what about this Solid Sterling Silver Pair crafted in the shape of a J Class Racing Yacht (£47)?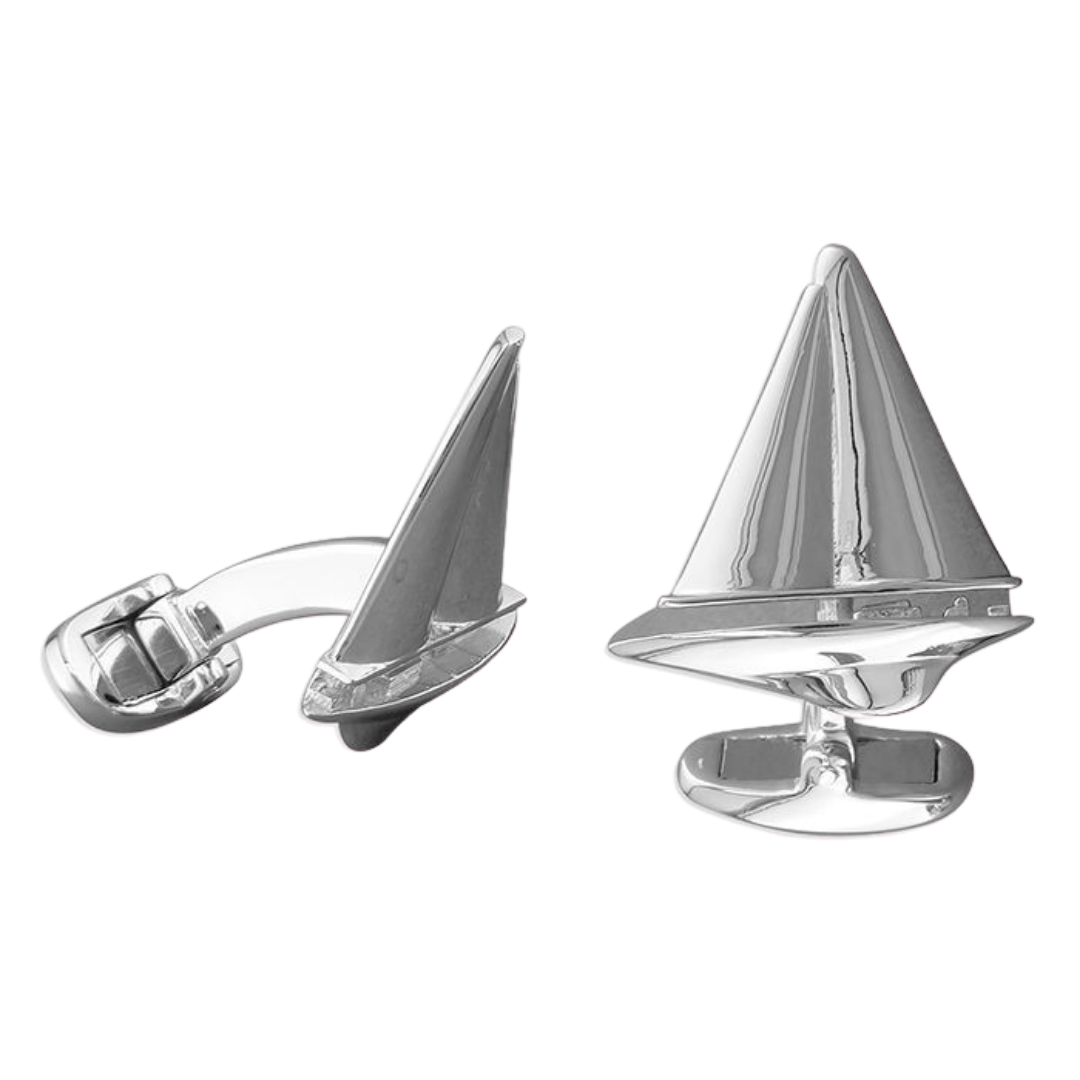 Or perhaps this stunning Silver Arrow Racing Car pair for classic car lovers?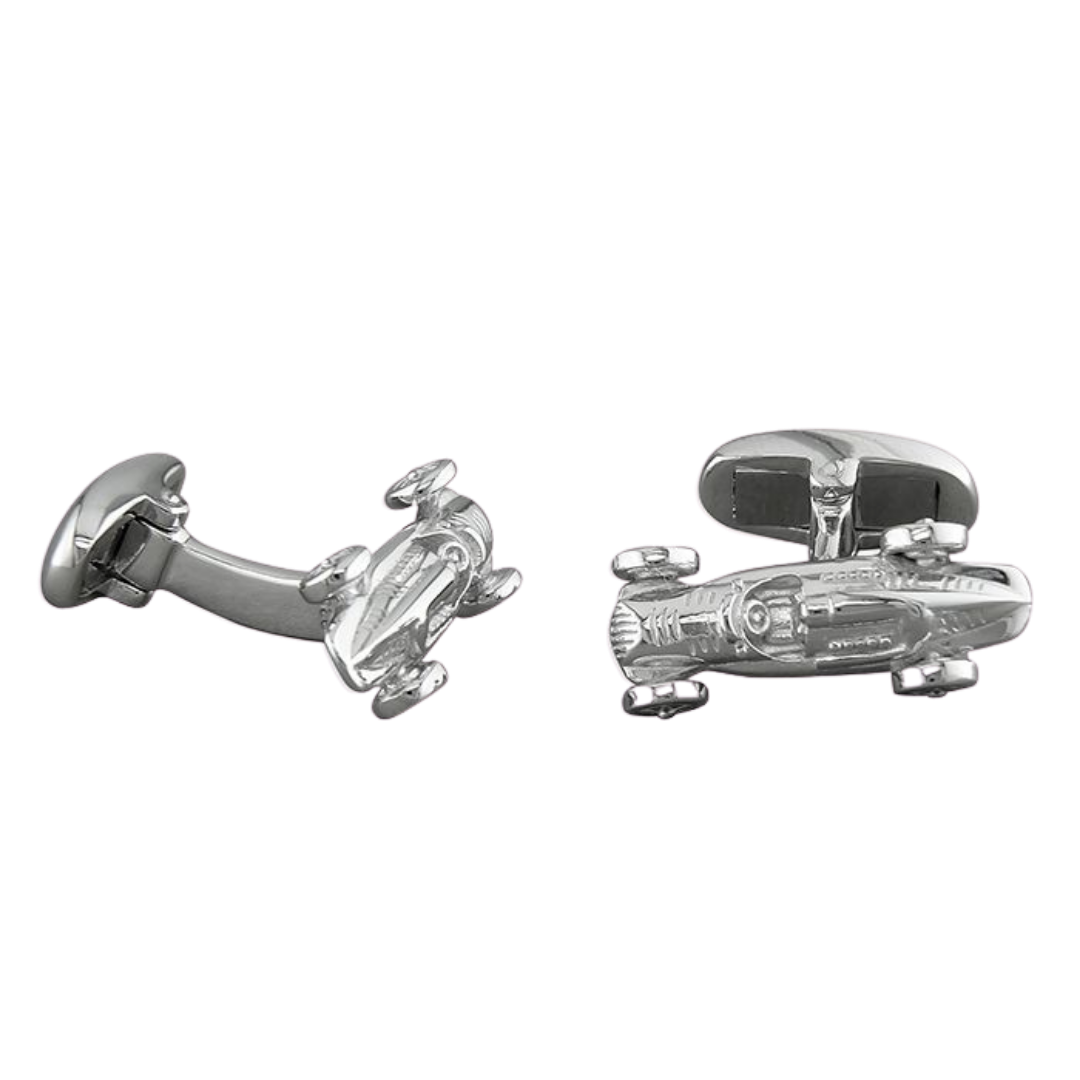 And for the history buff in the family, these rather dashing Spitfires.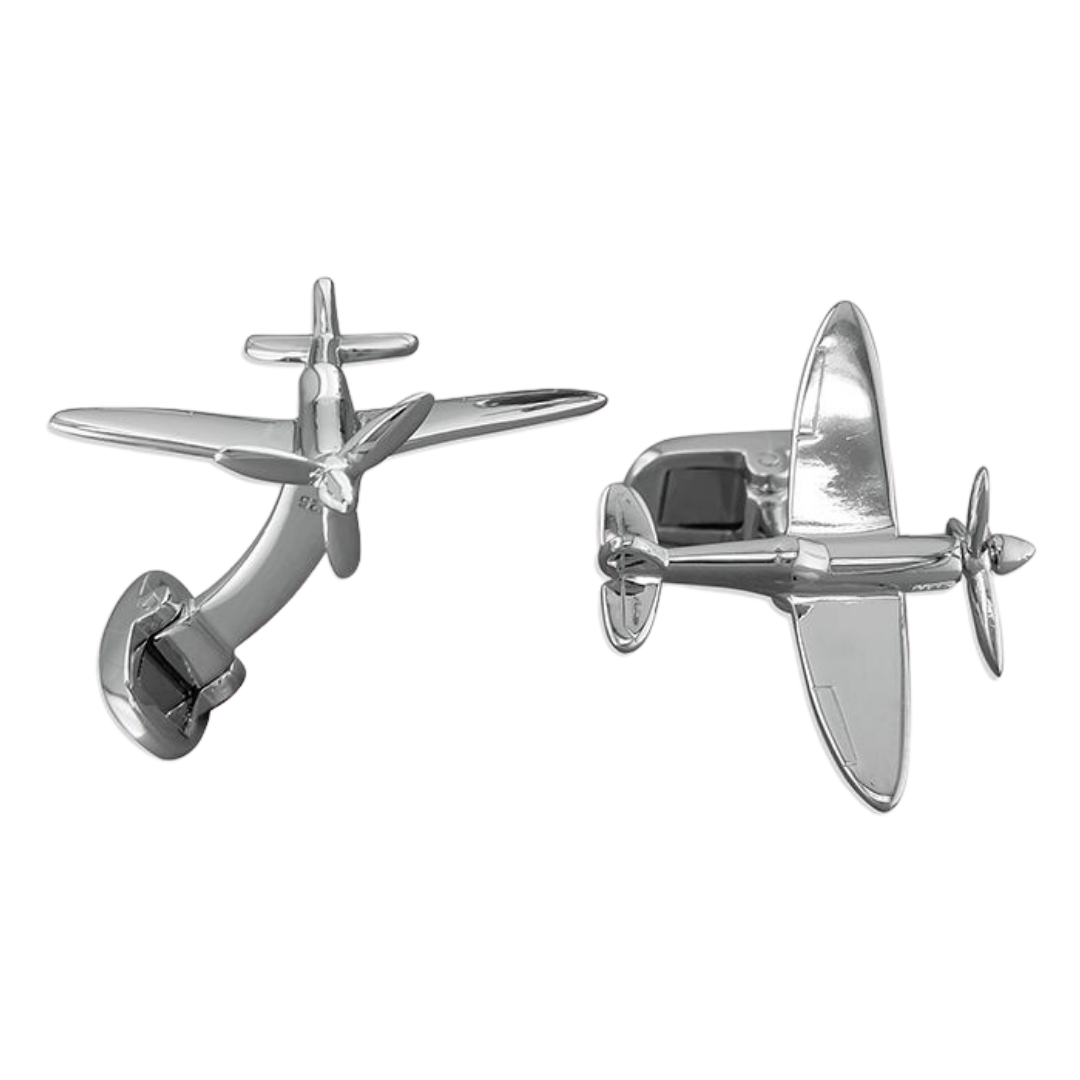 But if you're buying for a more modern adventurer, this Black and Silver Kamawatch (£99) is stylish, hardwearing and perfect for travelling.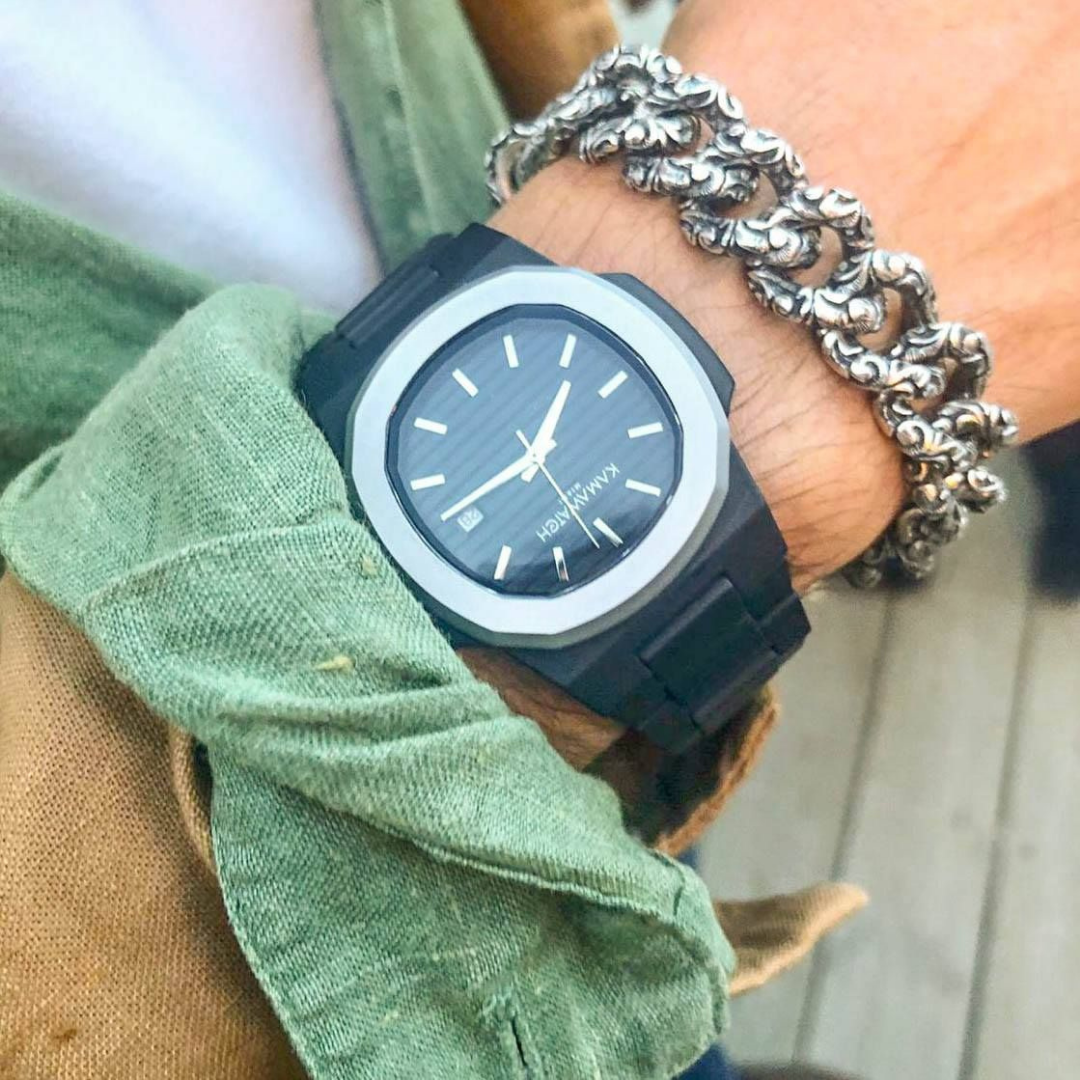 Whether you're climbing mountains or hanging by the pool, it's cool and comfortable for every adventure. Plus the soft-touch polycarbonate strap has unique thermic technology that changes colour from black to silver when the temperature hits 31 degrees.
Ideal for selfies in the sun.
Christmas Gifts for Him over £100: Classic watches for Christmas cheer
And if you're thinking of giving a watch this Christmas and want to splash out, we've got plenty more to choose from. From classic to contemporary and every style in between.
Like this Bering Men's Classic Watch (£159) for example.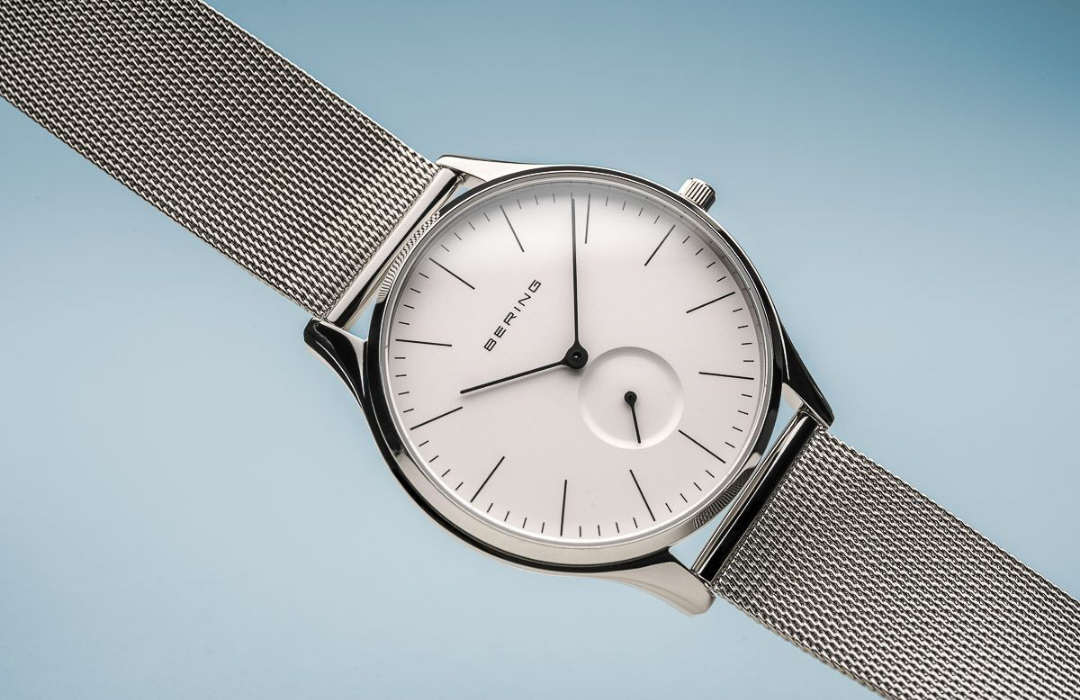 Inspired by classic Danish design, it's crafted from cool stainless steel with a classic white dial protected by scratch-resistant sapphire crystal. Making it an excellent choice for those who love contemporary minimalism and Scandinavian design.
And if you like the classic Bering look AND love reducing your carbon footprint, we also have this Bering Men's Solar Watch (£199).
Combining classic minimalism with the latest tech, it's powered by a solar powered cell that can be charged by any kind of light.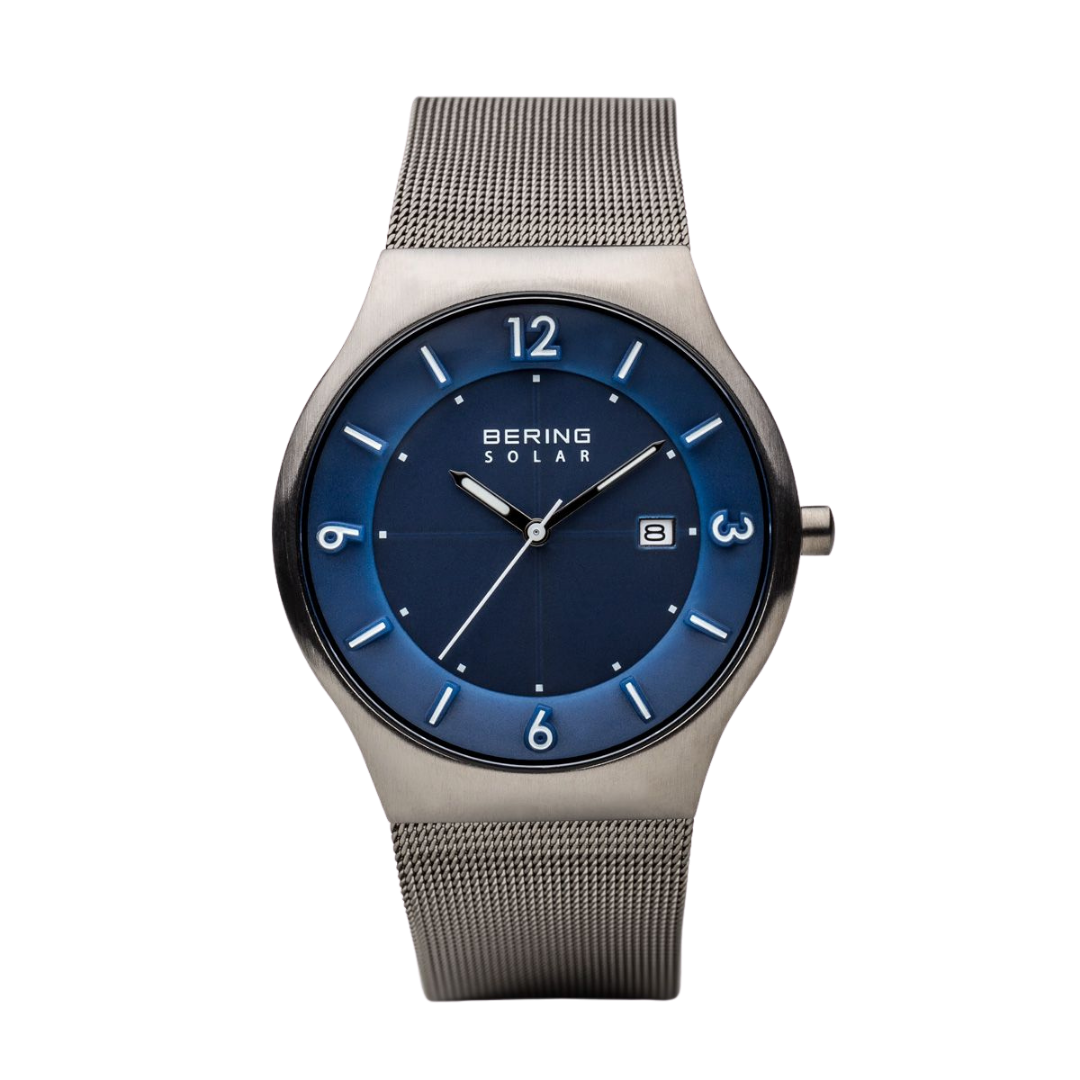 Once charged it remains powered for up to 6-12 months, so no need for batteries.  Making it an excellent gift for the stylish and conscientious man in your life.
And if neither of these are what you're looking for, check out our Choosing a Watch Guide and full range of men's watches for more ideas.
You'll find plenty to choose from, from top brands like Bering, Swarovski, Thomas Sabo and Calvin Klein.
Christmas gifts for him over £150: Marvels for the man who has everything
Looking for a special Christmans gift for the man who has everything? 
Why not try something a little bit different, like a dazzling collectable model of his favourite Star Wars or comic book character?
Beautifully crafted, Swarovski's crystal figures are the ultimate collectibles.
From a galaxy far, far away...we have this amazing Master Yoda (£159).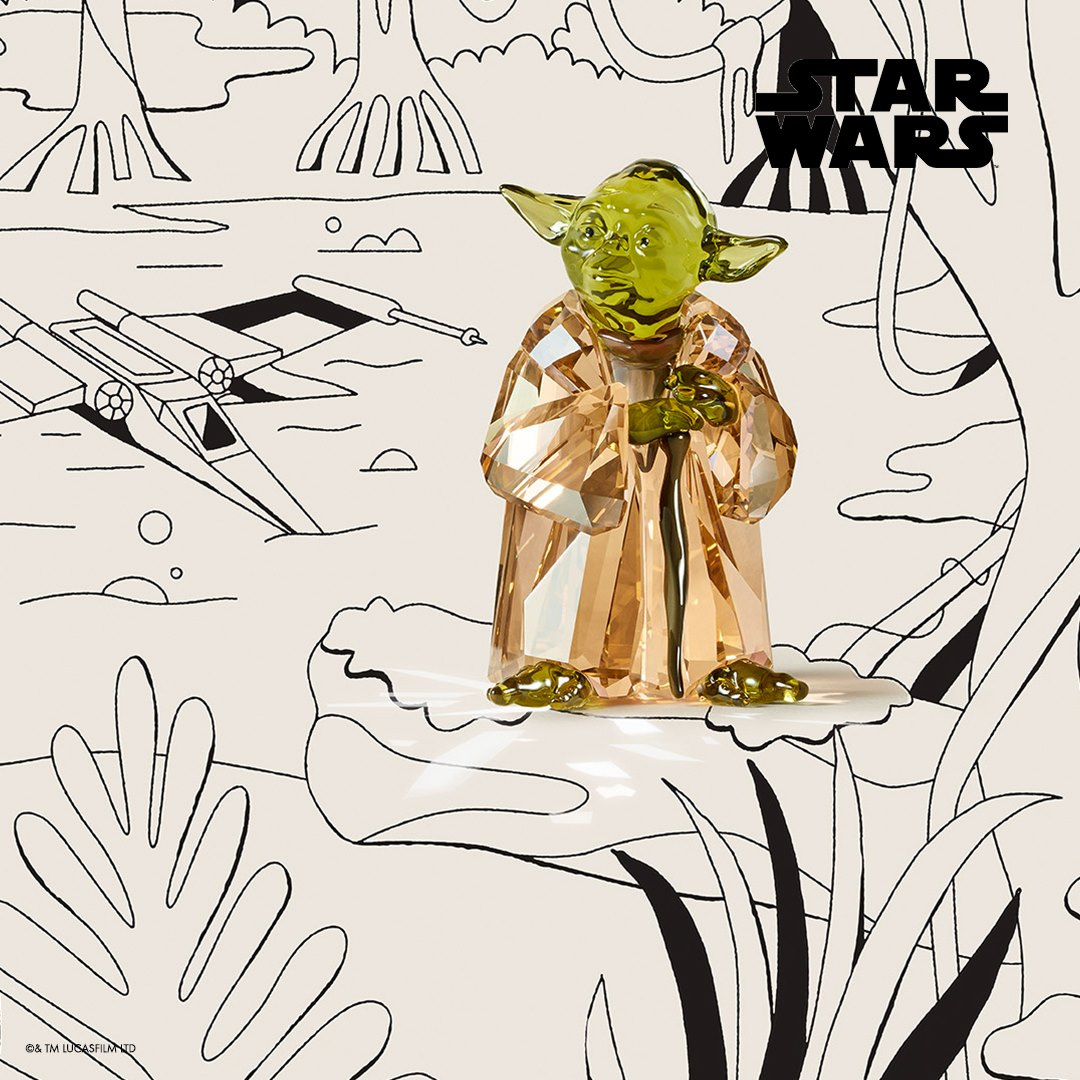 Plus Luke Skywalker, C-3PO and an X-Wing Starfighter model. Perfect presents for Star Wars fans and wannabe Jedi's.
There's even a Death Star christmas bauble to hang on the tree! 
But if you're buying for a superhero fan we've got those covered too. What batcave, mancave or office desk wouldn't look better with a Swarovski crystal Batmobile (£349)?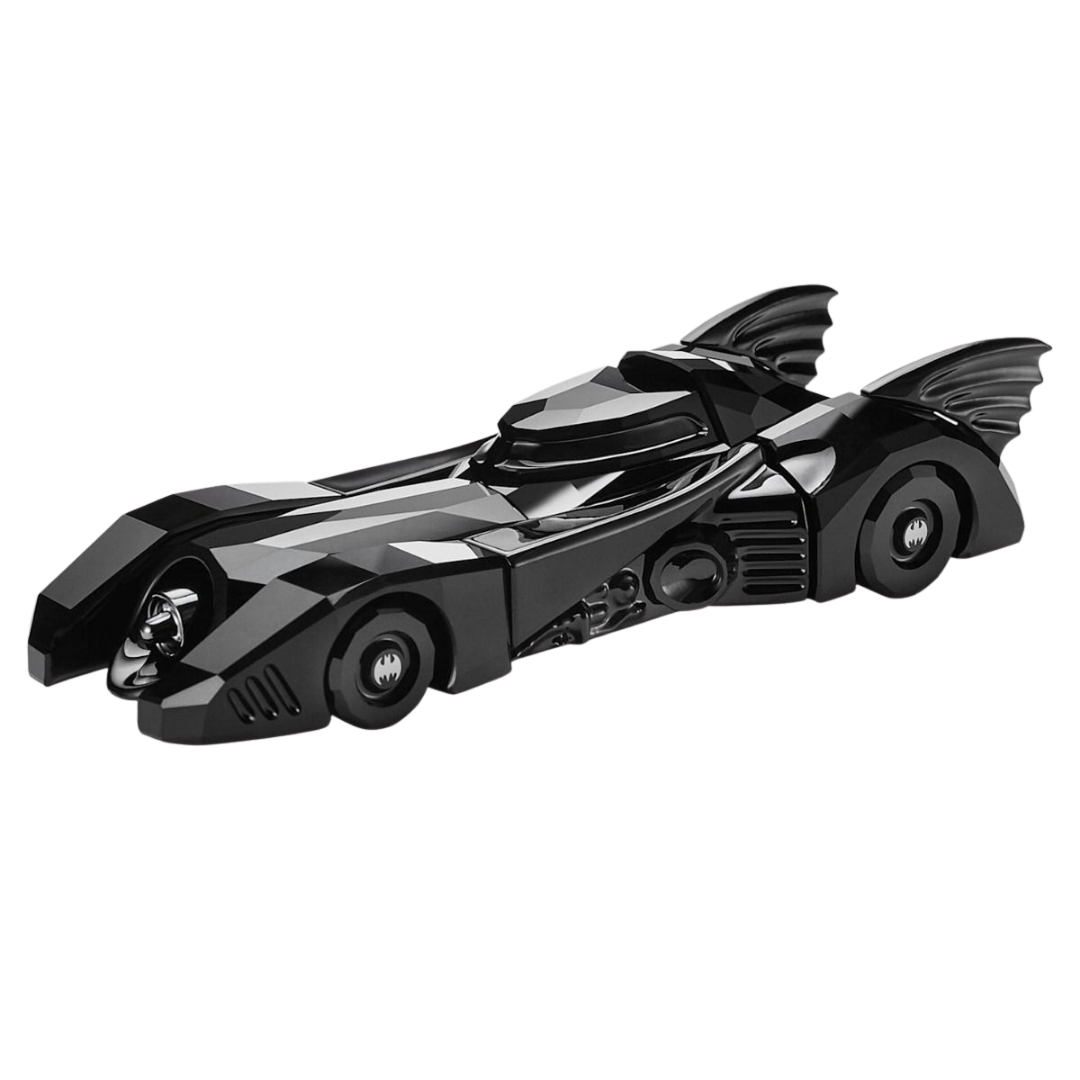 Super cool and like all Swarovski crystal collectible models, exquisitely crafted. It will look stunning on display, alone or as part of a collection. There's even a Swarovski crystal Batman to go with it.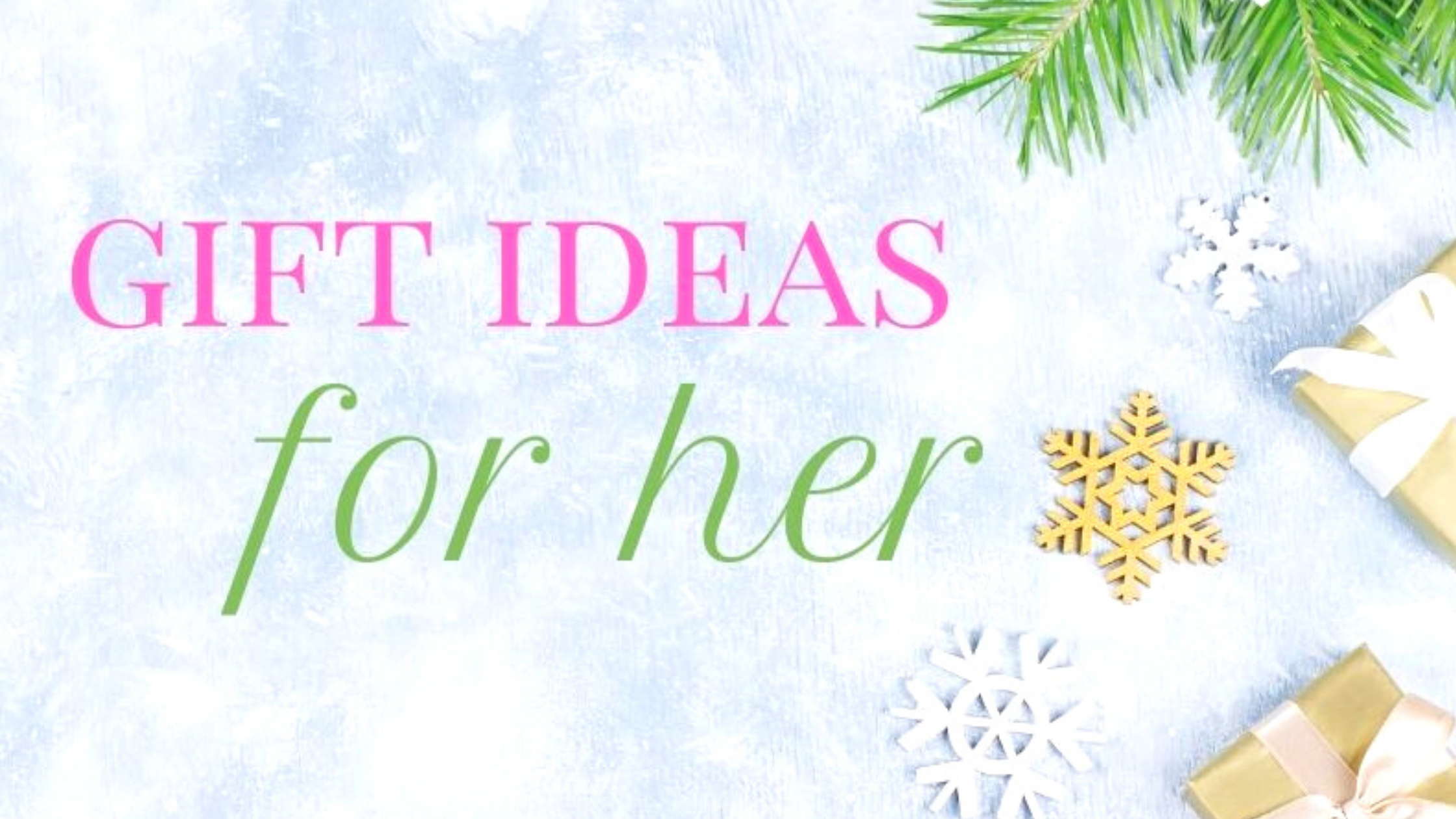 Let's be honest, we could all do with some extra sparkle in our lives this year. So why not show your appreciation for all the amazing women in your life, by giving them a gift that outshines the rest of 2020?
Because what's more exciting than finding a jewellery-sized box under the Christmas tree with your name on it?
Here's our list of treasures to treat your mothers, daughters, grandmothers, sisters, partners and friends.
Stocking fillers for her: Little treats and sparkling accessories
If you need a twinkly treat to add to the stocking, we've got gifts galore to choose from. 
Whatever their age, taste or style, there's something for every girl's stocking in the selection below. 
Like this Pandora Family Heart Charm (£25), for example.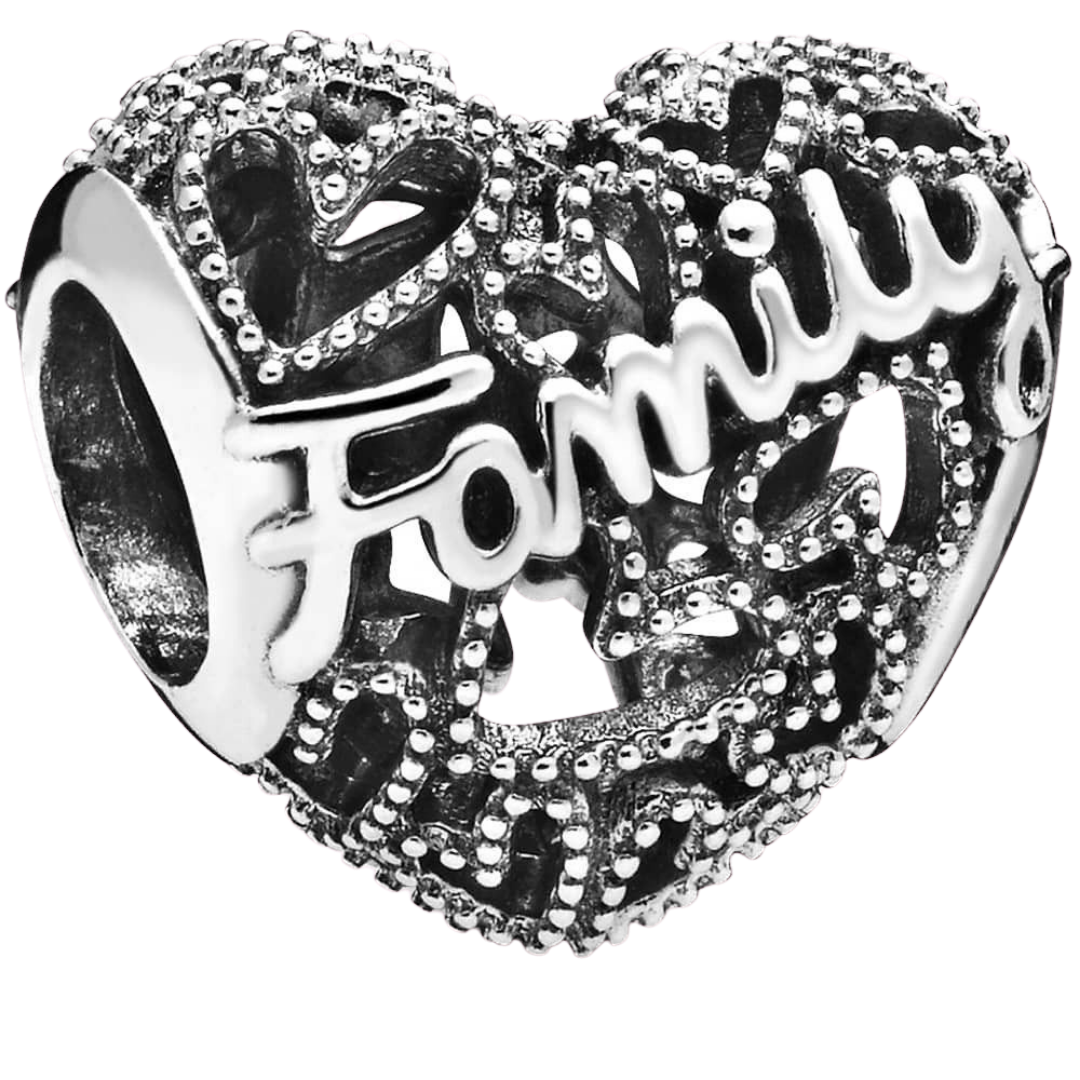 What better way to celebrate Christmas than this symbol family and friendship? It's the perfect stocking filler for the young Pandora Charm collector. Or the ideal way to start a new collection, when paired with one of the Pandora Moments Bracelets.
And if she's got this charm already we've got plenty more Pandora charms as stocking filler treats for all Pandora fans.
Prefer chains to charms? We've got those covered too.
For the sophisticated lady in your life who loves modern design and all the latest trends we love Ania Haie, and these Ania Haie Gold Link Stud earrings (£29)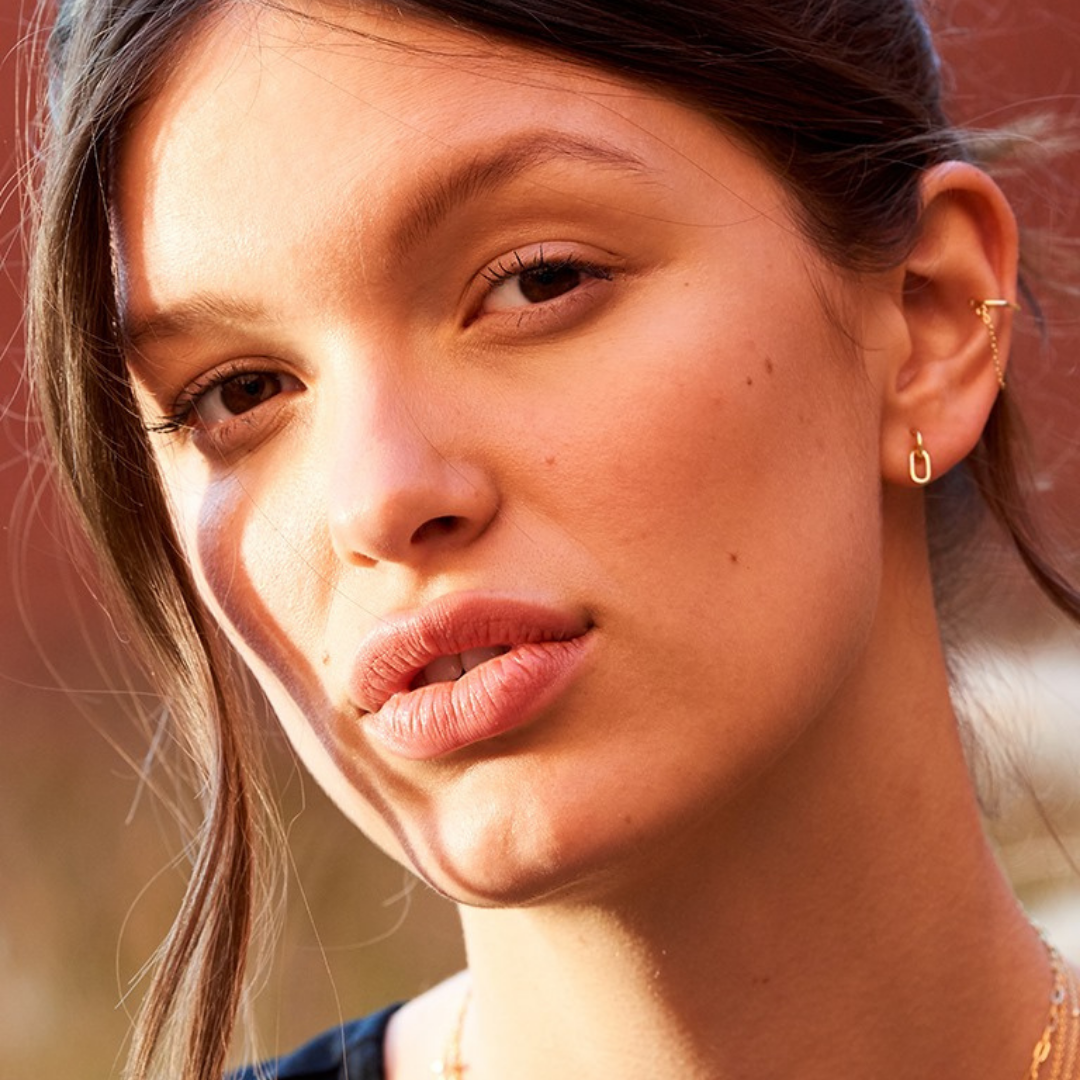 A modern take on the classic gold chain, they'll add a touch of class to any outfit.
Ania Haie specialises in modern jewellery that follows the latest fashions but doesn't compromise on quality. Their creations are often made to be stacked or layered for the latest looks, like this Ania Haie Luxe Circle Necklace (£49).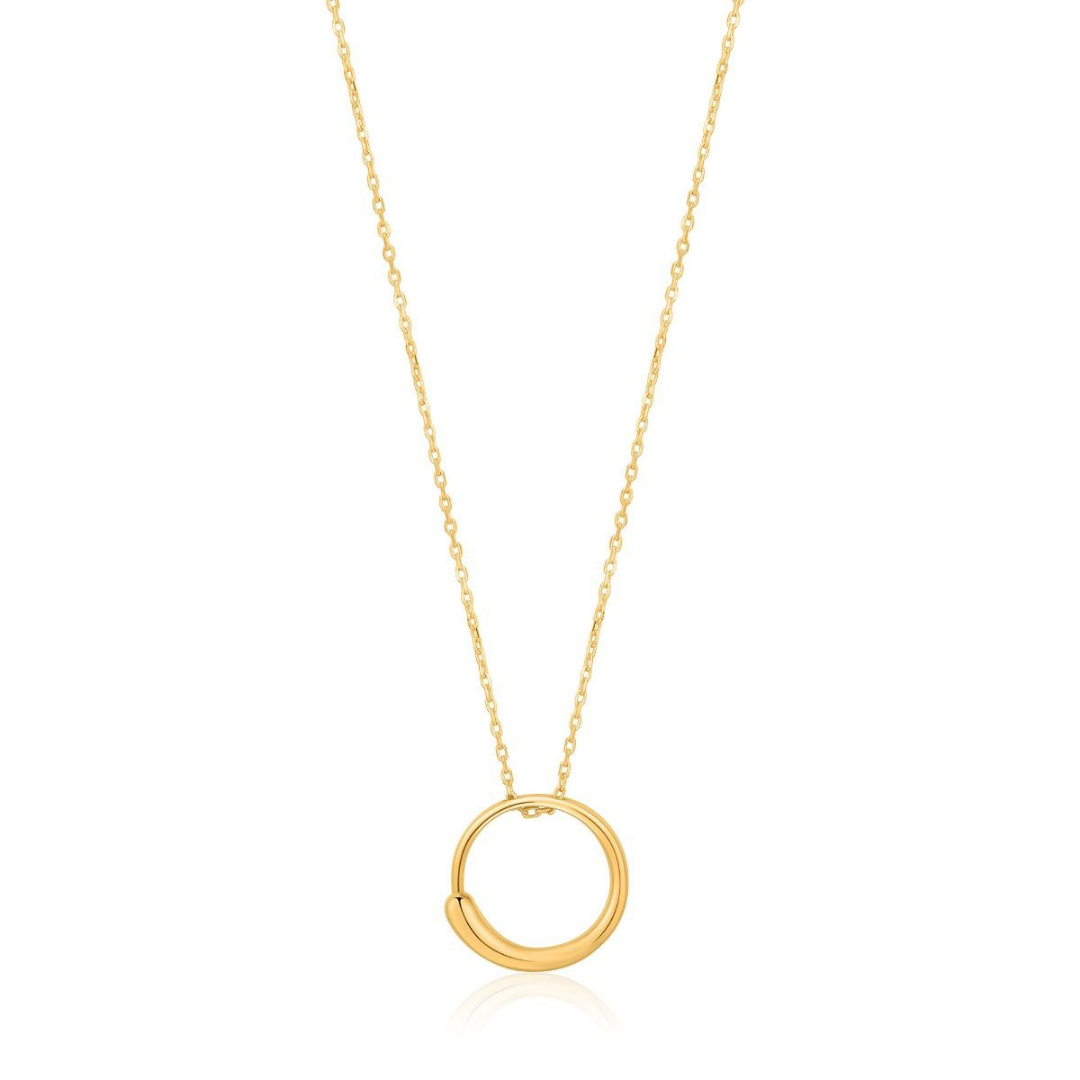 Looks gorgeous on its own or layered with other Ania Haie jewellery, like the Geometry Mixed Discs Necklace or one of Ania Haie's modern chains.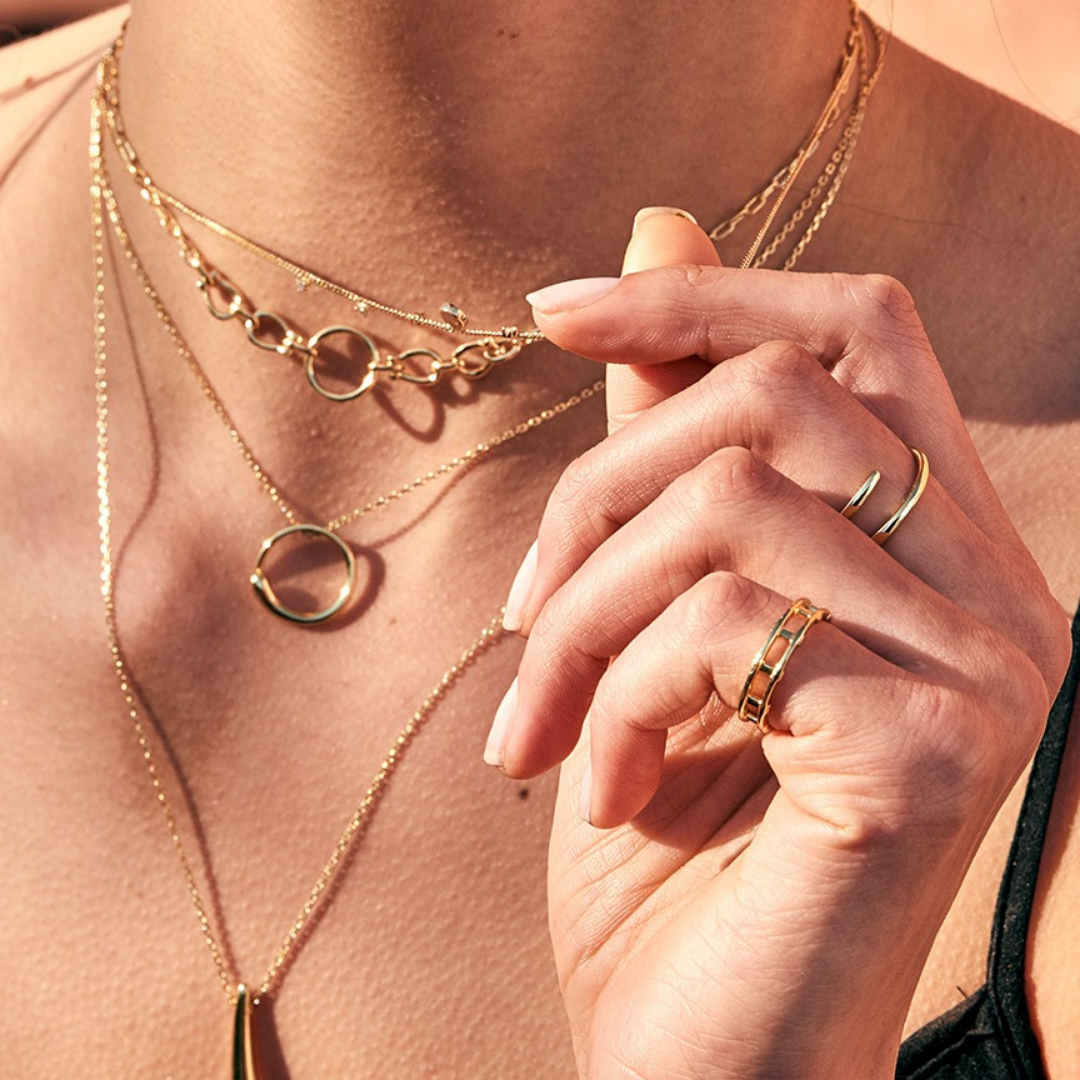 We'd be delighted to find any of these treats in our stocking on Christmas morning.
But, we also appreciate that not everyone loves jewellery. 
So for those ladies who loves sparkle, but 'don't do jewellery' take a look at our range of beautiful Swarovski pens and phone cases.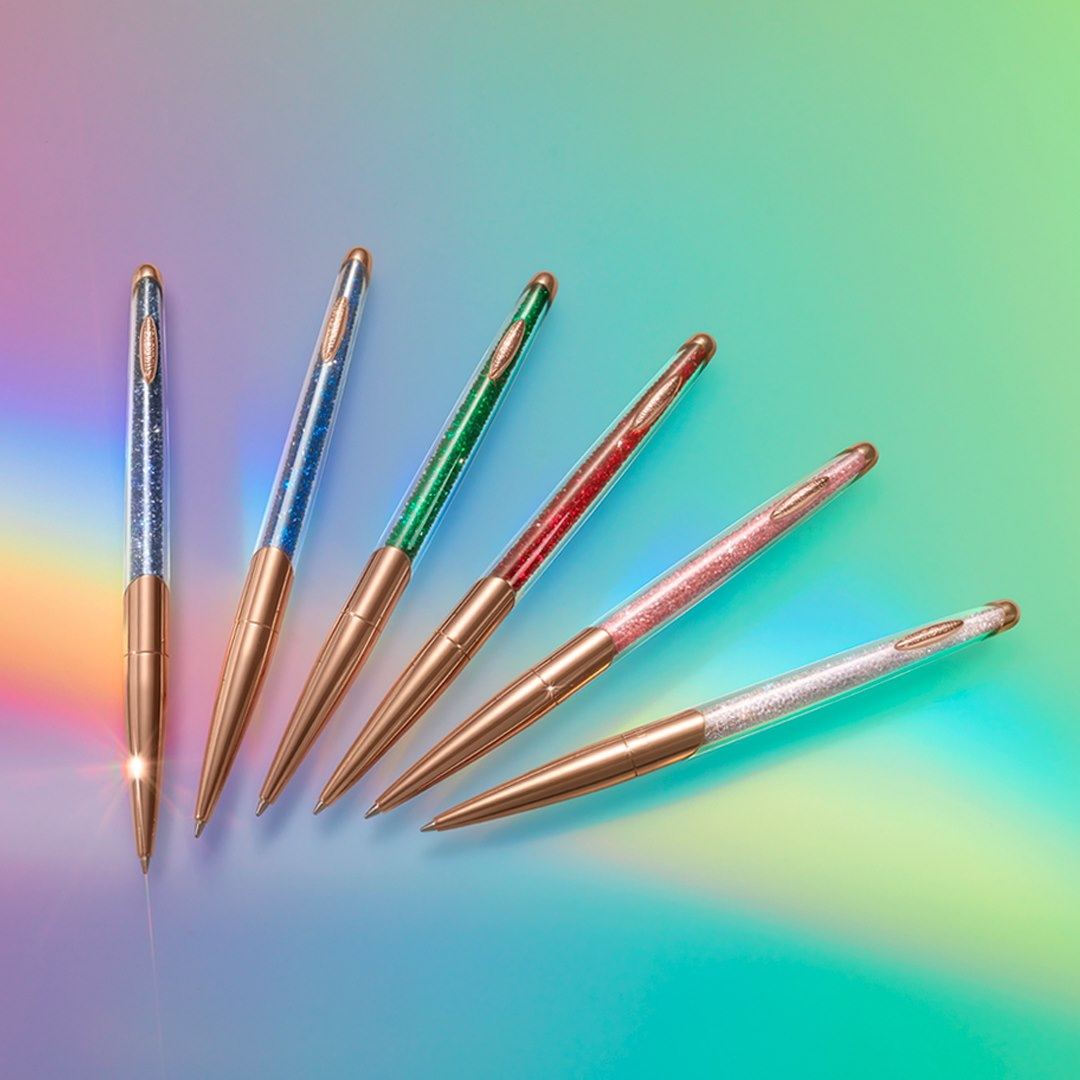 They make perfect stocking fillers for all ages.
Like this Swarovski Crystalline Nova Pen (£35), for instance. Filled with gorgeous blue Swarovski crystals, complemented by rose gold detailing and accompanied by its own special pouch. 
Seasonal sparkle at it's brightest and practically perfect in every way.
Christmas Gifts for Her under £100: Twinkling stars and stones
Looking to spend a little more? Why not spoil your girl friends, mothers, daughters and sisters with one of these specially selected gifts that cost less than £100 but look like a million bucks.
Pandora's Open Heart Stud Earrings (£50) for example, are the ideal gift for a those young ladies who love the Pandora brand.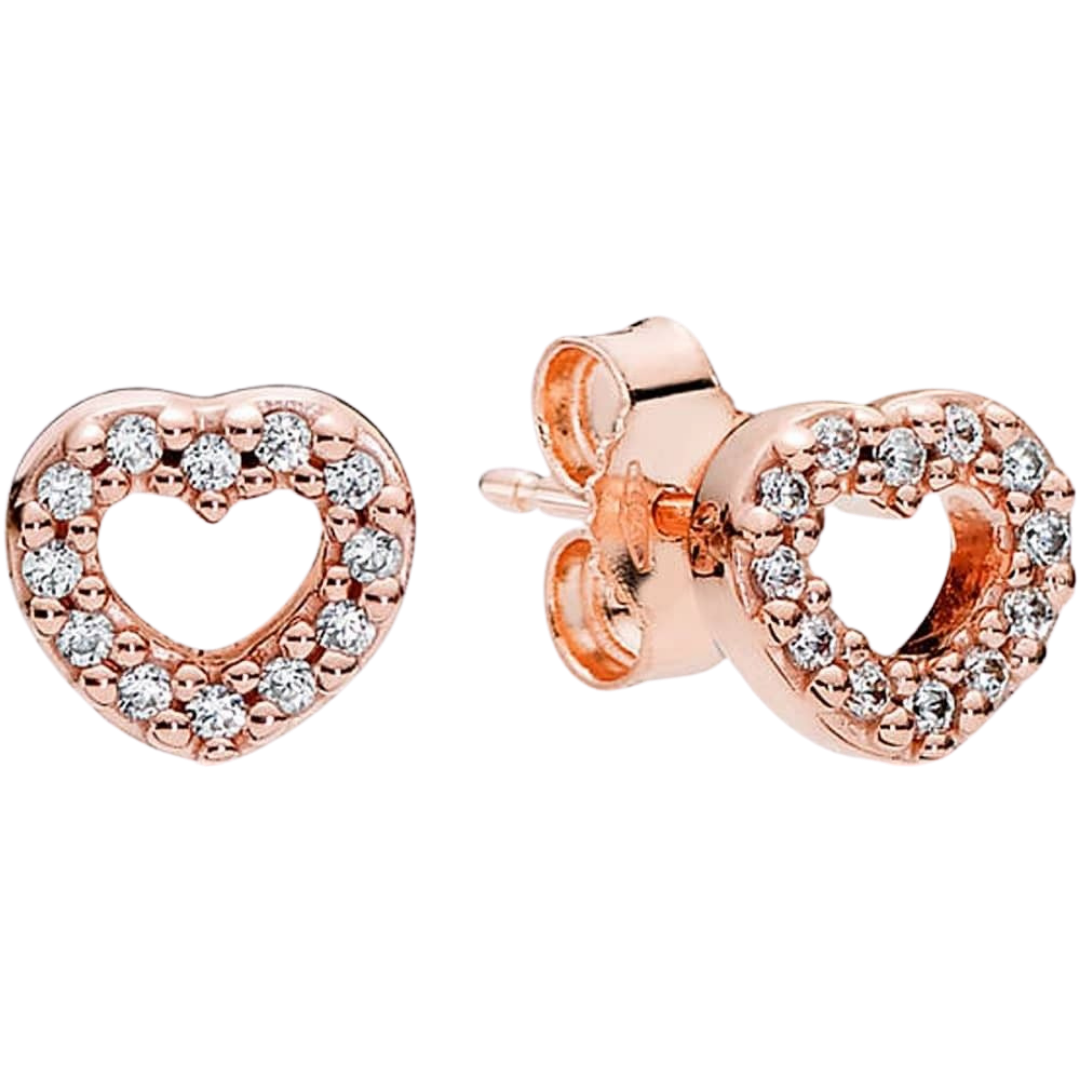 Made from 14ct rose gold plating, with an outline of shimmering stones, their classic heart-shaped charm will last for many years (and outfits) to come.
But if you're looking for a more Christmassy look, this Pandora Sparkling Snowflake Pavé charm (£60) is bursting with festive fun. Adding holiday cheer to any Pandora Moments Bracelet or necklace.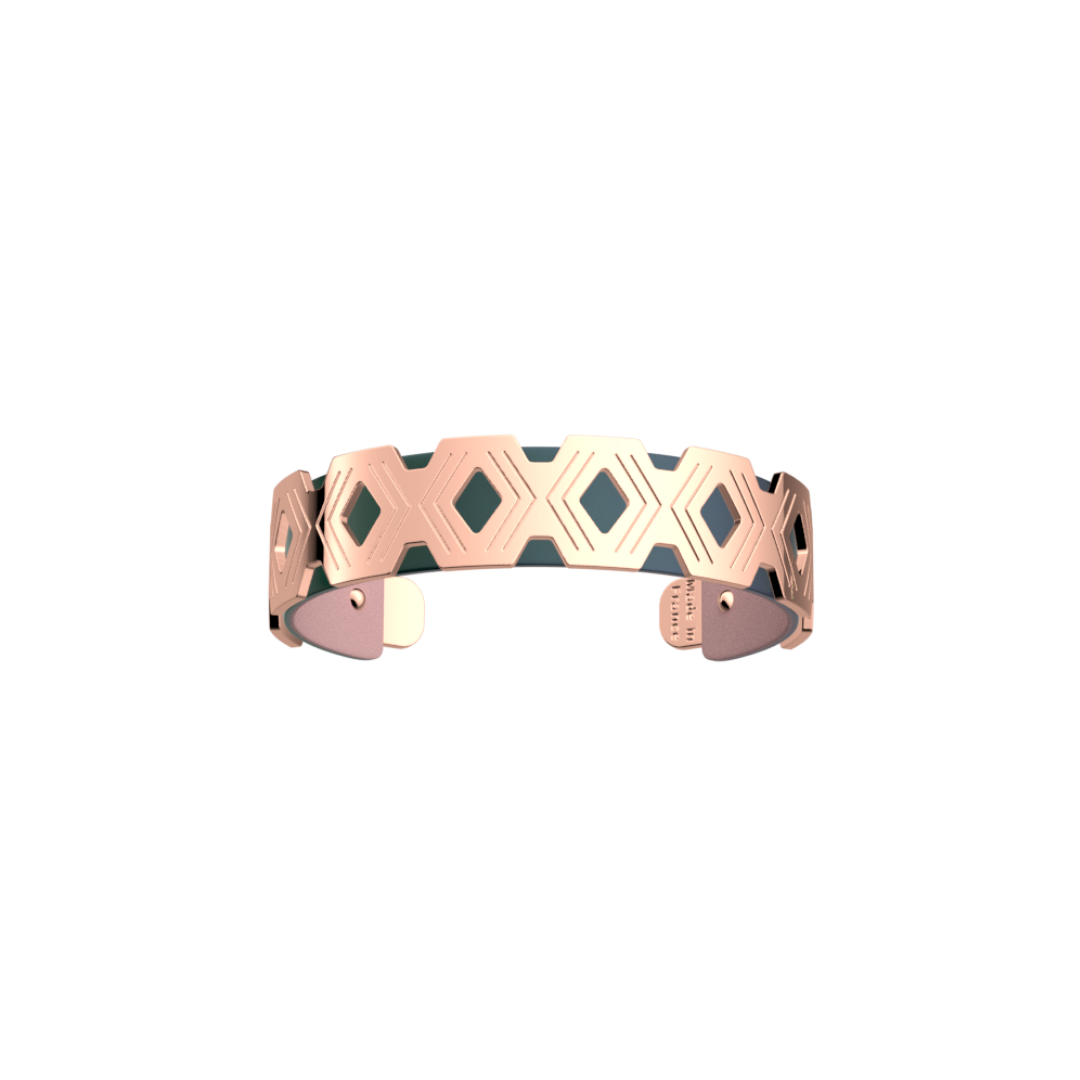 If you're looking for some very grown-up glamour, Les Georgettes do a range of patterns in these gorgeous cuff bangles. Each one can be worn alone or with a reversible leather insert, to create a look to suit every occasion.
This Pavillion Bangle (£54) comes in a rose gold finish and looks stunning on its own or teamed with a colourful insert. 
Sleek and sophisticated, we love the retro feel and how you can style it to suit your mood or moment. Perfect for day or night and the Christmas party.
Did someone say Christmas party?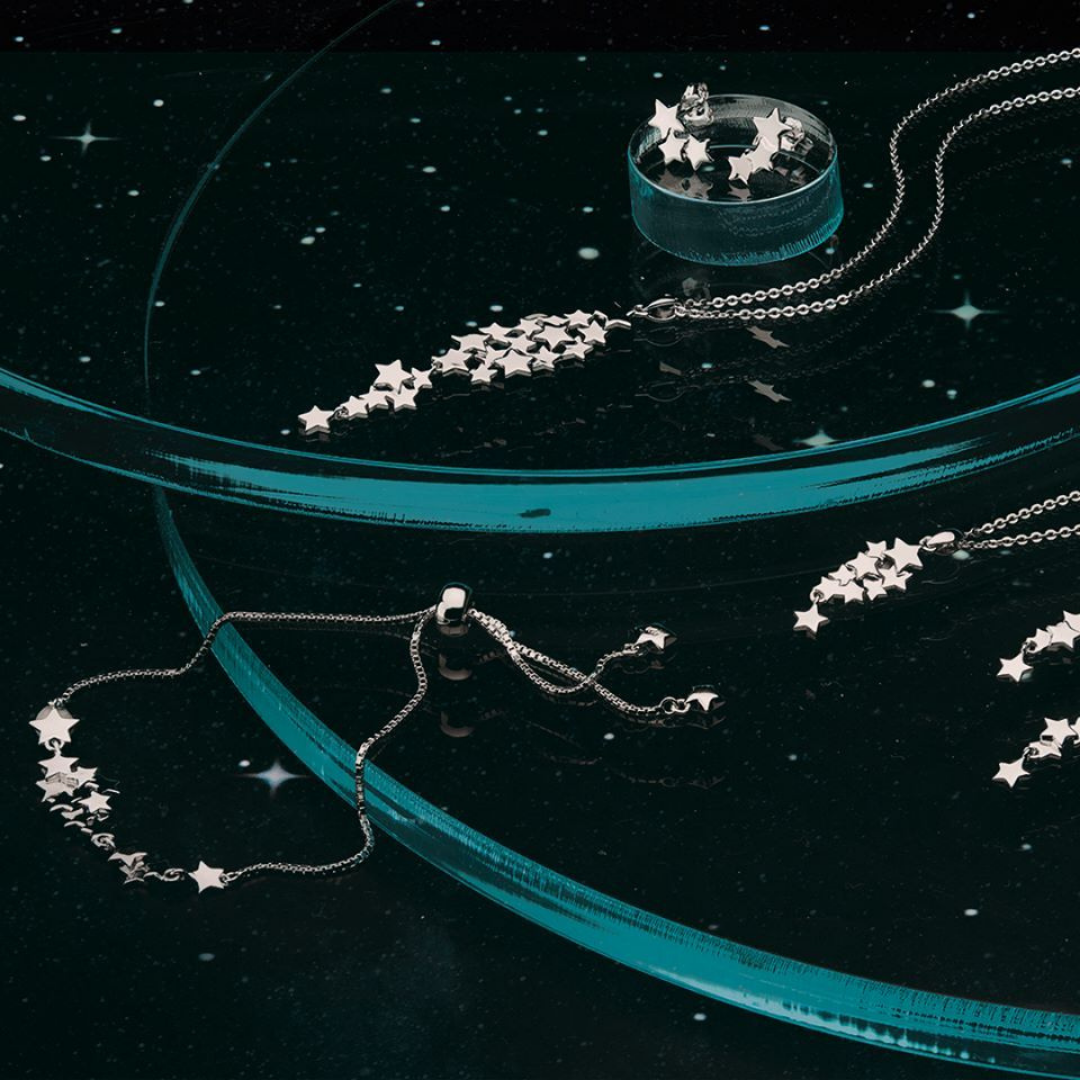 Whether we do them virtually or in person this year, a necklace from Kit Heath's Stargazer range (£62 - £115) is the ideal accessory to outshine everyone at the Christmas or New Year do.
Each one boasts a galaxy of glittering stars that looks spectacular against a little black dress or midnight blue blouse.
And if you love stars, these Swarovski Tennis Cluster Earrings (£89) also have twinkle to spare.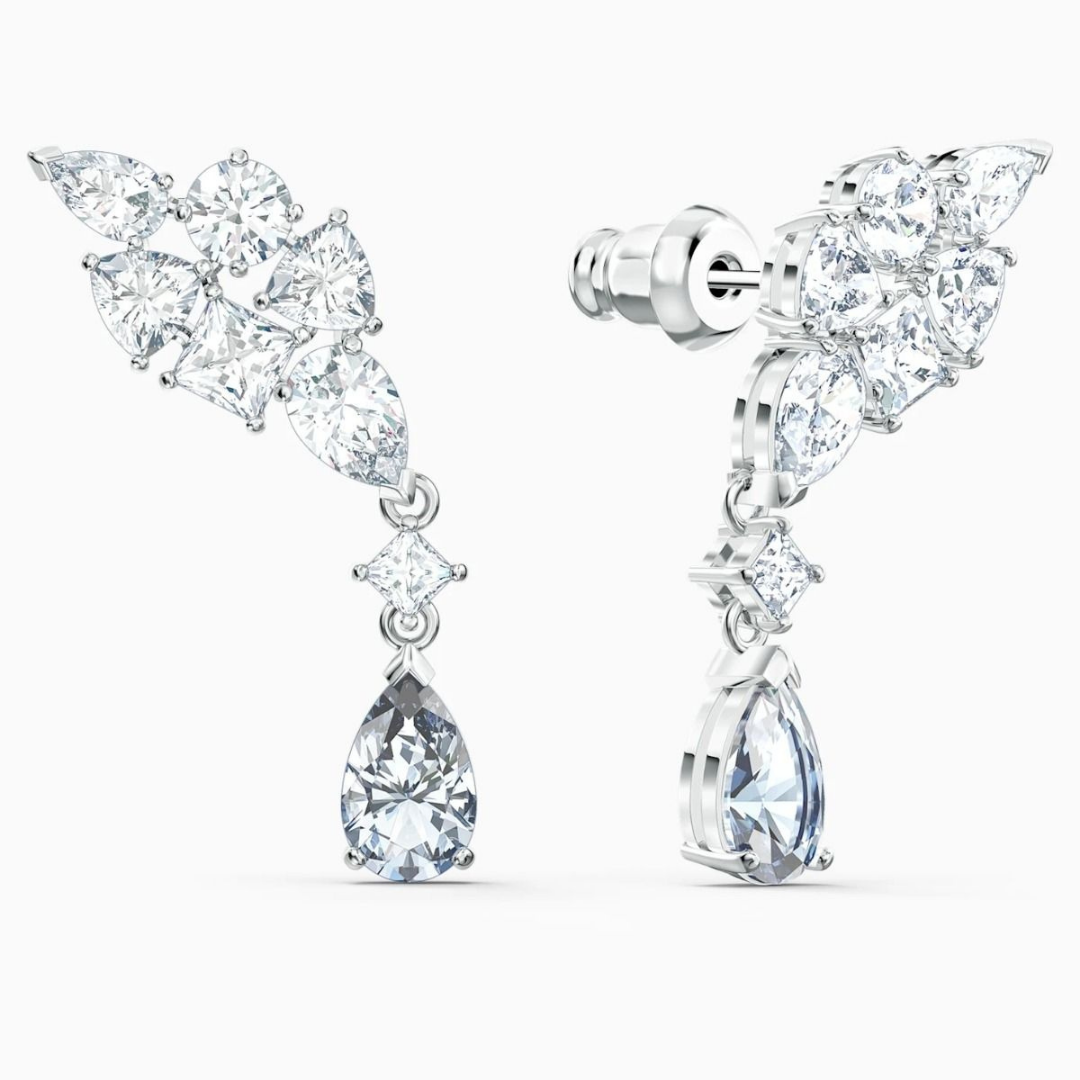 Give a little starlight to someone you love with these earrings.
Showcasing Swarovski crystals at their most magnificent, with square, round, and oval cut stones to catch the light from every angle. They're timeless, radiant and sprinkle stardust wherever they go. 
Christmas Gifts for Her over £100: Maximum sparkle warning
But for the biggest smiles you need maximum sparkle, right?
These are our favourite pieces for ultimate glitter and glamour points.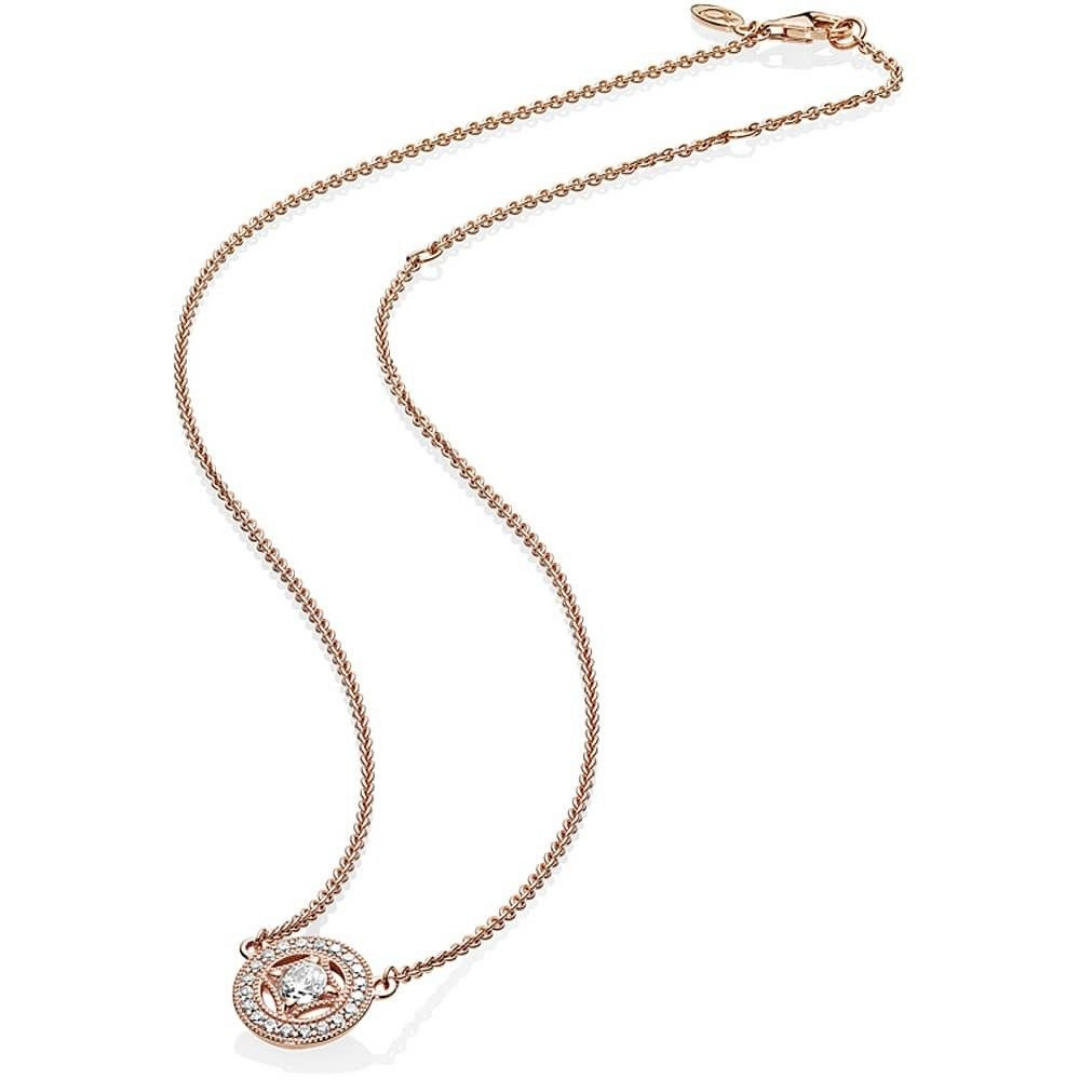 With romantic rose gold and sparkling zirconia, you'll set hearts aflutter with this Pandora Rose Vintage Circle Allure necklace (£100).
Bringing together vintage inspiration and brand new style this necklace is loved by fashionistas and trendsetters. Because it goes with just about anything, but also because it's vintage loveliness appeals across generations.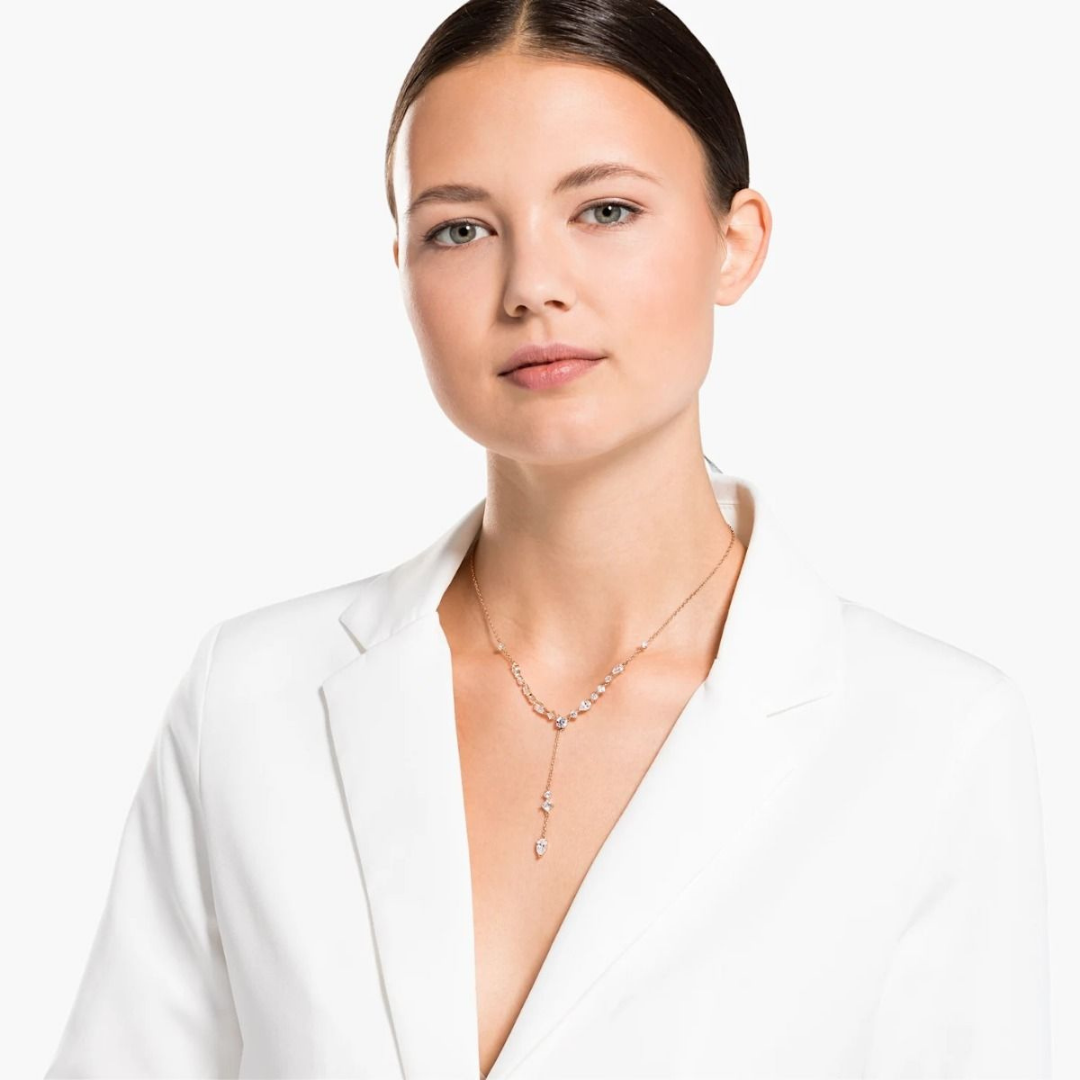 Another stunning jewelled gem for Christmas and special occassions, we've also got our eye on this gorgeous Swarovski Attract Y necklace (£119).
Pretty, delicate and perfect for the season, it features square and drop shaped crystals dangling like fairy lights on a slender chain.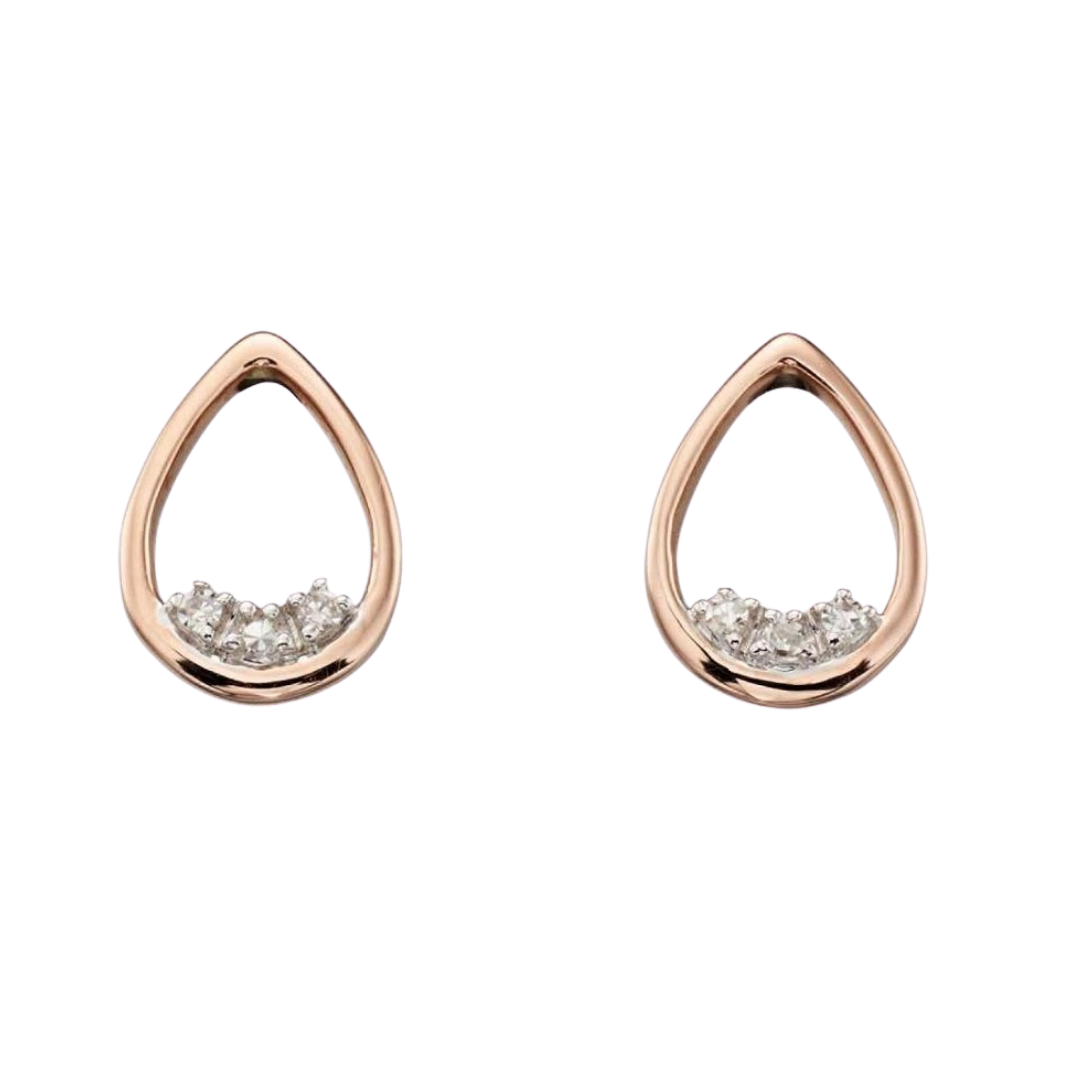 But for ultimate sparkle, diamonds are hard to beat. And these Elements Rose Gold Teardrop Earrings (£118) are no exception. 
Not just for Christmas, with dainty diamonds, expert craftmanship and 9ct gold, these earrings are a gift a girl will never forget.
Christmas Gifts for her, over £150: Showstoppers with style
2020 has been a difficult year for many. So why not splash out and create some happy memories, with one of our specially selected showstopper gifts.
For a sophisticated look with a subtle touch of Swarovski sparkle, try this Swarovski Uptown Watch (£259).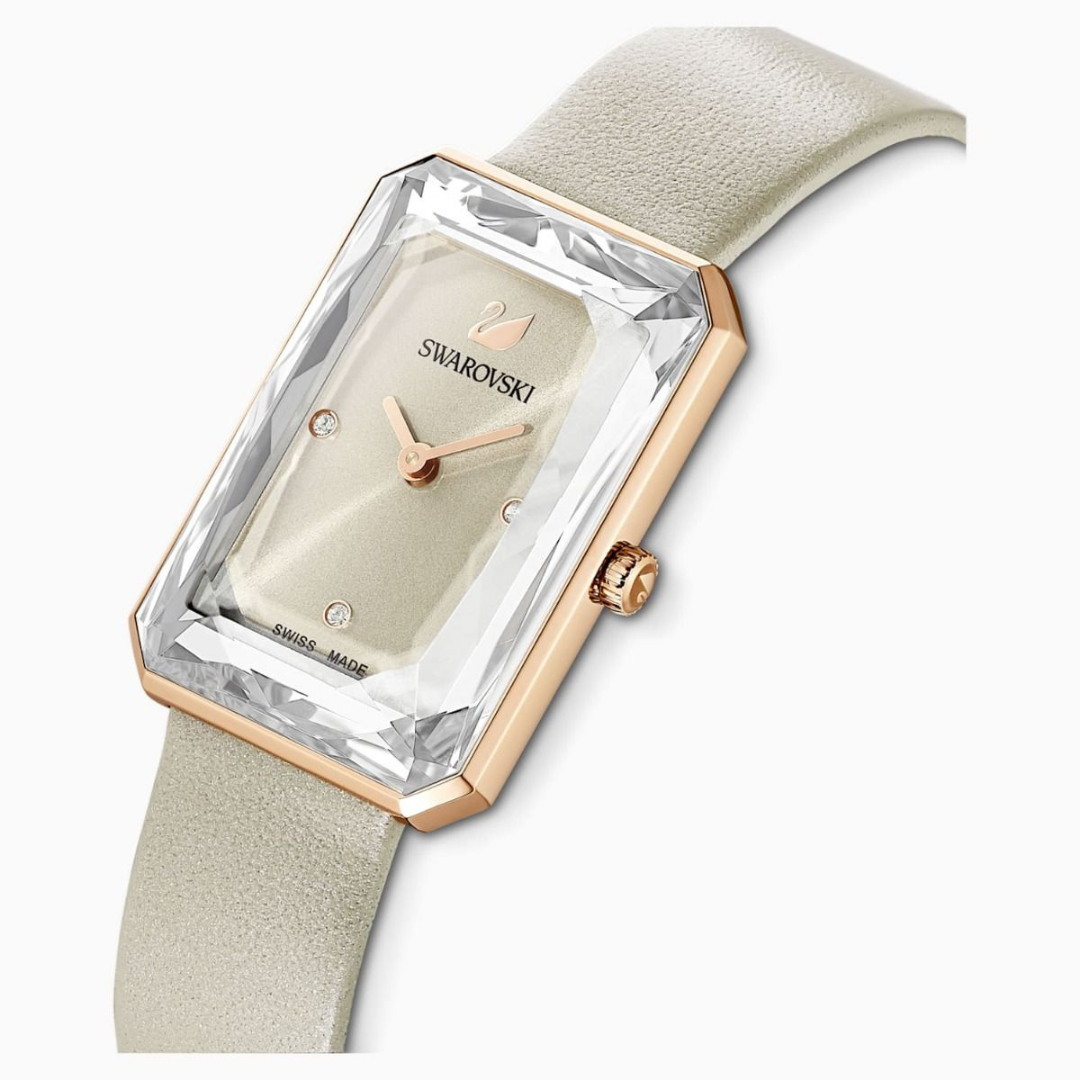 We love the Uptown Watch's sleek rectangular shape and beautiful faceted crystal face. And the way the rose tones complement the grey dial and genuine leather strap.
But if you're looking for a different style or colour Swarovski do a range of shimmering watches to choose from. Whoever you give them to, it's a gift they will love wearing every day.
Talking of love...What are you buying the special woman in your life this Christmas?
We can't get enough of this charming sterling silver Annie Haak Hearts of Love Bracelet Stack (£165).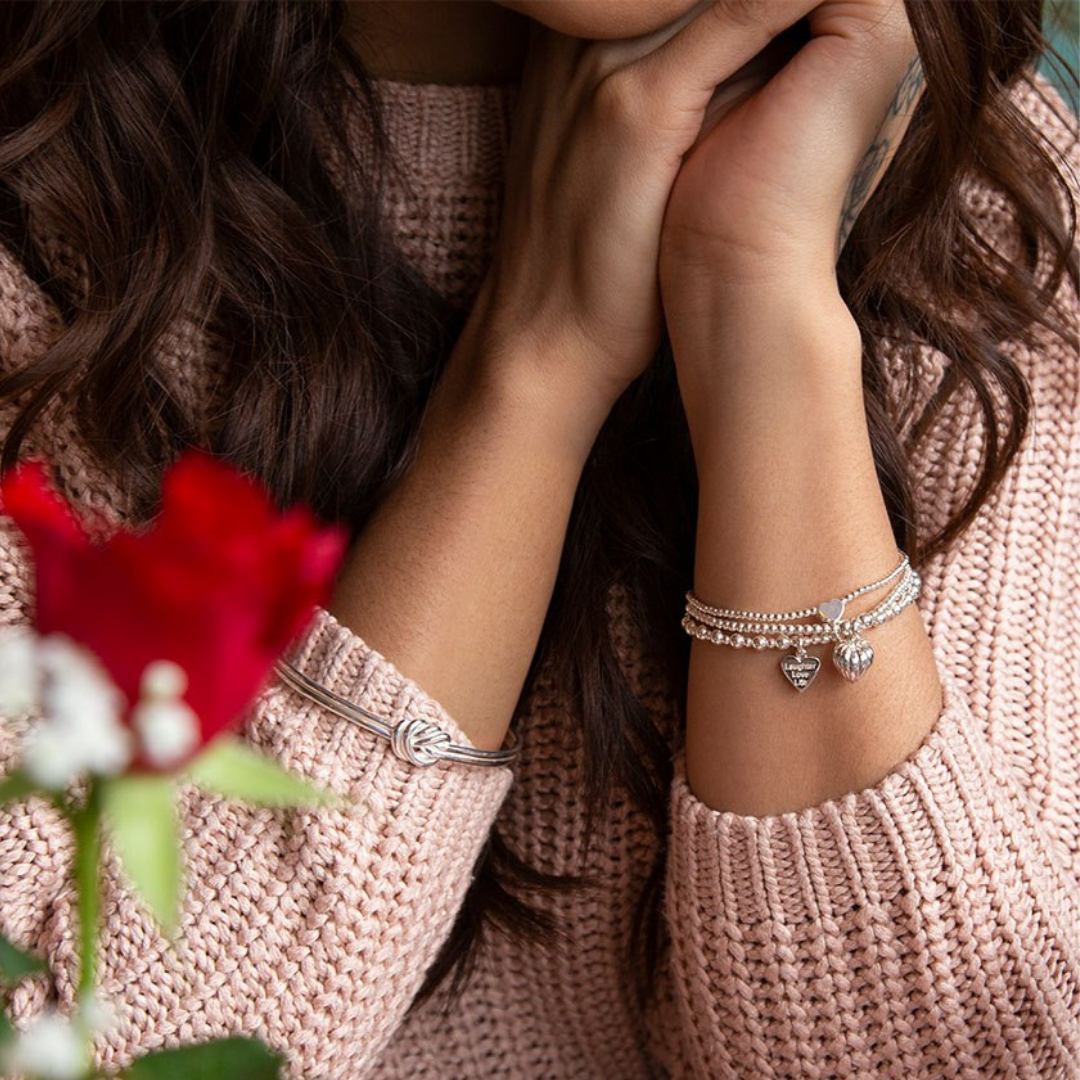 A stunning collection of three bracelets that look great dressed-up or down. Adorned with hearts to say 'I love you' in more ways than one. And if hearts are what you're after, Annie Haak's collection includes a range of jewellery featuring heart-shaped charms, with different dedications for all the women you love. 
But another way to make a big impression this Christmas, is to buy her a piece of statement jewellery
Like this lovely Pandora Rose Long Link Cable Chain necklace (£175).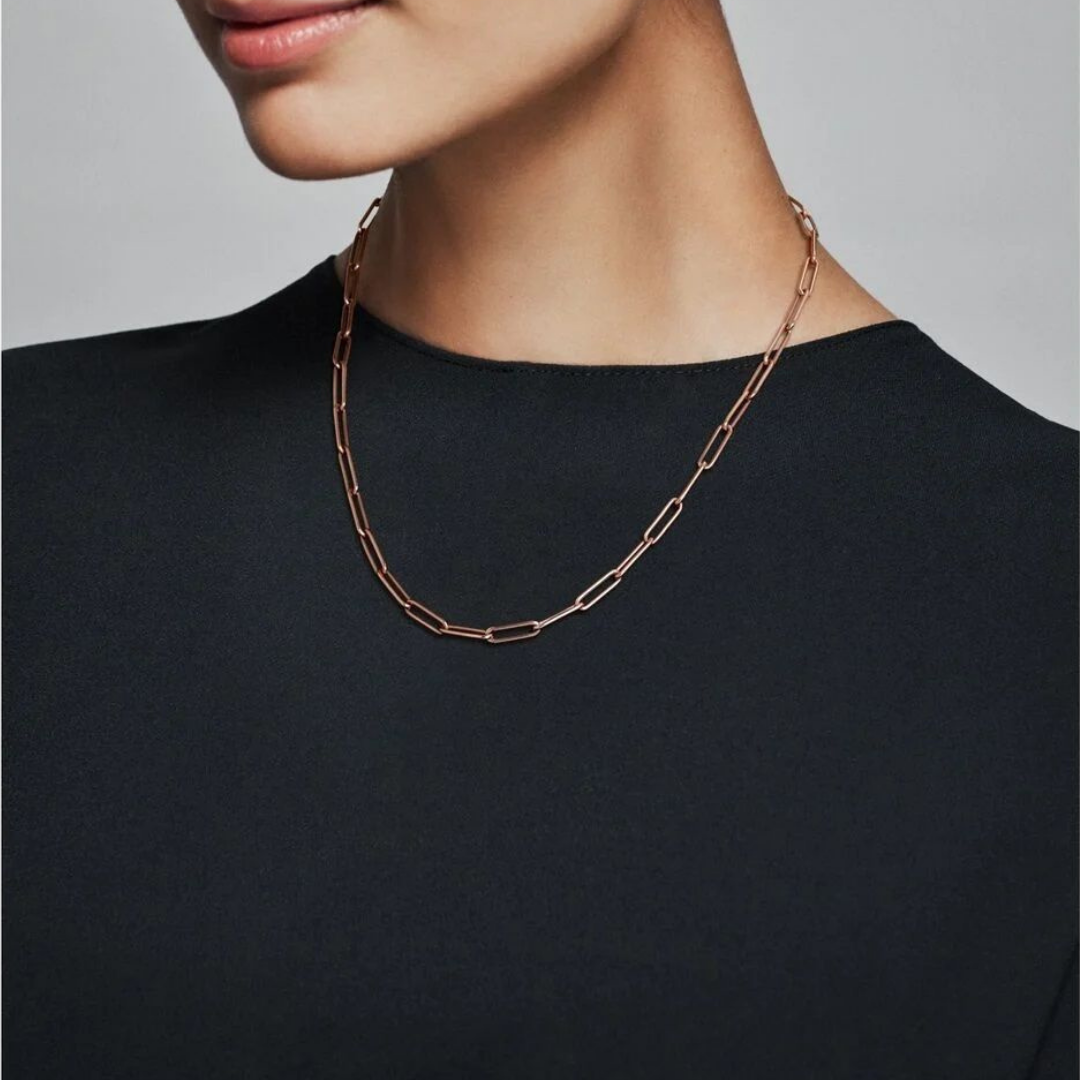 Oozing class, it steals the show on it's own or alongside other Pandora pieces. We have a wide range of their necklaces, rings, earrings and charm jewellery on sale for you to choose from.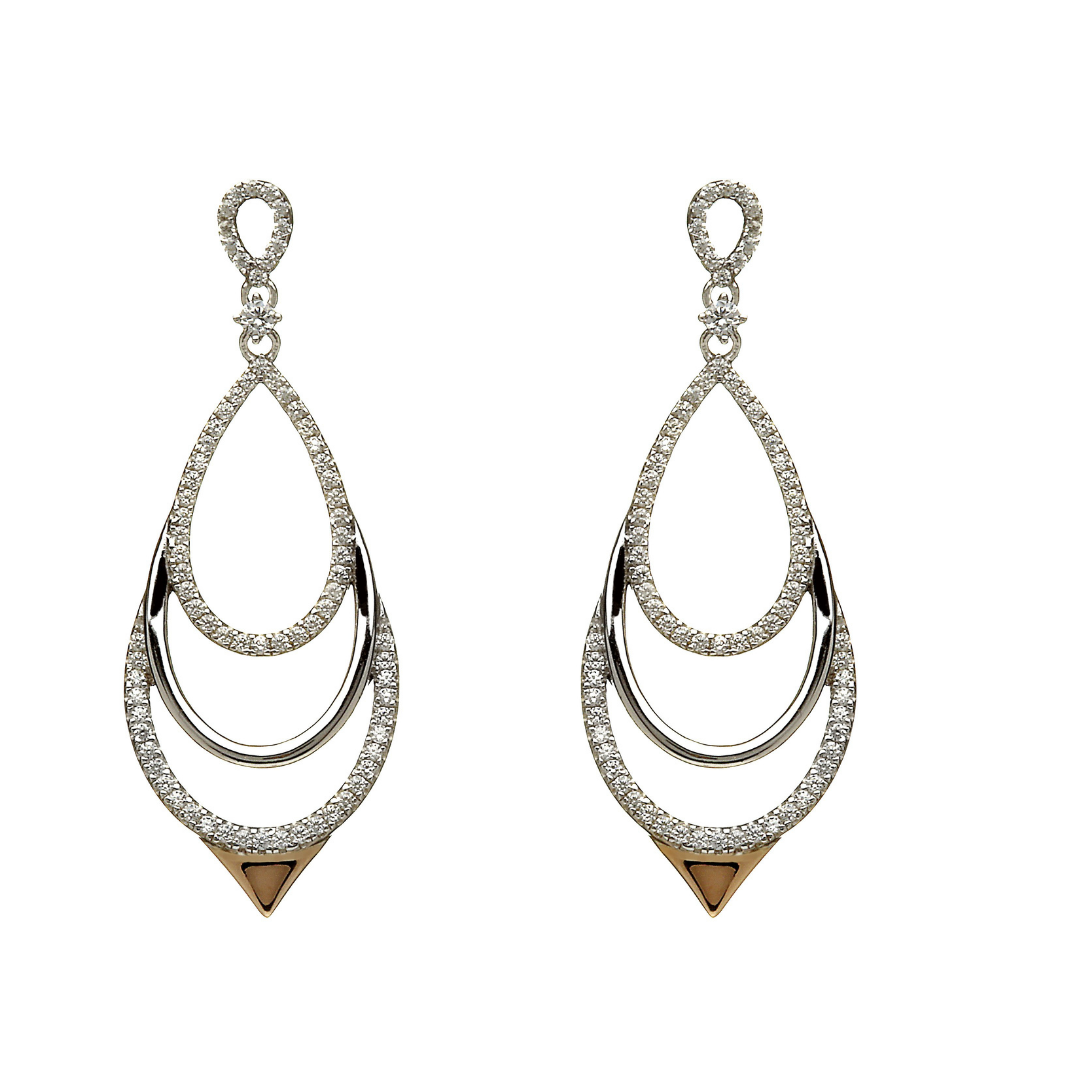 And if you prefer the vintage look these decorative House of Lor Chandelier Earrings (£279) are simply spectacular. 
Made with sterling Silver, rare Irish rose gold and encrusted with cubic zirconia. Each stunning piece from House of Lor has a precious amount of rare Irish gold woven into it. So it will light up the room as well as her face.
And if none of these showstoppers fit the bill, why not make your own statement?
With a variation on this Raphael Collection Triple Crossover Eternity ring (£2085).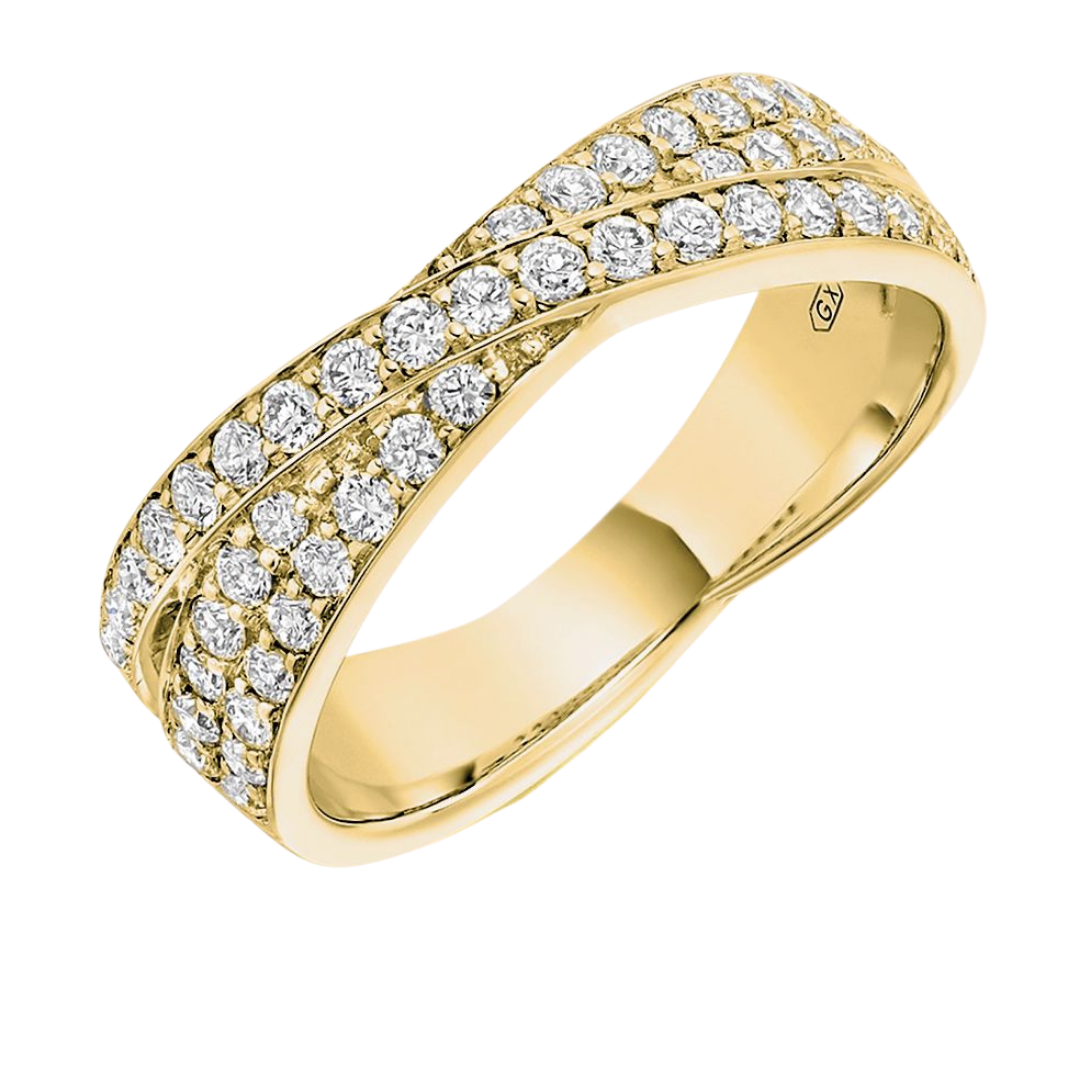 It's everything Christmas dreams are made of and you can make it completely your own.
Because each Raphael Collection Ring is custom made to order, you can choose to have your ring made in white, yellow or rose gold - or even platinum. And the quality of diamonds you want.
(Price shown is in 18ct gold with G/H colour and Si clarity diamonds. Other metals and diamond qualities are available, but prices will vary.)
Call the store on 01702 480 898 to arrange your ring in plenty of time for the big day.
Need more inspiration?
If you're still searching for the perfect Christmas gifts, find more inspiration by browsing our full Christmas Gift Guides. 
They're full of ideas for Him or Her. Or search the entire online collection here.
Gifts can be delivered free within the UK with our standard 3-5 working day Royal Mail Tracked service. 
We recommend ordering by midday Friday 18th December 2020 to receive your order in time for Christmas.
And for those last minute gifts, select Next Working Day Delivery is also available for just £6.50.
Order Next Day Delivery up to midday on 23rd December for delivery on Christmas Eve. Delivered by Royal Mail Special Delivery Guaranteed, to arrive the next working day. 

We hope you found your pefect Christmas gift, but if you still can't decide why not order one of our eVouchers? Simply choose your design, add an amount and a gift message. You can send it on the day or schedule for a future date. 
Our gift eVouchers can be used in-store or online, so there's plenty to choose from.
Good luck with the rest of your Christmas shopping.
Wishing you a safe and sparkly Christmas,
From everyone at the Niche Online team. x
*Prices all correct at time of publication but may be subject to change.
Browse Our Complete Online Jewellery Collection.