Gemstone jewellery is a brilliant way to add colour and texture to your look. We're all familiar with the most popular gemstones. Diamond and birthstone jewellery feature in many a jewellery box.
But there are some other gorgeous semi-precious gemstones you may not have heard about. Amazonite, labradorite, aventurine and other semi-precious stones can add beautiful colour and texture to an outfit. And many of them also carry special meaning, making them a wonderful gift.
Here we give you our top tips on the unsung heroes of the semi-precious gemstone world.
Amazonite
This beautiful gemstone is named after the Amazon region. The colour ranges from soft jade green to vibrant aqua and it promotes luck, success and healing abilities.
Find amazonite in the Sarah Alexander Soho collection, featuring flat cut, highly polished amazonite. Add stunning colour and luxury to your look without breaking the bank.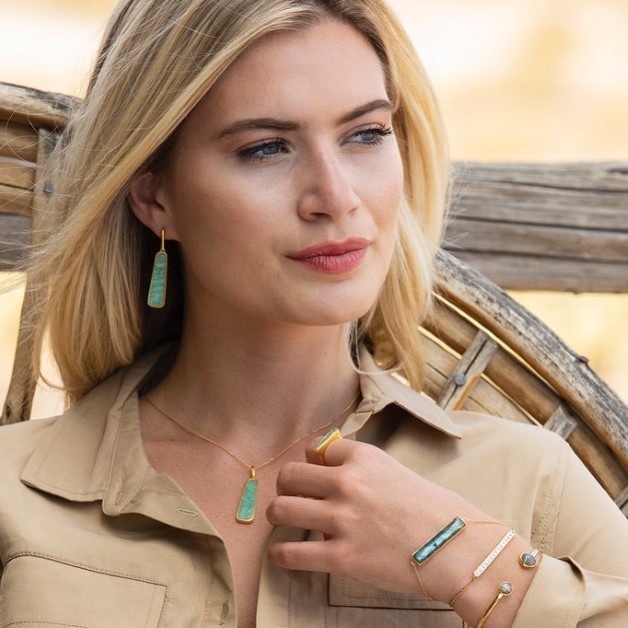 The Soho collection is set in 14k gold vermeil, which is high quality gold-plated sterling silver.
Find more Sarah Alexander gemstone jewellery.
Turquoise
Perhaps a more well known semi-precious gemstone is turquoise. Turquoise is another bright and beautiful stone.
This year Annie Haak has turquoise highlights in her Summer collection. Sterling silver stacking bracelets with eye-catching turquoise are perfect for your Summer styling.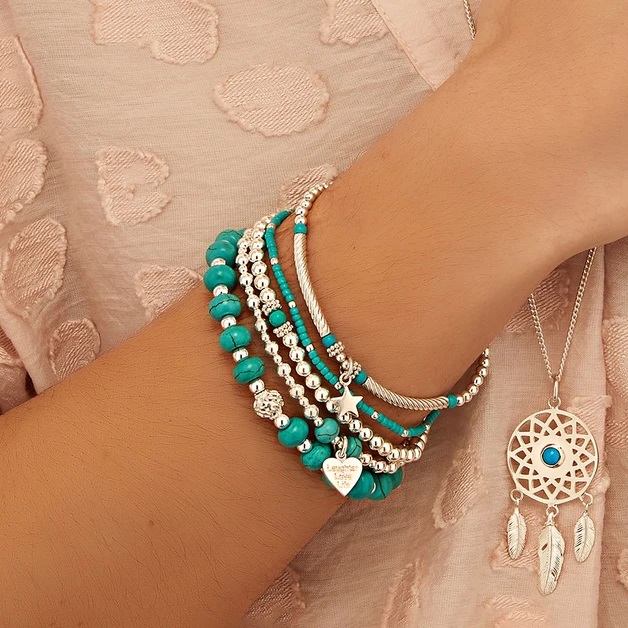 Turquoise is the captivating sea-green stone of the ancients. And better yet, it represents wisdom, protection, good fortune and hope, making it a thoughtful gift.
Annie Haak creates stunning stacking bracelets, so you can mix up your style for any occasion.
Shop Annie Haak jewellery here.
Labradorite
Labradorite has ancient history because the Inuits believed the Northern Lights were trapped in the stone.
These gorgeous pieces by Sarah Alexander feature labradorite and gold tones for added luxury.
Labradorite is the stone of transformation and can be helpful to impart strength at times of change.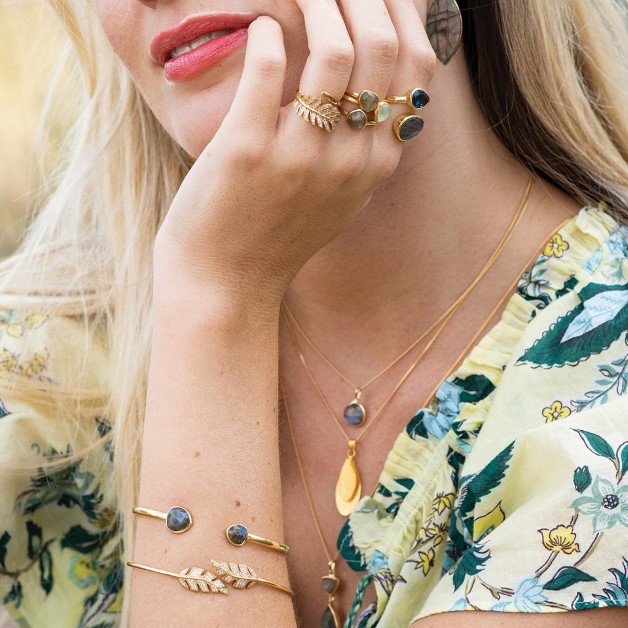 Labradorite jewellery mixes and matches well with other stones, so you can layer and stack your gemstone jewellery for a standout look.
Moonstone
Moonstone is one of the most popular semi-precious gemstones. With a milky white appearance, it also has violet and indigo reflections.
The great thing about moonstone is that it will go with almost any outfit, so it is entirely versatile.
This Annie Haak Moonstone Long Necklace is made with silver chain and a beautiful mix of white Japanese glass beads. But it also features a stunning teardrop moonstone charm to add a mystical vibe to your outfit.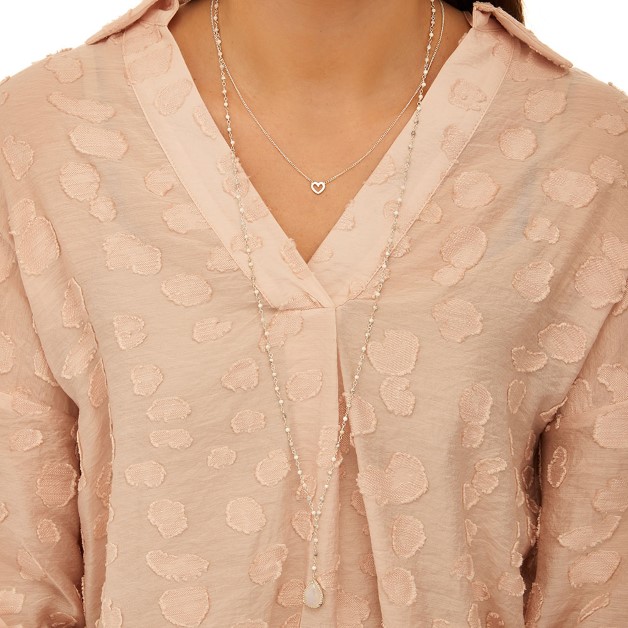 A true statement necklace, you can wear it on its own or layer up with other silver necklaces.
Browse more necklace designs here.
Green Aventurine
Green aventurine is another Summery delight, with its varying tones of green. This 'Stone of Opportunity' is the luckiest of all the crystals. This stone promotes harmony, protection and love.
Sarah Alexander's Willow necklace contains an aventurine pendant and features a unique pull-through design. Wear with the matching earrings for maximum impact or mix and match with other gemstone jewellery.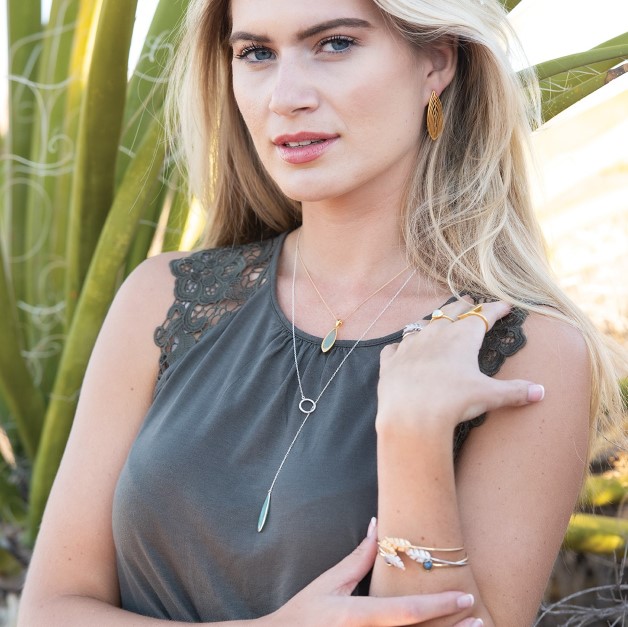 The green tone of the stone pendant is both calming and stylish, which makes it a great addition to any outfit.
Explore Sarah Alexander gemstone jewellery.
Rose Quartz
This transluscent crystal occurs in a subtle range of soft pink tones, sometimes with white inclusions making each stone completely unique.
Rose quartz dates back to 7000BC in ancient Mesopotamia and Egypt. Known as the 'romance stone' it evokes love, emotion and the lowering of any anxiety.
This gemstone's soft pink hues add a feminine and subtle touch to your look. Rose quartz tones well with both silver and rose gold.
We love this Jersey Pearl bracelet which incorporates pearls, rose quartz and rose gold.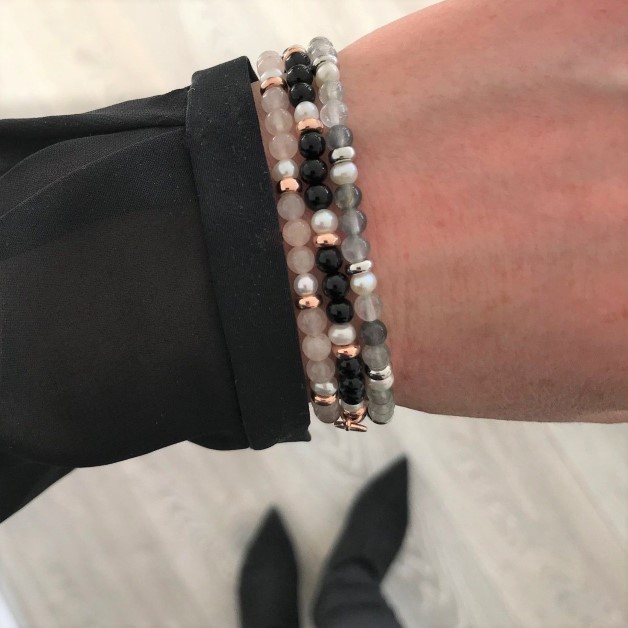 Mix and match these bracelets for a unique and standout look. In fact, you can mix and match gemstone jewellery in lots of different ways.
Mix and match
You don't need to stick to the same gemstones to maximise your style.
Sarah Alexander jewellery is perfect for mixing and matching to up your gemstone game.
Create a textured, colourful layered look with different gemstones. You can also mix and match gemstone jewellery with crystal or clear stone jewellery, as well as different metal finishes.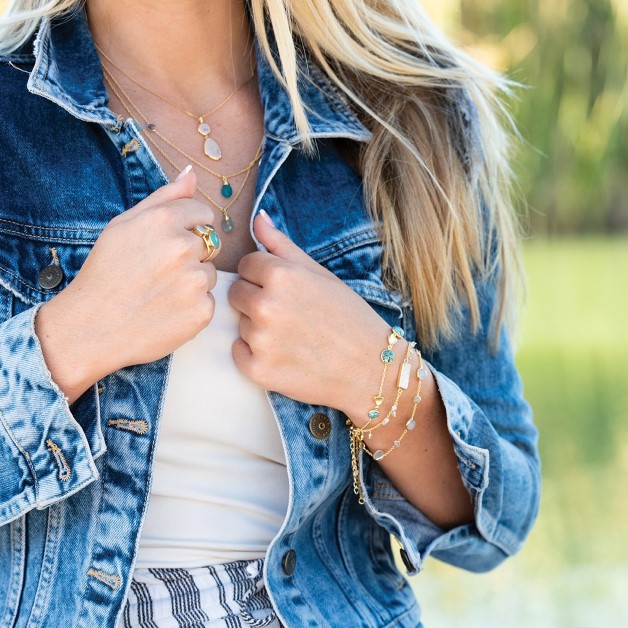 We love this look with its casual elegance and a twist of colour fun. Browse all Sarah Alexander jewellery.
And if you want jewellery that incorporates multiple gemstones, Coeur De Lion is ideal. Many Coeur De Lion pieces feature a mix of gemstones and crystals.
This stunning design includes a stunning combination of light amethyst, aventurine, rose quartz and howlite.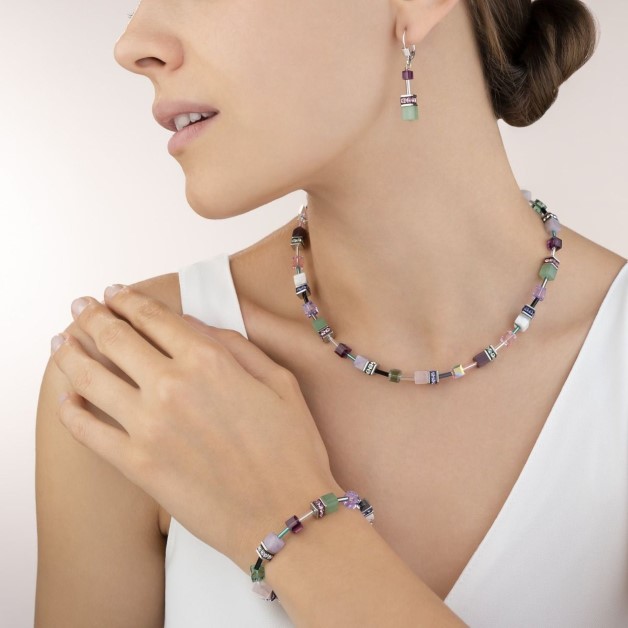 Available in a necklace, bracelet and matching earrings, you can make your gemstone jewellery dreams come true with this statement design.
Up your gemstone game
With so many gorgeous semi-precious gemstones, you can really up your jewellery game.
Gemstone jewellery is brilliant for adding colour and texture to your look. Stand out with stunning semi-precious gemstones, so you don't have to keep the same jewellery look and can mix it up.
Gemstone jewellery also makes a wonderful gift thanks to the added meanings and history of many semi-precious gemstones.
Happy gemstone hunting!