Niche is delighted to welcome Olivia Burton to our collection. Founded on friendship and born from a love of fashion. Olivia Burton makes watches and accessories that reflect both vintage style and all the latest trends. Discover exquisitely crafted jewellery and watches with details inspired by nature and detailed by hand.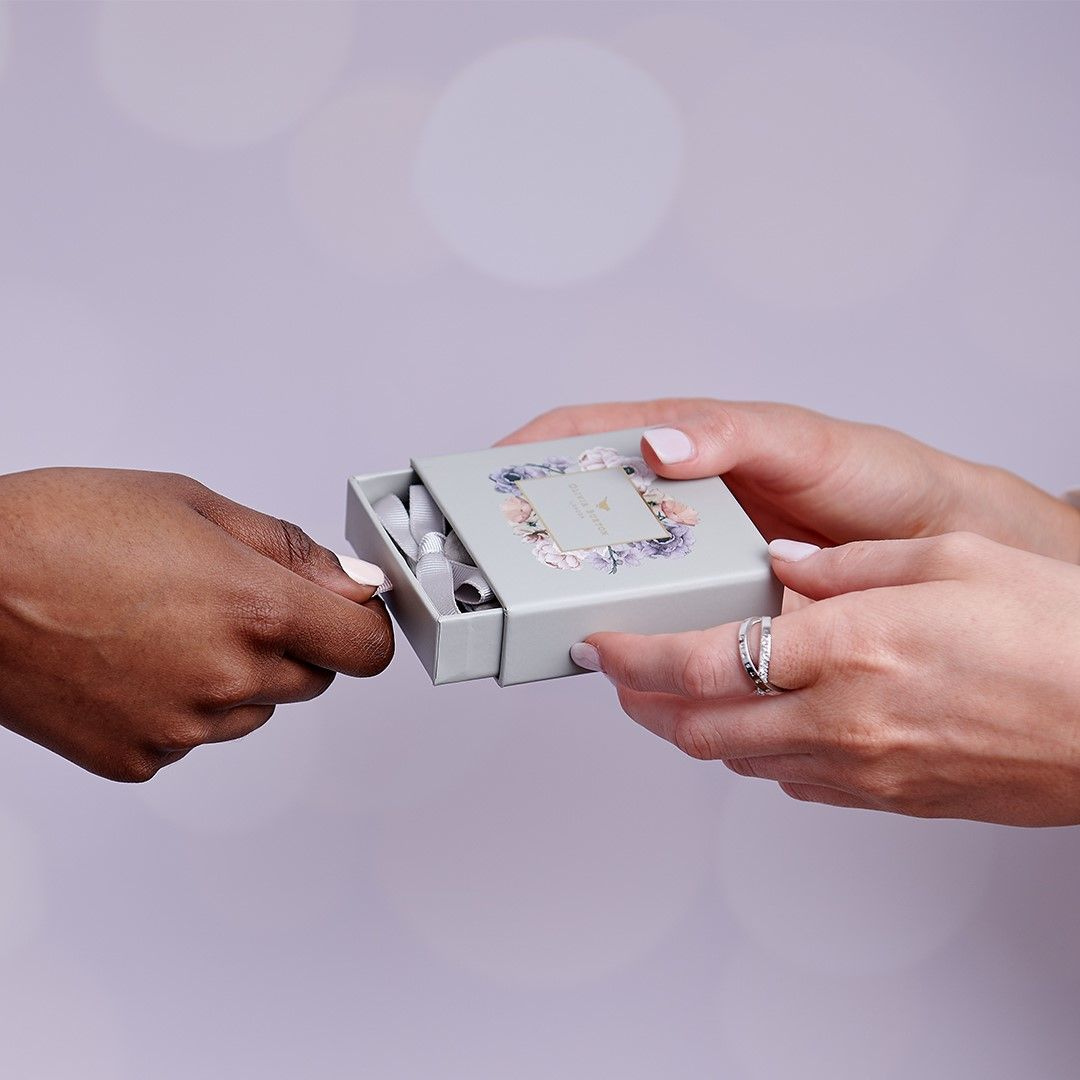 What's the inspiration behind this homegrown brand?
Olivia Burton is the creation of two women who met at London College of Fashion and went on to become best friends - and later - business partners. Jemma and Lesa shared an appreciation of vintage timepieces, but struggled to find the same level of detail in modern watches.
Driven by their love of fashion and experience in the industry, they finally realised their dream in creating Oliva Burton in 2012. Designed in their East London studio and named after Lesa's Great Aunt, they now create their own collection. Designing watches and accessories using vintage inspiration and the latest palettes.
Discover your favourite Olivia Burton pieces at Niche. Here's why we love them.
Watches of wonder
Crafted in stainless steel with quartz movement, there is an Olivia Burton watch to suit every occasion. Their unique collection comes in a wide selection of contemporary colours to choose from and delicious details to enjoy.
Discover a world of wonder where each watch is like its very own fairytale, with a tiny story captured inside the dial. Follow a botanical theme with stunning flower illustrations. Or take a star-studded path with their celestial range. Beautiful and affordable, whatever you choose will make a special gift, or treat for yourself.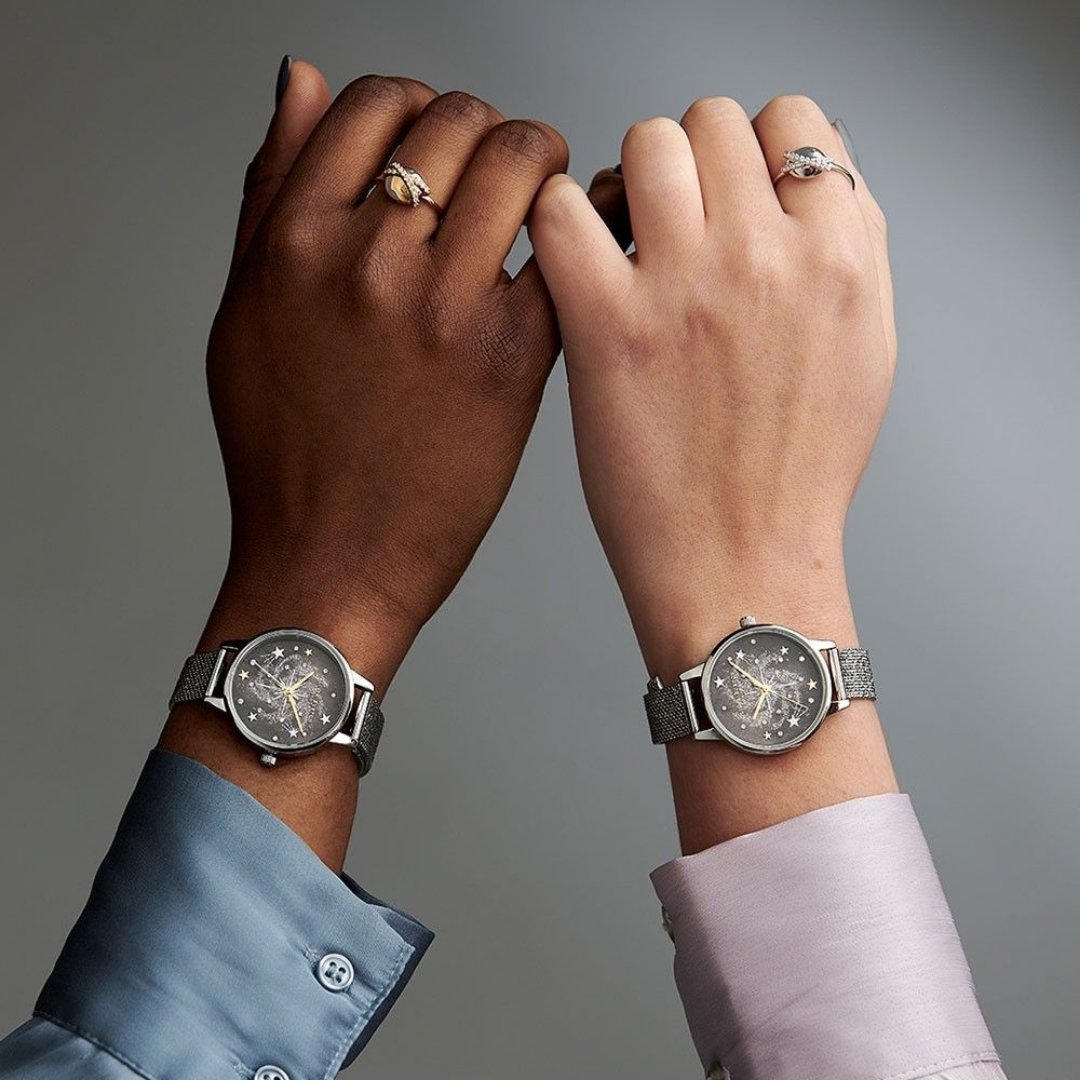 Natural style
Olivia Burton's designs are often inspired by the glory of nature. Details with a vintage feel, like hand-drawn floral illustrations, decorate watch dials. While classic bee shapes feature on watches, earrings and accessories. Colourful rainbows, the deepest blue oceans and the celestial heavens are also recurring themes. With tiny sparkling stars and stunning colours making pieces truly special.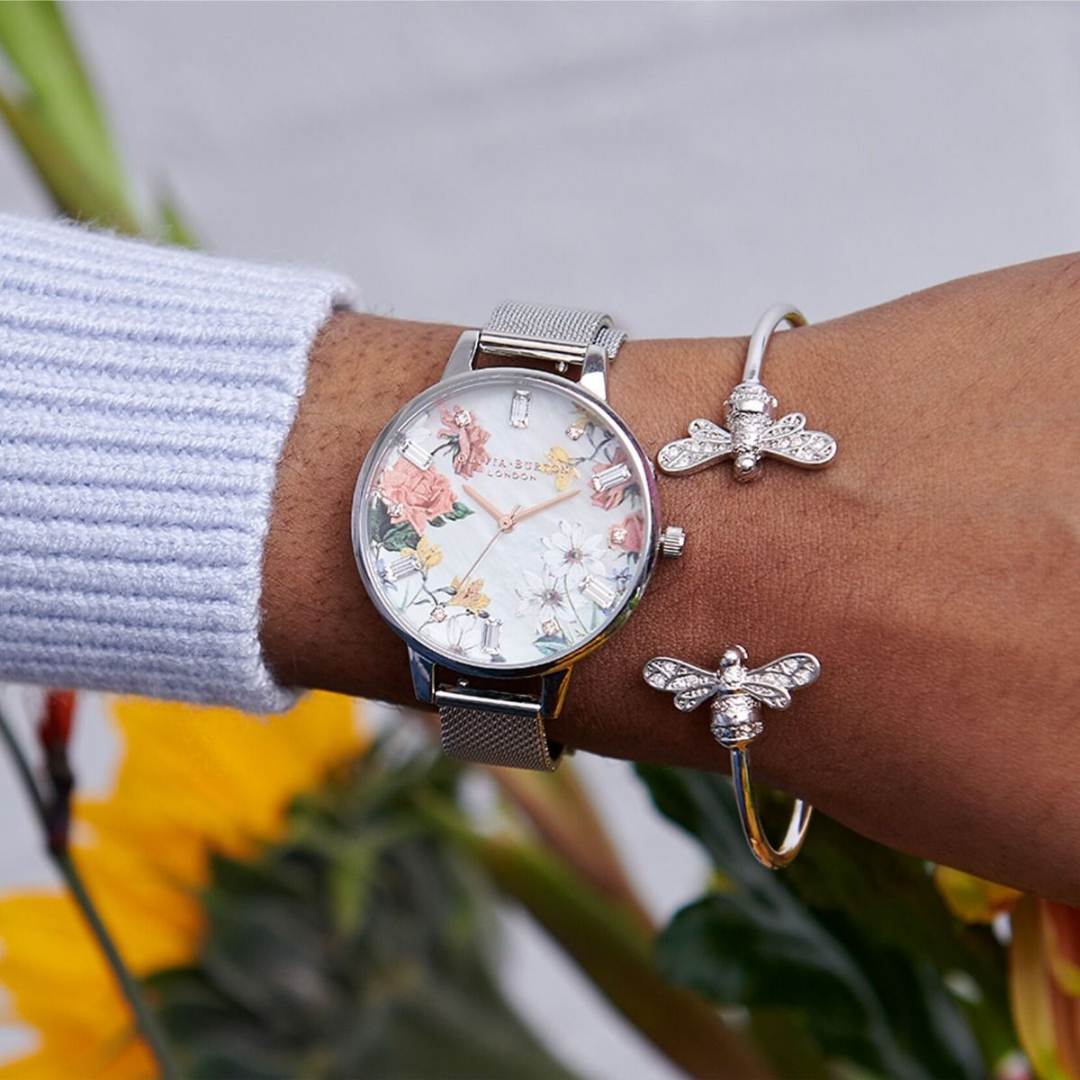 Olivia Burton's on-trend Palette
The carefully chosen palette of Olivia Burton's jewellery and watches is a delight. Following the latest catwalk trends, without forgetting it's vintage roots. Dusty pinks and pastels blues, alongside vibrant turquoise and teal. Watch straps are elegant and sophisticated in navy, rose and mint. With a range of on-trend neutral colours in browns and pinks. Then there are the classic metal bracelets in yellow and rose gold, and silver combinations.
Matching sets and accessories
As well as watches, Olivia Burton has created a range of jewellery and accessories to mix and match with your favourite watch. There are stunning bumble bee 'Lucky Bee' studs, rings and bracelets to wear alongside your Lucky Bee watch. Or stars and rainbows on studs and hoop earrings. Some watches come in a set, alongside a matching bracelet to wear on the opposite wrist. Or you can build your own collection from the matching accessories available.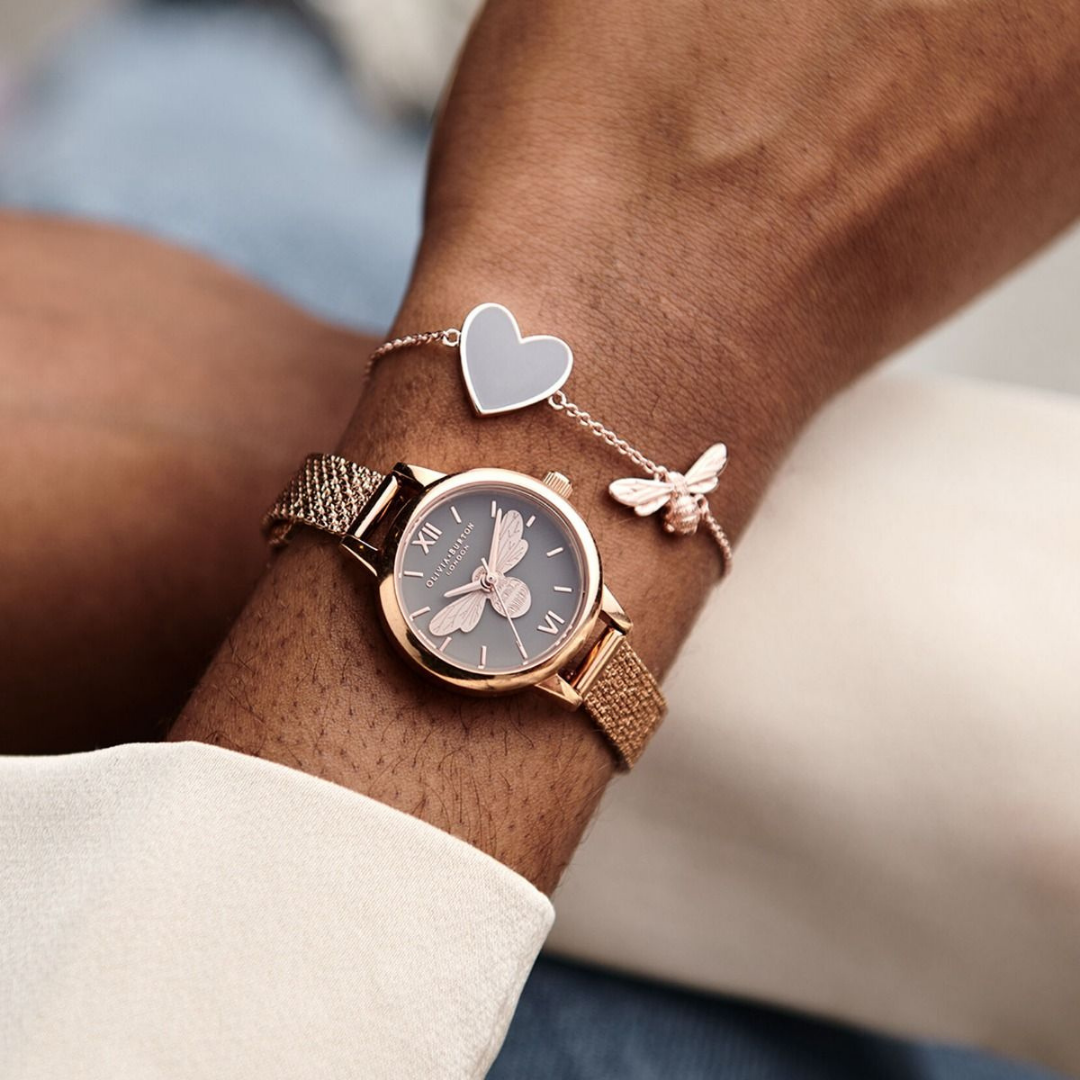 How to start your Olivia Burton collection
If you're considering buying a watch for yourself or as a gift, we have plenty of expert advice available.
Their designs are perfect for layering and look fabulous for work or pleasure. Take a look at our Olivia Burton watches selection online and build your collection from there.