If you love colourful jewellery, the palette this Summer is tropical themed pastels. Coeur de Lion is the handmade jewellery brand that masters the use of colour.
But even if you are wary of colour in jewellery or worried that it may not be versatile enough - don't be! The range of pastel colours this season features something as subtle or as bright as you need.
Summer is the time to curate a relaxed yet chic style. Coeur de Lion is the perfect jewellery style to add depth and interest to a Summer outfit. It's also handcrafted in Germany to exacting standards. Plus, it features interesting materials like natural stones, polaris, Swarovski Crystal and stainless steel.
Here we show you how to achieve a gorgeous look for any occasion this summer. It might be a more casual one that usual, but that doesn't mean you have to compromise on the style stakes!
Refreshing greens
Green is a calming, refreshing colour and the perfect choice for Summer afternoons. Mix pale green with rose gold for a perfect complementary colour combination.
Team a minty fresh green dress with pieces from Coeur de Lion's Sparkling Coins collection for low key elegance. This collection will take you seamlessly from day to night in the Summer months.
This Coeur de Lion bracelet and matching pieces feature delicately sparkling coins of rose gold plated stainless steel. The muted green cut glass and crystal gives a natural elegance. Combined with sparkling crystal in natural green tones, it makes the perfect crisp Summer jewellery.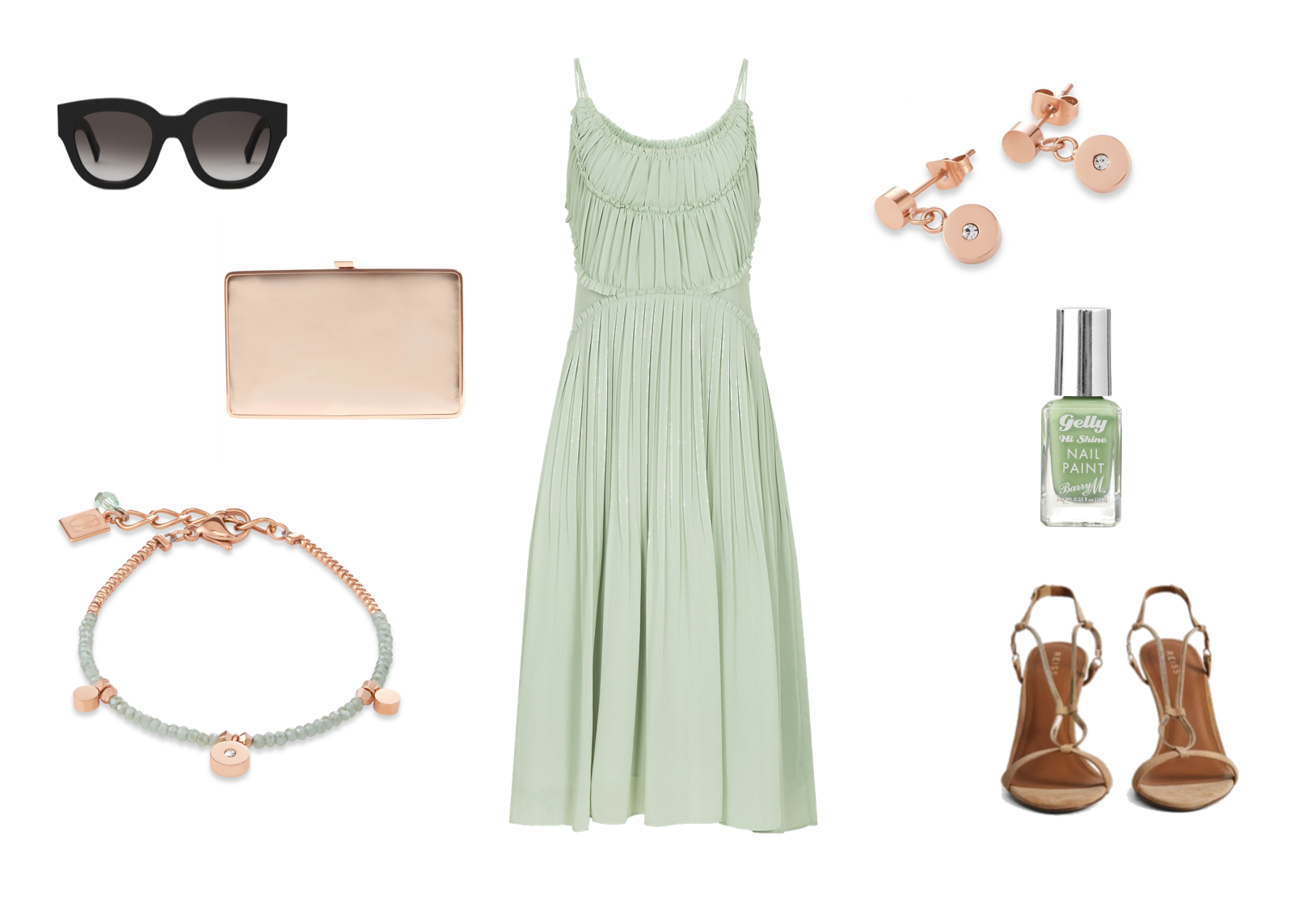 The pale green tone contrasts perfectly with the rose gold tone. It's perfect for adding subtle, natural sparkle to any outfit this Summer.
Just add rose gold tone accessories and essential black sunglasses for instant style. Turn yourself into a green goddess with these calming and natural colours. Heavenly!
Shop Charm Bracelet for women.
Pretty in pink
Pale pink is a classic colour that is always in style for Summer. It's the perfect shade for garden parties, afternoon teas, weddings and more. Think sorbet and watermelon - two very summery foods!
Mix in other bright pastels in your jewellery to up the style stakes. Team a pretty pink simple style of dress like this beautiful number by Reiss with bright Coeur de Lion pastels. Add a pastel eyeshadow palette for a subtle rainbow-inspired colour scheme.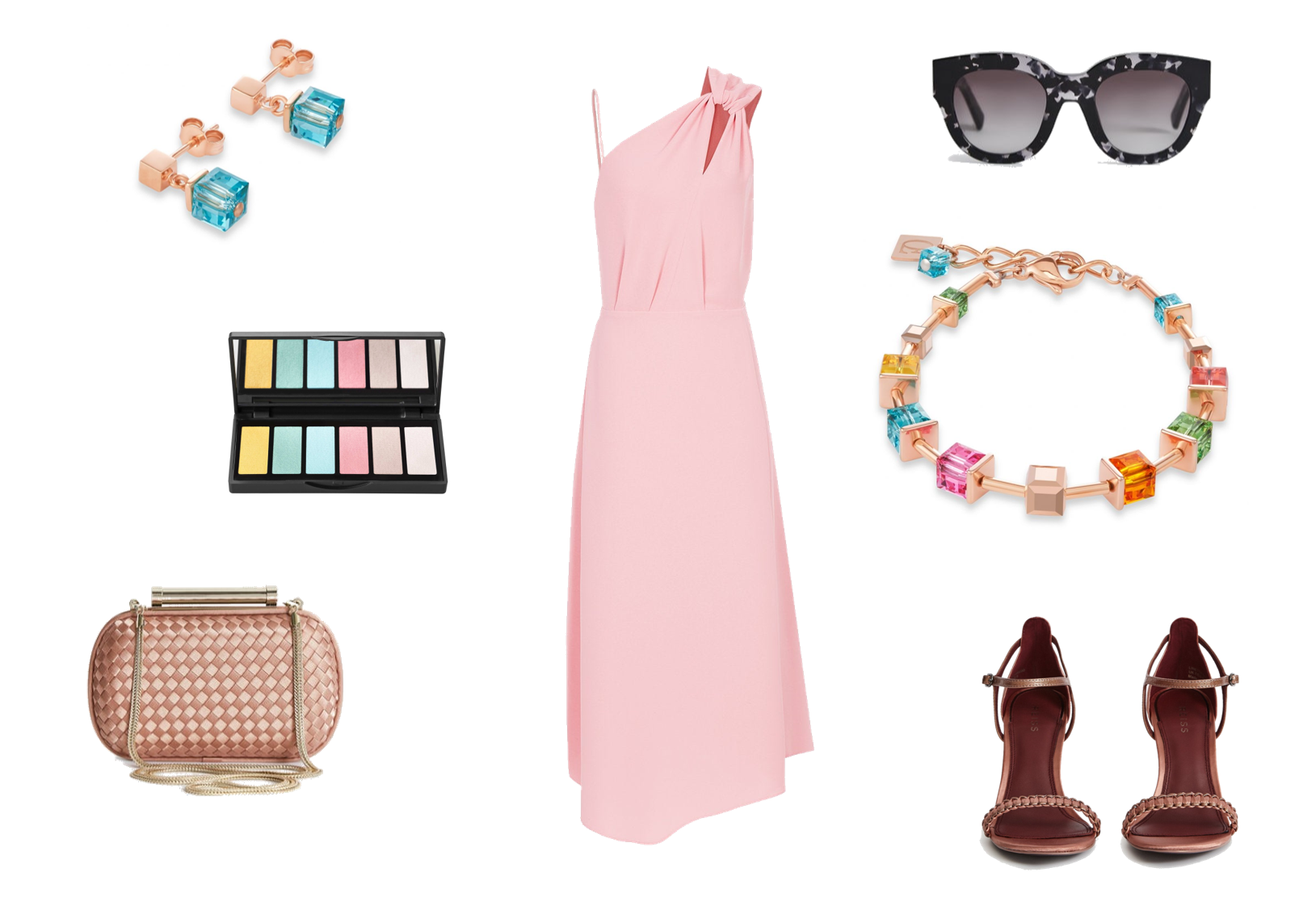 The gorgeous spectrum of tropical pastels in this Coeur de Lion bracelet creates a colourful update to the GeoCUBE classic. GeoCUBE is the signature design by Coeur de Lion, and is beautifully reinvented for each new season.
Transparent multicolour Swarovski Crystal create a unique look to add a rainbow accent to this classic piece, re-imagined.
These colours are especially beautiful for Spring and Summer, but will add beauty and sparkle to your day any time of year.
Neutral tone lift
If you are looking for jewellery to team with white or neutral outfits, this stunning statement Coeur de Lion bracelet is the perfect finishing touch. It makes a stylish statement when teamed with a neutral jumpsuit and tonal accessories for a simple yet sophisticated Summer look.
The delicately composed bracelet and earrings feature pretty neutrals that complement other colours of the season. This collection includes polaris and Swarovski crystal elements. The round polaris contrasts with the faceted Swarovski crystal to create a standout texture.
Elegant and unique, this collection is perfect for special occasions (like going to a beach wedding!) or to dress up a casual outfit like this in a subtle and feminine way.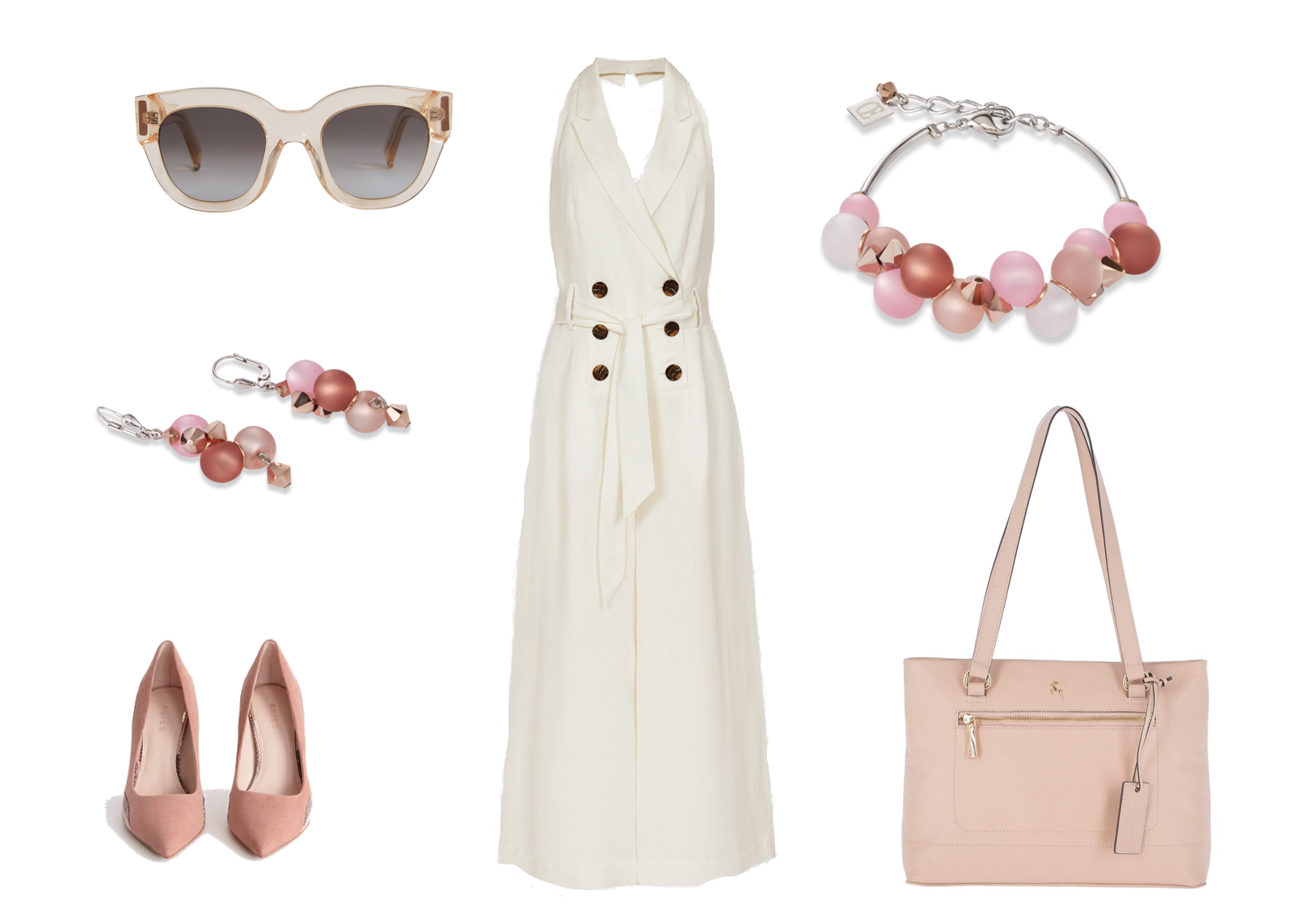 Match it with other Coeur de Lion jewellery or wear as a standalone statement bracelet or earrings. This look is brilliant for outdoor events on warm days. From casual to formal, it's a style that adds depth and interest to any outfit. We love it to give Casual chic a lift!
Cool blues
This summery blue floral dress from Reiss is the perfect beach, party or lunch date outfit. Team with rattan accessories for a beachy look. Whether you are abroad, or just sporting a tropical look on your staycation, this is another brilliant look for the warmer months.
This Coeur de Lion necklace is is the perfect accent to highlight your Summer style. Resembling beautiful rock crystal formations, the icy blue tones add a cool touch to any outfit.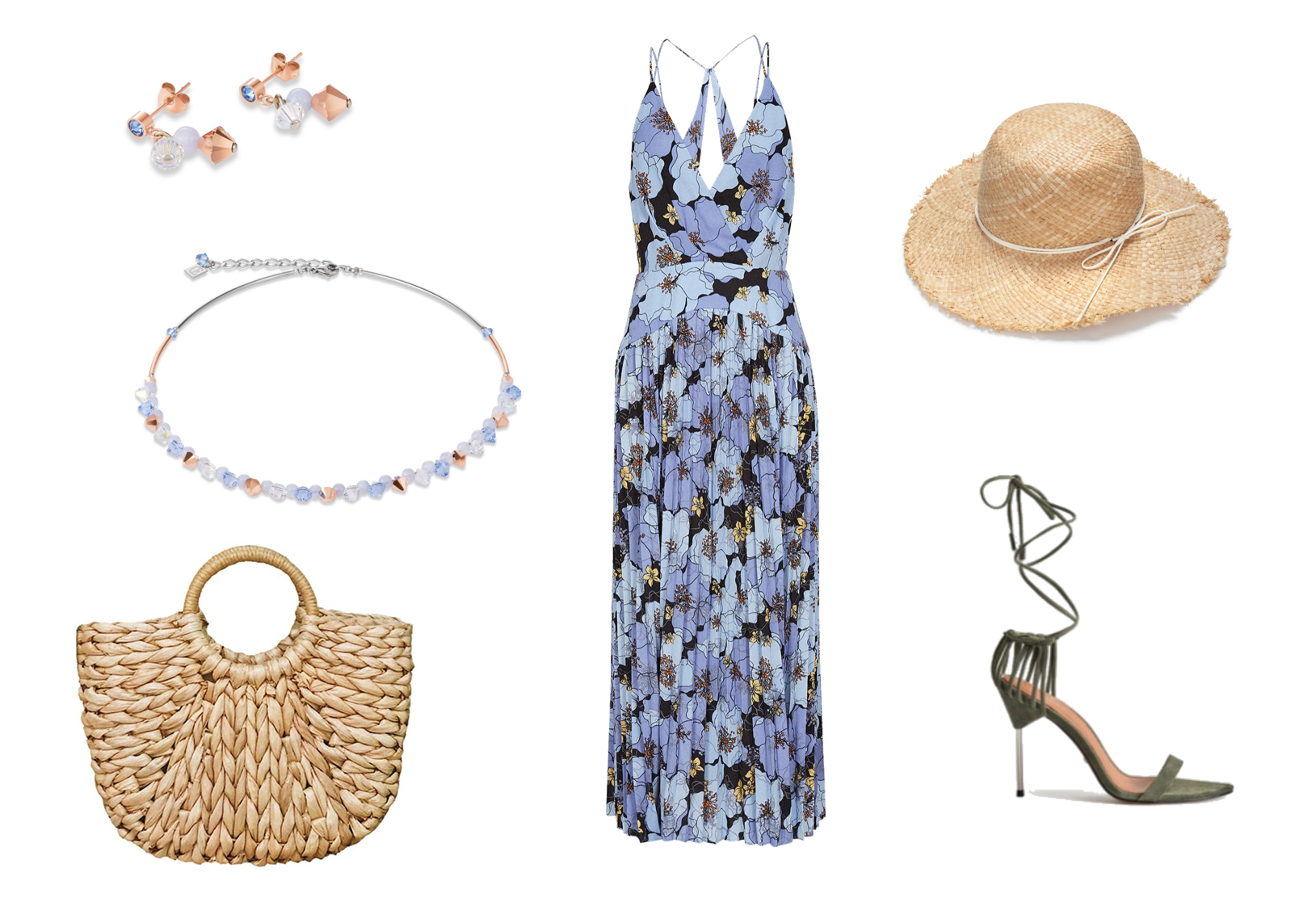 Featuring natural chalcedony and Swarovski crystal stones, the contrasting shapes create a varied and angular profile. We love Coeur de Lion jewellery for its use of interesting stones and materials.
Created by hand in their German headquarters, Coeur de Lion is a unique jewellery brand. The workmanship that goes into each piece is incredible. There are so many innovative techniques used to create each piece, hand finished to high standards.
Every designer we work with at Niche Jewellery is hand picked by us for its special features. We look for high quality craftsmanship and materials as well as a point of difference so that you have great options.
Our customers love to have a range of different jewellery options, and our aim is to help you find the perfect piece. Which is why we only work with well respected jewellery brands who create quality products that will add a different style element to your jewellery box.
And Coeur de Lion is no exception. As one of our more recent additions, it stands out from the crowd in the jewellery world. With a unique use of colour and beautiful materials, each piece is a jewellery masterpiece in its own right.
Shop our Coeur de Lion jewellery collection.