Slider bracelets are one of our favourite bracelet styles. At this point are you wondering what is a slider bracelet? This type of bracelet has a sliding closure instead of a clasp. The two ends of the bracelet slide through a loop that can be adjusted to different lengths.
Why wear slider bracelets?
A slider bracelet is easy to put on yourself, and super adjustable. Slider bracelets make brilliant gifts, because you don't have to worry about sizing. These bracelets for women are so adjustable that it really is one size fits all. Slider bracelets will fit most, if not all, wrist sizes.
We love that there are no fiddly clasps, which is also perfect for people who have difficulty with small clasps because of arthritis or other conditions. They are also quick to put on, which saves time for busy women.
Slider bracelets are also brilliant for stacking. You can get an on-trend look by stacking your bracelets. And with the convenient slider mechanism, you can easily mix and match your bracelets. Many slider bracelets have detailed ends to the slider cords, which adds another style element to the bracelet.
So here are our top slider bracelets for women this season.
1. Swarovski Subtle bracelet
The Swarovski Subtle bracelet design comes in a few different finishes. Each one is a subtle style statement that will go with any outfit. You can wear them alone as a stylish statement, or layer with other slider bracelets.
We especially love the Swarovski Subtle Bracelet featuring two different sized crystals. The alternating stone size creates a sophisticated look and the stunning clear crystal goes with everything. The sliding closure features the iconic Swarovski swan symbol.
This bracelet is simple and elegant, but has a point of difference with the graduated stone sizes.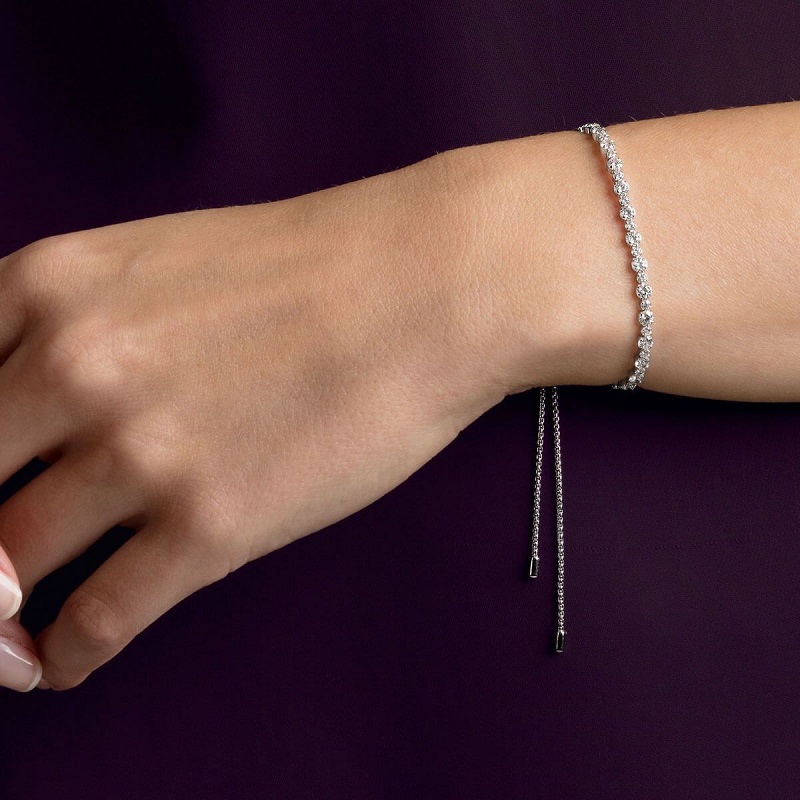 How to style it - this slider bracelet is perfect for day to night wear.
2. Kit Heath Blossom Eden Bracelet
We love the natural feel of the Kit Heath Blossom Eden Blush Leaf toggle bracelet. The combination of rhodium and rose gold plating gives an eye-catching look.
The leaf is a beautiful nod to nature and matches perfectly with other pieces from the Blossom Eden collection. The combination of silver and rose gold gives an on-trend a mixed metal look, as well as the ability to match with other pieces featuring either metal.
The design is soft and natural, giving it the ability to dress up or down.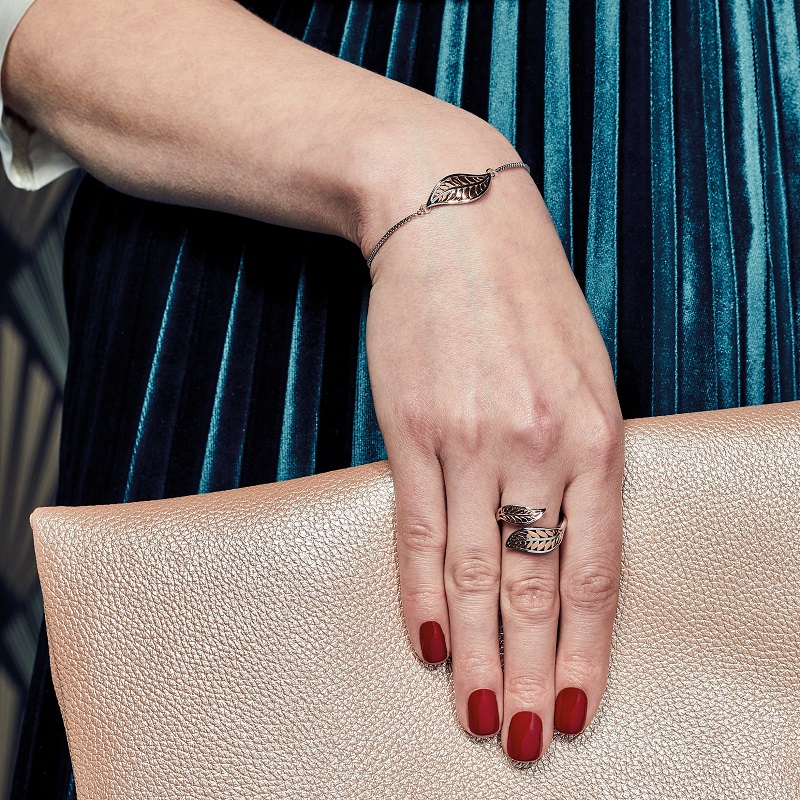 How to style it - this natural wonder works beautifully with a weekend outfit to add a touch of casual elegance.
3. Jersey Pearl Sky Bracelet
Another nod to nature is Jersey Pearl's Sky Bracelet collection. This range features the colours of the sky in one gorgeous collection. Pearl and semi-precious gemstone beads are scattered beautifully across an adjustable length bracelet.
This stunning design is a breath of fresh air, featuring an adjustable closure and pretty colours of semi-precious gemstones. Mix and match these these Jersey Pearl bracelets for maximum fun.
The Sky collection comes in either a scatter design, with pearls and gemstones interspersed, or a bar design, with a row of pearls in the centre. One of our favourites is the black agate scatter bracelet, which will add contrast to your bracelet stack.
This particular bracelet has interspersed rose gold plated beads and a rose gold toggle, but other bracelets in the range are either plain silver or yellow gold plated.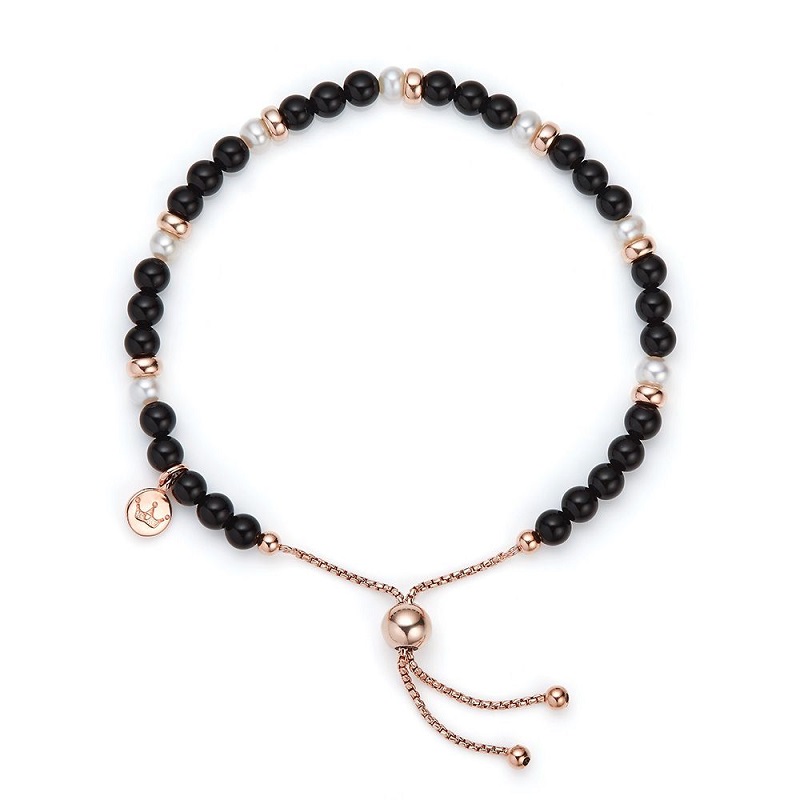 How to style it - wear alone or stack with any other Jersey Pearl bracelet styles.
5. Swarovski Further bracelet
The Swarovski Further collection features interlinked circles encrusted with cupchain and pave set Swarovski crystals. Available in silver or gold finishes, it also comes in an Anniversary version in silver with white and light blue crystals.
The Anniversary collection was released by Swarovski in early 2020 to celebrate their 125th anniversary! The collection feature calming blue tones added to classic Swarovski designs such as Sunshine, Louison and Further.
We are loving the Anniversary Further Bracelet for summer, with its combination of sky blue and white sparkling crystal.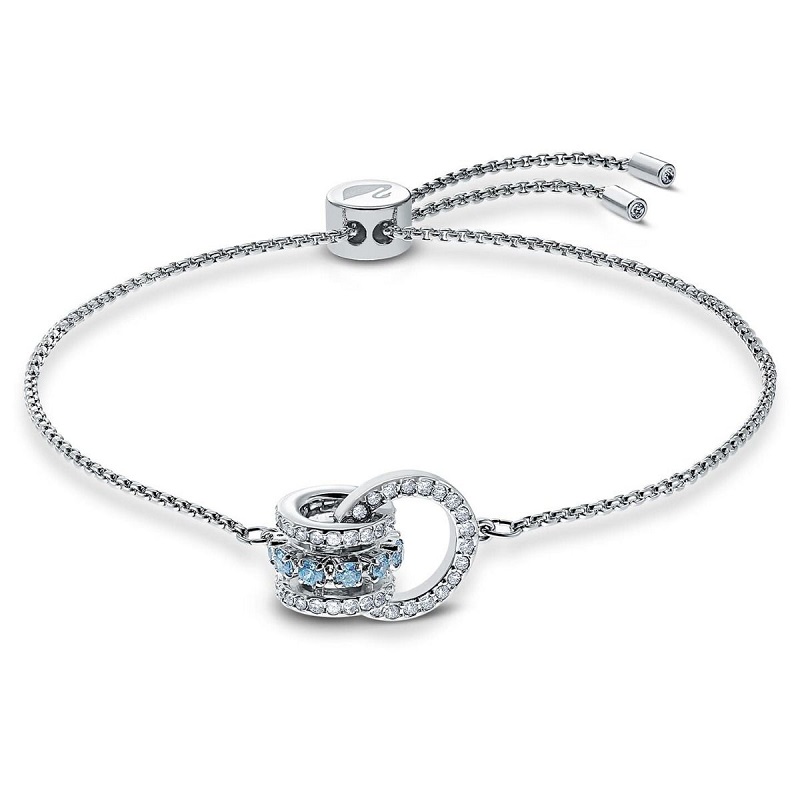 How to style it - this bracelet is the perfect addition to a smart casual weekday outfit.
4. Niche Jewellery Slider Link Bracelet
The Slider Link Bracelet is part of our Niche Jewellery Gifts collection. Available on our website and Etsy store, these bracelets are perfect for gifting. This collection comes presented on a custom sentiment card with your choice of message.
Crafted from Sterling Silver, these gorgeous slider link bracelets are available in plain Sterling Silver, or with a touch of rose or yellow gold on alternate links. It's hard to pick a favourite but this season we love the silver and yellow gold combination.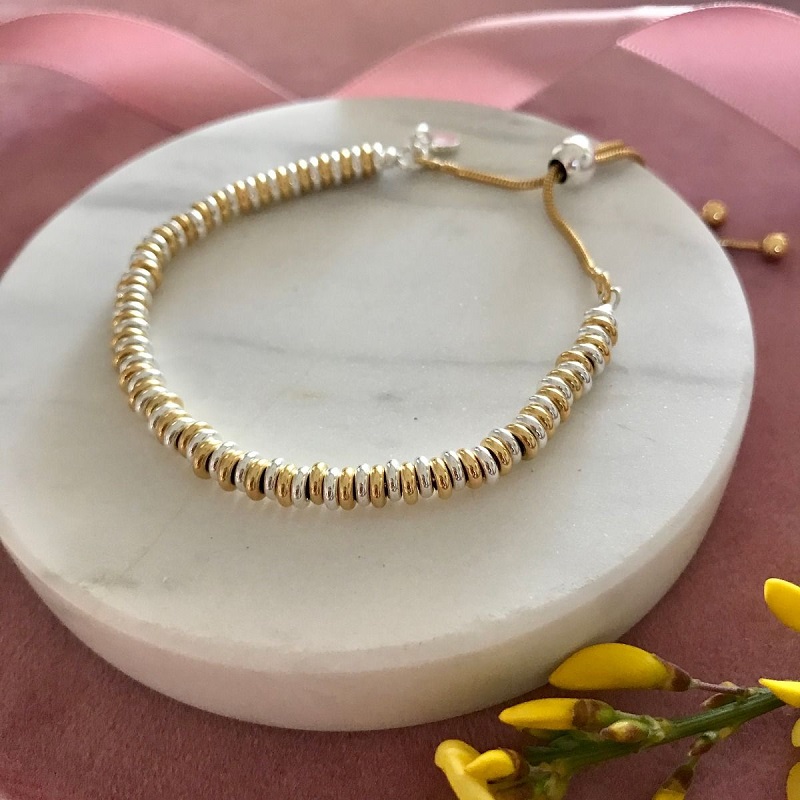 How to style it - wear with jeans and a white shirt for a clean and fresh look.
6. Kit Heath Stargazer Galaxy Gold Toggle Bracelet
Stargazer Galaxy is one of our favourite collections from Kit Heath. Featuring a trail of shooting stars, the range features stunning necklaces, bracelets and earrings in both silver and yellow gold plate.
The Kit Heath Stargazer Galaxy Gold Toggle Bracelet is the perfect slider bracelet to add a touch of luxury to your outfit. Wear it alone or stacked with other bracelets.
This slider bracelet is made from Sterling Silver with 18ct yellow gold vermeil. Kit Heath jewellery is British design at its best, with top quality craftsmanship to execute the style perfectly. The ends are finished with a beautiful detail of an extra star.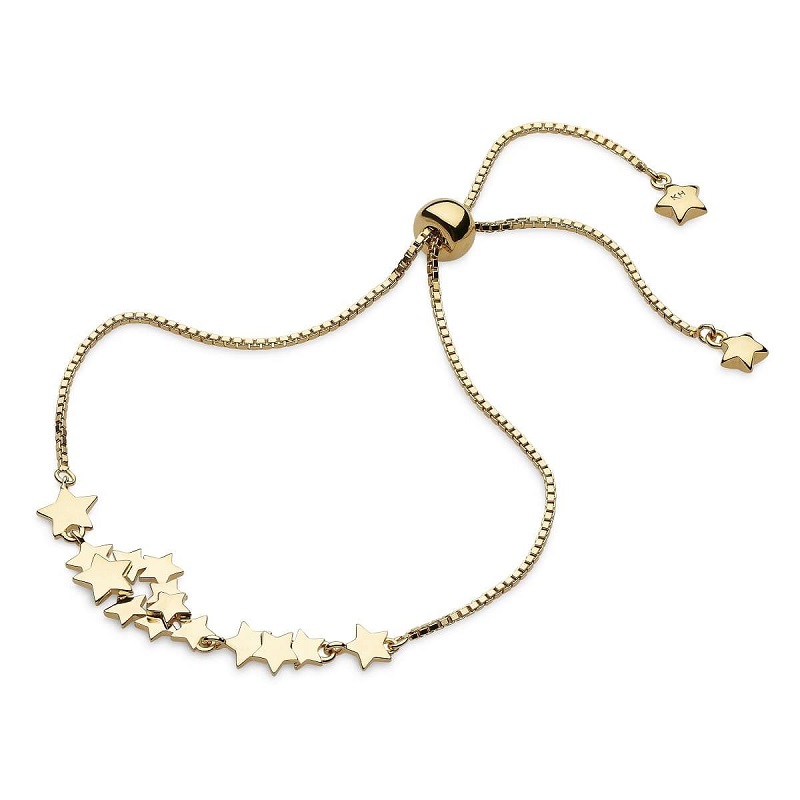 How to style it - the star of the show, wear it as a centrepiece and layer up with other designs from the collection.
The upshot
Slider bracelets are stylish, easy to wear and make a brilliant gift for friends or loved ones. The are fabulous for stacking or wearing alone for a quick addition of style to our outfit. So now you have our top slider bracelets for this season. Go forth and style them!
Need more inspiration? Shop our collection of bracelets for women. Or if you are looking for men's jewellery, shop our collection of Men's jewellery online.