If the Coronavirus (COVID-19) global crisis has taught us something, it's that we can't always see a danger. We all try our best to wash our hands regularly and keep good hygiene practices. But we also need to think about the best way to clean jewellery.
This virus has taken most of us by surprise. It has made us a lot more conscious of handwashing and other hygiene practices.
Have you ever thought of how many invisible nasties can accumulate in the jewellery we wear? Especially if we don't pay as much attention to cleaning our jewellery regularly as we do to washing our hands.
Rings are the main culprit, as there are typically hard to reach places such as detailing, stones or engraving. This makes them prime areas to clean on a regular basis. Bracelets are also worn close to the hands and can pick up grime that is not visible to the eye.
As lovers and curators of jewellery of all kinds, we not only believe in cleaning jewellery on a regular basis. This is not just for hygiene purposes, but also to keep your jewellery shining every day.
Here is the way, how to clean jewellery for the best hygiene and long-lasting shine.
How to Clean Diamond Jewellery?
Diamonds are often worn in engagement rings, wedding rings and eternity rings - all of which tend to be worn on a daily basis. Some people don't take their wedding jewellery off at all, day or night!
This means wedding jewellery is susceptible to build-up of grime. When you clean diamond jewellery properly, the results are amazing not only for cleanliness but for gorgeous sparkle.
The Connoisseurs Diamond Dazzle Stik is a sleek pen makes cleaning diamonds and other precious stones a breeze. The Diamond Dazzle Stik's jewellery cleaning gel contains cleansers and polishing agents that bring back radiance and lustre to diamonds.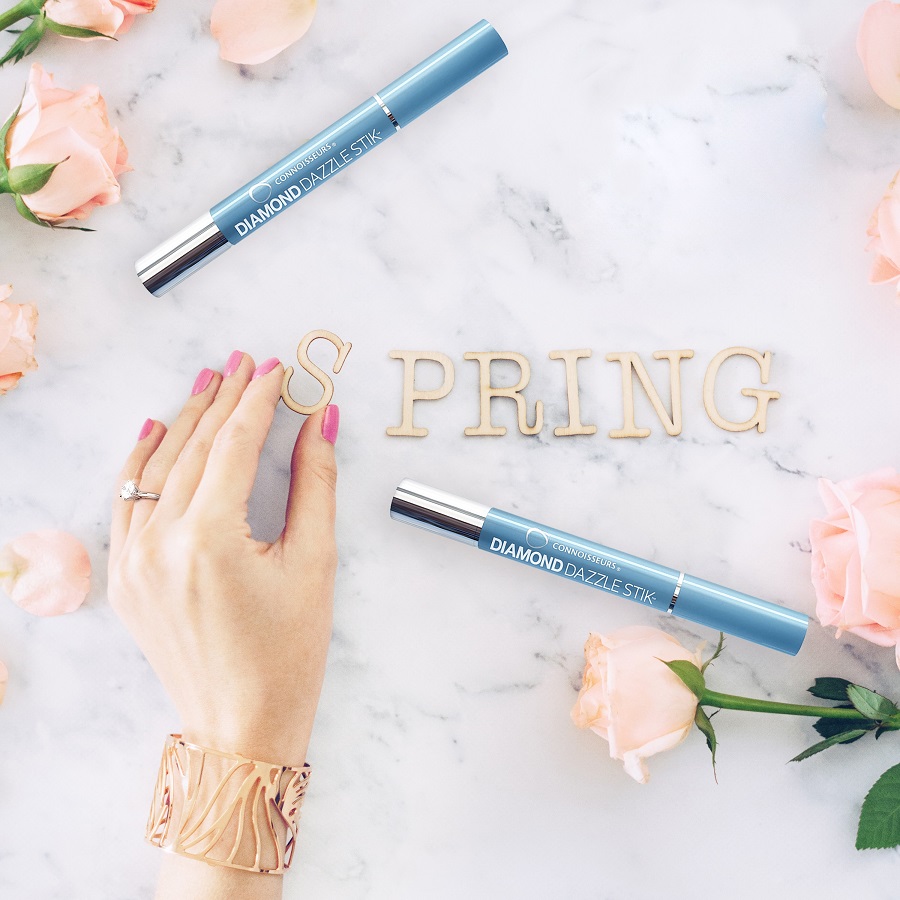 In merely a few seconds, you can give your diamond jewellery a beauty treatment. You can use it anywhere, anytime, but especially at this time when deep cleaning is important. The Diamond Dazzle Stik is perfect for gold, platinum and silver jewellery containing diamonds - including rings, tennis bracelets, and diamond earrings.
The Diamond Dazzle Stik contains special polymers to fill in scratches when used over time, and its effectiveness is such that all our staff use one on their personal diamond jewellery! This product really is the best way to clean diamond jewellery.
How to Clean Gold Jewellery?
Whether it's yellow gold jewellery or rose gold jewellery, there are quite a few different ways to clean precious metal jewellery. It depends on your preference and time available, as well as how long since you last cleaned it properly.
Connoisseurs new Jewellery Cleansing Foam is a cleansing solution that penetrates deep into the crevices of jewellery. It also reaches between the prongs to offer a convenient cleansing method. To use this product you apply the foam, let it soak for 30 seconds, then brush with an old toothbrush.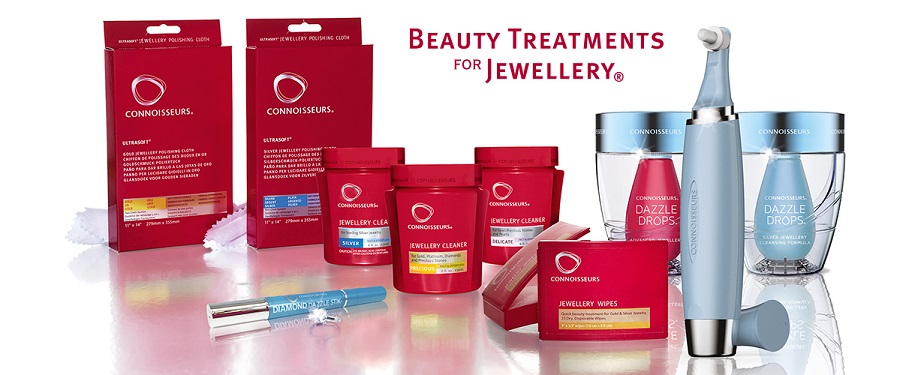 Another good option for cleaning gold jewellery that has been a little longer between cleans is a jewellery dip such as Connoisseurs Precious Jewellery Cleaner. With this method you use the included tray to dip to piece for 30 seconds, rinse, brush and then dry.
Regular use of the dip will bring out the brilliance of your gold. It is also suitable for platinum, diamonds & precious stone jewellery. Polymers in the jewellery cleaning formula help to reduce the appearance of tiny scratches.
Finally, for a quick and easy way to clean jewellery made from gold, try Connoisseurs Jewellery Wipes. They come in a convenient, easy-to-open compact. This means you can clean your gold jewellery at home, remove tarnish and apply an anti-tarnish shield to protect your gold jewellery.
How to Clean Sterling Silver Jewellery?
Sterling silver is a popular, beautiful and affordable metal for jewellery manufacturing. Many people wear sterling silver jewellery on a daily basis, especially bracelets, earrings and necklaces. Sterling silver does naturally tarnish over time. This process is completely normal and results from a reaction with moisture in the air.
The trick with sterling silver jewellery is to wear it often and polish it regularly, especially after wearing. This doesn't have to take a long time because just a quick polish will do. It's also a good idea to store it in an airtight bag if it won't be worn for some time.
The more you wear silver jewellery, the less it tarnishes. Some jewellery is intentionally created with an oxidised or blackened look, so tarnish as such is not always a bad thing!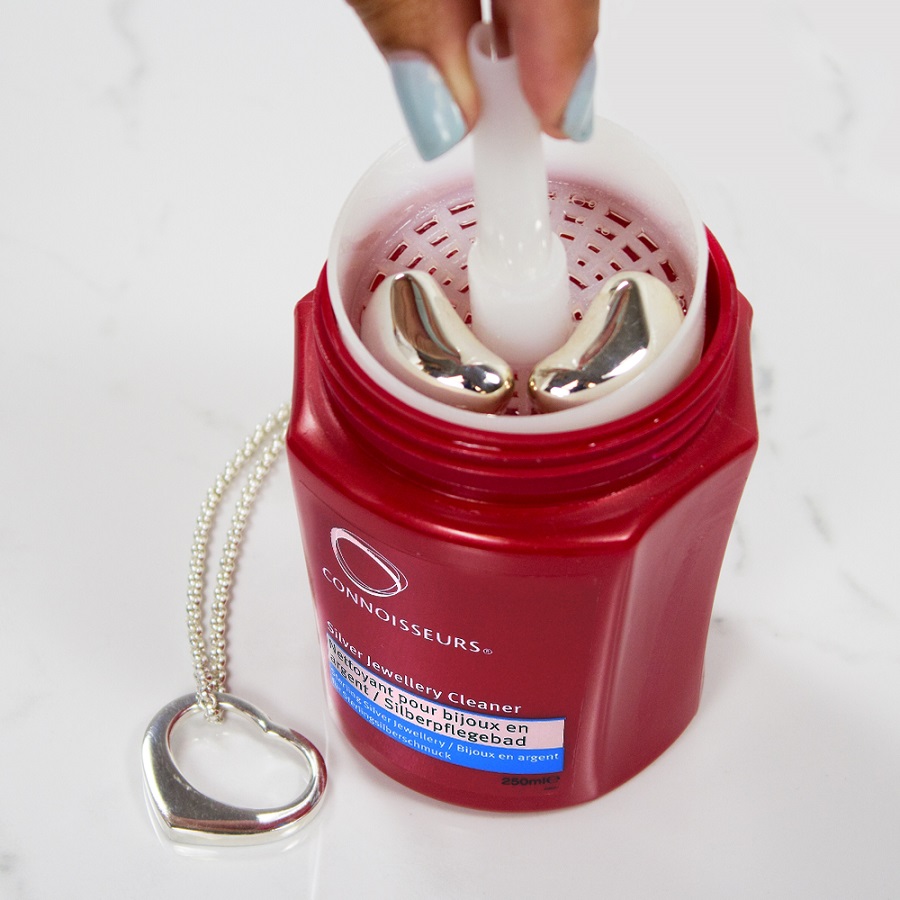 Can I use jewellery dips for cleaning Sterling Silver Jewellery?
For a fast way to clean sterling silver jewellery, you can use a Silver Jewellery Cleaning dip. This dip quickly removes tarnish and restores shine and brilliance to sterling silver jewellery. You only need to dip sterling silver jewellery in silver dip for 10 seconds. But it is important that you use a formula specifically for sterling silver, and don't use it on other metals!
Our top tip after using a silver dip on sterling silver jewellery is to rinse the solution off extremely thoroughly, dry it completely and then polish with an anti-tarnish silver cloth, such as an UltraSoft Silver Jewellery Polishing Cloth.
A specialist sterling silver jewellery polishing cloth is normally our preferred method for cleaning sterling silver jewellery if it's not too tarnished. The convenient Two-Step Dry-Cleaning System by Connoisseurs means you can remove tarnish with one part. You then help to prevent further tarnish build-up by using the other part of the cloth.
However, if you are wanting to give your sterling silver jewellery a deep clean for hygiene purposes, we would recommend first using the jewellery cleansing foam to get a deep clean on all surfaces, followed by quick polish for long-lasting shine.
Get Your Jewellery Sparkling Clean st Home
All of our recommended jewellery cleaning products are available to purchase on our website, and also make great gifts, particularly the Diamond Dazzle Stik or a gift bundle for Silver or Gold jewellery cleaning.
So get cleaning and make sure your jewellery is as squeaky clean as your home and your hands during this difficult time across the globe. Niche Jewellery is an official Connoisseurs stockist and you can find out more about their products on their Facebook page.
Stay safe and keep shining!
Love, Niche Jewellery x