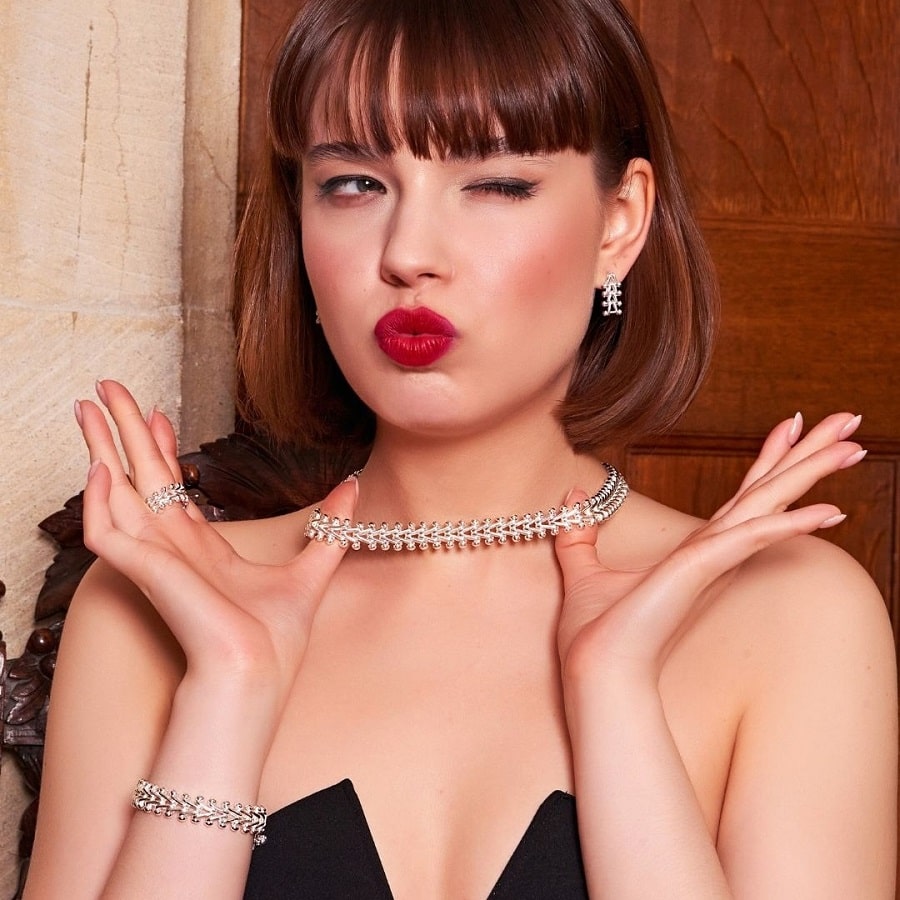 Party season is almost here and your look won't be complete without your going out necklace! We've chosen ten necklace styles to complement any outfit or occasion. 
Our favourite going out necklaces
As we head into party season, you need to know what necklace to wear with your party outfit. Whether you love to dress up or down, there's a necklace out there that will put the finishing touches to your perfect outfit.
Here are ten great necklaces we love to go out in:
A simple gold chain necklace is always a classic choice. It can be dressed up or down, and it goes with just about everything. The only question is, do you go delicate and dainty or bold and chunky? We love both. A hefty chain can be a great statement piece, but a more delicate chain brings an air of elegance to any outfit.
2. A statement necklace is perfect for a night out on the town. It's a sure fire way to make you stand out from the crowd, bringing glamour and glitz to your ensemble. Choose a big sparkly number or an attention-grabbing pendant depending on what will complement the style and cut of your neckline.
3. Layering necklaces is another great way to add interest to your outfit and create your own unique look. Mix-and-match silver and gold, or stick with one colour. Choose only chains or a mixture of chains and pendants. The choice is entirely yours, depending on your mood or your outfit, but whatever you choose you know no one else will have quite the same combination.
4. A choker necklace is a trendy option that is perfect for a night out. It will draw attention to your neckline and has an air of sophistication. Choose a gemstone choker to bring colour to your ensemble or complement colours you're wearing. Or a delicate pendant choker to draw focus to your neck when wearing bardot or strapless clothing.
5. Showcase your personal style with a pendant necklace. Choose a motif that represents something special to you, such as your birthstone or your favourite animal. Pendant necklaces can be short or long and attention will go wherever the pendant sits. So choose the length of your necklace depending on where you want to draw focus. For shorter, choker pendant necklaces see above. While longer pendant necklaces work well over jumpers, long sleeves and high necklines. A medium length will sit nicely in the 'V' of a v-neck top or blouse.
6. A charm necklace is another fun and playful option. They are also completely personal to you. Collect charms over time and add them to your necklace as you go, creating your own bespoke look. Choose items that mean something personal to you or mark special occasions or people in your life.
7. A beaded necklace is a versatile option that can be dressed up or down. It is perfect for any occasion, especially when you want to bring colour to your outfit. Beads can highlight colours in your eyes, dress or skin tone, bringing together your look.
8. A gemstone necklace is perfect for those sophisticated special events. Natural gemstones come in an array of beautiful colours, shapes and sizes, which means there's a gemstone to go with any outfit. They also look equally good with a silver or gold chain, so you can choose the version that suits you best. Choose a gemstone you love, a colour that compliments your outfit, or one that means something personal to you. 
9. A crystal necklace is a beautiful and elegant option, which means it's perfect for a night out or a special event. Because they are man made, crystals have a similar look to gemstones but the potential to bring much brighter shades for a bolder look. They make great statement necklaces and really know how to bring the sparkle when you're hitting the dance floor.
10. Because pearl necklaces are a timeless classic, they will never go out of style. Perfect for those extra special evenings out or events, but also able to complement a more casual outfit or business look. They are stunning alongside white and cream, or against black and navy. Choose from a more traditional pearl choker or a modern creation made with unpolished, natural pearls.