Modern chic vs vintage inspired glamour? How to choose an engagement ring you'll love forever, whatever your personal style.
Choosing your engagement ring - where to start?
When it comes to choosing an engagement ring there's a lot to think about. Size, style, stones and metals - are some of the details to consider. The best place to start is usually somewhere like Pinterest. Pinterest is great for looking at the many types and styles of rings available and collecting ideas so you start to build a picture of your ideal ring. But the most essential element of your ring choice will be all about style (and quality, of course!)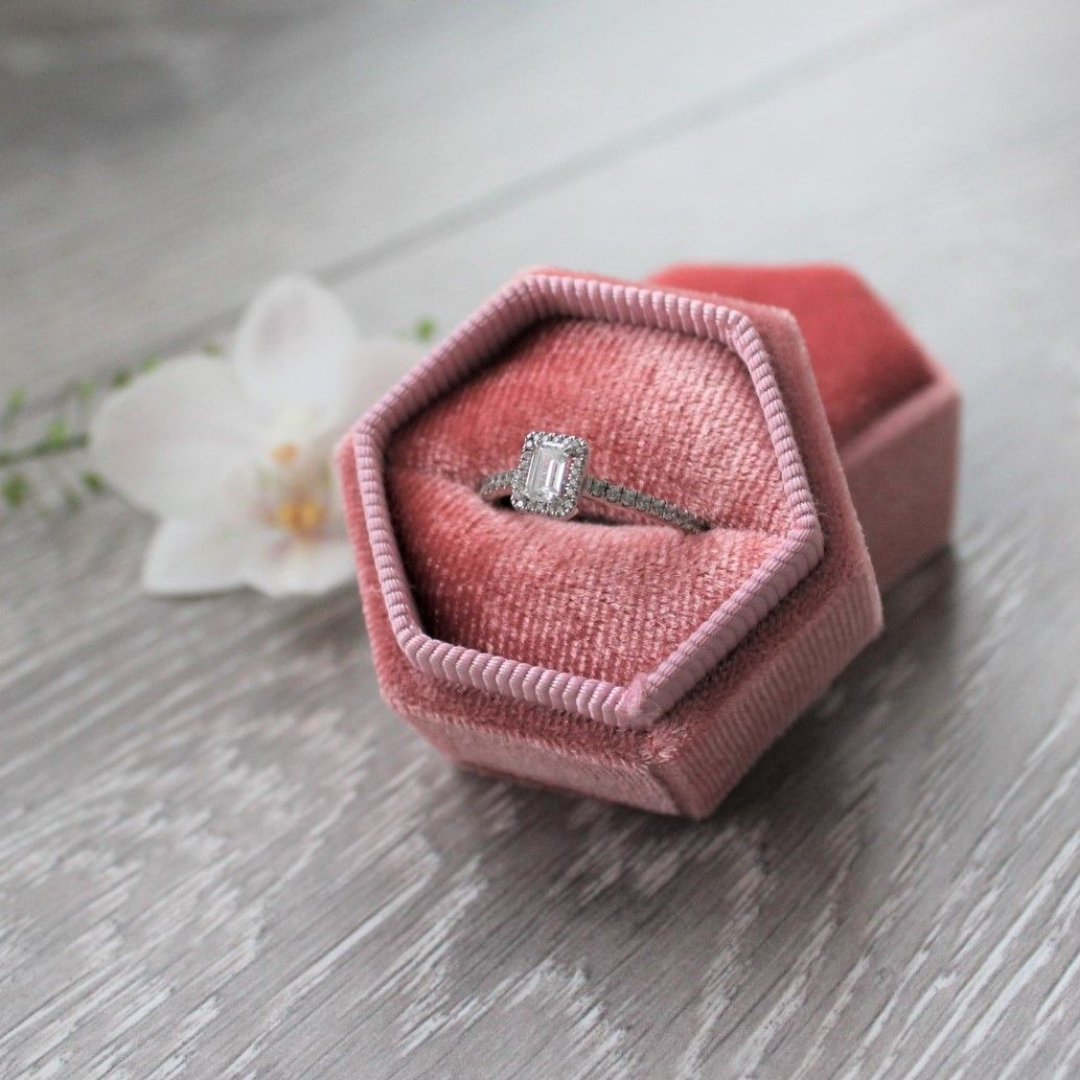 Engagement ring styles: what to look for
When looking at modern vs vintage engagement ring styles, consider whether you tend to wear vintage or vintage-inspired fashions? Or would you usually choose modern styles? Is your wedding dress in a vintage inspired design with plenty of lace, for instance? Or have you gone for a simply gorgeous modern classic with long lines?
Essentially, your choice of engagement ring style comes down to your own personal taste. The style of your wedding and wedding dress is also important, of course. But you will be wearing your ring a lot longer than your dress, so it can't all be about the big day. Try to think more generally about what style you like to wear and what kind of ring you can love for the rest of your life.
Discover the look you want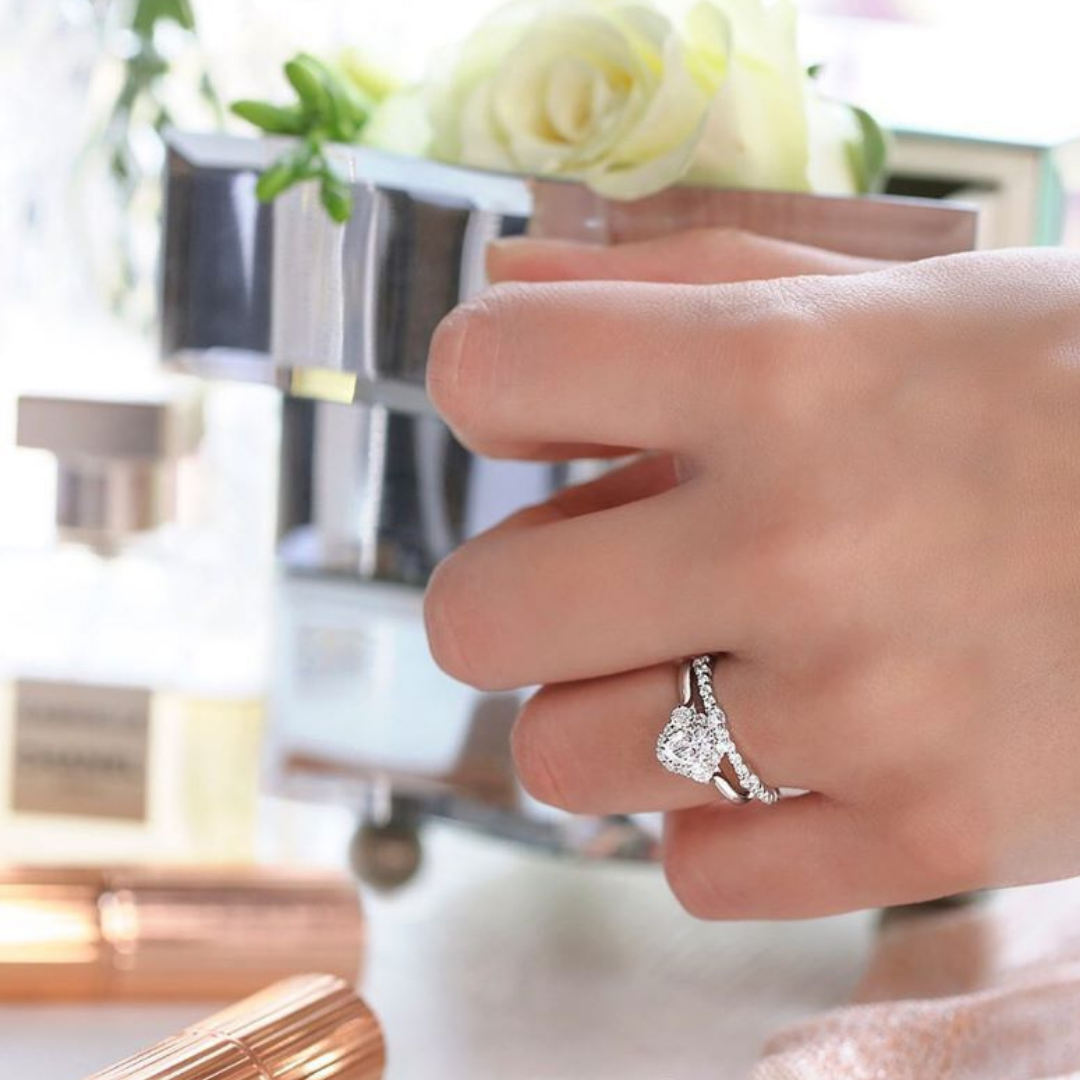 Start looking at engagement ring ideas and collecting ones that take your fancy. What do they have in common? Do you tend to pick rings with multiple stones and plenty of sparkle? Or single gems with elegant bands? There's no right or wrong answer, it's all just about personal taste and what you like to wear.
The more examples you look at and save, the clearer the picture will become about what style of ring you are looking for. Once you've got a good idea of what you like, pop into our store and try some samples on. But to get you started, we've pulled together a few examples of some of the different styles available, from modern to vintage and in between. 
Modern engagement rings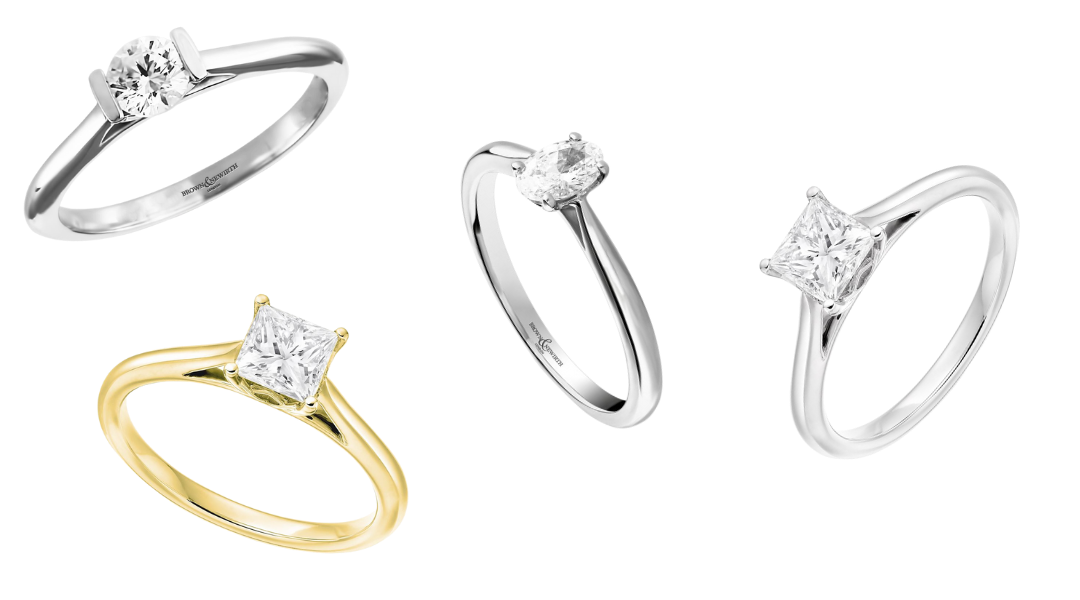 A 'modern' engagement ring can mean different things to different people. Some may choose to have a completely non-traditional ring, or a ring that wouldn't come under the 'engagement ring' umbrella, but simply a ring they love. Others might like an engagement ring, in the traditional sense (in other words, a ring that's designed to be an engagement ring) but in a modern style. 
Modern style engagement rings tend to have simple lines and classic design. Single setting rings, for example, with one stunning diamond are currently very en vogue. Bands tend to be sleek and understated. Or may feature a twist, or interesting design detail that sets it apart. Stones can be round, square or oval cut. But designs tend to be unfussy.
Vintage engagement rings
Vintage-inspired engagement rings usually feature more than one stone. Either with a single emerald (rectangular), oval or princess cut diamond surrounded by a halo of smaller stones. Or in a traditional trilogy of stones. They may also feature smaller stones on the band, or traditional settings with different-shaped cut stones in a pattern.
They are often more complex and intricate than more modern styles and offer a lot more sparkle. 
Modern vs vintage engagement rings - who wins?
So having looked at a few of the different styles available for each, which style is best for you? Who wins in the modern vs vintage engagement ring style battle?
Well, only you can answer that, of course. We recommend plenty of research and then trying before you buy. Come and see us in-store where we have samples in all shapes and sizes to try on.
Don't forget too, that most of our rings are made to order. Which means that once you've fallen in love with a ring you can choose to make it even more personal. By choosing the type of metal you'd like it made from (white gold, yellow gold, rose gold or platinum, in most cases) and the size, cut and quality of the stone. 
Most importantly, don't forget to enjoy yourself. Whether you choose a modern or a vintage engagement ring - remember to enjoy the process.
There's plenty to stress about when planning a wedding, but choosing a ring shouldn't be one of them. Have fun searching through different styles. And once you have a rough idea what kind of rings you like, why not book an appointment at our store? Let us guide you through the process and help you find a ring you'll love forever.