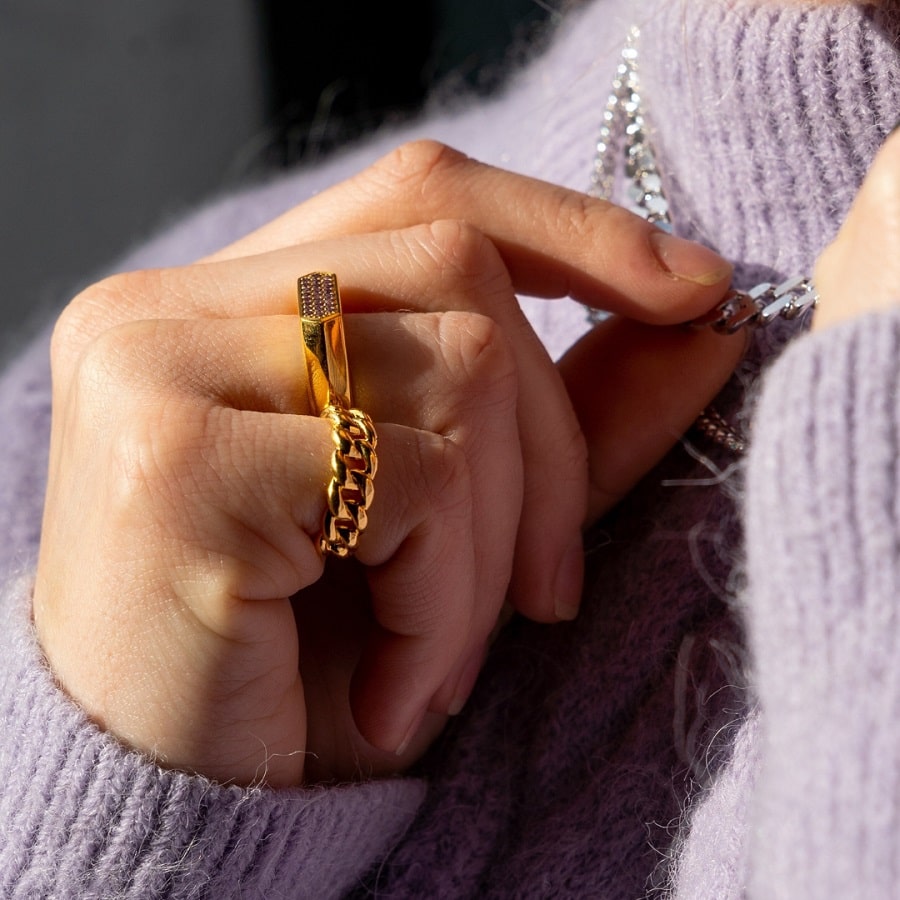 We've been scouring the autumn catwalks to bring you the lowdown on all the autumn jewellery looks you should be wearing this season.
With a closer look at the fashion trends to look out for, from colours to fabrics and design details. Plus, of course, the jewellery items you should be wearing with each tending style. We've even put together five looks inspired by the catwalk trends to keep you looking stunning and smiling in the autumn sunshine.
What's on the AW23 catwalks?
At first glance, it's all looking rather serious on the AW23 catwalks. Long, black winter coats, white shirts and power suits dominated. This created a rather businesslike corporate chic. But don't worry, beneath the rather mono surface there is still a lot of fun to be had… 
Going underground - autumn jewellery brings gothic elements, bright colours and punk influences
In homáge to the late Dame Vivienne Westwood, the autumn 2023 catwalks were awash with nods to her huge influence. There were also gothic undertones. Probably reflecting the impact of the recently reincarnated cult character Wednesday Adams. 
(It is Halloween season after all!) 
Dotted amongst the darkness we also spotted lighter elements of lace and flounce. A softer side was also present in a range of neutral, earthy colours combined with comfortable fabrics. These took the form of leggings and sweatshirts, ideal for switching off and unwinding. Even under the suits, there were shimmering metallic fabrics like lamé and sequins, chunky boots and bangs of colour in red, orange and yellow. 
Five catwalk inspired autumn looks to try
Now that we've covered the catwalk trends, what jewellery should you be wearing with your autumn wardrobe?
Statement jewellery really comes into its own against the dark and neutral tones of the corporate fashion craze. Use it to add chunks of playful, bright colour and sparkle to lift the look. If you love all things gothic, like black lace and dark florals, look to charms, chokers and ring stacks for jewellery inspiration. While chunky bracelets, hoops and chains will always go well with those more relaxed looks. Here are five looks to try this season.
Looking the business: how to accessorise your power suit
Large statement pieces complement the boldness of this look. Oversized hoops, for instance, look perfect with a power suit, as do chunky chains and weighty metallic pieces in silver and gold. Add flashes of sparkle and colour with hunks of crystal in bright colours and statement or signet rings. 
Gothic glamour: Wednesday Adams eat your heart out
The impact of Netflix's dark reinvention of Wednesday Adams has been felt far and wide. Young women and girls around the world are enjoying embracing their dark side. The fashion industry has jumped on board this dark obsession. We spotted florals in deep reds, purples and black, alongside black lace, frills and chunky boots. Team this look with some evil eye charms of your own in the form of a charm bracelet or ring. Pearls also make for great gothic glamour. Look for pearl drop earrings and bracelets to add that touch of vintage or a choker for extra gothic glamour.
Go Westwood: Dame Vivienne's punk aesthetic
The fashion world lost an icon this year with the passing of Dame Vivienne Westwood. In homáge to her huge influence on fashion, the catwalks had plenty of high platform boots, details, ruffles, corsets and embroidery on show. What better to wear with it than a statement necklace that Dame Vivienne would be proud of? Something with plenty of sparkle or pearl power. Add texture of your own with ring stacks or punk-ish layered earrings and chains.
Casual comfort: even your sweatshirt needs accessories
Keeping up with all that flounce and frills, gothic glamour and punk heels can be exhausting. We all need those days where we cosy up in a pair of leggings and oversized hoodie or sweatshirt. Luckily these are on-trend for autumn, so grab yourself a hoodie and leggings in earthy tones or neutral shades. Pair them with chunky bracelets, dainty earrings and ring stacks to stay on trend, even when you're unwinding.