Are you still working on finishing your Christmas shopping? If you are looking for gifts for her and coming up blank, a necklace is a brilliant choice as a gift. For your girlfriend, wife, friend or even a gift for your mum. Here we show you 8 necklaces to wow her.
So why is a necklace a good choice? Jewellery in general is the perfect gift because it is something we don't always buy for ourselves. Yet is a small luxury that is still affordable. It doesn't take up much space, but you can never have too much.
And as far as a necklace goes, it's not as personal as a ring in terms of taste and size. But is that little bit more special than a bracelet, since it is often the centrepiece of an outfit.
So here goes - our top 8 picks for necklaces to wow her this Christmas or any other occasion.
Ania Haie Modern Circle Necklace
One of our most popular designs from Ania Haie, this necklace is available in both solid sterling silver and 14 carat gold plated silver. We love gold for this season, which is right on trend and adds a touch of luxury to any outfit.
With a lovely longer length of 55.5 - 60.5 cm (adjustable with extender), this necklace is perfect for layering. You can also wear it with a cosy Winter jumper and at £39 it's very affordable.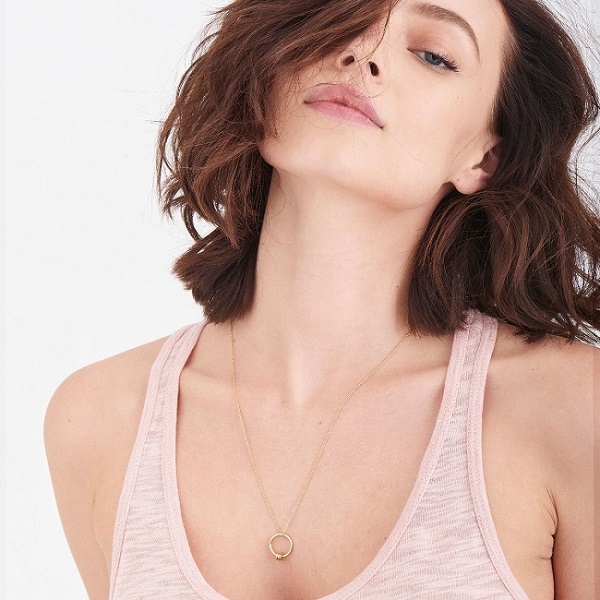 Who is this a great gift for? We love this gold necklace for women as a gift for a girlfriend or friend. But it's so versatile that anyone would love it!
Swarovski Further Pendant
With an interlocking loop design the crystals in this pendant shine with two different stone settings - cupchain and pavé. The opulence of this necklace completes any look and makes a sparkling gift.
With a price tag of £129, it's a little more of an investment. But it can also be given as centrepiece gift that will be special to her for years to come.
This necklace for women is also available in rhodium plating or yellow gold plating. Then there's the addition as part of the Swarovski Anniversary collection, with a flash of blue crystal in the centre.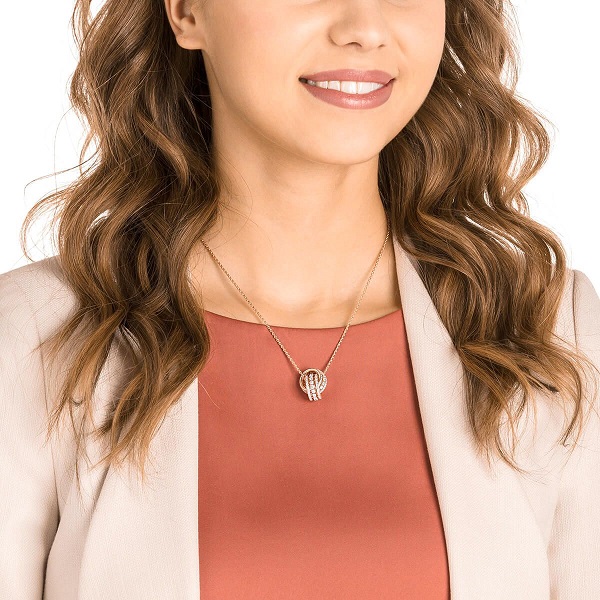 Who is this a great gift for? We love this necklace as a gift for a girlfriend, close friend, or your wife. It's also a great gift for your Mum. Choose this design in the colour that is most 'her'.
byBiehl Beautiful World Necklace
byBiehl is one of our newer brands at Niche Jewellery. What we love about this brand is the meaning behind the designs. This Beautiful World pendant is perfect for a travel enthusiast or as a token of luck for a trip or new adventure in life.
This necklace is crafted from sterling silver with 14ct gold plating, in a luxurious brushed finish. It comes complete with a 45cm gold plated chain. It's also available in sterling silver with a rhodium plated brushed finish for a long-lasting silver tone. There are matching items available in both colours!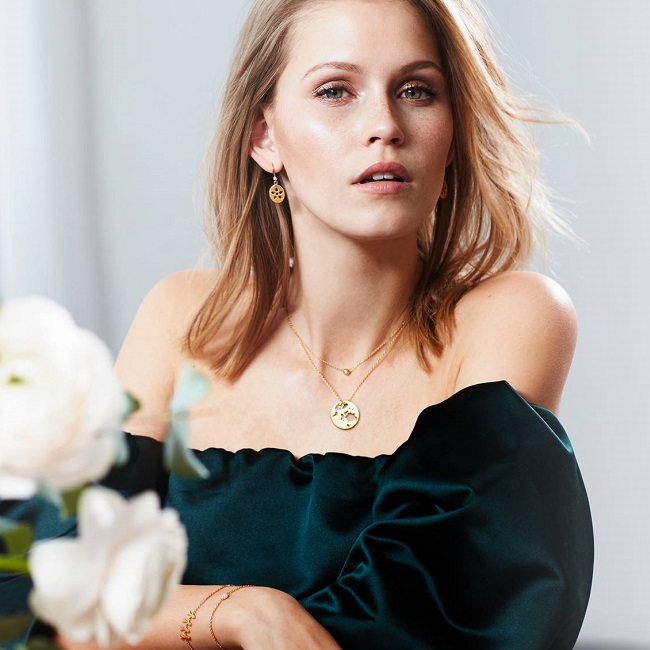 Who is this a great gift for? We love this necklace as a gift for a young adult or any lady in your life with a sense of adventure. Choose this design in either gold or silver finish.
Jersey Pearl Camrose Pendant
If your friend or loved one agrees with the elegant Jackie Kennedy's famous quote that 'pearls are always appropriate', this Camrose pendant by Jersey Pearl could be the perfect gift.
This is a show-stopping pendant design with a central freshwater pearl. It has a mixed metal rose gold and rhodium-plated silver surround for maximum beauty and versatility. It also features an asymmetrical halo of white topaz for added shimmer. It's great value at £115 for a stunning centrepiece pendant.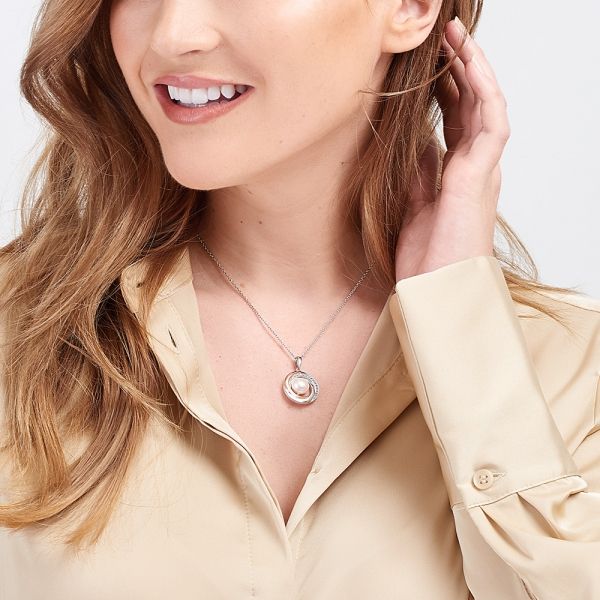 Who is this a great gift for? We love this silver necklace for women as a gift for your Mum, but any pearl fan will love it.
Annie Haak Honey Necklace
Although Annie is famous for her stunning range of stacking bracelets, each season a range of beautiful new necklaces are also released as part of the Annie Haak seasonal collection. This season we love this simple but stunning three tier sterling silver necklace.
Dress up or down, wear alone or in a layered look with a longer necklace, this piece is versatile and effective.
Who is this a great gift for? We love this necklace as a gift for a close friend, girlfriend or your wife - or anyone who loves to make an on-trend dainty jewellery statement.
Sif Jakobs Valiano Necklace
This gorgeous circular cut-out pendant features a pop of colour with an outer circle of mixed zirconia colours. Subtle yet so pretty, this necklace makes a luxurious yet affordable gift at £129.
This necklace looks stunning on its own, or mix and match with other pieces from the Valiano range. You can also mix it up with other Sif Jakobs jewellery for a standout look.
It has a dainty 12mm disc size and chain measuring 42cm with a 5 cm extender. This means it can be worn as a shorter necklace look, or layered with other longer pieces.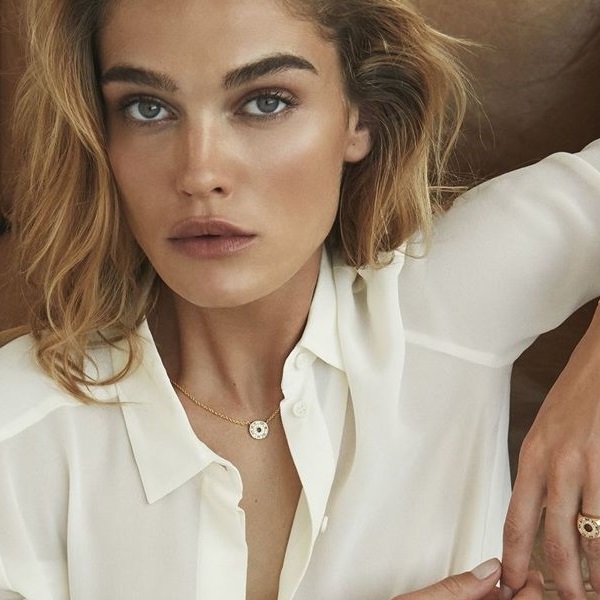 Who is this a great gift for? We love this necklace as a gift for anyone who loves a little luxury and isn't afraid of a pop of colour.
Swarovski Sparkling Dance Set
Although not just a single necklace, this gorgeous set comes with a Sparkling Dance necklace featuring red Swarovski Crystal, and matching stud earrings.
The red centre stones give either a festive look which is perfect for Christmas gifting, or a romantic look for a loved one. The set can be worn together for a perfect match, or mixed and matched with other jewellery designs.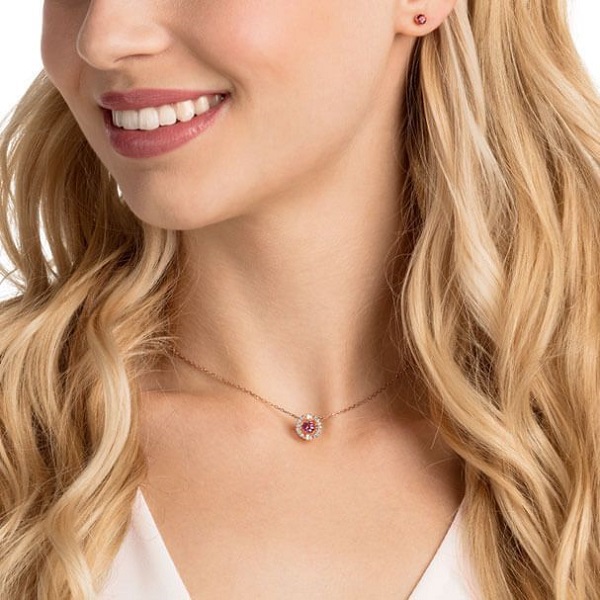 Who is this a great gift for? We love this set as a gift for anyone who loves bright colours, or as a romantic gesture for the lady in your life.
Shop Swarovski jewellery sets.
Thomas Sabo Royalty Moon Necklace
This necklace really is something special. If you are looking for a stunning and meaningful piece, this Thomas Sabo necklace shines with lunar brilliance, featuring zirconia in shades of champagne and pink, along with synthetic spinel and glass-ceramic in light and deep blue tones.
The pendant and necklace are crafted in sterling silver with 18ct yellow gold plating. Beautifully styled here by India Moon, this pendant is a real eye-catcher. With hand-crafted details and high quality materials, this pendant retails at £239, making it a very special gift.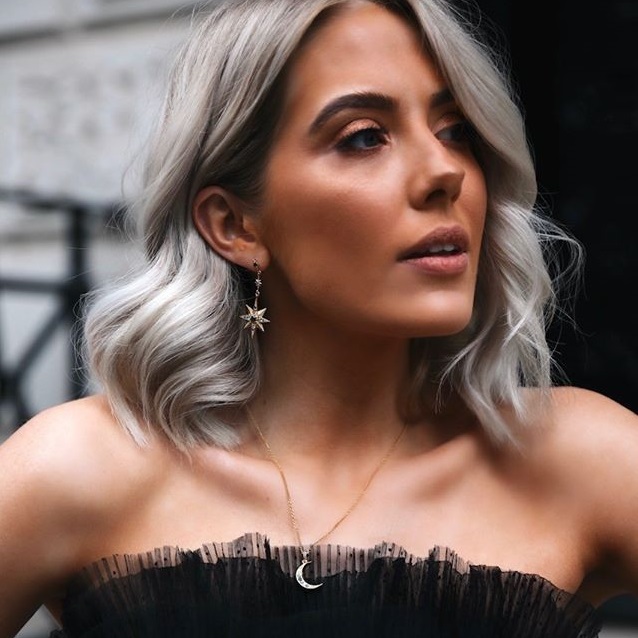 Who is this a great gift for? This pendant makes a stunning gift for someone special in your life.
These are some of our favourites, but if you need more inspiration just browse our wonderful collection of necklaces, all from carefully selected brands we have curated over the last 20 years.
For more Christmas gift inspiration, shop our Christmas Gift Guide.
If you're still finishing your Christmas shopping, there's still time! Our cut-off to order next day delivery in time for Christmas is midday Monday 23rd December. Next Day Delivery orders are be dispatched via Royal Mail Special Delivery Guaranteed.
Have a Merry Christmas!