Les Georgettes creates innovative designs that enable the wearer to create custom jewellery embellished with interchangeable and reversible leather.
In few seconds, every woman can create her very own collection of exclusive Les Georgettes by changing or reversing the leather to go with her outfit, mood, or occasion!
Being both patented and trademarked, Les Georgettes is a truly unique jewellery concept.
A Les Georgettes bracelet or ring can be worn in so many different ways. Wear with or without an insert. Reverse the insert to change your colour. Or make a collection to mix and match to different outfits. This is a versatile and great value way to get the most out of your jewellery collection.
And now with an even wider range including earrings and pendants, you can mix and match your Les Georgettes jewellery for any occasion.
How to wear Les Georgettes
Step 1: Choose your bracelet, from beautiful designs in a variety of finishes and widths.
Step 2: Choose your leather instert, featuring two sides for different moods or occasions.
Step 3: Choose which way to wear it - with the bracelet alone, or with one of two sides of your leather. And presto - you have three looks and design options from one bracelet.
Les Georgettes is handcrafted by artisans in France from solid brass, and finished in either silver, yellow gold or rose gold high quality PVD.

Why we love it
Stylish, customisable, unique - Les Georgettes is an innovative and versatile design. With Les Georgettes you can create so many different looks to suit your style or mood.
The jewellery that be re-invented with a flip of the reversible leather insert or a new colour. Les Georgettes is the original French creation.
Stylish and unique, you can customise your jewellery to reflect your own personal style, with interchangeable and reversible coloured bands.
Mix, Match and color to suit your style for any occasion or outfit. Read our blog on how to style your Les Georgettes jewellery.
The versatility of this jewellery brand comined with its unmistakeable French style make it a must for any jewellery box. It's versatility is what makes it such great value. Just one piece of jewellery creates so many different looks.
If you are looking to buy Les Georgettes jewellery online, you've landed in the right place. At Niche Jewellery we stock a stunning range of Les Georgettes bracelets and jewellery, all with free UK delivery and 28 day returns.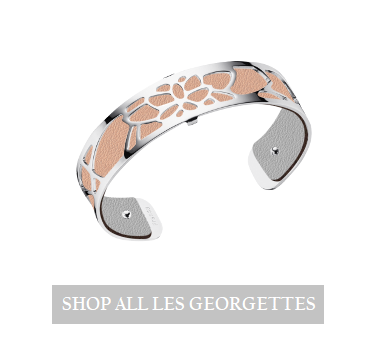 Les Georgettes gifts
Les Georgettes is one of the most versatile jewellery ranges on the market. This makes Les Georgettes jewellery a wonderfully personal choice for a gift, which can be customised by the wearer in any way they like.
There are so many different beautiful designs to mix and match. Our range of Les Georgettes jewellery has something for every occasion.
Niche Jewellery is an official Les Georgettes stockist, with a fantastic range of designs - all stocked in the UK for fast delivery.
Our experienced customer representatives are ready to help at Niche Jewellery in Leigh-on-Sea or by telephone on 01702 480898 - find all the ways to contact us here. We offer free standard delivery on all UK orders, or next day delivery for just £6.50.