Bering watches are one of our favourite watch brands. Timelessly beautiful and long-lasting - like the icy landscapes of the Arctic. Minimalist Danish design teamed with strong, high-quality materials creates a range that is uniquely stunning.
What is the Bering Watches story?
When a Danish adventurer and businessman jumped out of a helicopter into the ice cold of the Arctic in 2008, he had no idea that he was parachuting into a new era. After landing safely at the most northerly point of the globe, he was inspired by the cool, simple beauty and white expanse of the eternal ice. 
From there, a Danish design team developed the vision of a new watch brand. Bering Ladies Watches and Men's Watches are inspired by the pure, clear and breathtaking Arctic.
Why we love Bering Watches
With a clear inspiration from the beauty of the Arctic, BERING watches and jewellery exude pure elegance. We love the versatility of the clean lines and simple designs that go with everything. 
We also love that all Bering designs are made from high quality materials, which have guaranteed durability and are in perfect harmony with the timeless design of BERING. At Niche Jewellery we stock a stunning range of Women's Bering watches and Men's Bering watches.
With free UK delivery and 28 day returns, find your new Bering watch at Niche Jewellery.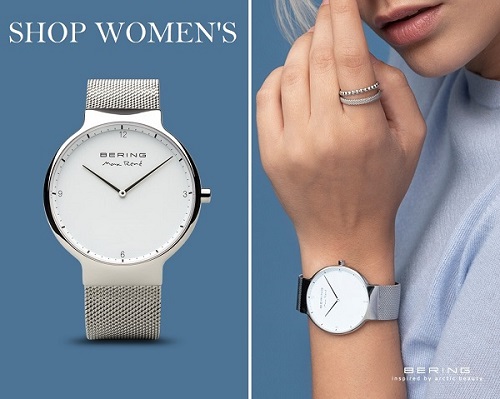 Bering Ladies Watches
Bering Ladies watches are sleek and minimalistic, yet feminine and versatile. In beautiful tones of silver, rose gold or yellow gold, you can mix and match the watches with Bering jewellery. 
You can find Bering rings and other jewellery in our Leigh-on-Sea store, but all our watches are available online.
Bering rings are unique because you can add different inserts into the rings to create your own look. There are so many different designs that are all available to view and purchase in store.
Bering is also well known for their ceramic watch designs, or a Milanese strap gives a modern classic look. The great thing about a Bering watch with a Milanese strap is that they are so easy to adjust as well as being comfortable to wear.
Bering watches are a favourite of both our customers and staff alike. Get more inspiration on Bering watch styling from our blog on Women's Watches to Wear in 2020. Both affordable and beautiful, a Bering watch also makes the perfect gift.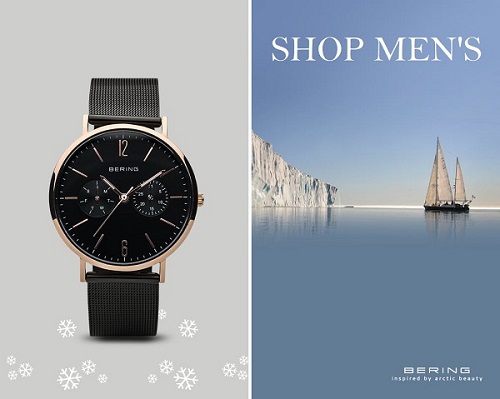 Bering Men's Watches
Bering Men's watches are also Arctic inspired, with black, silver and white featuring heavily in the collection. We also love the brown leather strap and watches with navy tones for a more casual look.
Bering Men's watches make a brilliant gift. Stylish yet affordable, a Bering Men's watch is the perfect gift for Christmas, a birthday, Father's Day or any occasion.
Shop Men's Bering watches here or if you neeed more inspiration for men's gifts, browse all men's jewellery.
Browse some of our top Bering watches UK below or take a look at our whole Bering collection.
Whether it's an everyday watch or special occasion watch you are looking for, we have a stunning collection of Bering watches for every occasion.