Niche Jewellery brings you selected designs of byBiehl jewellery. Crafted in Sterling Silver and plated in rhodium or yellow gold with a unique brushed finish, each piece is delicate and meaningful.
byBiehl jewellery sale
To make way for the new collection, we are offering selected byBiehl sale pieces in our end of season jewellery sale.
Find discounted jewellery to make your new look even more affordable. Shop the byBiehl sale today.
Why we love byBiehl
byBiehl jewellery is quite different to other jewellery collections. It is dainty but also edgy with its modern brushed finish. We especially love the gold plated brushed finish.
This Danish designed jewellery brand's uniqueness is what makes it stand out for us. The meaning and thought behind each range makes it a special gift.
byBiehl is borne out of the imagination of its creator, who saw a gap in the market for modern luxury jewellery at affordable prices.
And now with a promise to create all new jewellery lines in recycled gold or recycled silver, byBiehl is now even more of a leader in sustainable jewellery.
All byBiehl jewellery is pesented in jewellery gift packaging, making it a thoughtful gift.
byBiehl style inspiration
The origins of byBiehl jewellery
byBiehl jewellery was created by Charlotte Biehl, who had a vision of a luxury jewellery brand to represent the beautiful things in life that we treasure. Each collection carries a special meaning.
The Together range signifies those who are precious to us. Dainty stylised people in groups of 2, 3 and 4 can represent families and relationship. Pieces from this range make wonderful gifts for friends, loved ones, or bridesmaids' gifts.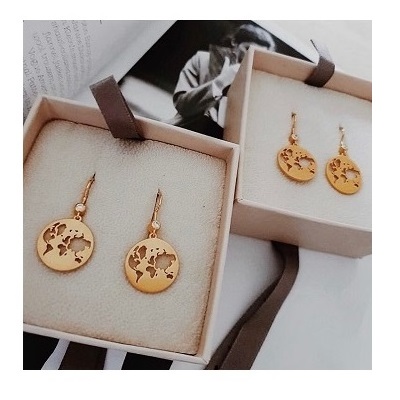 The Beautiful World collection is about our wonderful world and all its possibilities. The perfect gift for a travel lover or to commemorate a special trip and wish luck like a modern St Christopher's.
Then there is Life Tree. A tree of life is a symbol of love, life, nature and growth. This beautiful tree comes in both rhodium and yellow gold finishes, as do all other byBiehl pieces.
Our byBiehl range also includes stylish stud earrings with pearl, zirconia or plain brushed finishes, and on-trend hoop earrings.
How to style byBiehl
byBiehl jewellery is stunning when worn alone and also looks fantastic when layered with other pieces.
The unique brushed finish means every piece can be mixed and matched together with other jewellery from byBiehl's ranges.
It also creates a stylish texture mix when worn with other jewellery collections, like those with a contrasting high-shine finish.
If you love jewellery but also like a subtle, modern look, byBiehl is for you. It is contemporary jewellery which will also give you the satisfaction of wearing recycled materials that are more sustainable than traditional jewellery.