Layering jewellery was a huge trend in 2020 and it looks like its here to stay. Which is great news for jewellery lovers as layering your jewellery is a lot of fun. But if you haven't tried it already, you can learn to layer with confidence by following our simple guide below.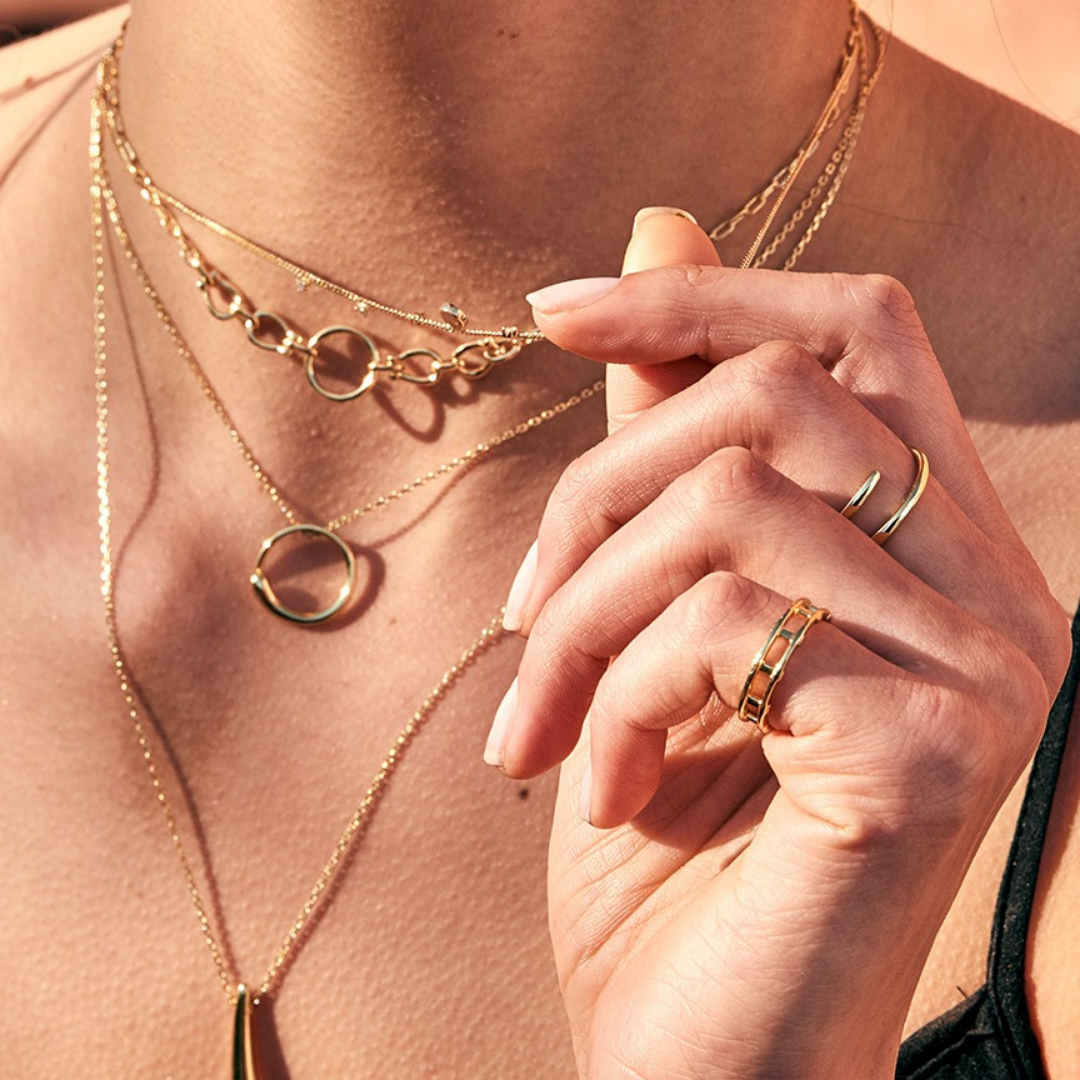 What is layering?
Layering (or stacking, as it's also known) is the art of combining jewellery to create an interesting, textured look.
It's the perfect look to try right now if your jewellery has been gathering dust during lockdown. A chance to reacquaint yourself with your jewellery box and show off all your old favourites - and maybe even add a few new ones! Simply follow our guide to creating the perfect layered look and away you go.
Why layer?
Well, apart from the obvious bonus of getting to wear more jewellery, it's also a great way to get more creative with your look. You can play with themes and textures, and mix metals and styles to make it your own. Plus you get to buy and wear more jewellery - what's not to love?
Some designers like Ania Haie and Thomas Sabo create their jewellery collections with layering in mind, but you don't have to stick to one designer. Mixing-and-matching is part of the fun.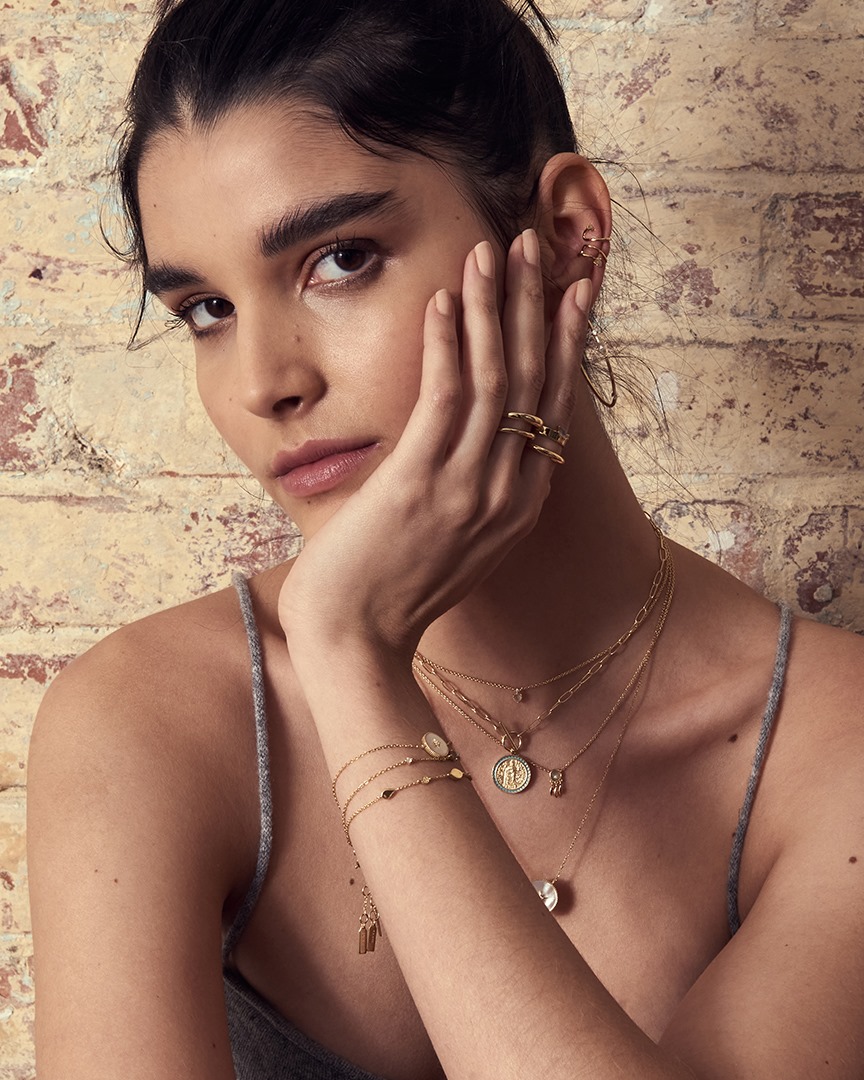 How to layer necklaces
The good news is, there aren't many rules when layering jewellery. You can mix styles and metals, chains and pendants. The secret is to choose pieces of differing lengths and textures. Choose pieces that complement each other, ideally with a connecting theme or style.
Where to begin?
It's usually best to start with your longest or shortest piece and work your way up, or down, from there. If you choose a longer drop necklace to start, for instance, then pick a medium-drop necklace and a choker length. They don't have to be perfectly spaced, but with a little room, each piece will shine and you'll avoid tangles.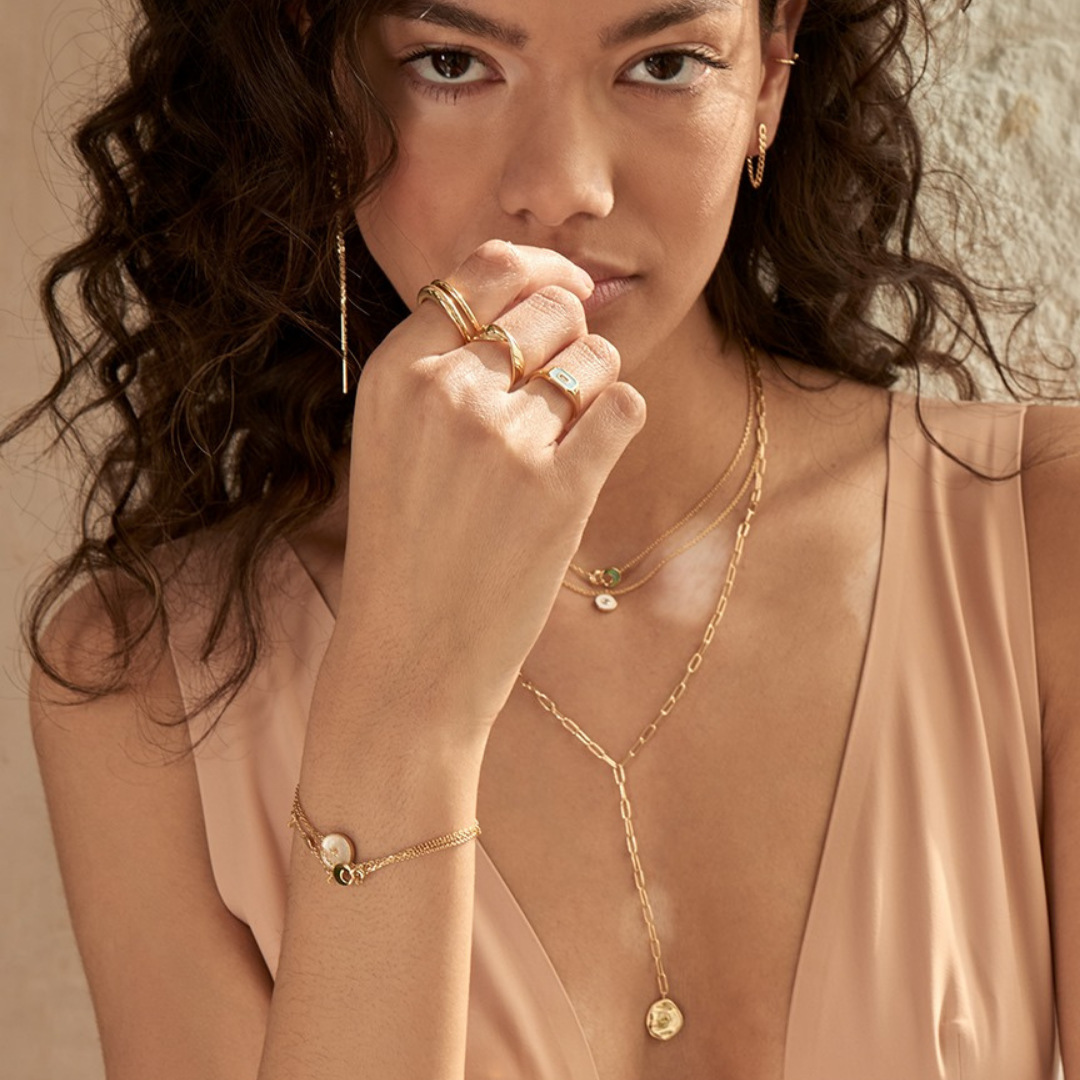 Chains or pendants?
Both! It's a good idea to try and have one stand-out, central piece that sets the tone for the others. Some people like to stick to a single pendant and make this the focus. But if you've got several that are a variation on a theme then that can also work well.
Charm necklaces are another centrepiece option, or even an oversized chain. Once you have that key piece in place it will give you a frame of reference to find other pieces to add.
Colours and textures
This is where you can really flex your creative muscles. Create texture by using a mixture of lighter and heavier chains and different pieces. Introduce colour, if you wish, with gemstones. Or, create a theme, with similar elements reflected across all your chosen pieces. Think about the style you're going for (beach day, sophisticated or minimal?) and start to build your look.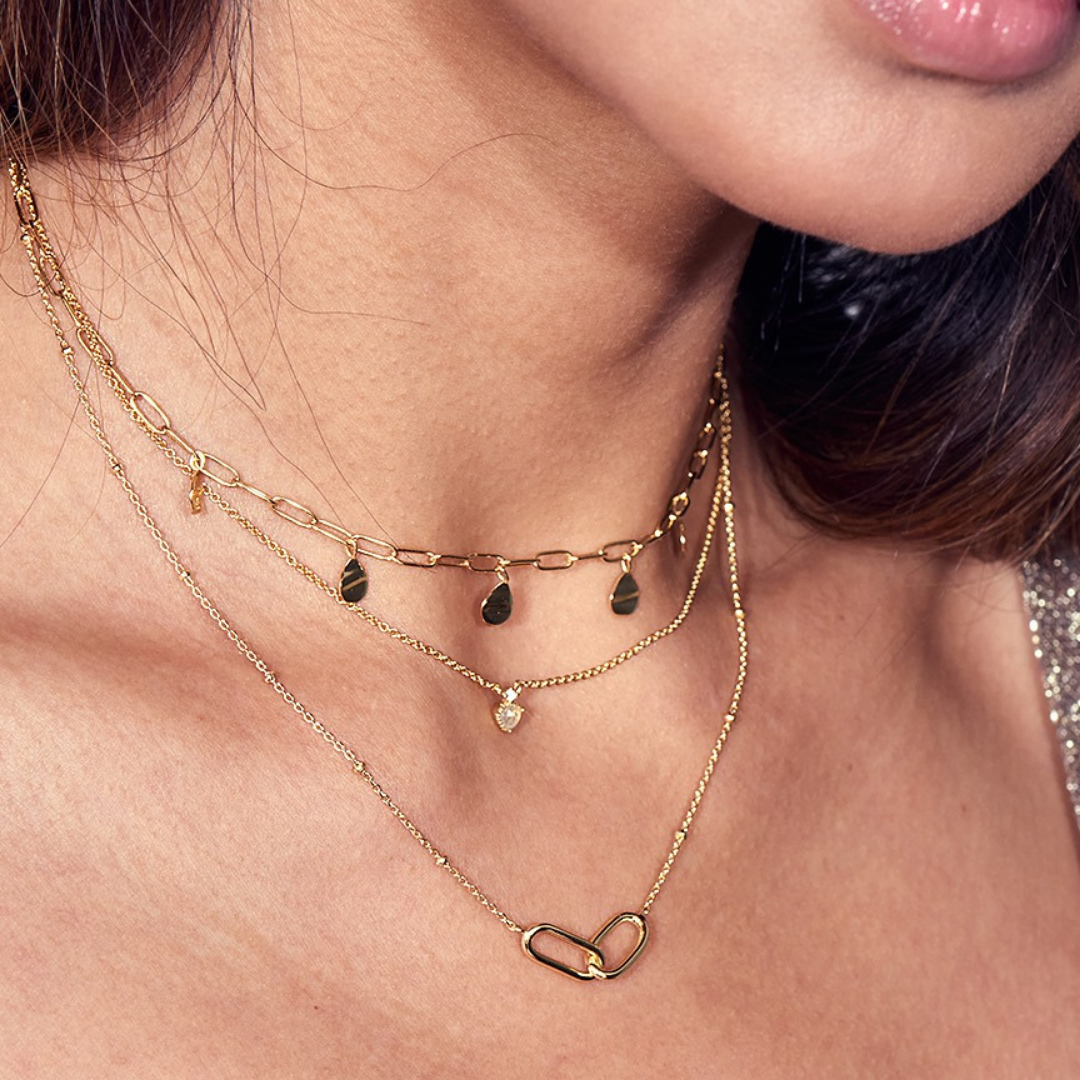 Bringing it all together
When you've decided what look or style you want, go through your jewellery box and see what you've got. Find common elements, like a pattern or shape. Perhaps the cut of a gemstone, a hint of colour or the style of a charm? Sometimes the type of chain can be the common element between pieces. Sweet and dainty, or chunky and oversized.
It doesn't matter if the pieces you find are made from different metals, or by different makers. Just find one uniting, common element. You could have all rose-gold chains but with different charms. Or mixed metals but with similar gemstones. Or even lots of variations on circles, stars or flowers.
Lay out what you've found, play with putting bits together and see what works. If you're new to layering, maybe try combining a couple of similar, simple necklaces to start. You can always add more when you feel more confident.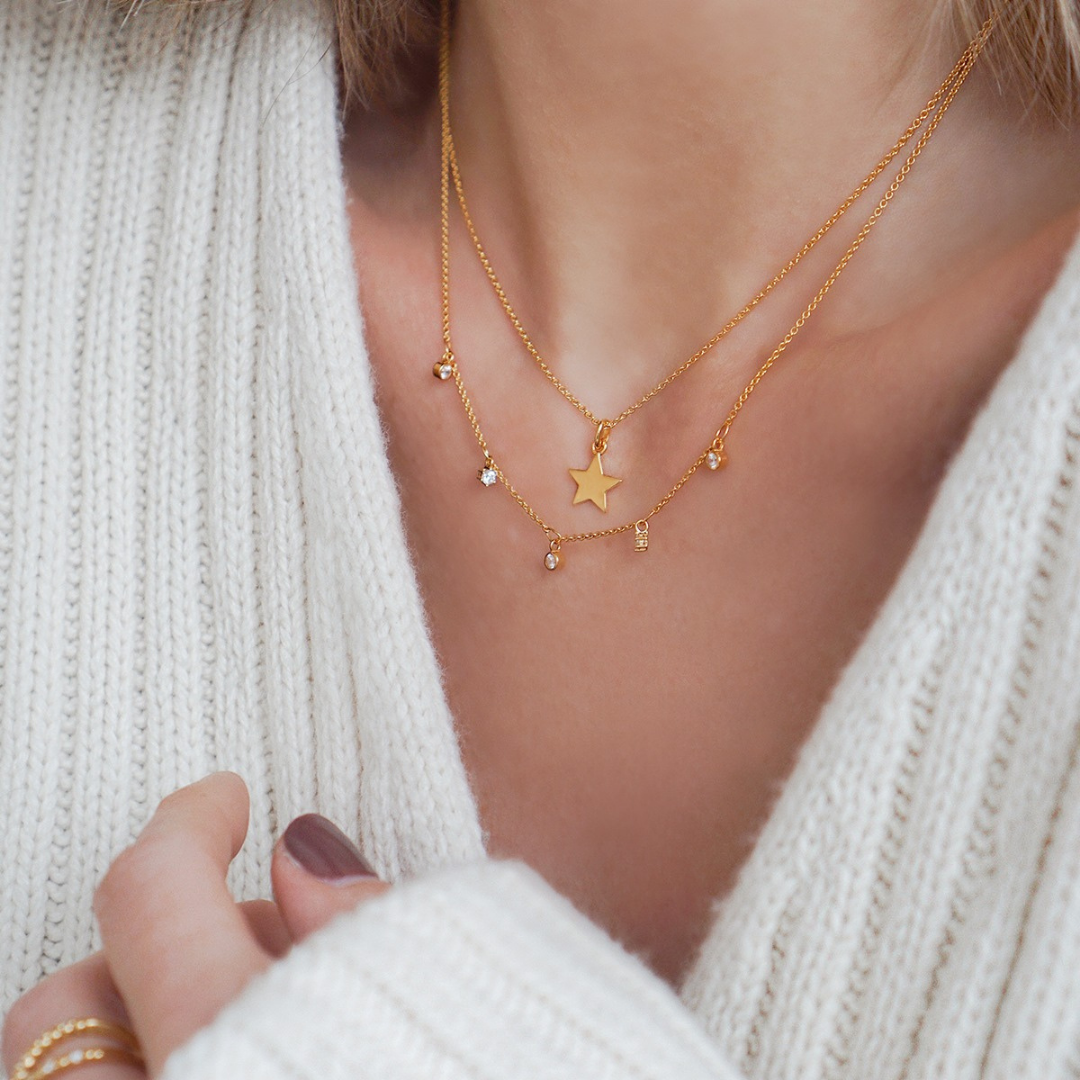 Knowing when to stop
While there aren't many rules to layering your necklaces, knowing when to stop is very important. There's a subtle art to layering necklaces without overdoing it. Too many necklaces will end in tears and a tangled mess of chains. Three or four pieces is probably the max you want to be wearing at once.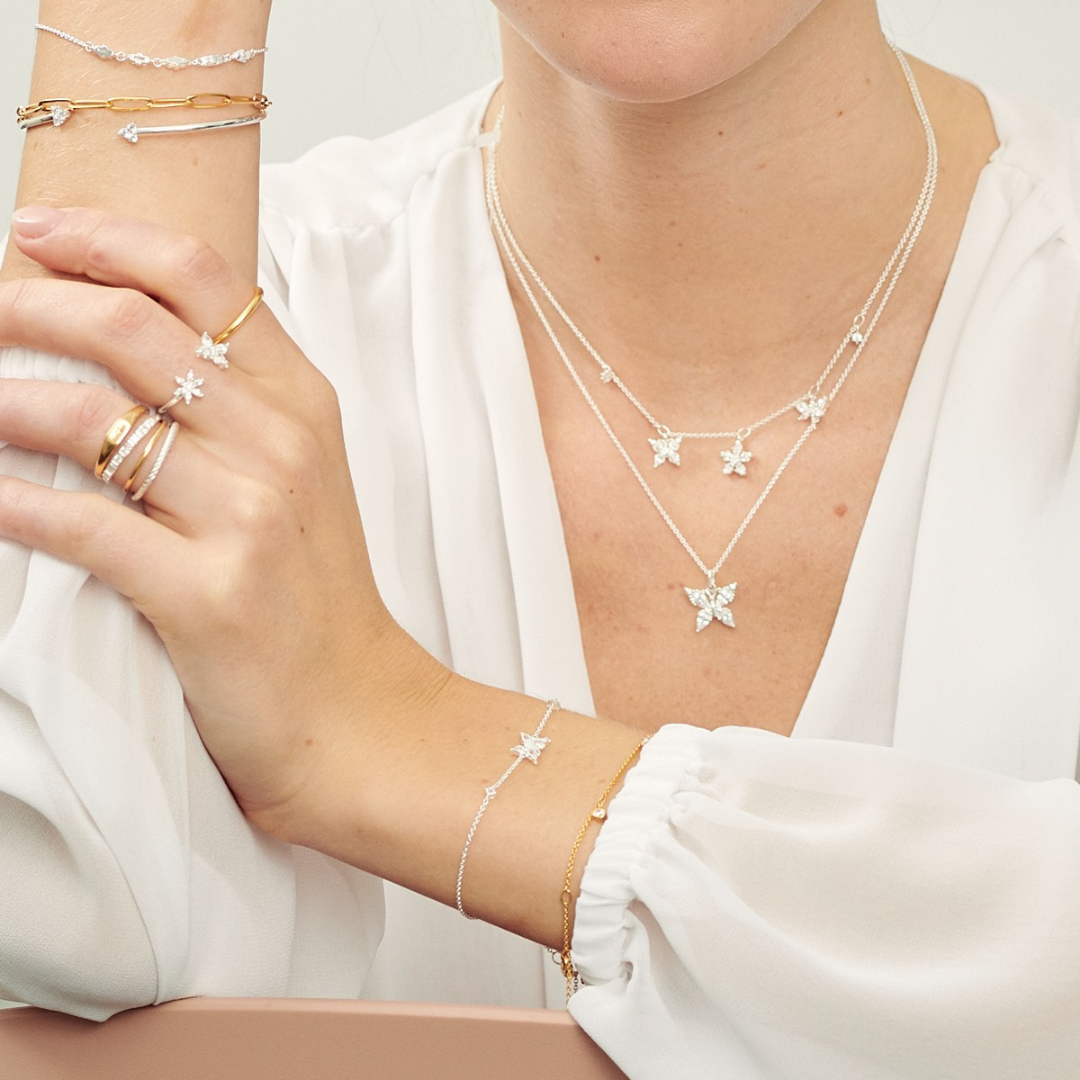 Layering other jewellery
When you have your layered necklaces sorted you can move on to other jewellery. Having similar elements in your bracelet stacks or earring choices will help bring it a look together. Or you could just focus on one area to layer and keep the rest simple.
Designer Annie Haak is the expert in bracelet stacks, but there are lots of beautiful bracelets out there to choose from. Mix-and-match your bracelets in much the same way as your necklaces, using little details like colour or shapes to tie the stack together.
Take a look at our Style Edit on Mismatched Earrings for more insight into mixing and matching earrings.
What to wear with your layered look?
Because the layered look has a lot going on already, you might want to keep the rest of your outfit fairly simple. A plain t-shirt, or blouse, for instance, is often the best accompaniment for your layered look. 
The main point of layering jewellery is to express yourself and have fun, so don't be afraid to experiment!