Whether you are thinking of popping the question or shopping together for engagement rings, consider a style that is as individual as she is.
There is nothing that says 'classic' more than a round brilliant solitaire diamond engagement ring. But what if 'classic' isn't your style? What if your bride has a unique style in her everyday wear?
Gone are the days when there are three diamond cuts and three metals to choose from. An engagement ring can be completely unique to you as a couple, something standout and different, or simply a twist on a classic style.
To help you get started designing something that speaks to that individuality, consider these stunning ideas and steps to engagement ring heaven!
Choose a different coloured centre stone
Different coloured centre stones have been increasing in popularity in the past two decades. Princess Diana kicked off the trend when she chose a twelve carat oval blue sapphire as her engagement ring.
When the Duchess of Cambridge began sporting Diana's ring upon her engagement in 2010, sapphire engagement rings were once again in high demand. But you don't have to go for deep blue sapphire - there are also beautiful blues in aquamarine, topaz and tourmaline.
Princess Eugenie recently became engaged with a Padparascha sapphire ring, which also has a peach pink hue that is both rare and expensive, but for the more modest budget, a peachy Morganite can look equally beautiful.
[gallery size="medium" ids="527,530,526"]
Yellow diamonds are also growing in popularity, and can provide a stunning pop of colour to your engagement ring. These are the most common natural coloured diamond, yet are still relatively rare compared to white diamonds, giving a unique and luxurious impression. 
[gallery columns="2" size="medium" ids="528,529"]
Be brave with diamond cuts
If you still love the idea of a white diamond ring, why not enhance its individuality with an interesting, less common cut or a mix of cuts in a multiple stone ring?
The list of diamond cuts was once quite short and sweet. You can now choose from an eye-watering number of different cuts which can make your ring stand out in a crowd.
We love the Asscher cut to give a unique, art deco feel to a ring, or add two different shaped diamond side stones to create a trilogy ring with a difference.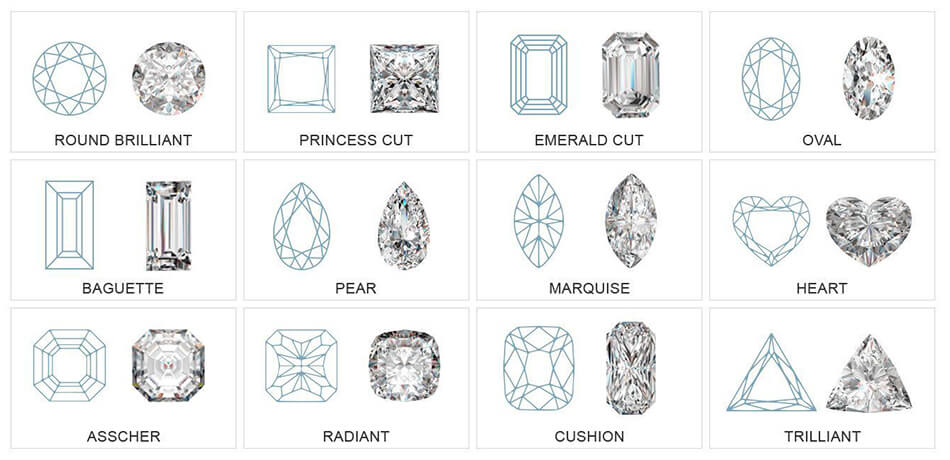 But don't stop there - consider the wedding band as well to add another level of interest, mixing different cuts to create a layered, unique look.
[gallery size="medium" ids="533,531,532"]
Choose an unusual setting
The setting can change the look of a stone completely. Whether it's a twist on art deco or an ultra-modern design, the setting is a way to make the ring completely your own.
[gallery size="medium" ids="535,537,536"]
When designing a unique setting, there are a number of steps we recommend to ensure that the ring turns out the way you envisage. Check out our blog 'Design your own jewellery' to find out more.
If you're not certain that designing your own is for you, read more about the different ways to commission an engagement ring on our 'Find your perfect ring' page.
Or browse all our wedding jewellery to get inspired!
Go on, be brave - channel your uniqueness into an engagement ring that will be yours forever!