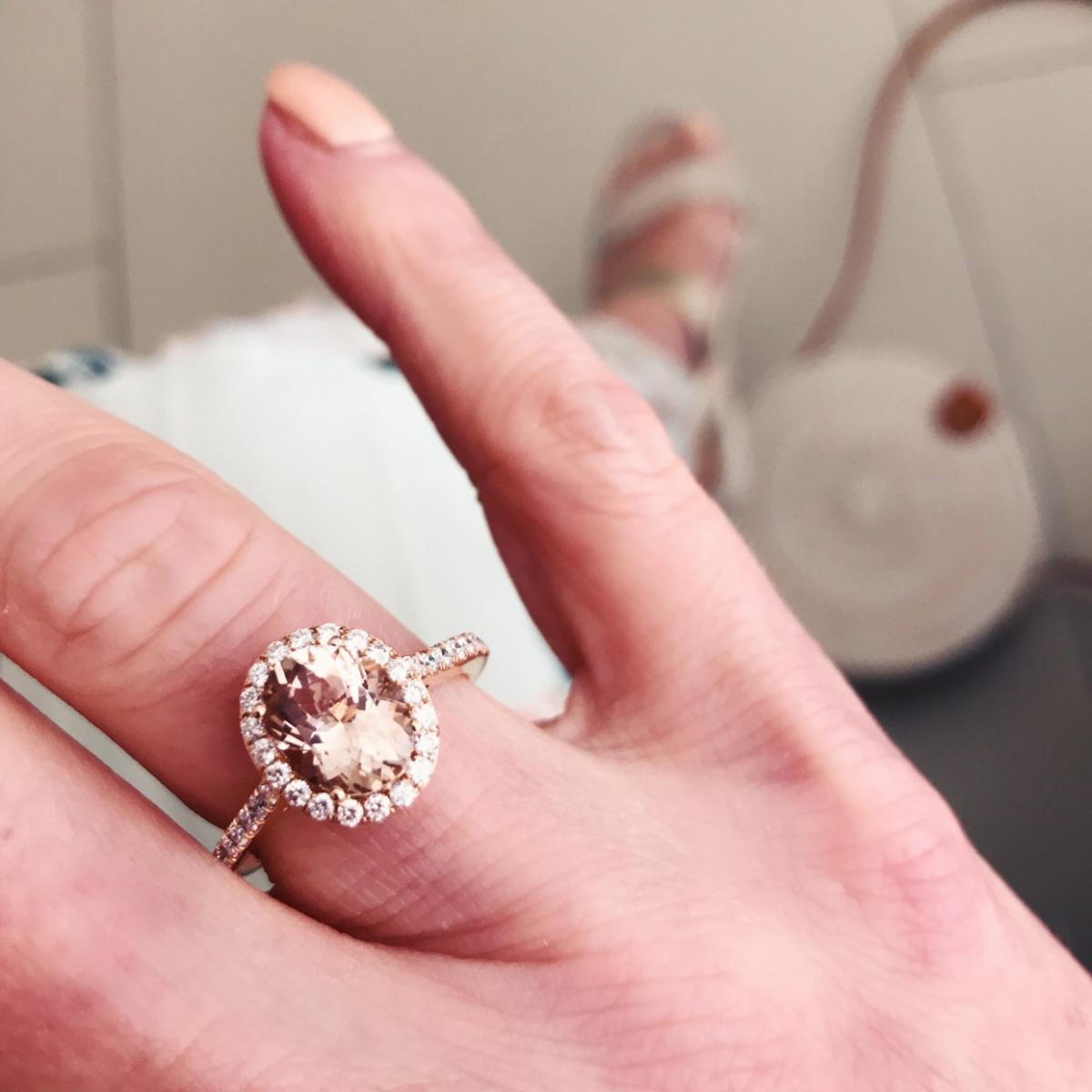 Morganite has grown in popularity in recent years, with its pastel pink to peach stones featuring in many an Instagram post. Now a popular choice for non-traditional engagement rings, morganite looks particularly stunning in a rose gold setting, which has also had a surge in popularity recently.
More about Morganite
According to the all-knowing GIA, Morganite is the pink to orange-pink variety of beryl, a mineral that also includes emerald and aquamarine. Morganite is, quite surprisingly, more rare than aquamarine, despite being quite readily available in today's market. One reason for this is that morganite hasn't been promoted nearly as widely as aquamarine or emerald.
[gallery columns="2" size="medium" ids="613,614"]
Morganite was first discovered in 1910 by George D. Kunz, a famous gemologist and buyer for Tiffany & Co. Initially, people simply called this gemstone Pink beryl. However in 1911, George D. Kunz renamed the gemstone to Morganite in honour of the famous American banker, J.P Morgan, who was also an admirer and collector of gemstones.
Styling with Morganite
Morganite comes in pretty pastel shades varying from pink to peach. Its tone lends itself to sit beautifully in a rose gold setting, and is often complemented with diamonds. Although pink to peach in tone, Morganite is a neutral enough colour to work with almost any outfit choice and goes with a lot more clothing than a stand-out colour such as bright blue sapphire or green emerald. From earrings to pendants to cocktail or engagement rings, Morganite can be styled seamlessly with many an outfit.
[gallery columns="2" size="medium" ids="620,619"]
Stars in Morganite
The Duchess of Cambridge stylishly paired morganite drop earrings with a peach Alexander McQueen dress for her sister Pippa's wedding. She also wore morganite earrings for her official portrait in 2016, on royal visits to Cornwall and at recent charity events. Blake Lively sports a pale pink diamond in her engagement ring, and whilst not a morganite, her ring has inspired many a peach/pink engagement ring.
[gallery columns="2" size="medium" ids="615,616"]
Value of Morganite
As morganite frequently occurs in larger crystals, there is no exponential increase in price with size. In actual fact, smaller morganites, if they show good colour, can at times be more valuable than larger ones. Morganite is a high quality stone with excellent hardness and durability, yet is a very good value gemstone. With large morganite stones being quite affordable, it makes a very cost effective alternative to a diamond engagement ring.
[gallery columns="2" size="medium" ids="623,624"]
Contact our customer experience team on (+44) 01702 490 898 for friendly advice on your perfect morganite jewellery or engagement ring.