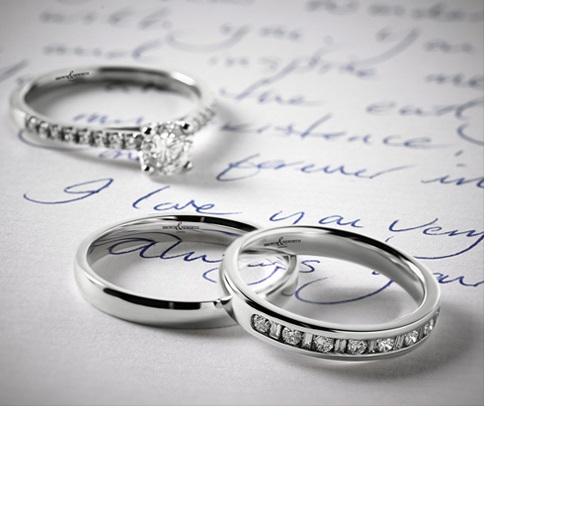 Diamond is the birthstone for April, and if you're lucky enough to be planning a wedding this year, you may well be choosing wedding bands this April. It's quite tempting to bling up your wedding band with diamonds to enjoy the sparkle every day you look at your wedding ring. But is it right for you?
Diamond set wedding bands have become much more popular in recent years, with many brides opting for that added bling in place of a plain metal band. So what are the considerations when choosing whether to go plain or add some sparkle to your wedding band?
Practicalities
Everyone loves diamonds, right? We agree that the old adage 'diamonds are a girl's best friend' is right on the money. But if you work in an industry or have hobbies where you use your hands a lot, small diamonds may not be the most practical. Dirt and impurities can build up underneath the diamonds, taking the edge off your shine.
A metal wedding band, whether platinum, gold or white gold, can still perfectly complement your engagement ring, is smooth and comfortable outside and in, and is a lot easier to keep clean!
[gallery columns="2" size="medium" ids="1082,1083"]
On the flipside, if you have occasion to wear your wedding band without your engagement ring, having diamonds in it means you can still get that sparkle without the height of the engagement ring. Bottom line - think about the basics before getting carried away with the design.
Budget
Traditional metal bands tend to be more affordable than diamond wedding or eternity bands. And after the outlay of your engagement ring and the wedding itself, sometimes there is limited budget for wedding rings. Don't despair, you can always save up for that eternity ring to complete the trilogy on a future occasion such as an anniversary or birth of a child.
On the other hand, combining a wedding and eternity ring into one can have budgetary benefits in the long run, so if you have the opportunity and the cash flow for a diamond band now, you can combine the two into one - job done!
Styling
Some engagement rings suit a plain band best, and others look fantastic with that sparkling frame. Of course, a lot of this is down to personal taste, but some engagement ring styles suit a diamond band better than a plain band, and vice versa.
For example, for unusual shaped or low-set engagement rings that require a shaped or curved wedding band, you may find that wedding band shape to be perfectly complemented by diamonds. A traditional solitaire ring can lend itself to both styles, whereas a ring with heavily set diamond shoulders may be best paired with a plain band to let it remain the star of the show!
[gallery size="full" columns="2" ids="1084,1086"]
Another tip is that if you had your heart set on engraved wedding bands, the settings for a diamond wedding band can make it difficult to find room for engraving.
Eternity
If you don't see yourself having the opportunity for an eternity ring in the future, a diamond set band can be a lovely way to combine both meanings and add that sparkle you desire. Conversely, if you anticipate an eternity ring is on the cards, two diamonds rings don't always sit well together or may not create a harmonious look. And some say why have one when you can have both, and go for a plain now and diamond eternity band later!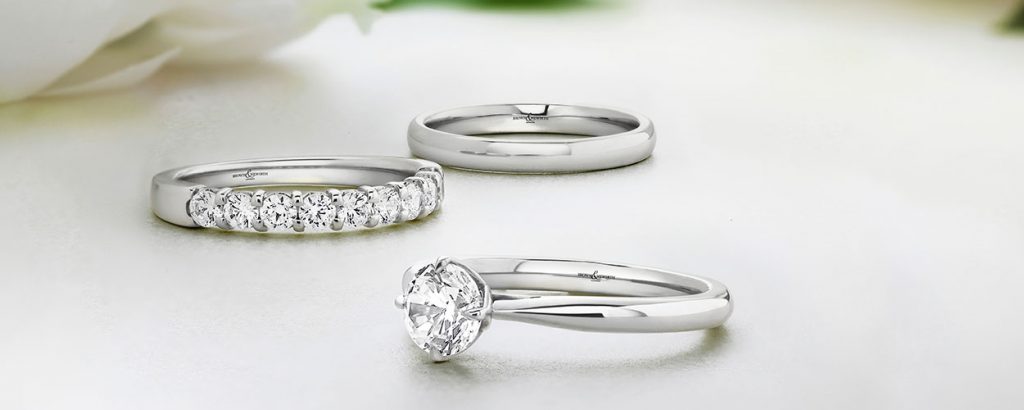 So, now that's out of the way and you've made your decision - happy shopping!