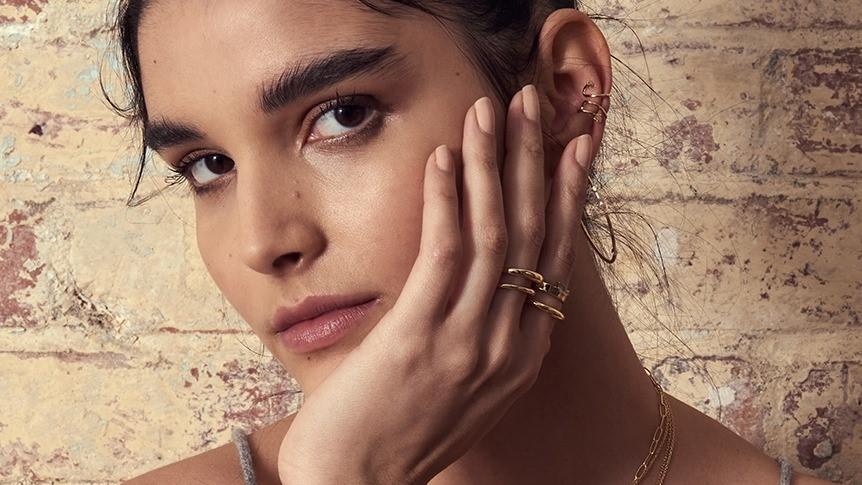 Mismatched earrings have been a jewellery trend for a while and featured heavily on the catwalks for Spring and Summer 2021. Great news for those who love their earrings as much as we do, because that means more chances to wear all our favourite hoops, studs and sparklers. But if you haven't dabbled in mismatching yet don't worry, we've got plenty of tips and ideas to help you create some ace asymmetrical looks.
Mix-and-matching your ear wear is great fun and brings an abundance of new ways to express your personal style. Here are a few of our favourite ways to mix things up.
Mismatched with hoops
Hoops are a wonder aren't they? They're comfortable, they go with just about anything and now they're even more versatile because you can wear them with other earrings too. 
There are several ways hoops can become part of your mismatched ensemble.  But what are the rules and how do you choose what to mix and match?
Here are our tips for getting yourself hoop happy.
One hoop or two?
Well, if you're feeling really adventurous you can wear just one. This has definitely become a trend in itself, usually with a large or decorative hoop. 
Or you can pair a single hoop with something completely different. 
Choose hoops that stand out
Remember, if you're wearing just one, it's going to get a lot more focus, so your hoop needs to be special. Be prepared to make a statement. We'd suggest choosing a large hoop or one that has some sort of charm or embellishment.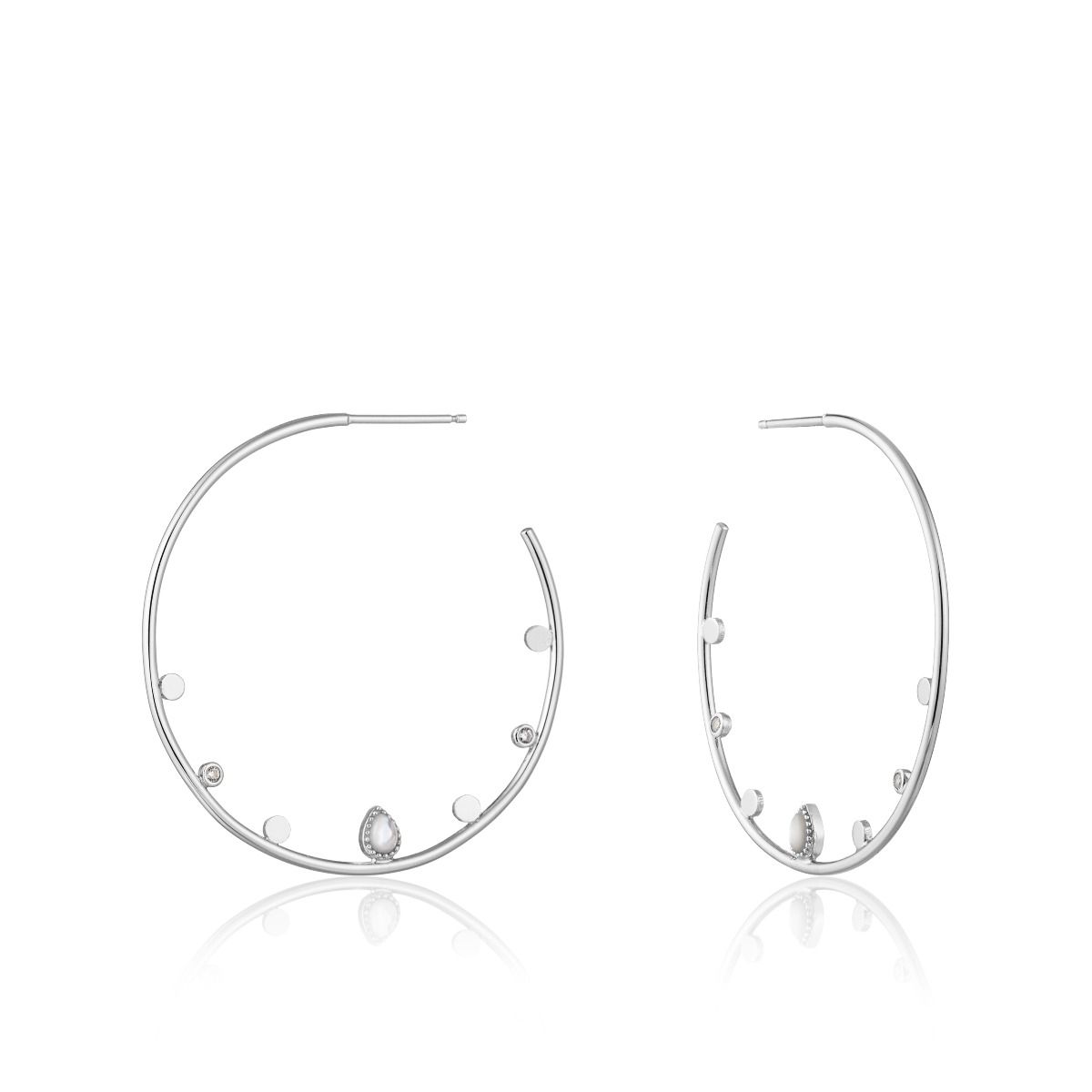 These gorgeous Ania Haie Dream Open earrings would be perfect to get your started. Or you could try Annie Haak's Lined Heart or My Guardian Angel Gold hoops.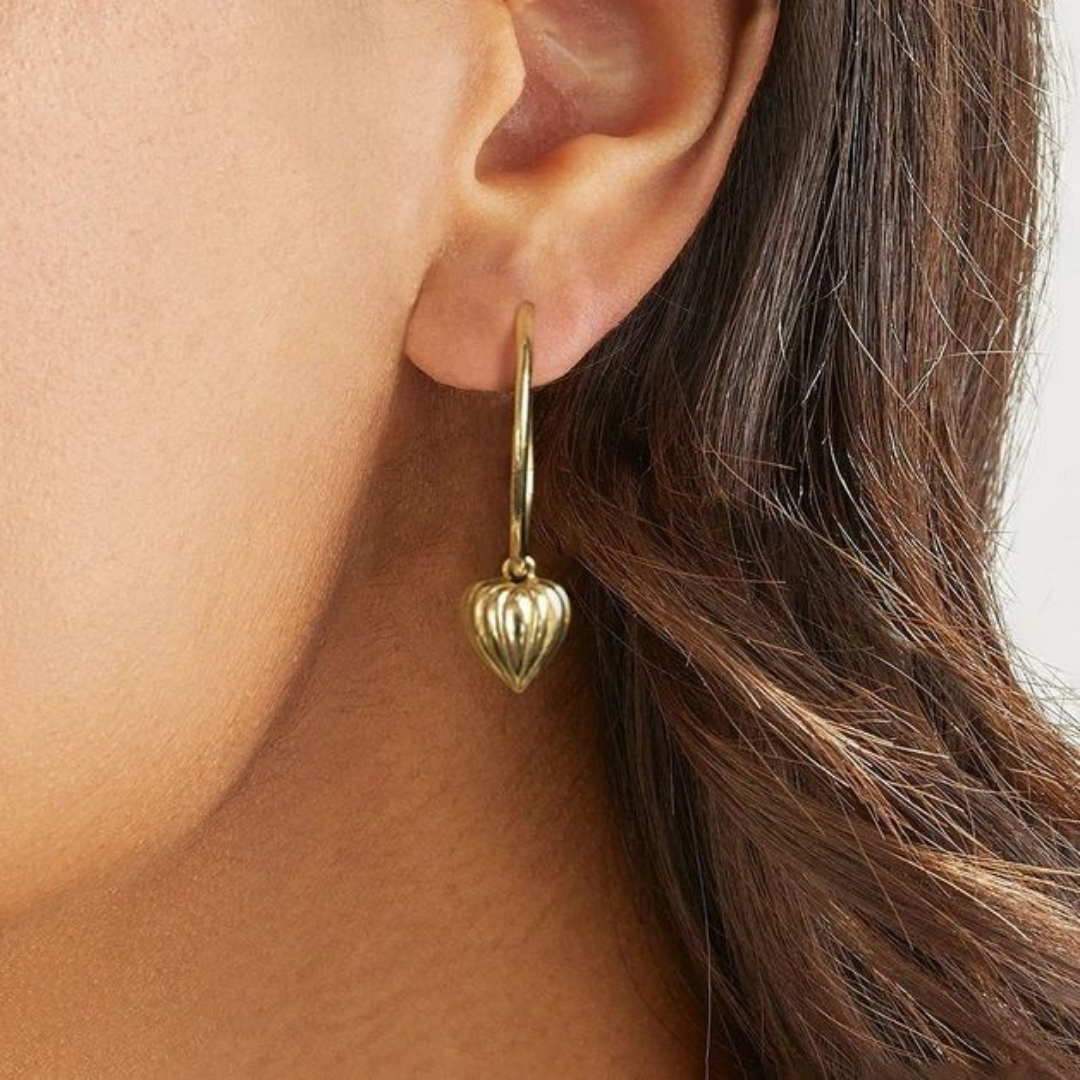 Ania Haie's silver Open Dream hoops are embellished with tiny sparkling crystals. While Annie Haak has perfected the charm earring and her hoops come with little, removable dangly hearts and angels. 
Step two: Pairing hoops and studs
Now, you have a choice. You can choose to wear one of these lovelies on their own (with the slight risk of people thinking you've lost one!) Or, you can pair it with something else, like a simple but striking stud.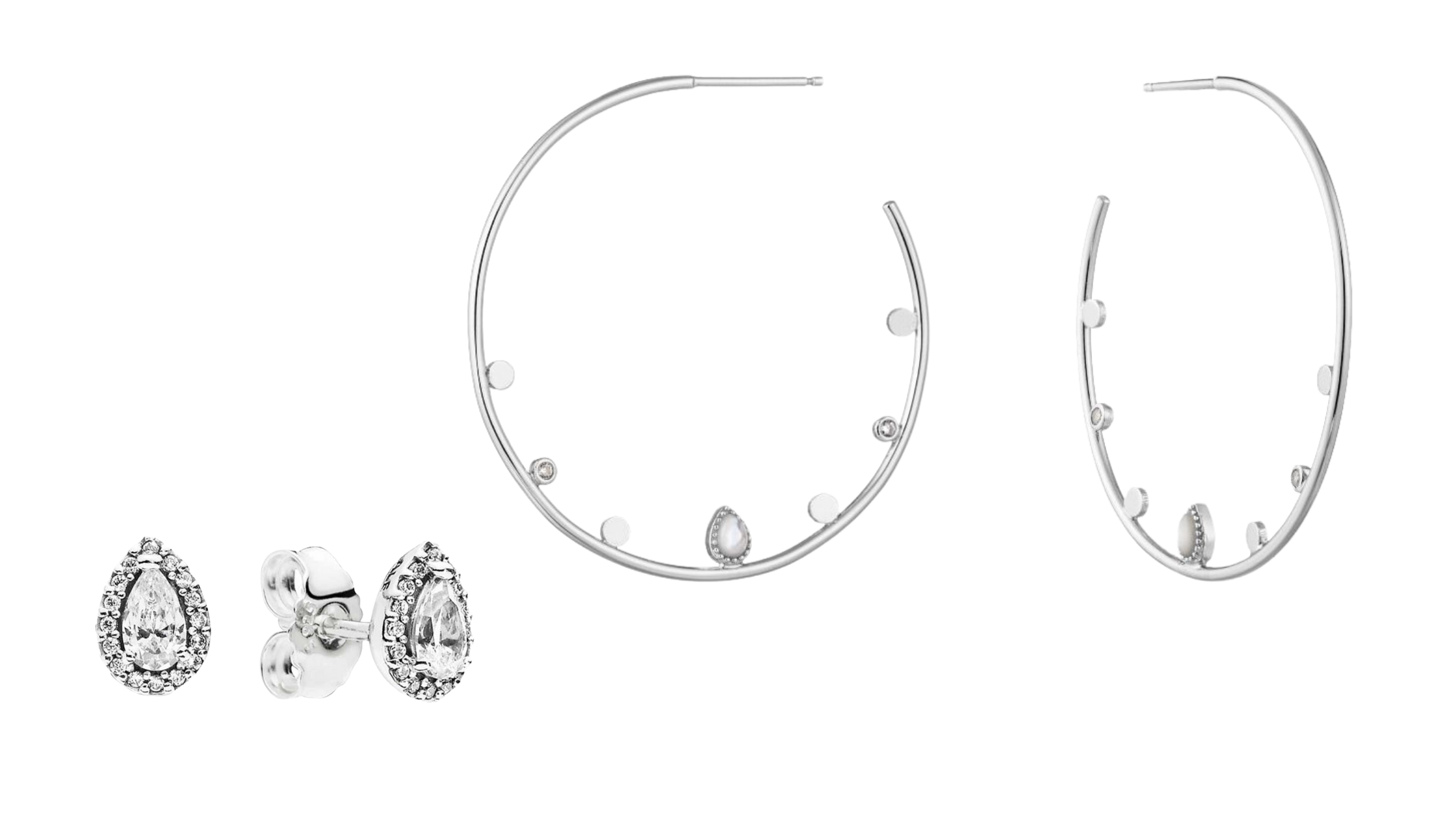 Here, for instance, we've paired Ania Haie's Dream Open earrings with Pandora's Radiant Teardrop studs. Just take one of each and off you go.
And Annie Haak's Guardian Angel's would look fabulous with one of either Ania Haie's Modern Chain or Triple stud earrings.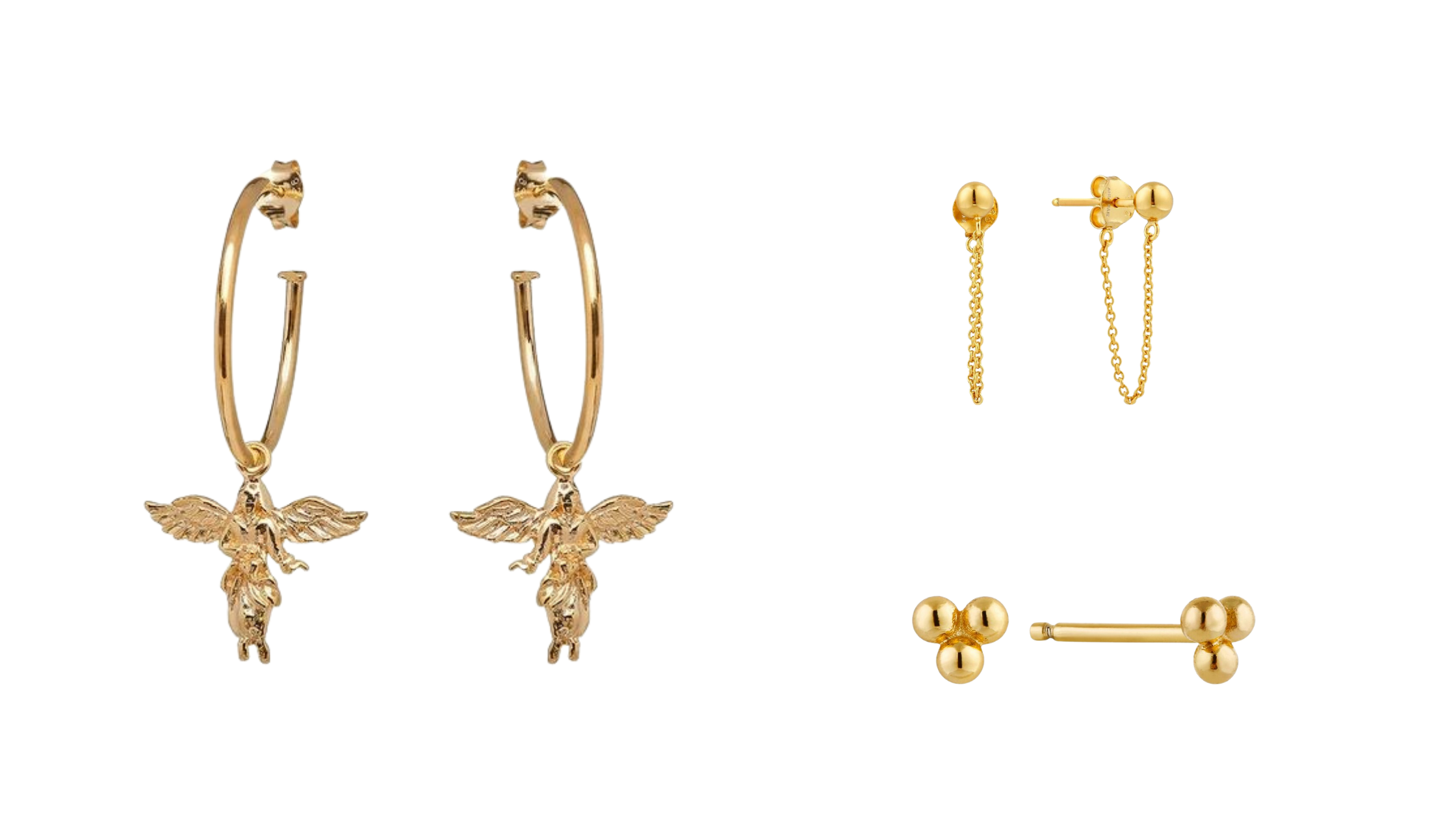 What's fab about mixing earrings, is that you can really engage with the beauty and craftsmanship of your jewellery. Each individual earring gets more of the spotlight. So see what you can find in your jewellery box or treat yourself to a special new pair (or two) and get creative.
Stud-tastic: Mismatched studs
Another way to express your mis-matched-self is to experiment with non-matching studs. Mismatching tends to draw more attention to the earrings you're wearing, but that's to be celebrated. There are some beautiful stud earrings out there that are like mini works of art. So this is an opportunity to collect some really stunning pieces. 
The simply choose two that compliment each other, tell a story or express your mood that day. 
Spectacular silver studs to mix-and-match 
We've put together a few of our favourites. We think these would look stunning mixed with hoops or any of the other studs in the selection.
Ania Haie's simple but elegant Shimmer Bars, for instance, would look gorgeous mixed with an Angel Wing or Radiant Teardrop from Pandora.
While a Little silver ball from Coeur de Lion and would be lovely alongside one of these mixed metal studs rom Clogau. Their Welsh Royalty squares, made from Sterling silver, Welsh gold and white topaz. Or little Honey bees sporting silver and Welsh gold stripes.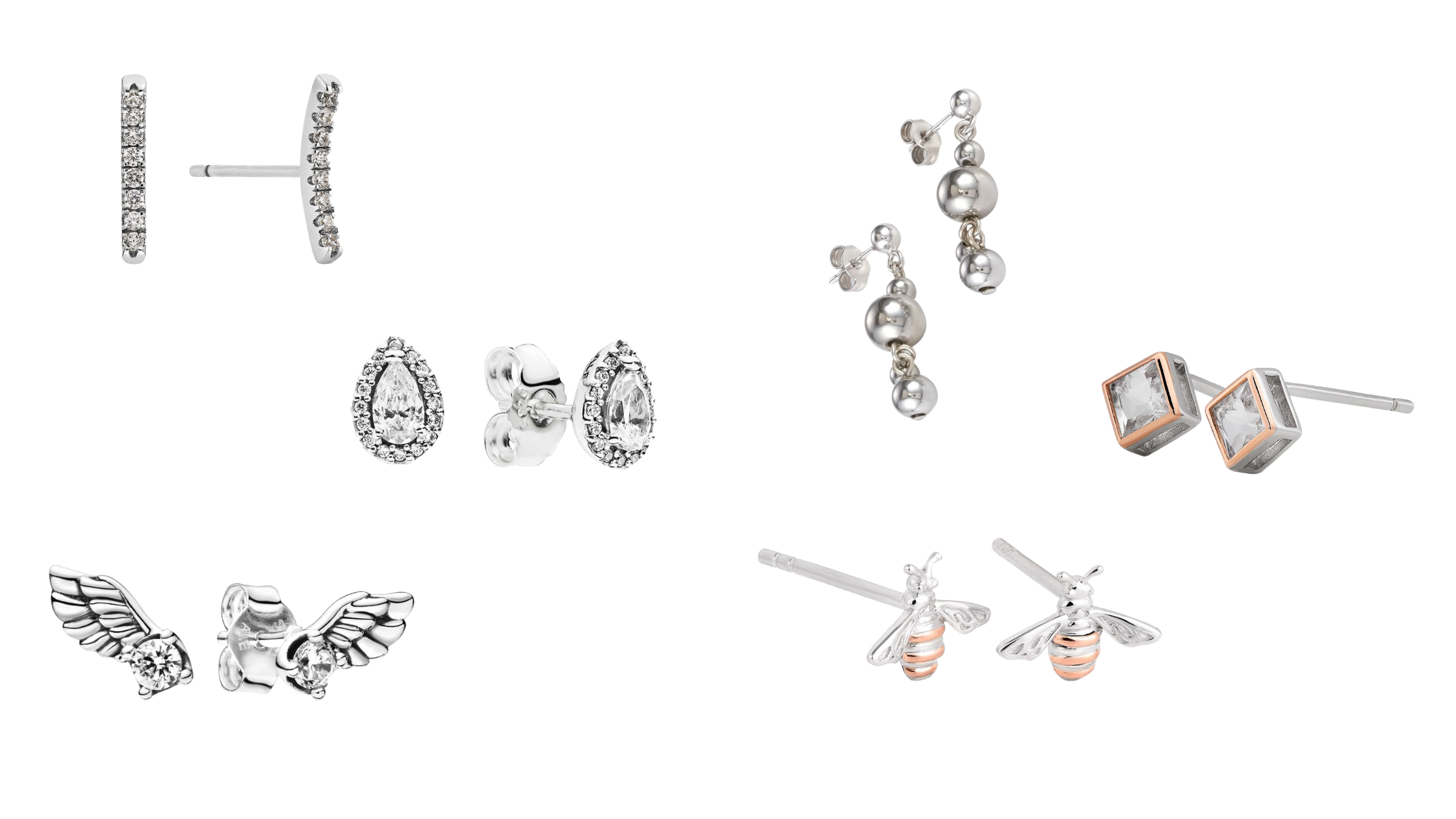 Glorious gold studs
For the gold-lovers among you, we've picked out a few stunners as well. Like these little rose gold Lightning Bolts that would look cracking in any combination. Some lovely, elegant Swan Circular brushed gold studs from byBiehl with zirconia detail. Plus three options from the masters of earring layering, Ania Haie. Ania Haie has fully embraced the mix-and-match earring trend and their Triple studs, Modern Chain earrings and Shimmer Hooks are just made to be paired with each other or other earrings.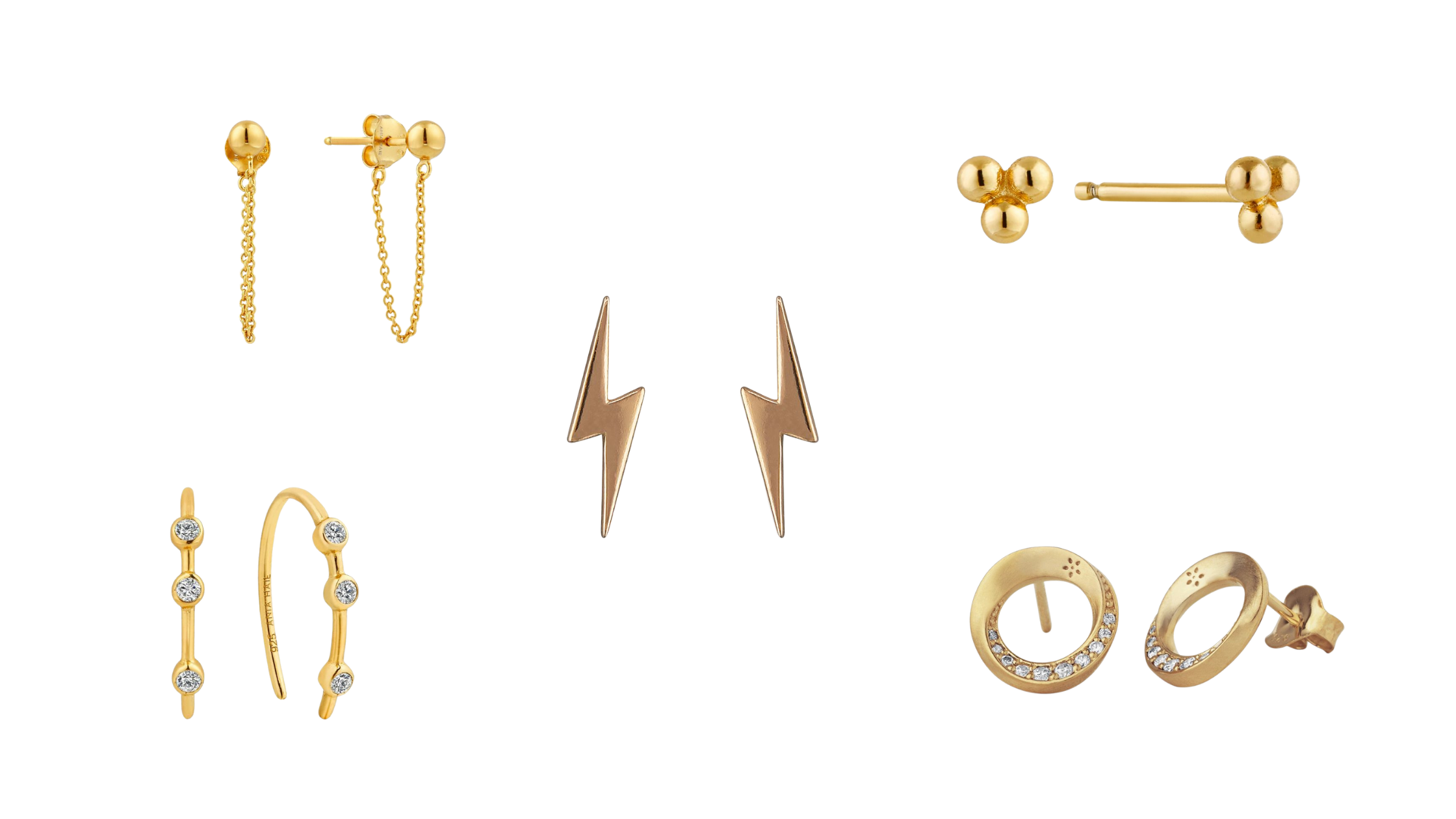 There are no rules about what to choose. Pick your favourites or choose the ones that best match your mood. Create a little ensemble with matching metals, colour schemes or details. You can even throw an ear cuff into the mix.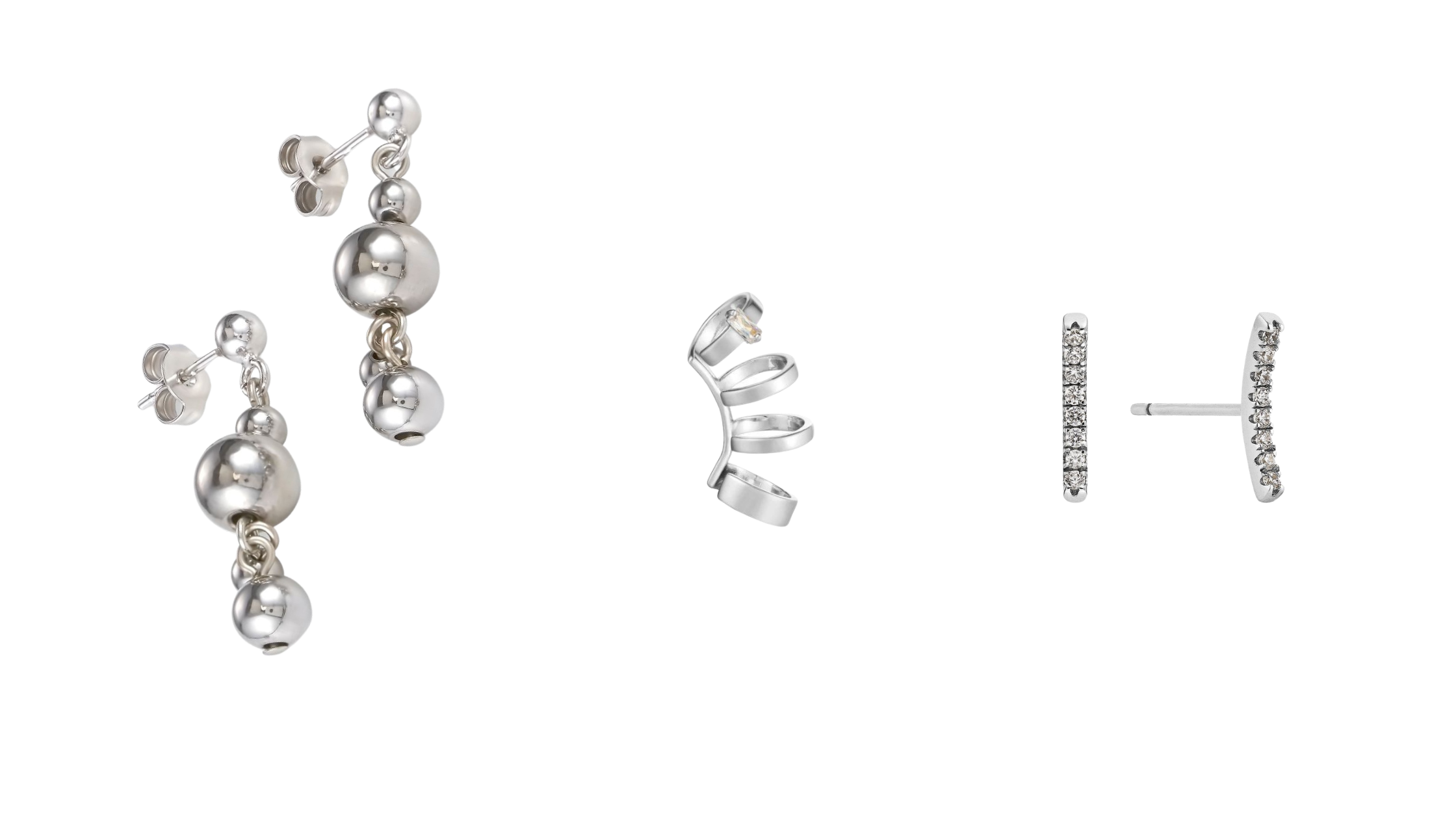 This silver combo includes studs from Couer de Lion and Ania Haie, paired with Ania Haie's Glow Crawler ear cuff.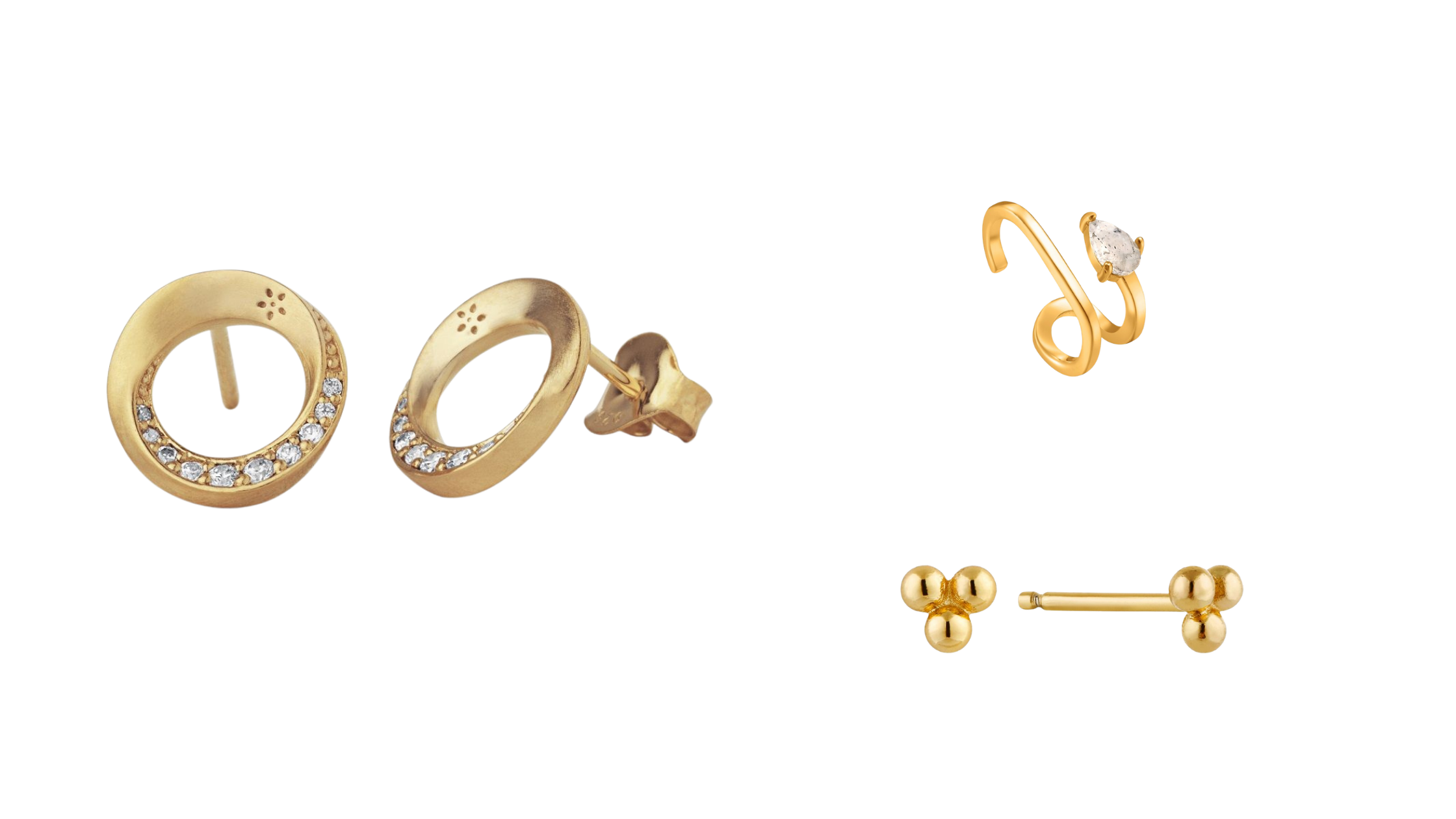 Here we have a gorgeous trio including byBiehls Swan circular studs, Ania Haie's Gold Midnight ear cuff and little Triple studs.
Ready-made mismatched earrings
For those of you who are nervous about putting together your own combinations, there are some jewellers already doing it for you. Creating ready-made pairs of mis-matched earrings. Swarovski, for example, have several stunning earring combinations to try.
Like this Stone-pierced set plated in rhodium and sparkling with clear crystal pavé. This particular ensemble will allow you to enjoy up to six symmetrical looks and an infinite number of asymmetrical styles.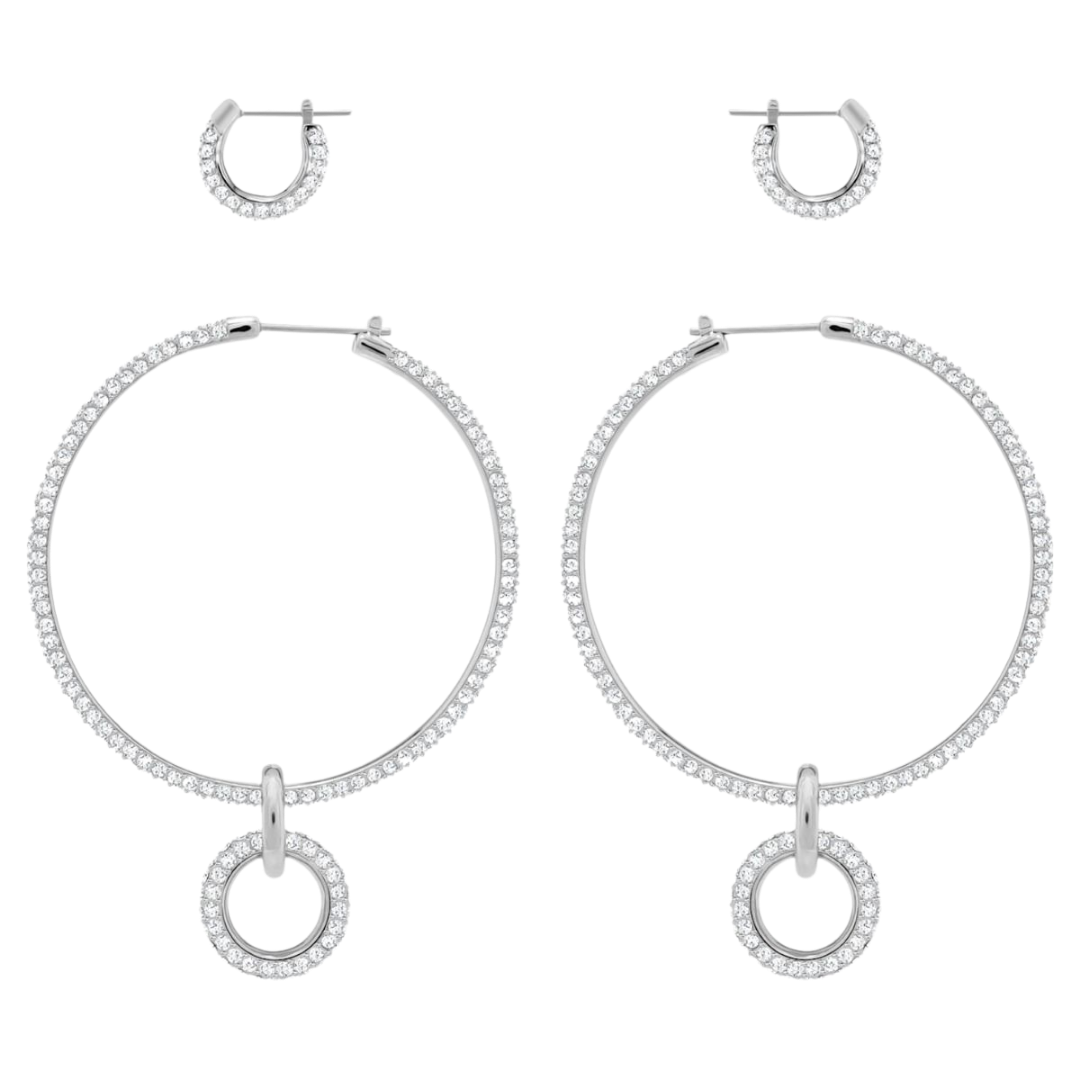 Or this Lifelong Heart Pierced Drop earrings pair, also from Swarovski. Their interlocking hoops can be adjusted to create a number of looks and lengths to go with any outfit.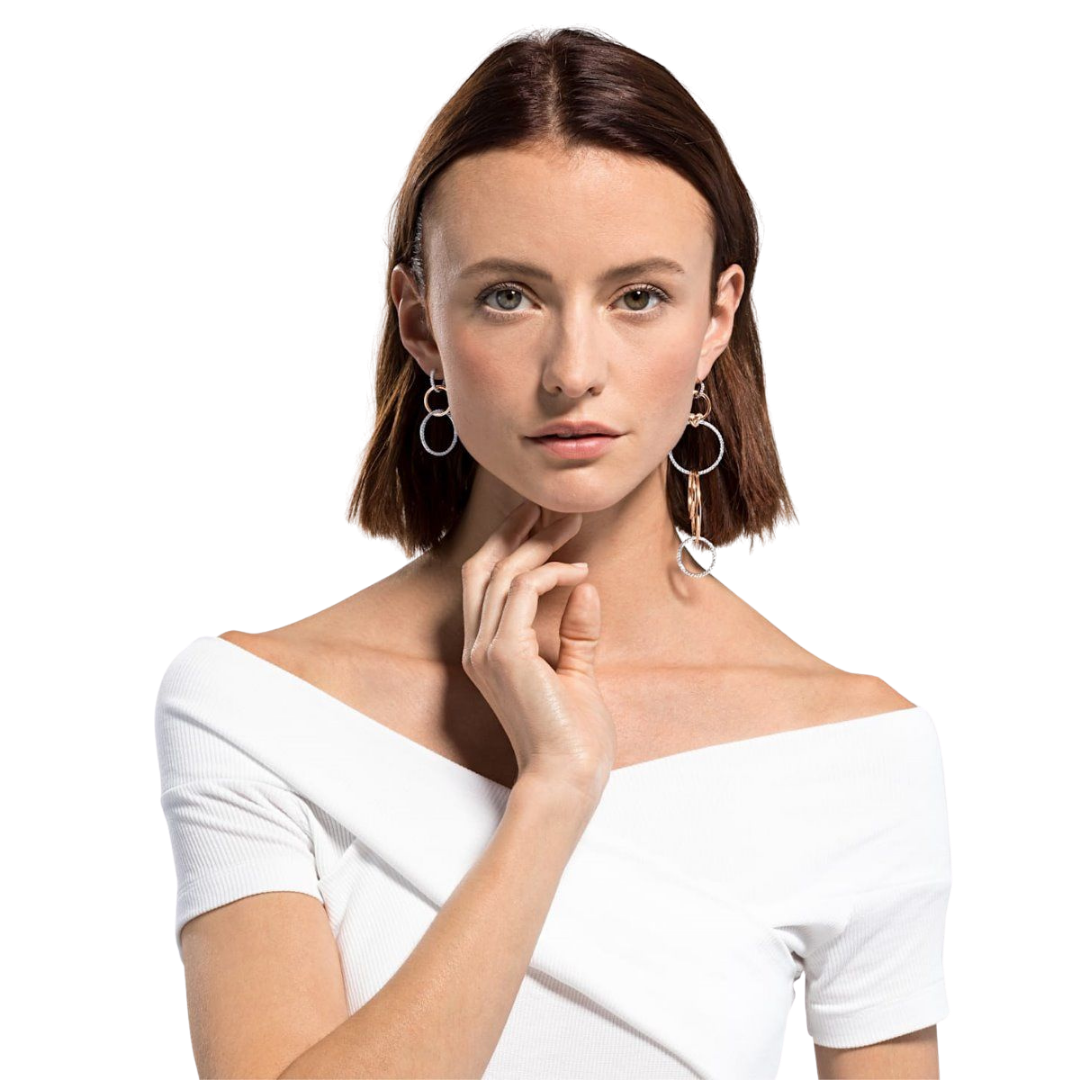 Alternatively, these Cowrie studs and long-drop earrings are from the same Swarovski range and come with a whole host of mix-and-match possibilities.
The drops on the long-drop earrings are detachable, so there are multiple ways to mix-up your look with these alone. Or you could combine them with the Cowrie studs from the same range and create as many looks as you like.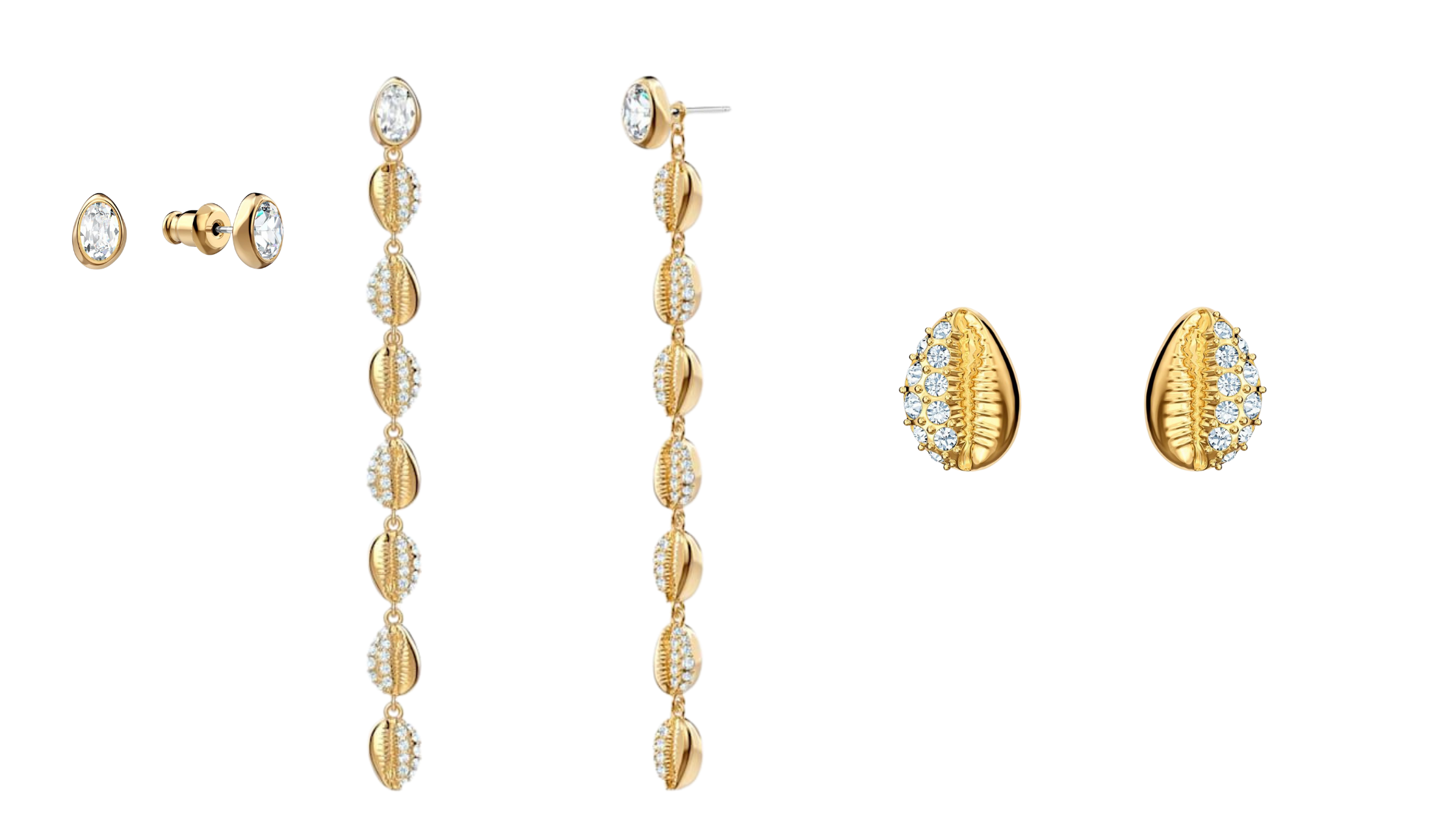 More mismatched fun
When it comes to embracing the asymmetrical trend the possibilities really are endless. You can combine hoops of different sizes, studs and drop-earrings or a million other combinations.
Of course, if you have multiple piercings there's even more fun to be had, with different combinations to experiment with on each ear.
The main rule of mismatched earrings is to have fun and express yourself. So don't be afraid to work out your own ideas based on your personal style.
Feel free to check out our full range of earrings. There are big brands and stunning styles to suit every taste and budget. So you can choose your own winning combination.