Hoop earrings are a must-have item for any jewellery box. Easy to wear, versatile, and available in a whole host of on-trend designs - which will you choose?
Never out of fashion
For all the reasons above and more, hoop earrings have been a fashion favourite forever. Constantly reimagined and updated to suit the latest trends, there are many designs to choose from. From the simple gold hoop to more interesting designs.
Right now, hoop trends include designs that are oversized, decorated with jewels and adorned with charms. But it could be said, that there's nothing more useful in your jewellery box than a classic pair of gold hoops, so let's start there!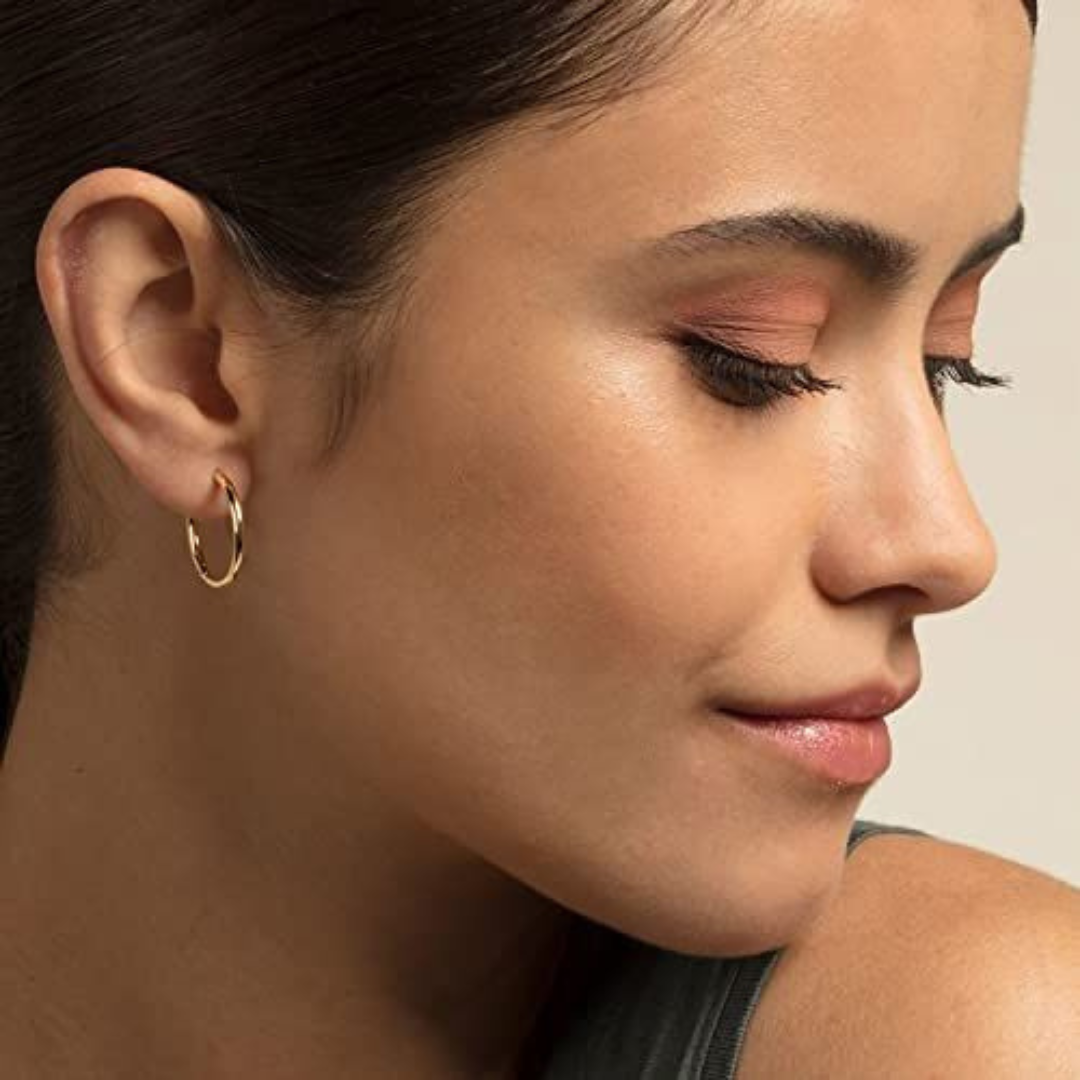 Gold hoop earrings - is one as good as the next?
A pair of plain gold hoops will always be there for you when you need to accessorise, so make sure you have a pair. But although that sounds simple enough, not all gold hoops are created equal.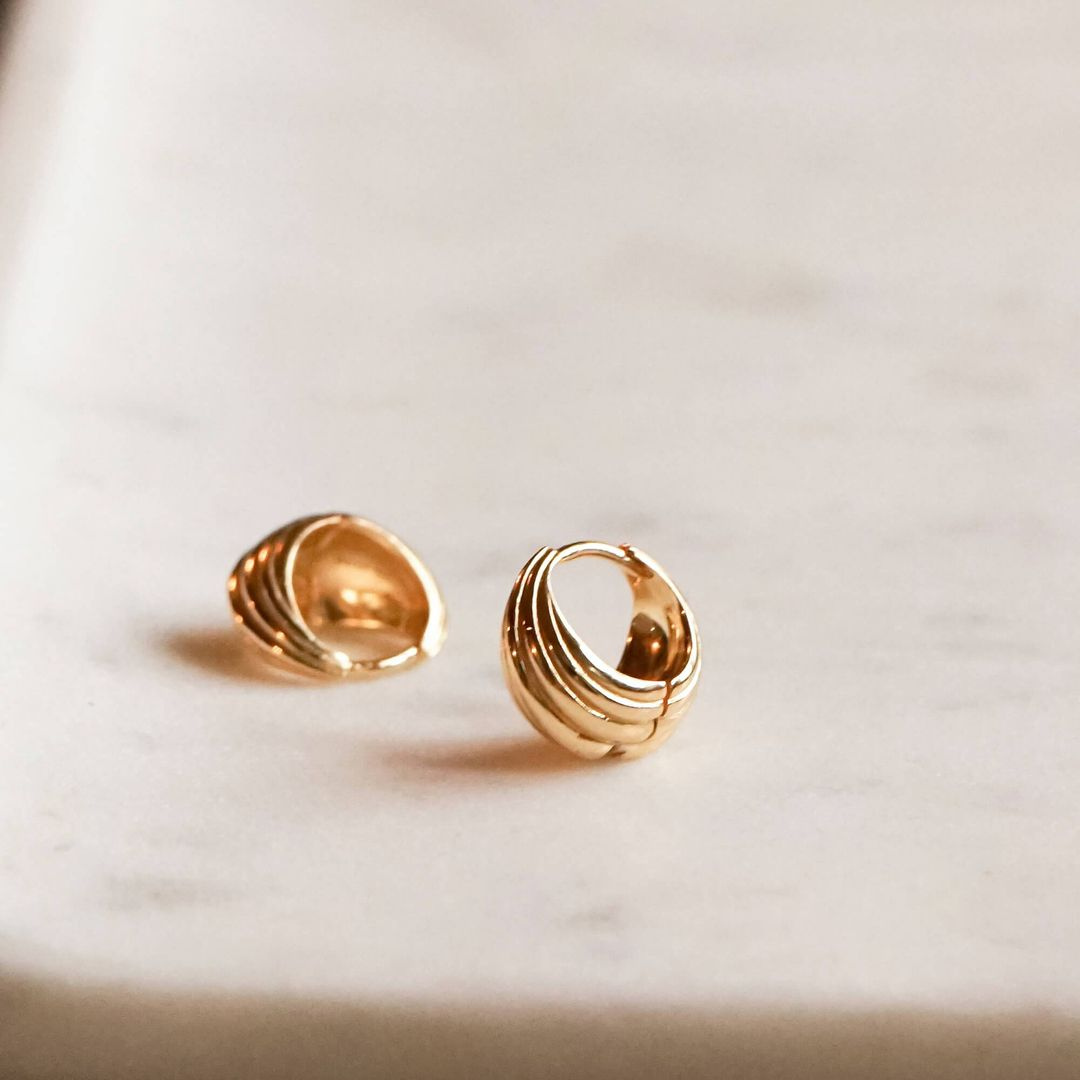 While it's true that every girl should have a pair of gold hoops in their jewellery arsenal, beware of cheaply made hoops that will easily loose shape or come undone and get lost.
In truth, when it comes to those staple items of jewellery, although they look simple, we think it's worth investing a little money. And trust me, when it comes to gold hoop earrings, you will get your money's worth! They are so easy to wear you'll find yourself reaching for them day and night.
So don't be afraid to treat yourself to a decent pair. There's no point in settling for anything less.
We'd also recommend getting a couple of different sizes. Although the gold hoop is very versatile, you may have occasion to make more of a statement. On those days you need an oversized gold hoop by your side.
On more ordinary days, you'll need an easy-to-wear accessory to go with your office outfit or casual look. Grab yourself a pair of small gold hoops or huggie hoops for those cant-be-bothered-with-anything-fussy days.
And if you're thinking that all sounds a bit simplistic, then don't worry. Gold hoops come in all shapes and sizes, with thick bands and thin, textured metals and all kinds of design details to choose a pair that suits you.
Don't forget - they come in silver too! Or rose gold, if you prefer. 
Hoop earrings for heading out
If you're heading out of an evening, you may want some hoops that pack more of a punch - and there are plenty to choose from here too.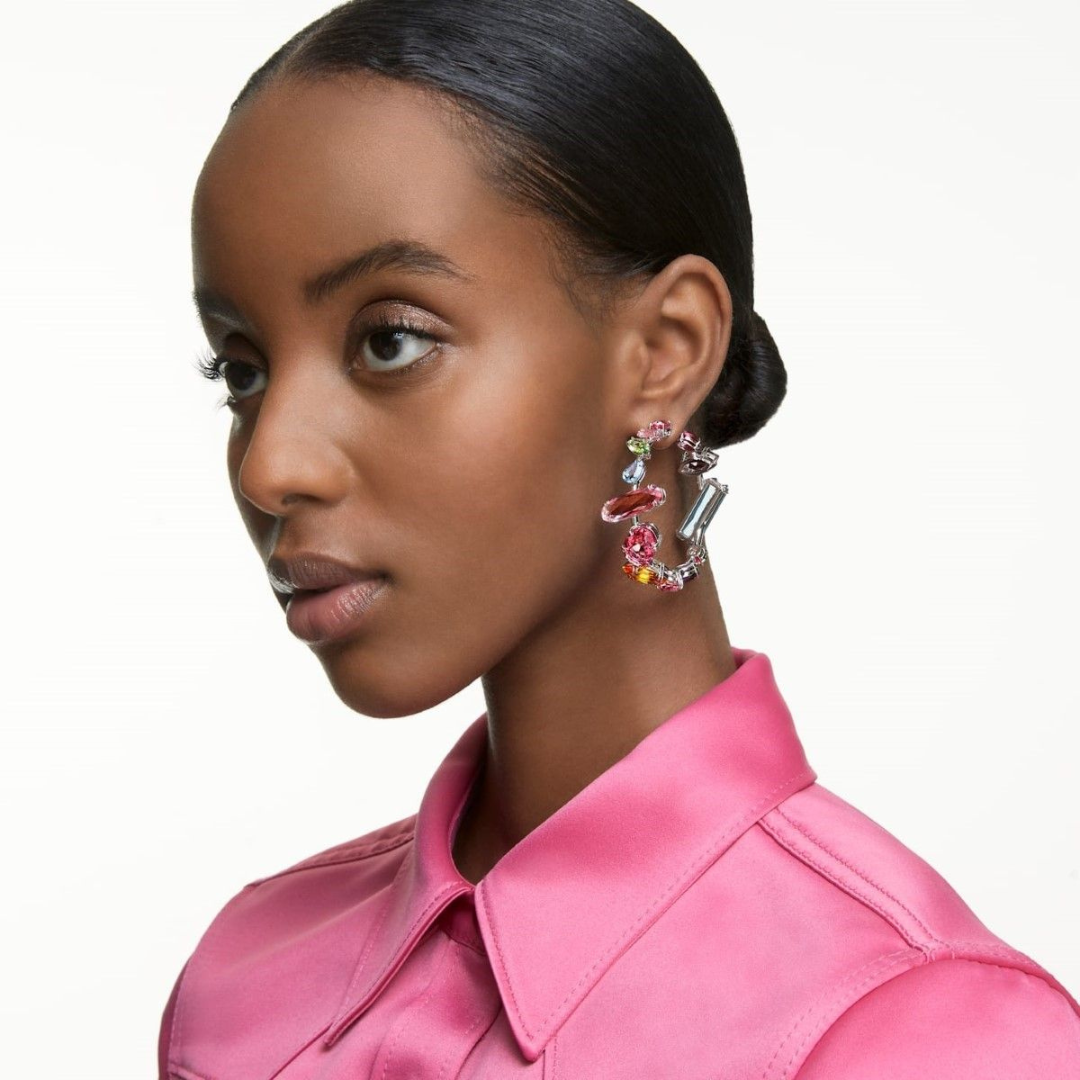 Large glass hoops in pretty colours, glorious gemstone or gem-studded hoops with sparkle in spades. And even delicate, detailed hoops in silver and gold.
Swarovski have really raised the bar in this area. Their oversized hoops comes in a variety of exciting shades and giant gemstones.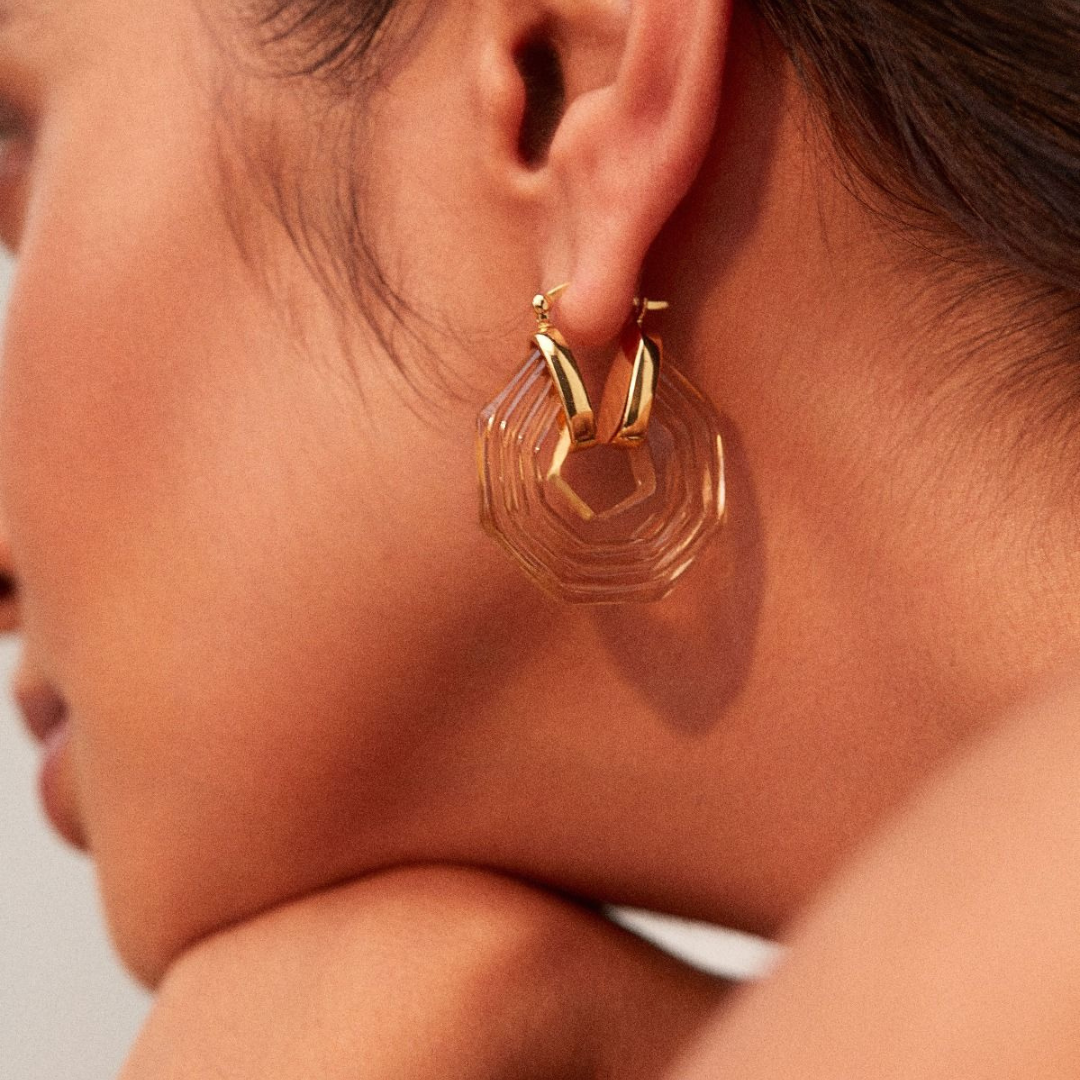 But we also love Shyla London's chunky hoop designs in beautiful subdued shades of pink, orange and green. And Annie Haak's star-studded designs, with added sparkle.
Hoops for everyday happiness
As well as special occasions, hoops are a great accessory for the everyday. Wear them to work, to the beach or to the supermarket. Whatever you're doing they offer a touch of style to your look.
There are so many designs to choose from, it's hard to pick favourites. They come in all shapes and sizes, from the small and dainty to the chunky and sparkly.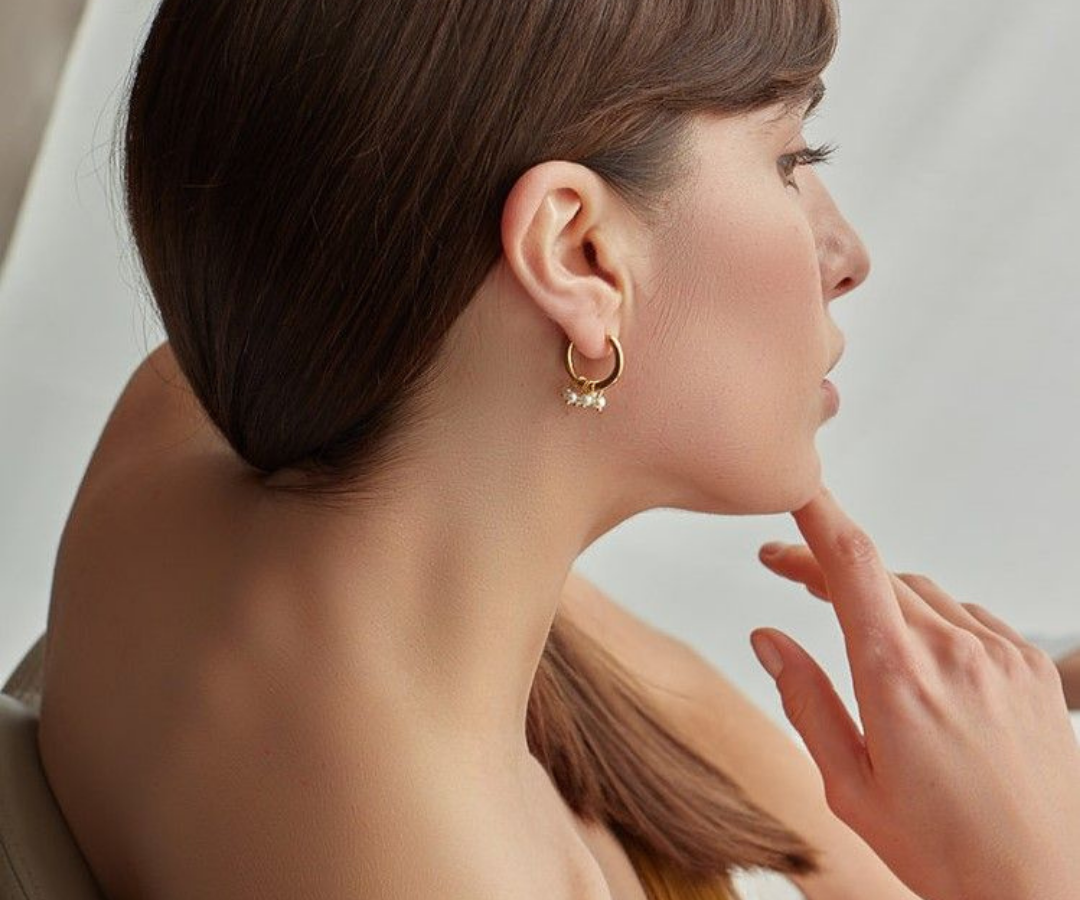 And more recently, the fascination with charms has led to hoop earrings becoming another vessel to add your own personal touch to.
Get hoops with pearl drops, or angels. Ones with dangling stars or tiny padlocks. Whatever the trends of the day or your own personal taste, there's a pair of hoops out there for you.
What to wear with your favourite hoop earrings
One of the greatest things about hoop earrings is that they go with almost anything. Large gold hoops can be used to add a bit of street style to your outfit, or to snazz up your evening look.
They go equally well with jeans, dresses and evening wear. In fact, you can wear the same pair in the office and then take them out at night and they will still look good.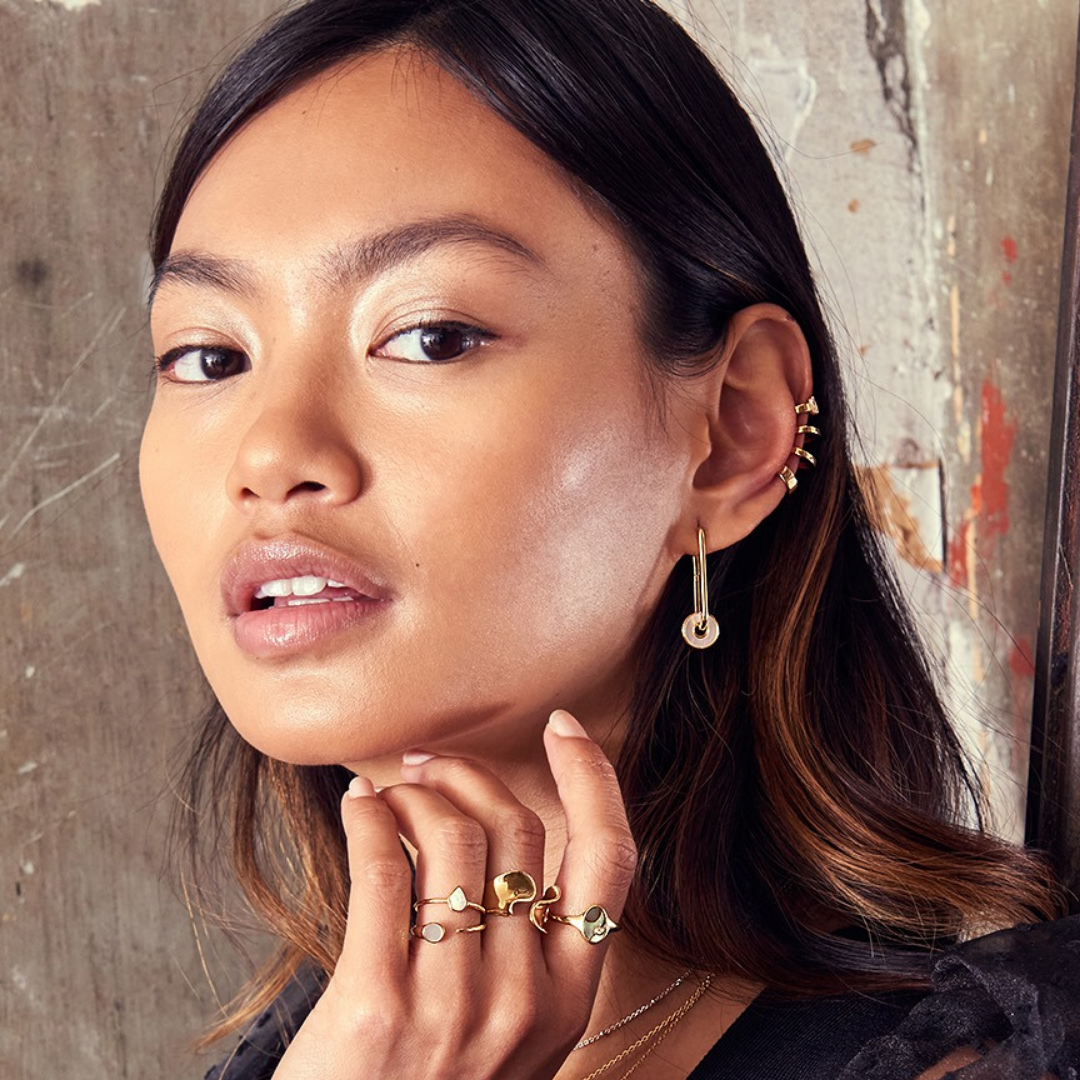 You can easily wear them with other earrings. Go larger for more drama or add charms for a more complex, layered look. And if you're accessorising an outfit with bold colours and patterns, go back to those classic gold hoops we talked about at the beginning.
Good luck with discovering the hoops you love to wear!