Wedding jewellery is all about finding the perfect match. Jewellery that complements, rather than overshadows your all important outfit. Luckily it's a lot easier than finding the love of your life. Especially with our handy guide to all the latest wedding jewellery looks below.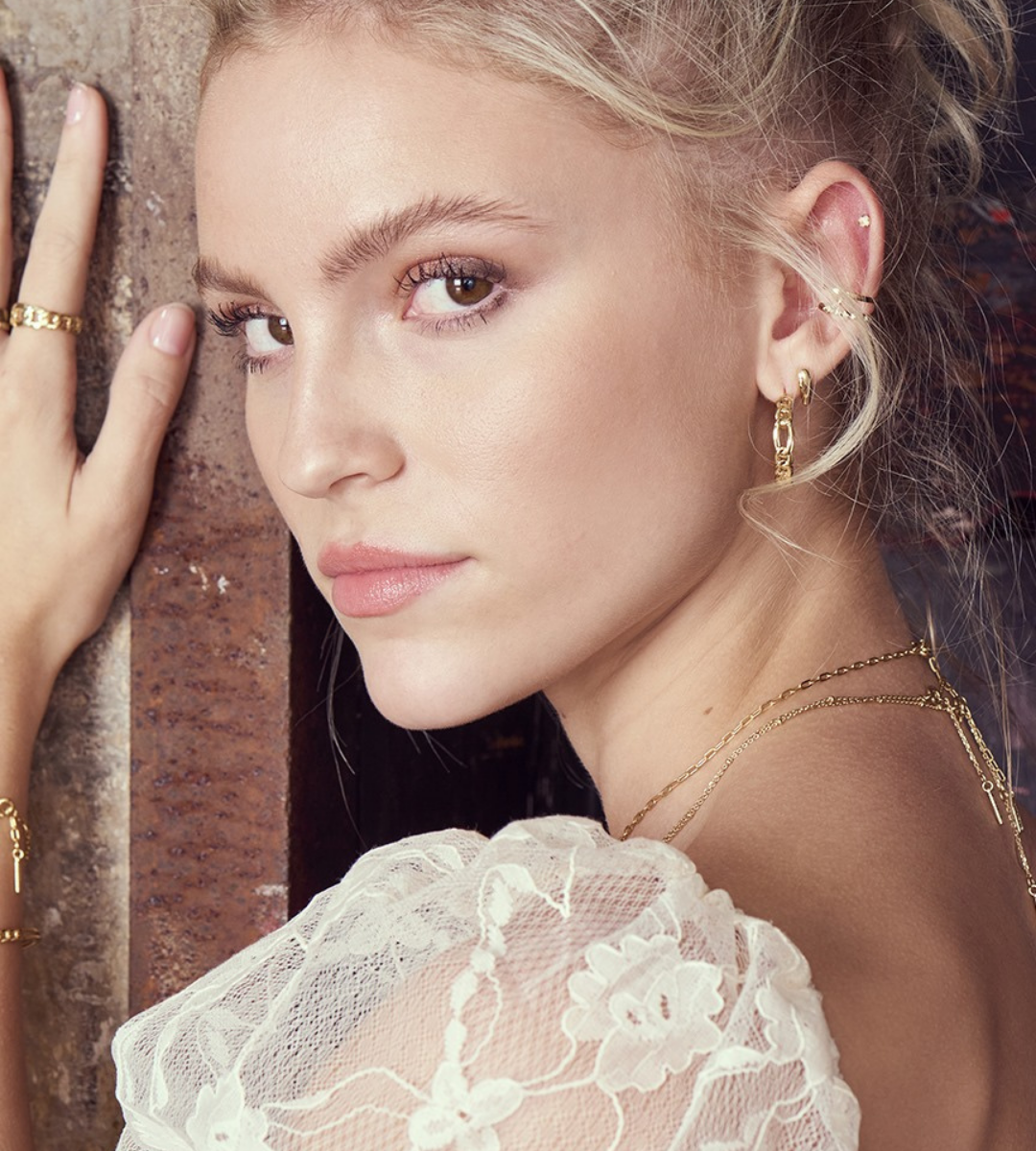 How to choose your wedding jewellery
Whether you like vintage style or modern chic, wedding jewellery is the icing on your wedding outfit. It should complement your style and complete your look, without stealing the limelight.
That said, this year, wedding style is all about extravagance. Fashion experts predict big celebrations to compensate for all the disappointment of the past year. So if you like to follow the latest fashion trends, go for plenty of sparkle and shine.
And if that's not your style, don't worry, there are plenty of other looks to make your day special.
But first, a few things to think about when looking for your perfect wedding jewellery;
Your dress - or trouser suit, or whatever your special outfit may be...
Once you've chosen it, you'll need jewellery to wear with it. Think about what will complement, rather than complicate, the neckline, sleeves and style of your ensemble.
A delicate pendant necklace or choker looks stunning with a low neckline, for instance. Especially if your dress has lots of detail, lace or sparkles already. But if you're going for stylish or understated, there's room for some extra twinkle in the jewellery department. 
Your theme 
Not everyone has or wants one and that's fine. But if you do have a wedding theme, you may want to reflect that in your jewellery. A vintage wedding, for instance, may call for traditional or vintage-inspired jewellery. While a modern masterpiece might need minimalist jewellery or simple style. 
Your style 
You may look very different on your wedding day to any other day, but your personal style is still important. Don't lose sight of what you feel comfortable wearing, just because it's your big day. In fact, making sure you are happy and comfortable is the most important factor when choosing everything about your wedding. So choose things you like and don't feel pressured into anything else.
Traditional and vintage wedding jewellery
Traditionally, wedding jewellery has been all about diamonds and pearls. Some brides are lucky enough to have a treasured family heirloom to wear on the big day, but we're not all that lucky.
Bridal boutiques offer costume wedding jewellery, but it's much nicer to wear something meaningful. Choose jewellery that you love and will be able to wear beyond your big day. It will bring back happy memories every time you do.
If you like the vintage look but don't have diamonds knocking around, the good news is there are some beautiful vintage-inspired pieces out there. 

Clogau, for instance, creates stunning pieces in silver and Welsh gold. Their jewellery is brimming with tradition, history and romance. Like the Kensington Love Story range, based on an epic royal romance. A lovely necklace and matching earrings that tick the vintage vibe and the 'something blue' box. 
Swarovski meanwhile, make an array of beautiful crystal jewellery, ranging from the delicate and intricate to simple and chic.
Diamonds and pearls
If you like pearls, the pearl choker necklace is still a firm favourite for traditional brides. As are single pearl pendants with a little extra sparkle - and for good reason. They both look glorious with a low necklace and lace dress.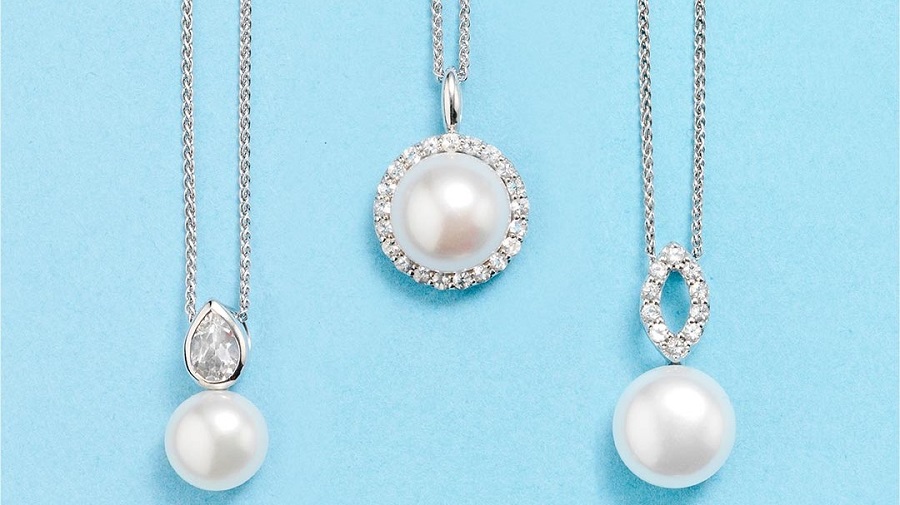 And if diamonds are more to your taste, but you can't afford the real thing, there are some fabulous vintage-inspired crystal designs out there. From intricate chokers to single stones.
Wedding jewellery for modern brides
Being a modern bride doesn't have to mean breaking with tradition completely. There are beautiful modern interpretations of diamonds and pearls in most jewellery collections.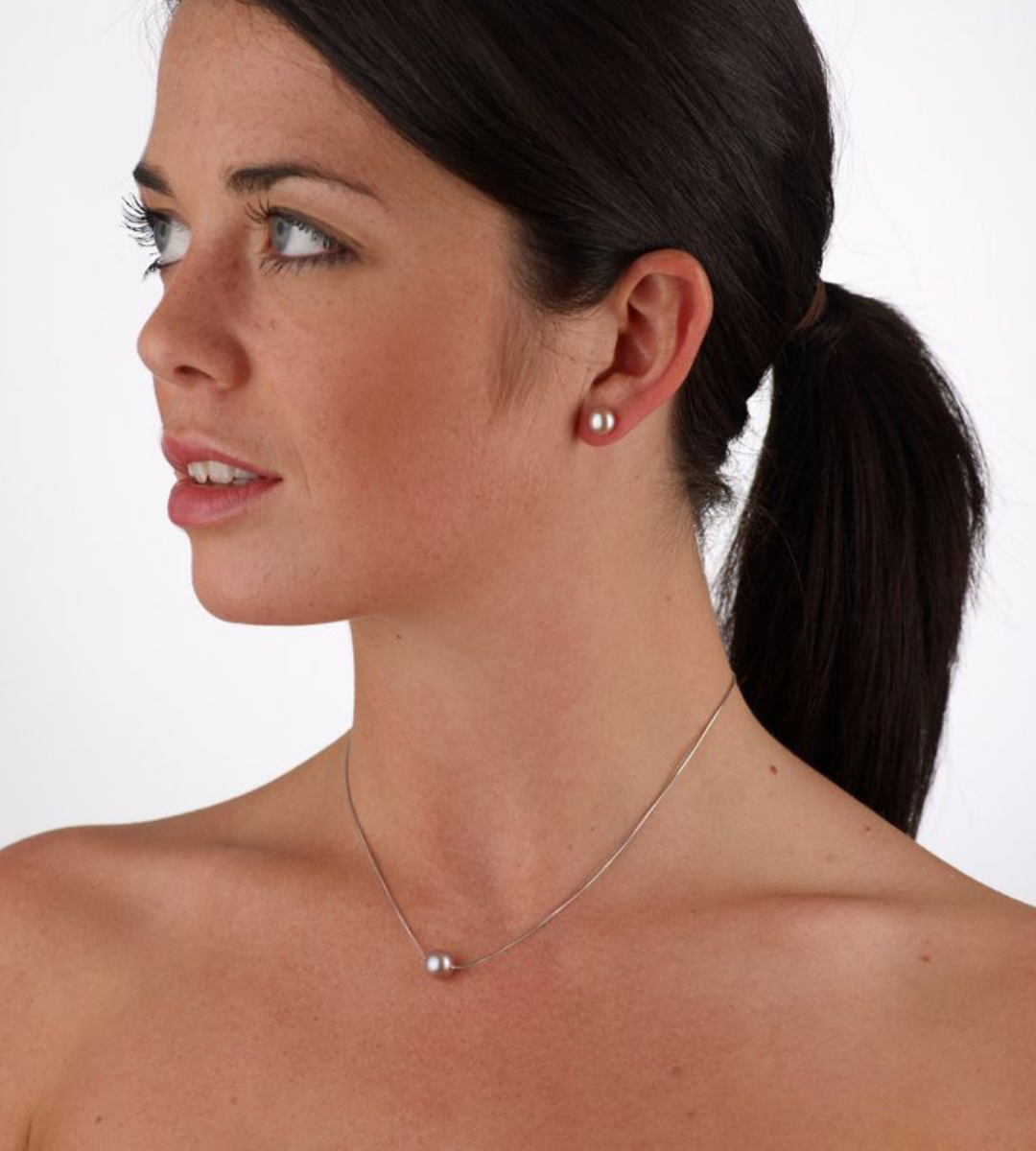 Single freshwater pearls on modern hoops or dainty chains, for instance, look lovely with satin or lace. While delicate gold chains with charms or details are ultra trendy and fabulous with summer wedding dresses. Choose charms with personal significance. Like birthstones or symbols that have special meaning for you.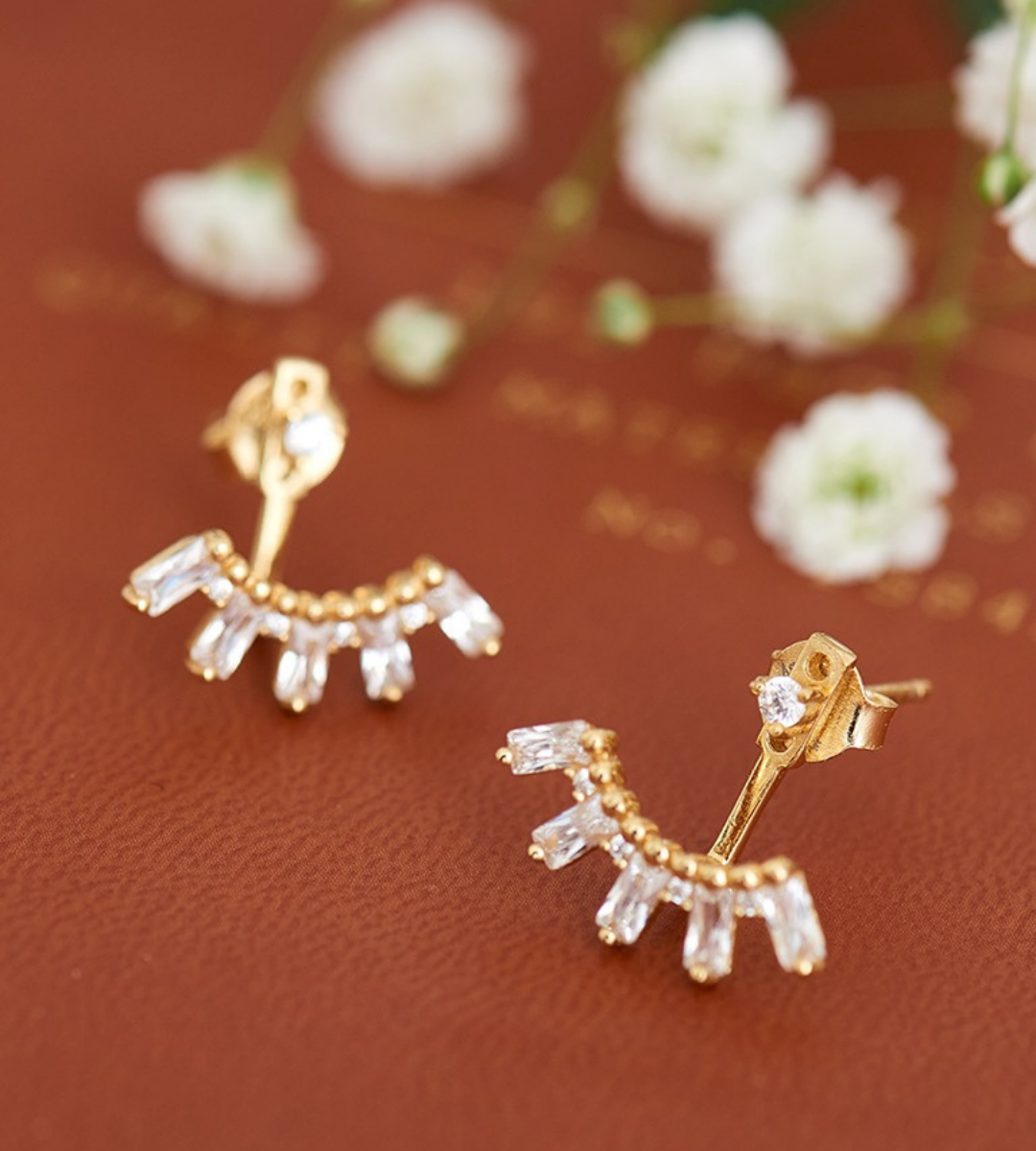 If you prefer sparkle, there are some stunning modern crystal and gemstone pieces by the likes of Ania Haie. The Glow range, for instance, provides instant glamour with modern charm.
For evening affairs or floaty dresses, you can go big and bold. Like Sarah Alexander's moonstone earrings and necklace, offering a different kind of sparkle to go with your outfit.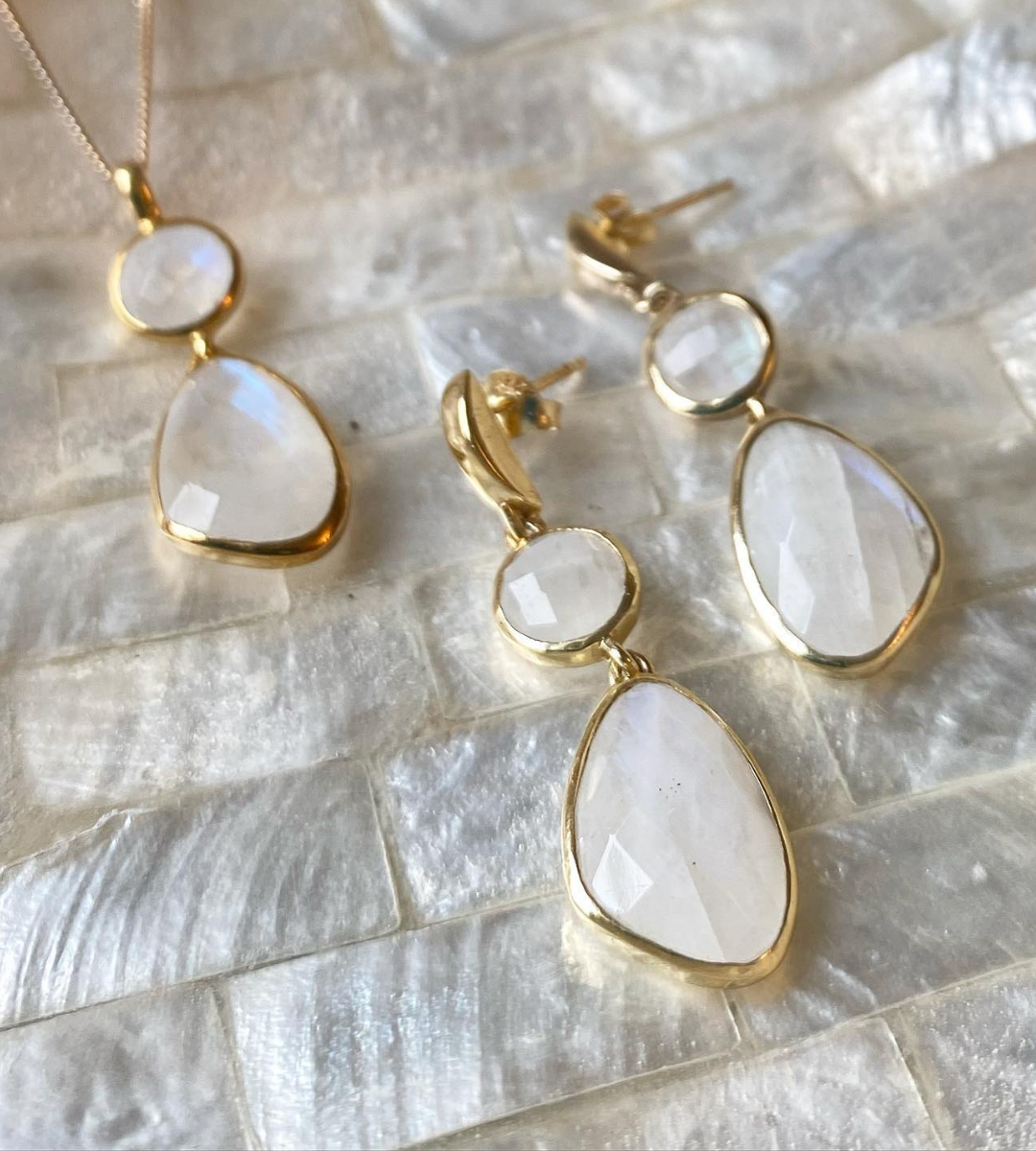 Hair love affair
Your hair is an important part of your wedding look. No doubt you'll have been looking at styles that suit your dress, but don't forget that there are some stunning hair pieces on offer too.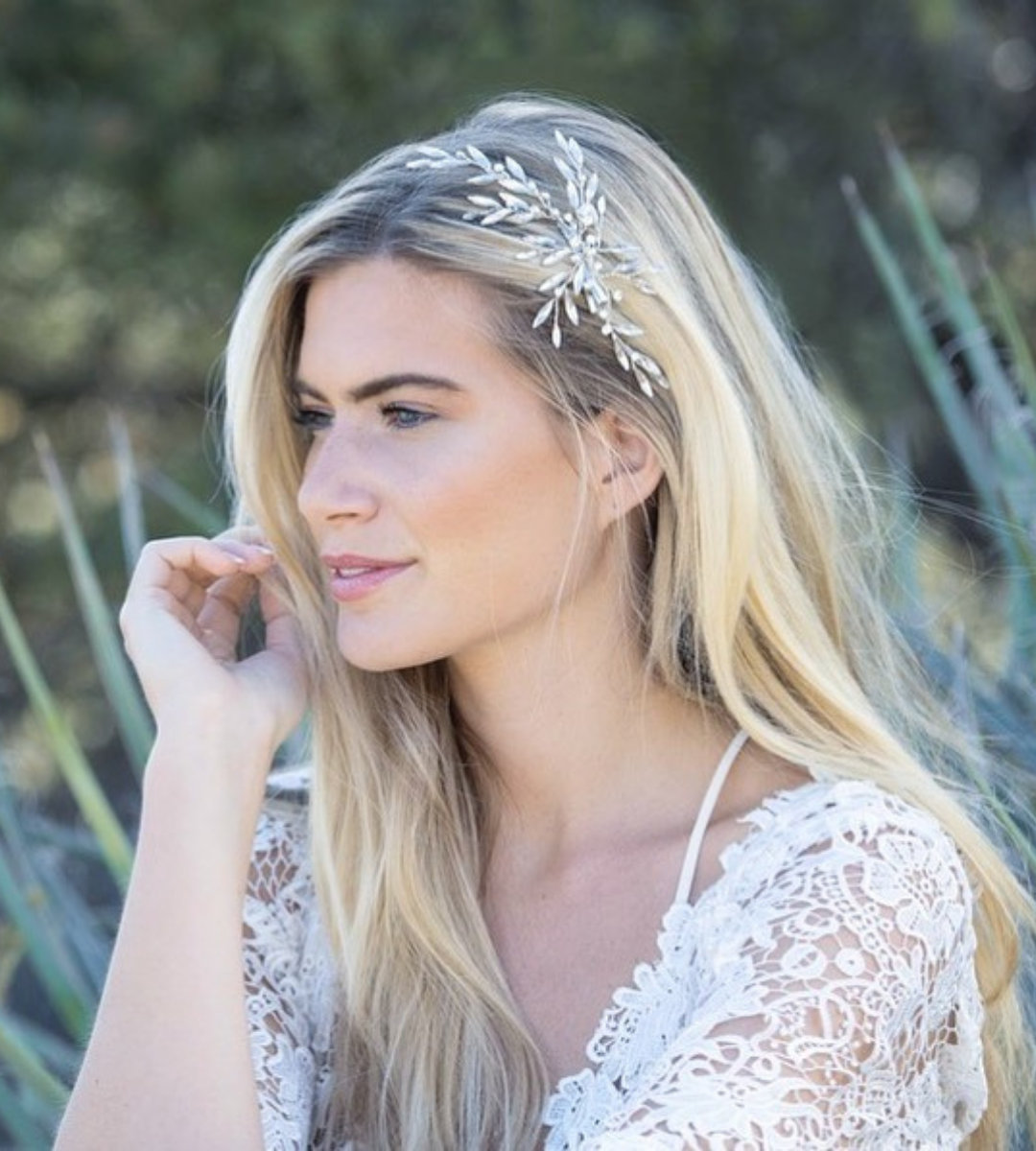 From tiaras to complement the traditional dress. To pretty floral headpieces that look gorgeous with flowing summer wedding attire. There are headpieces, clips and combs to suit every look, from modern to vintage.
Finishing touches on your wedding jewellery look
Whatever you choose, we wish you all the best for your special day. Choose the look that's right for you and don't be afraid to do something a little different. As well as necklaces and earrings, consider sparking ear cuffs and bracelets and ankle bracelets, depending on the look and style of your wedding and your own personal taste.
Don't forget your bridesmaids either. Jewellery that matches or complements the bride's makes a wonderful gift for your bridesmaids and maid of honour. Give them something personal, so they can remember your special day too.