Holidaying at home this year? Feel like you're missing out on tropical beaches, beautiful colours and far flung places? Don't worry, we've come up with three jewellery looks to make you feel holiday fabulous - without even needing your passport.
How to look hot at home this summer with three essential staycation jewellery looks
Many of us are missing our usual getaways this year. But even if your passport isn't getting an outing, your jewellery doesn't have to stay in.
Jewellery makes you feel special and stylish, even on those dull, grey days. So if you're wishing you were somewhere else right now, try out these three jewellery looks. We've put together some ideas for your Beach Days, Summer Nights and City Breaks. Covering all the vacation at home looks you'll need and bringing holiday spirit and sparkle to your staycation.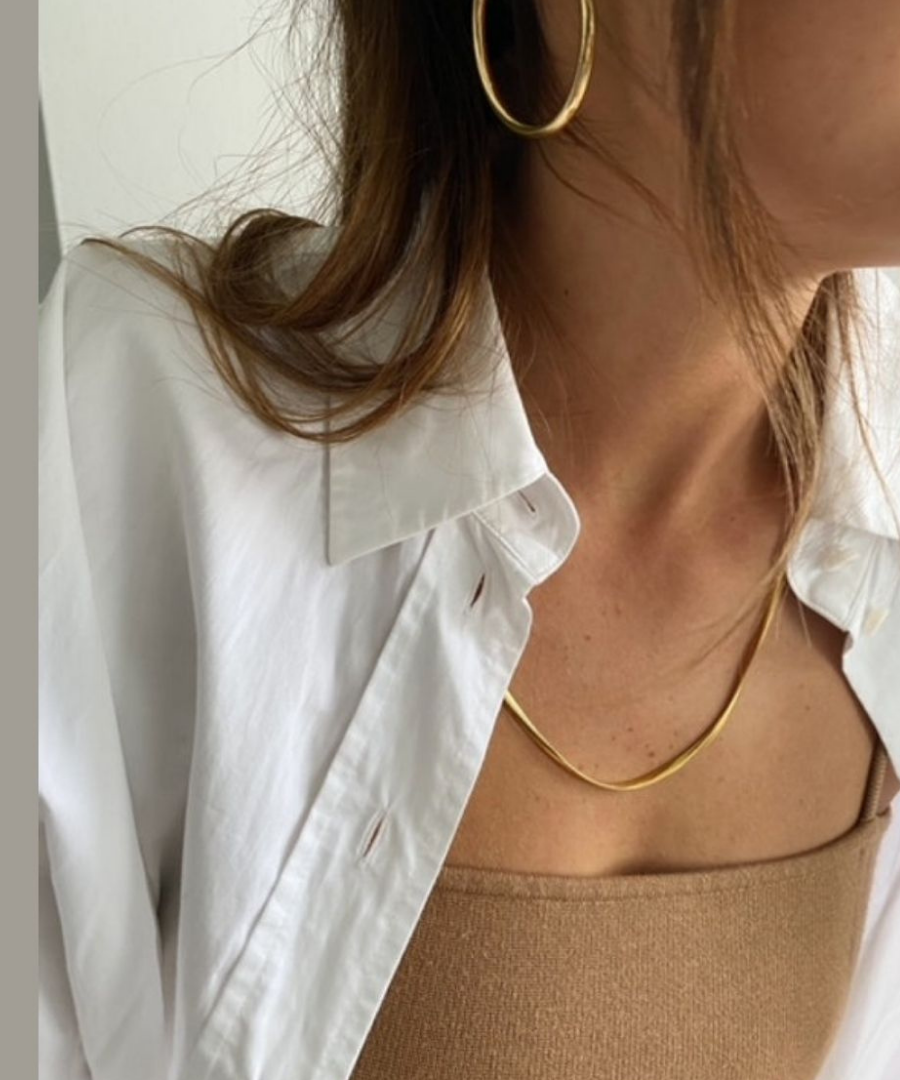 Beach days: bracelets and bangle stacks
It might not reach tropical temperatures on your staycation, but you can still sizzle on the beach, with all the latest bracelet stack trends.
Here are three to try:
Beach beads
Layer your beach beads bracelets in pretty seaside colours for a sweet and surf look. 
Jersey pearl's Sky range, for example, is super summery. Made from little round gemstone beads and real pearls, they come in a range of traditional British seaside colours. Reds and blues, pinks and pearly whites mix like ice cream sundaes, striped deckchairs and little rows of beach huts. Find your favourites amongst the coral, moonstone, black agate, rose quartz combos and more.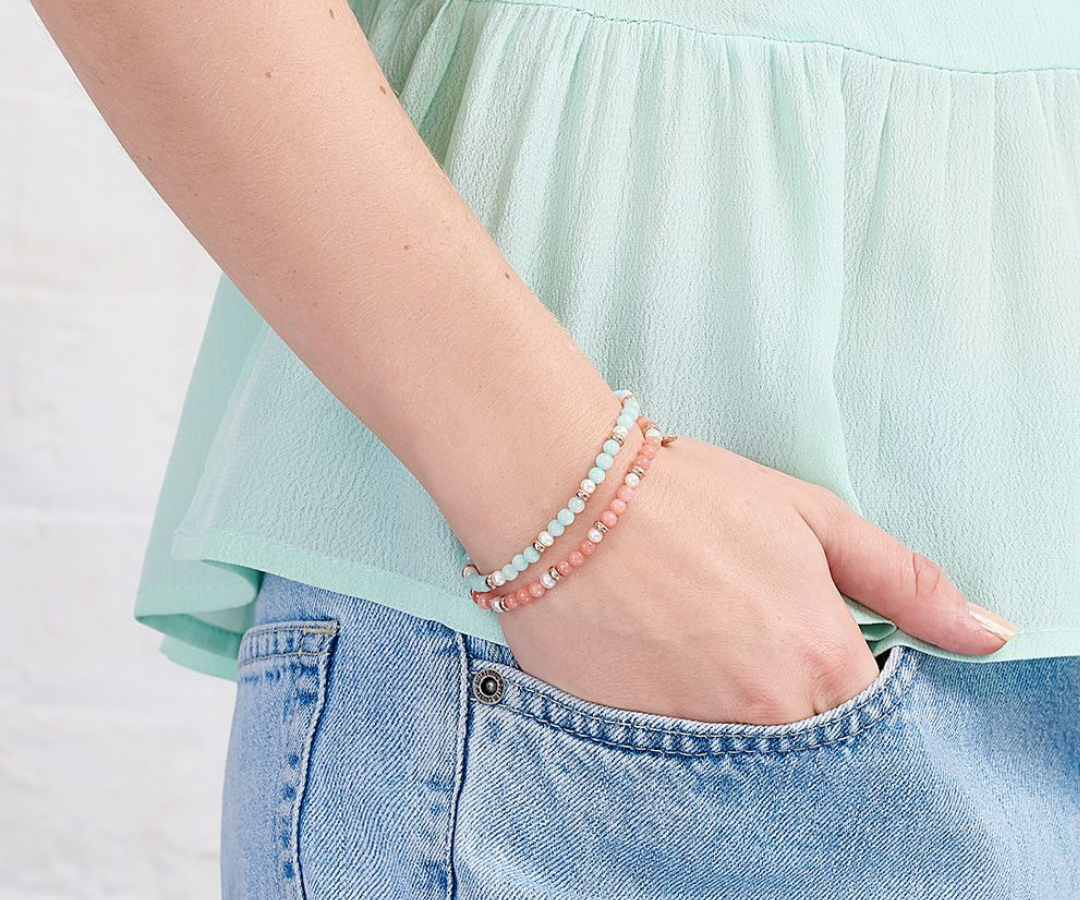 Annie Haak also has some stunning silver and turquoise beaded bracelets to mix and match. Made to stack and perfect for summer. The soft silver and blue look breezy and beautiful, like a day at the beach. Perfect with summer dresses or jeans and a tee.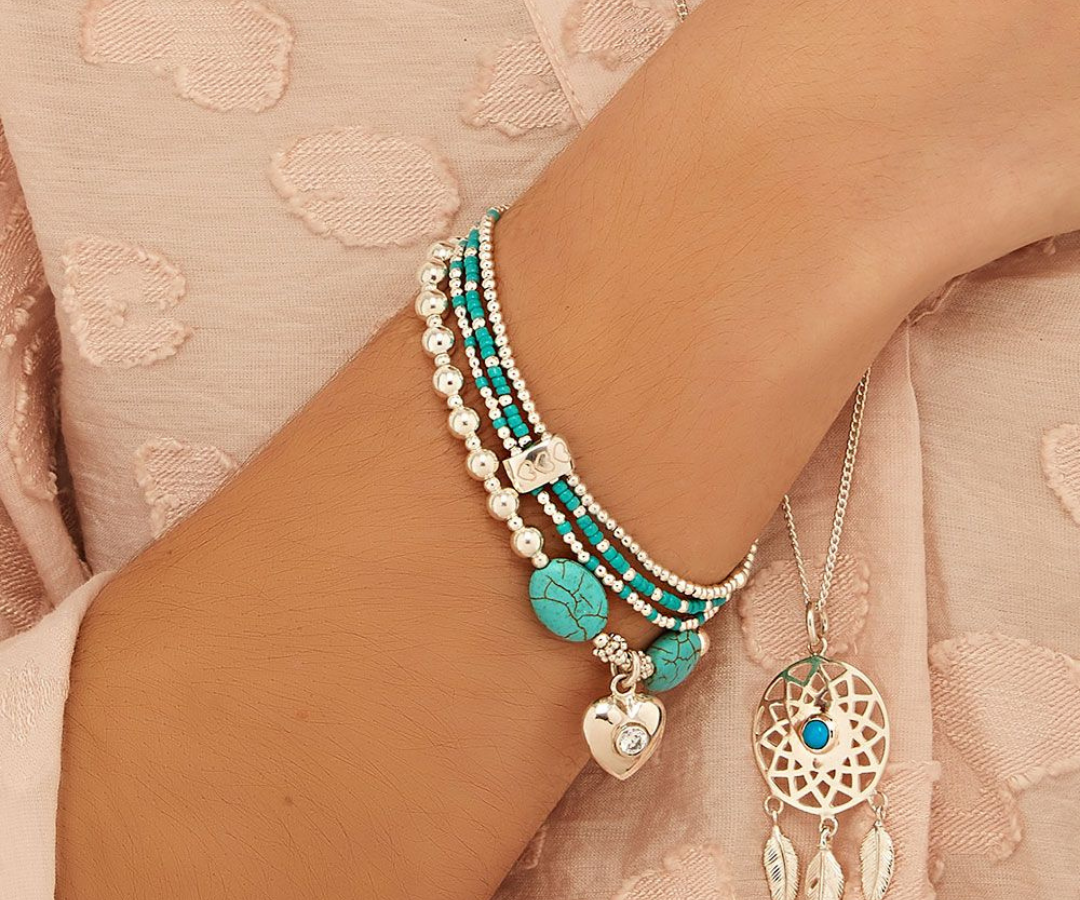 Gold chains
Gold chains always look stunning in the sunshine. Which means stacking your gold chain bracelets is sure to get you in the holiday mood. 
Ania Haie has a stunning selection of pretty chains. They come embellished with droplets and details, colourful shell pieces and tiny sparkles. Plus mini gold medallions and more, ideal for channelling your inner sun goddess.
Gem get-away
If you're missing adventures in faraway places, check out Sarah Alexander's beautiful gemstones. The soft greens and deep blues remind us of mountains and lakes, sandy white beaches that go on forever, deserted islands and deep blue seas. Layer them up to create your own colourful landscape.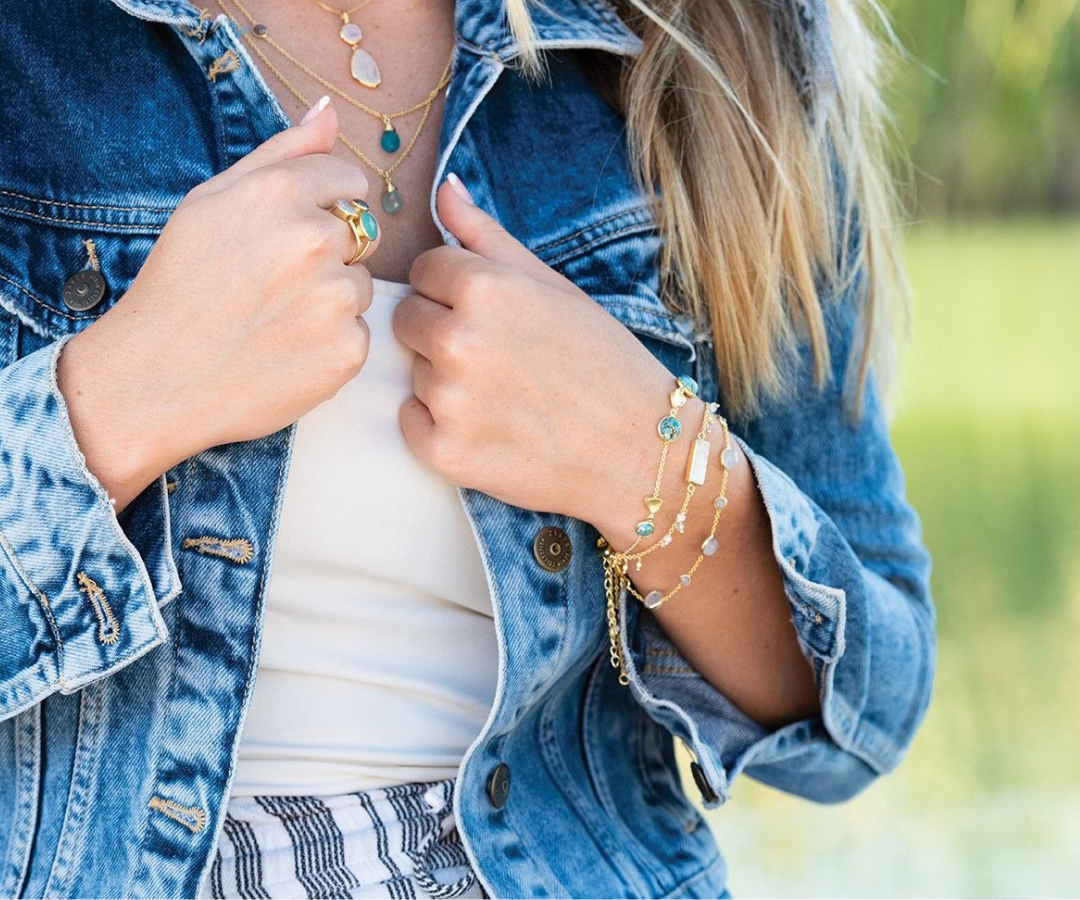 Summer nights on the rocks: stones and sparkle
When you're stuck at home and the weather isn't playing ball, it's time to hit the emergency 'sparkle' button. Plan a big night out to lift your spirits, get out your jewellery box and bring on the bling. 
Show girl style
Turn heads on the dance floor with Swarovski's new giant gemstone range. Swarovski have always been the masters of sparkle, but this year they've upped the ante. Giant crystal rocks stun as clip-on earrings, rings and more, embracing the 'go big or go home' spirit. Light-up the room like a Las Vegas show with one of their showstopper sparklers.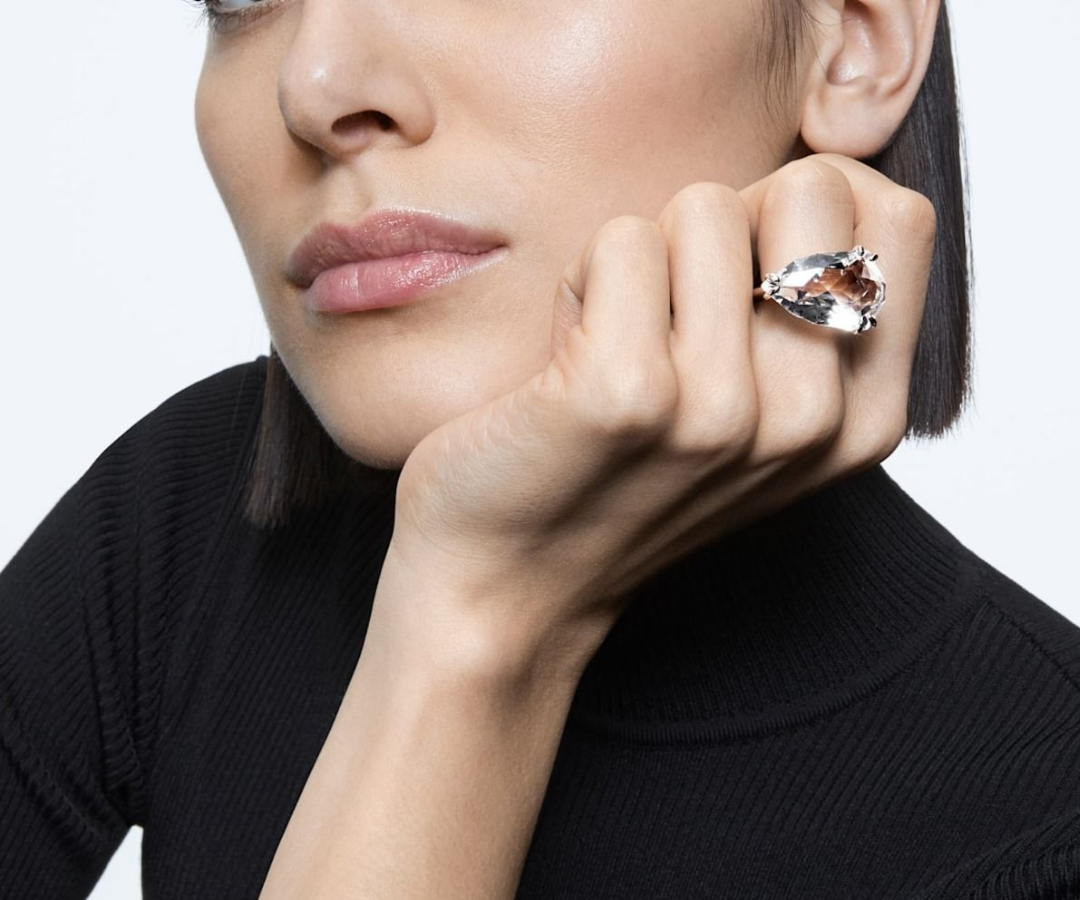 Vintage glamour
Meanwhile, if you like a more subtle look but love your gemstones, London brand Shyla has the answer. Cutting their gems into vintage-inspired shapes and placing them in gorgeous gold settings. Their pieces remind us of champagne flutes and chandeliers. Ballrooms and Hollywood divas. Bringing old-fashioned glamour and modern style to your summer evening outfit.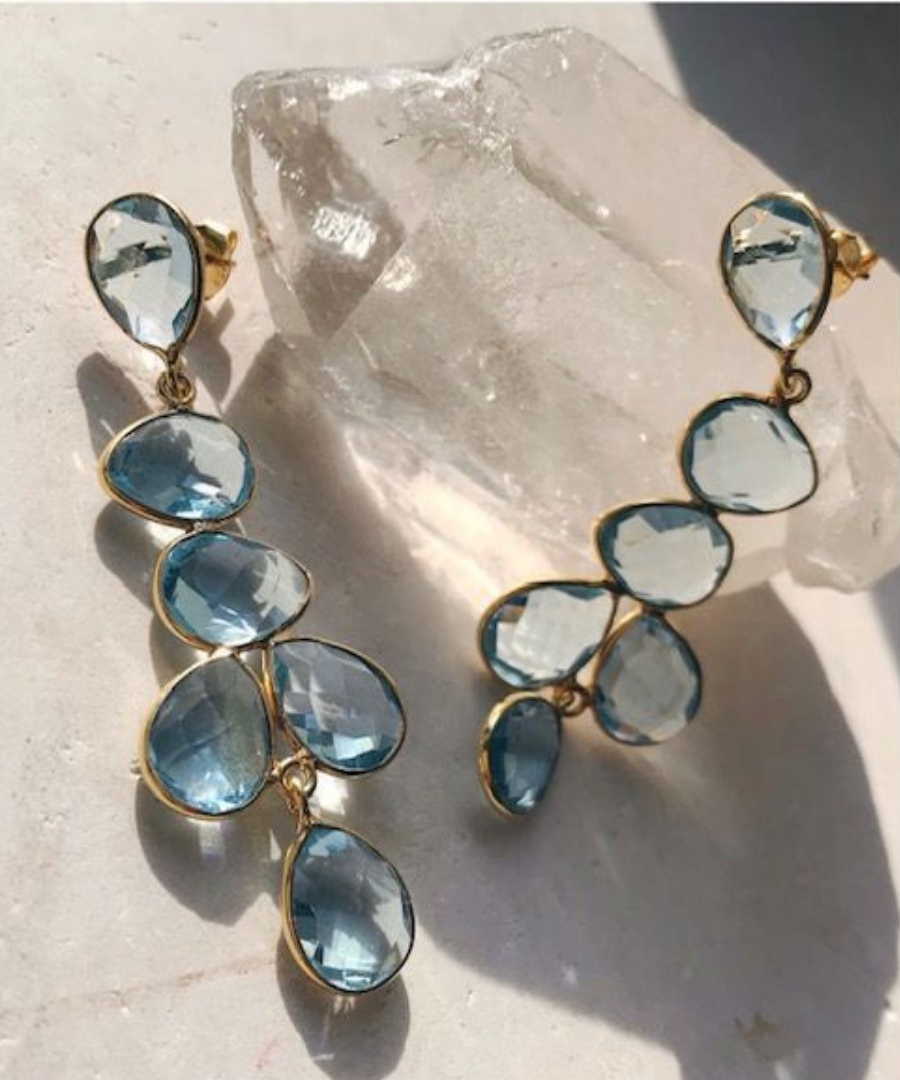 City break chic: the sophisticated stacking jewellery look
If you love a city break, recreate the excitement of exploring a new city with the urban jewellery look. Large hoops and layered necklaces, chunky link chains and earring stacks are all big in city chic.
Get stacking
Ania Haie are champions of the layered jewellery look. They have plenty of stackable necklaces, earrings and rings to choose from. Combine chain links, pendants and chokers to build your carefully crafted look.
Heavy chains and hoops
Gold chains and big hoops also go well with city chic. Calvin Klein make excellent heavy chains for power-dressing. Team them with Sarah Alexander's large gemstone rings to look like you mean business.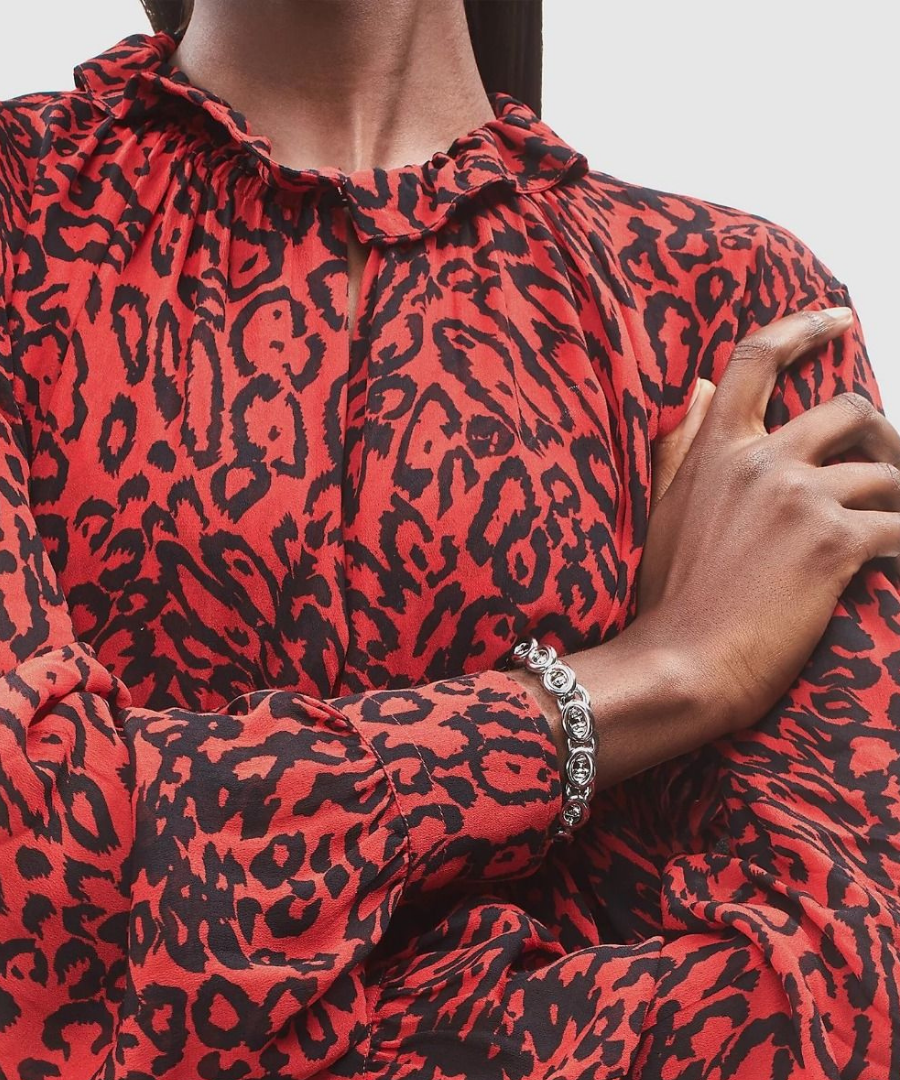 Meanwhile Shyla's range of chunky hoops look bold and beautiful with jeans or a trouser suit. Combining textured gold and cut gemstones in gorgeous and colourful creations.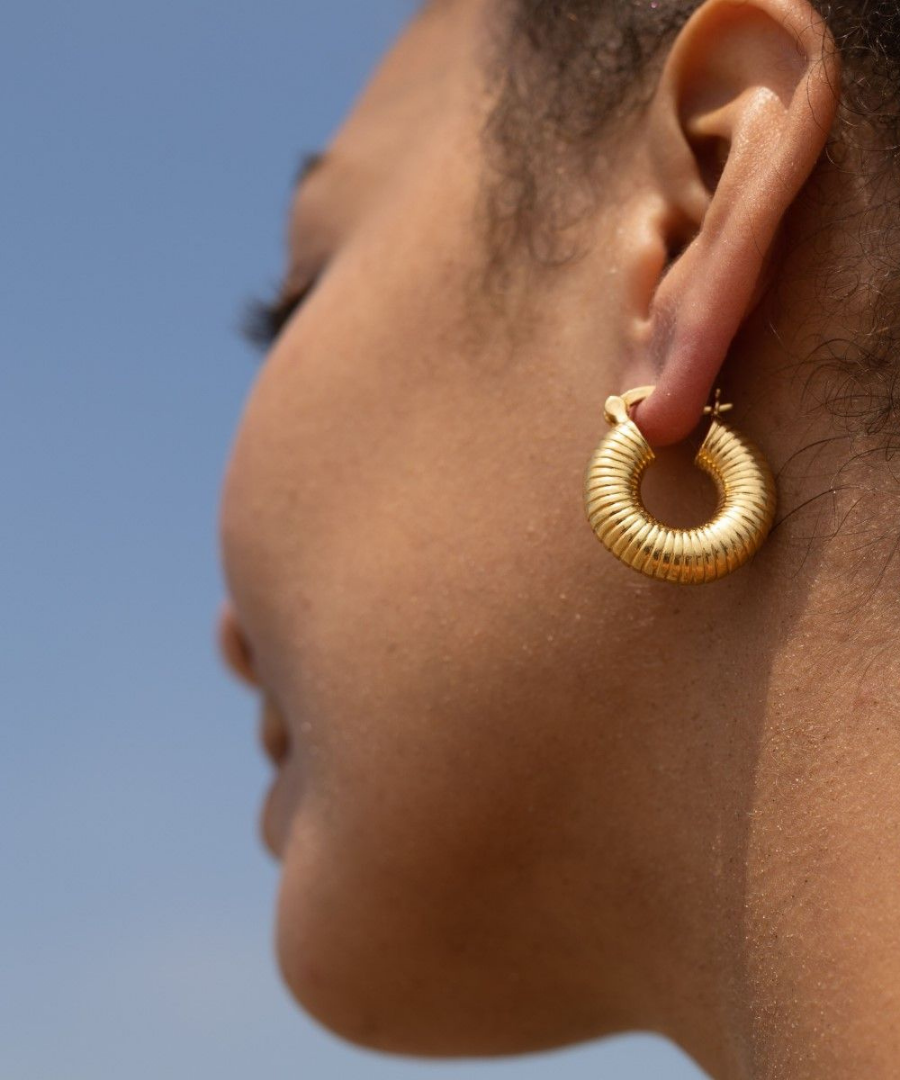 But if you want to bring the office aesthetic bang up to date, choose from one of the modern day pearl designs on offer. Earrings, rings and more to accessorise the modern pearl queen at home in the city.
Jet, set, go and staycation jewellery looks
Whether you make it abroad or enjoy a staycation at home, unlike the weather, your jewellery will never let you down.
Brighten your day or night with one of the jewellery looks above and you'll bring sparkle wherever you go. Choose a few key pieces or start a collection and you'll have a jewellery look for every place you visit, at home or abroad.
Happy and safe travels (or stays) to you all.