Getting engaged or thinking of popping the question? You might need some engagement ring inspiration.
Here we will walk you through some of the most popular styles, and things to consider when choosing this important piece of jewellery.
Whether you are going it alone or choosing together, it's often a difficult choice. An engagement ring is will be worn daily and admired often. So it's important to get it right.
Here are some designs to keep an eye on in your search for the perfect engagement ring:
Solitaire diamond ring
The timeless classic, a solitaire round cut diamond engagement ring is still the most popular design. And for good reason. The solitaire design keeps the diamond as centre stage, and is a very strong symbol of commitment.
A solitaire engagement ring with a simple platinum band is the perfect choice when you want to be sure it will never go out of fashion.
Many brides to be are now sporting shoulder diamonds, which means the band of the ring is set with small diamonds to compliment the centre stone and add extra sparkle.
Just be aware that if you are planning a wedding band containing diamonds, you'll need to be sure it works in harmony with the shoulder diamonds. But there's no denying it's pretty: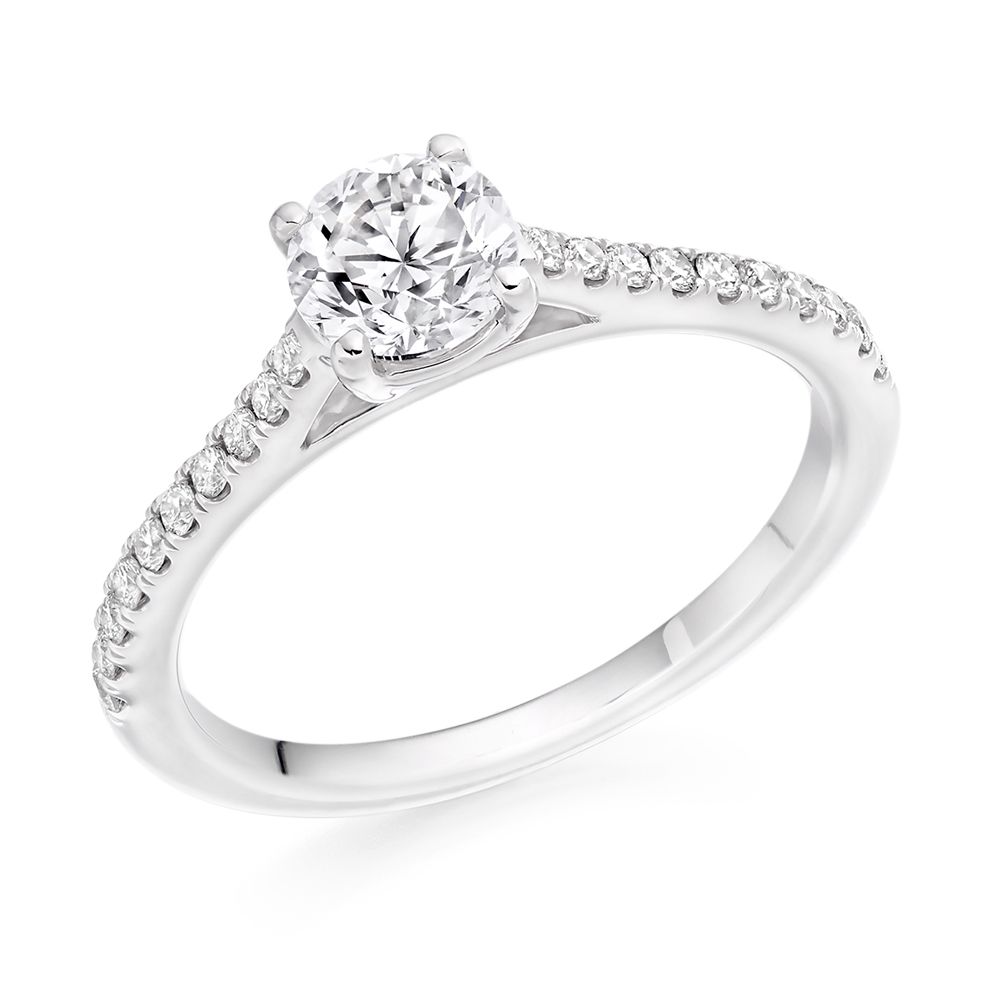 Why we love a solitaire: A solitaire ring is an elegant classic design and won't go our of style.
Top tip: With a simple solitaire engagement ring, you can have more fun with different styles and choices of wedding band.
Halo engagement ring
The diamond halo surged in popularity in the Art Deco era, and has been back for a number of years.
A diamond halo is when the centre stone is surrounded by a round 'halo' of smaller diamonds. This gives the centre stone the illusion of being larger.
Halo rings are a strong contender for brides-to-be who would like a slightly modern update to the solitaire ring. Yet it's still quite a classic design thanks to its longstanding popularity.
There are quite a few different ways to design a halo ring, and this is one of our favourites: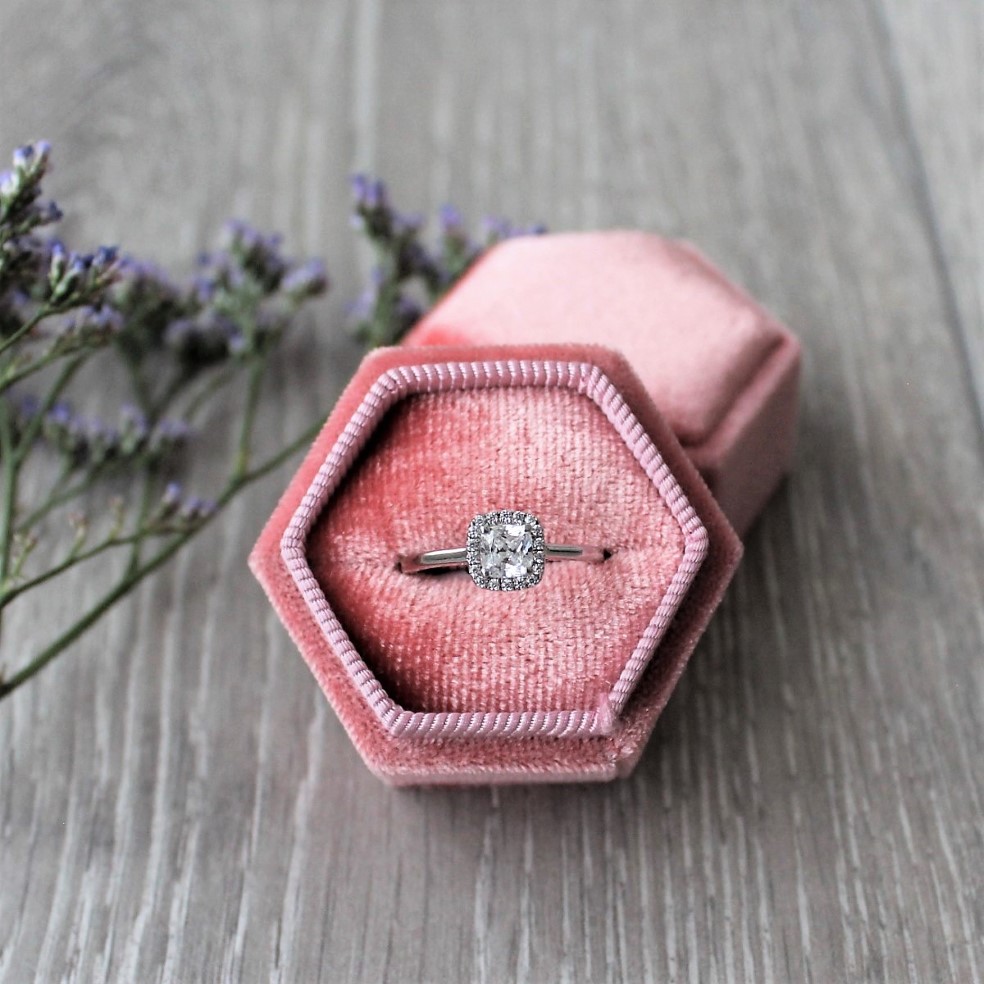 Why we love a halo: Makes your diamond look larger and more sparkly - who wouldn't love that?
Top tip: Be careful to ensure the halo is not too low so as to restrict your choice of wedding bands - try it on with wedding bands before settling on your design.
Oval cut diamond
Traditionally, the round brilliant, princess cut and emerald cut have been favoured diamond shapes. Enter the gorgeous oval shape diamond cut.
The oval has become more popular with the likes of Kirsten Dunst, Jennifer Aniston and Blake Lively having rocked the oval shape for their engagement jewellery.
We think this will gain even more popularity as the surface are per carat is larger than some traditional cuts, again giving slightly more bling for your buck.
Like this beautiful classic oval shaped engagement ring: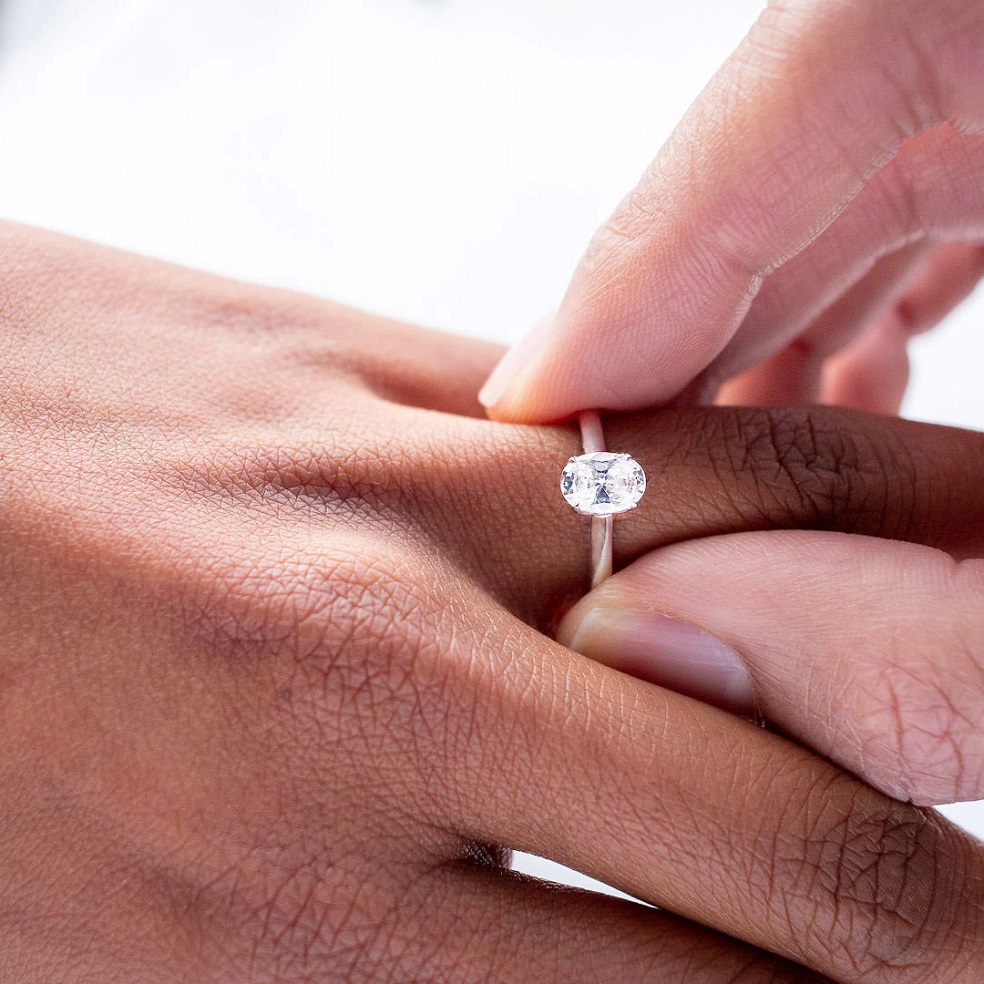 Why we love an oval cut: A modern twist on the classic cut, yet still beautifully balanced. This cut has the potential to become staple engagement ring cut.
Top tip: If you are considering popping the question with an oval cut ring, subtly check she is on board - it's a newer cut, so a round cut is still more classic.
Three stone or trilogy rings
The 'Meghan Effect' - what more can we say? With the union of Prince Harry and 'Suits' star Meghan Markle, there was a huge spike in online searches for three stone rings.
But in truth trilogy rings have been popular for some time. First as anniversary rings, and more recently as engagement rings.
Their popularity is thanks in part to the rich symbolism, with one stone representing past, present and future. How's that for engagement ring inspiration?
There are lots of ways to design a three stone ring. Choose a bigger diamond for the central stone, with smaller stones either side - or go for three diamonds the same size. Go for three stones the same shape, or try different shaped size stones from the centre stone, like this stunning 'Love Note' ring by Brown & Newirth: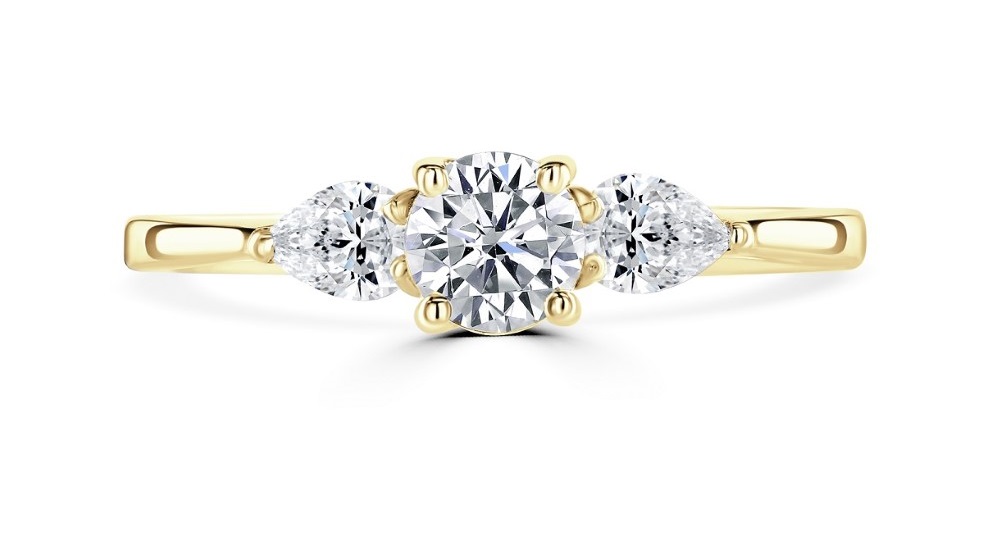 Why we love it: The balance and symbolism. There's something zen about three things, plus bonus points for being meaningful.
Top tip: Try different shaped side stones from the centre stone for a modern yet classic look that is unique to her.
Different colour stones
Recently we've seen future brides going for less traditional central stones, combined with smaller white diamonds.
Morganite, aquamarine and yellow diamonds are all increasingly popular choices with brides who are a little less traditional but still want a stunning statement ring.
Morganite comes from the same mineral family as emerald and aquamarine, and varies between the feminine tones of pale pink, rose and peach.
Then there's aquamarine, which also makes a stunning centre for an engagement ring.
Yellow diamonds are the most common form of naturally occurring diamond, yet are still quite rare.
We especially love this fancy yellow diamond halo ring with a pear cut centre stone: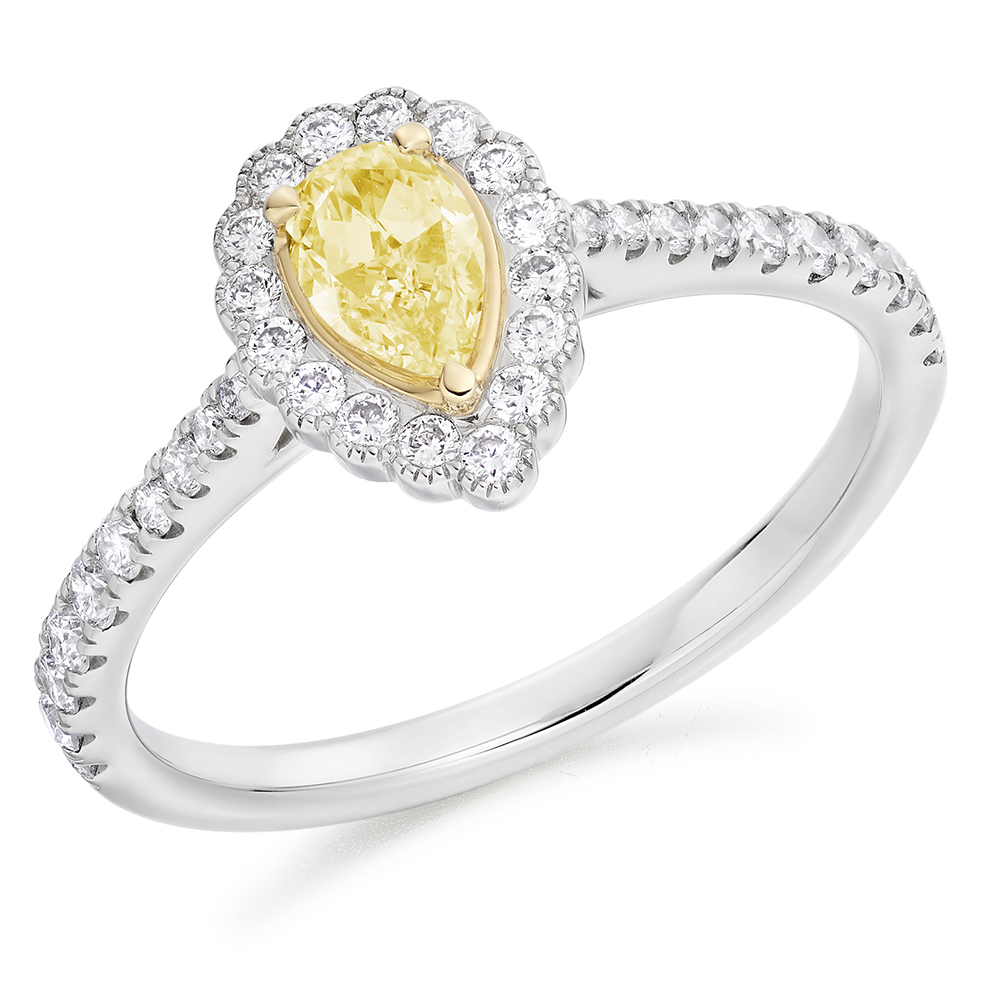 Why we love coloured stone rings: Different coloured stones are bold and unique. We love a bit of different. A treasure trove of engagement ring inspiration.
Top tip: Make sure the colour of stone you love works with your skin tone - try lots of different coloured gemstones before you settle on 'the one'.
Rose or yellow gold
Rose gold and yellow gold jewellery have each had their popular moments in time. At one time yellow gold was the main engagement and wedding ring metal.
Many engagement ring designs now come with a gold option, rather than only being available in traditional platinum or white gold.
Our made to order engagement ring designs can all be made in your choice of metal. Which is another way to personalise your ring.
Or consider having a ring custom made to your design. It's not as hard as you think - find out more in our article Design your own engagement ring.
Check this out for a stunning gold and diamond halo engagement ring: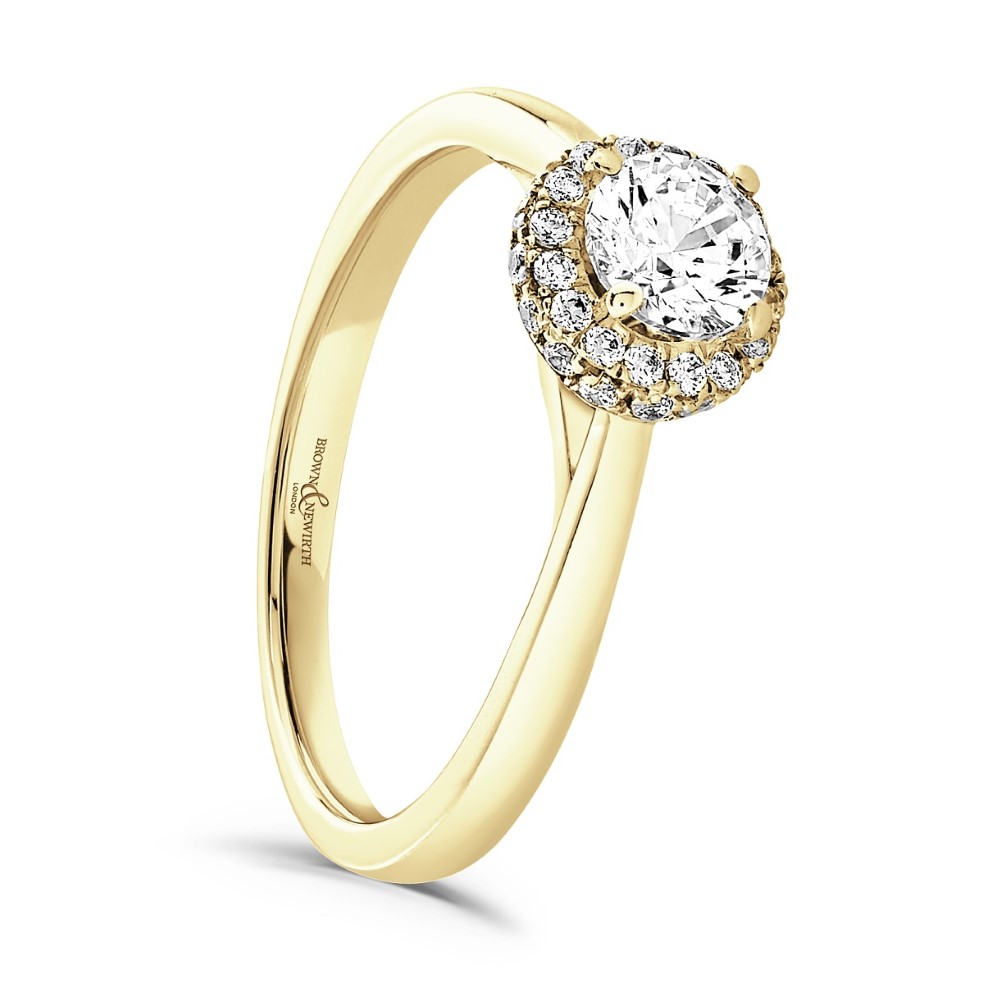 Why we love it: We love the contrast of a sparkling white diamond with yellow or rose gold. It really makes the diamond stand out.
Top tip: Think ahead to your wedding band - will you be happy with both the same metal, or will you mix and match?
And next...
There are so many wonderful engagement ring designs and types, it can be overwhelming. But with a bit of inspiration and research, you'll find the perfect ring design.
The Clogau Compose Ring Builder is a handy tool that helps you visualise the same ring in different metals as well as diamond cuts and sizes. You can also explore different designs you may not have previously considered before making a decision about a piece of jewellery you will wear every day for many years to come.
Or if you're local to Leigh-on-Sea, pop in to see our team at Niche Jewellery about your options for engagement ring design. We can help you with every step from engagement ring inspiration to the finished piece.
Happy engagement ring shopping!
From time to time we update our style edit content to bring you the latest jewellery tips and ideas. This engagement ring inspiration post was revised in June 2022 for the latest in engagement ring styles.