The Magical Kingdom is no longer the stuff only kids dream of. More and more people are carrying an interest in all things Disney into adulthood. With the remake of so many Disney Classics and a Magical Kingdom just across the channel, who doesn't love Disney on some level? If you are pondering gift ideas this Christmas, and know a Disney lover or two, here are some ideas for you!
The versatile gift
These Mickey and Minnie stud earrings will appeal to all ages. Created by Swarovski to celebrate Mickey Mouse's 90th anniversary, these rose gold-plated pierced earrings feature a simple silhouette of Mickey or Minnie in black crystal. Created using Swarovski's exclusive Pointiage® technique, Minnie also features a vibrant red bow. These earrings are a playful and stylish accessory - full of sparkle, just like Minnie and Mickey themselves.
[gallery columns="2" size="medium" ids="580,581"]
Subtle Disney style
For a subtle nod to Disney, perfect for grown-up Disney lovers, is the Mickey and Minnie Y Necklace or Bracelet - or both! The necklace is plated in rose gold, featuring a chain embellished with a dark crystal, threading through a clear pavé silhouette of the iconic Disney character, finished with a small Mickey motif embellished in black crystals.
Team it with the Mickey and Minnie Bracelet - also plated in rose gold, and featuring entwined silhouettes of Minnie and Mickey, decorated with black and red pavé. Both are a romantic and understated design, the perfect gift to yourself or a loved one.
[gallery columns="2" size="medium" ids="583,582"]
Best for every day use
Who doesn't love a smartphone? If your Disney-loving friend or loved one carries their smartphone everywhere, why not add the Disney touch with the gift of a smartphone case? Available in one subtle and one not-so-subtle design, there is something for every taste!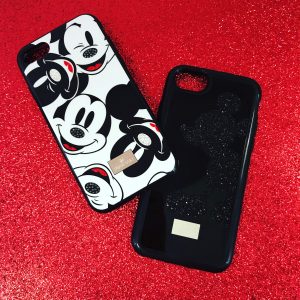 The keepsake
What about a Disney lover who prefers a more sophisticated keepsake of their love of the Magical Kingdom Characters? Swarovski has created a range of Disney characters to choose from. From Disney Princesses to Starwars, here are just a few, or browse Niche Jewellery's whole Disney Crystal range here.
[gallery size="medium" ids="585,586,587"]
The biggest fan
If your friend or loved one isn't shy about their love of Disney, check out these beautiful Mickey or Minnie pendants, with mixed coloured stone detail and Mickey or Minnie silhouette plus black crystal pave Mickey or Minnie icon.
[gallery size="medium" ids="589,590,591"]
Browse all Swarovski Disney gift ideas here.
Enjoy!