Many of us are spending more time at home than usual because of the Coronavirus, so it's also a great opportunity to make our homes even more delightful. Find the new Swarovski Crystal decorations to adorn your home.
We are facing unprecedented times of social distancing. But we can take this opportunity to improve our homes while we are spending more time there.
There are many ways to increase the wow factor and enjoyment of your home. Painting a room that's long overdue for a new coat, investing in a new piece of furniture, and adding sparkle to your home with a piece of Swarovski Crystal.
One of the things we love best about Swarovski, is their unending creativity. Swarovski is constantly coming up with new ideas and designs to keep their collections fresh and on-trend. And here at Niche Jewellery we stock a large range of Swarovski Crystal for your home, so new pieces are being released each season.
Here we give you our top tips for the best new Swarovski crystal decorations available on our Niche Jewellery website.
Disney Frozen 2 Elsa Character
The long-awaited sequel to Disney's Frozen film is out, and with it this stunning Swarovski Crystal Elsa from Frozen 2. This piece is a true centrepiece and will be a much admired addition to your home.
The newest addition to the Swarovski Disney characters collection is Elsa from Disney's Frozen 2. This much loved character is depicted in the Swarovski Crystal decoration wearing her iconic dress from the movie, crafted in 343 stunning facets. The exquisite craftsmanship of this piece can be seen in the detail in her hair and face.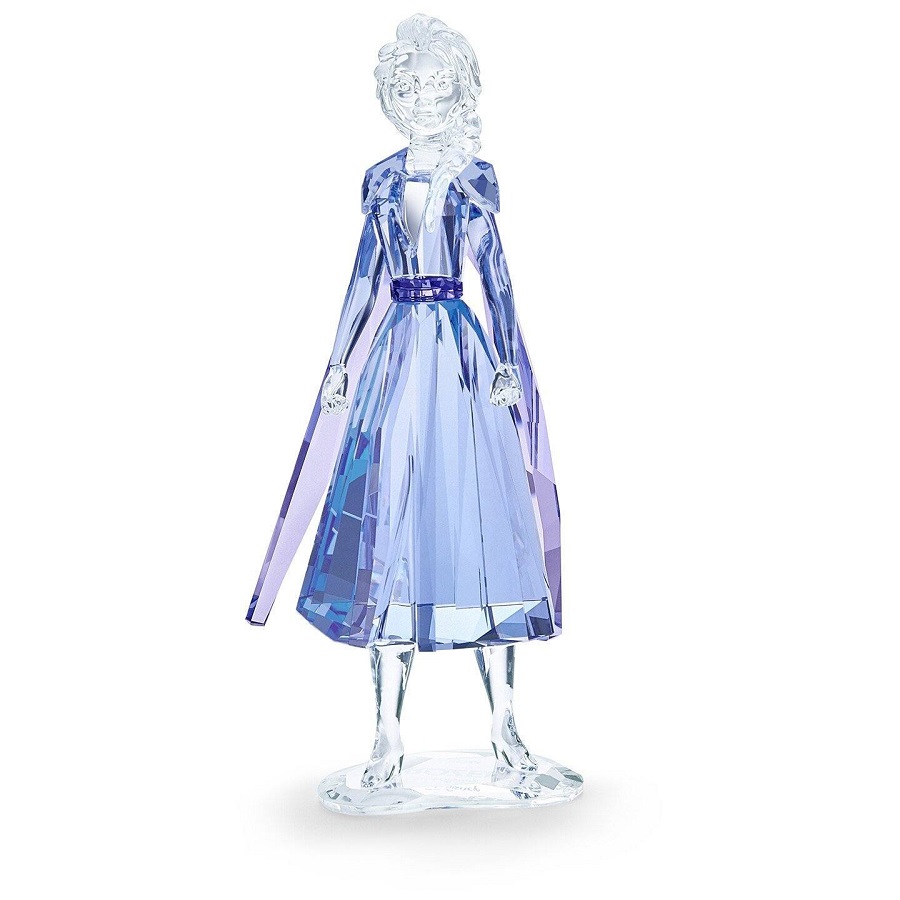 Who is it best for? Any Frozen 2 fan, young or old, will love this very special Swarovski Crystal piece. This makes a wonderful gift for Swarovski lovers and Disney fans alike. They won't last long, so get yours before they sell out.
If this stunning Elsa isn't quite right, get more inspiration from our Disney crystal collection.
Crystal Love Birds
The Swarovski Crystal Love Birds figurine is the perfect gift to show someone how much you love them. This piece features a romantic motif of two lovebirds sharing a heart shaped crystal balloon.
The stunning facets of the two birds with golden coloured crowns and the pink coloured crystal make this a beautiful and romantic display that will add sparkle to any room, its meaning being an added feature making this an extra special piece.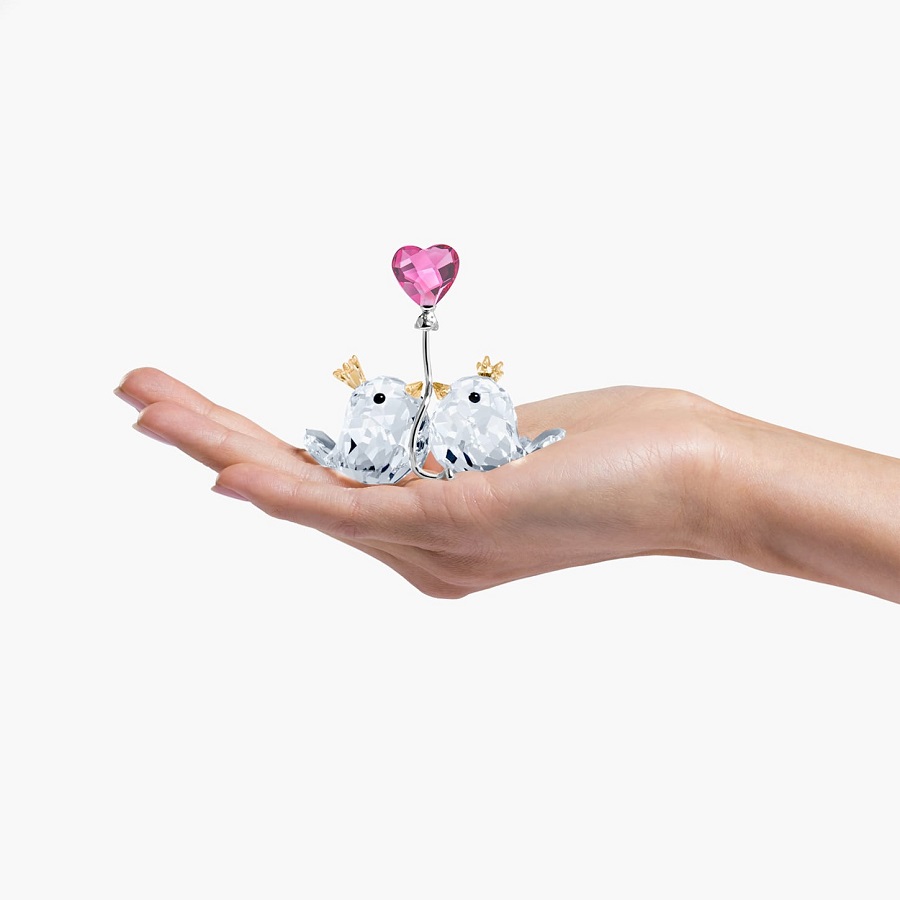 Who is it best for? This piece is great for an anniversary present or just a gift to remind your loved one how much they mean to you. This is especially important in these trying times.
If Crystal Love Birds isn't quite right, you can shop our range of animal themed Swarovski Crystal for even more inspiration.
Swarovski crystal decorations and figurines make unique and stunning gifts.
Baby's First Tooth Wagon
The Swarovski Baby's First Tooth Wagon is a great collectable item to commemorate your baby's first tooth or to gift to a new parent or parent to be. It is a special Swarovski way of keeping your treasured memories safe forever.
This wagon can also be displayed and used to keep baby's first tooth safe, and is gorgeous on its own. It can also be connected to the Swarovski Locomotive and other crystal pieces, making it a perfect collectible or wonderful gift.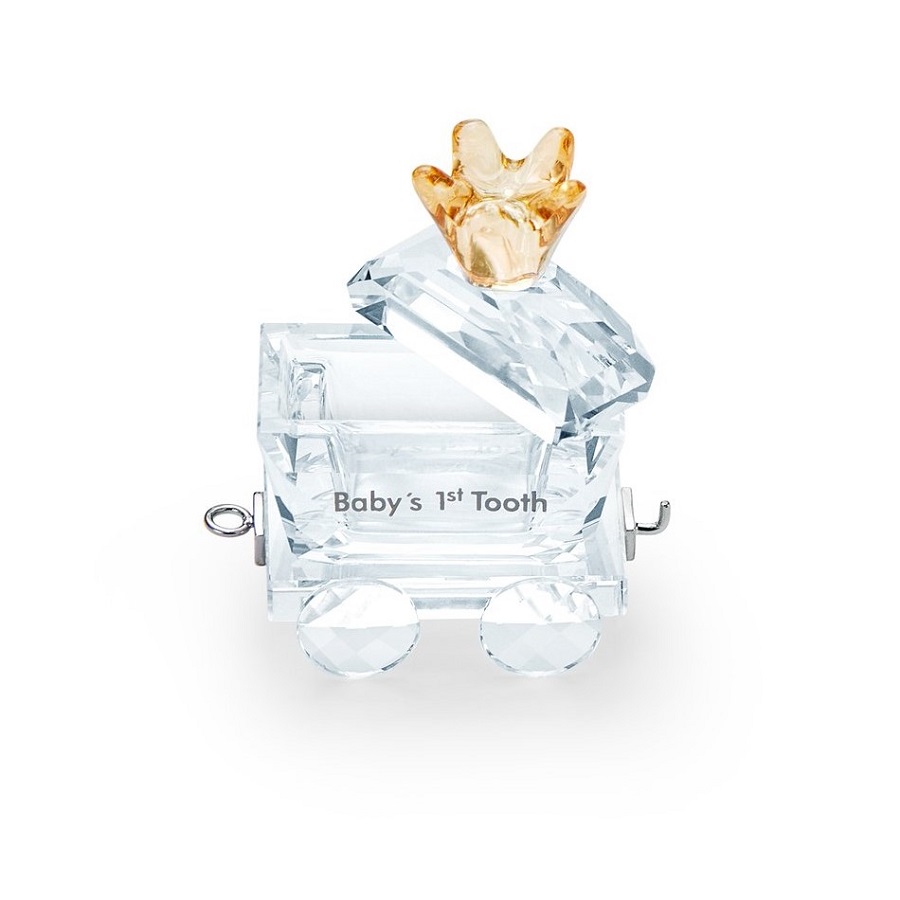 Who is it best for? This piece is a perfect keepsake for your child's first tooth. It makes a brilliant gift for those with little ones or as a first birthday gift.
Other ideas for those with little ones or first birthdays include the Swarovski Crystal Baby Tortoises or Swarovski Crystal Baby Rabbit.
Birthday Princess Mo
This super cute limited edition crystal character is sure to bring joy to any household. Created to celebrate the 15th anniversary of Swarovski's beloved Mo character is this Birthday Princess Mo.
The enchanting mini figurine showcases 182 facets in a Light Chrome effect, creating a vivid look. The party hat and bell with a gold-tone finish complement this unique Mo design in a delightful miniature form. This unique piece makes charming gift for collectors and special occasions.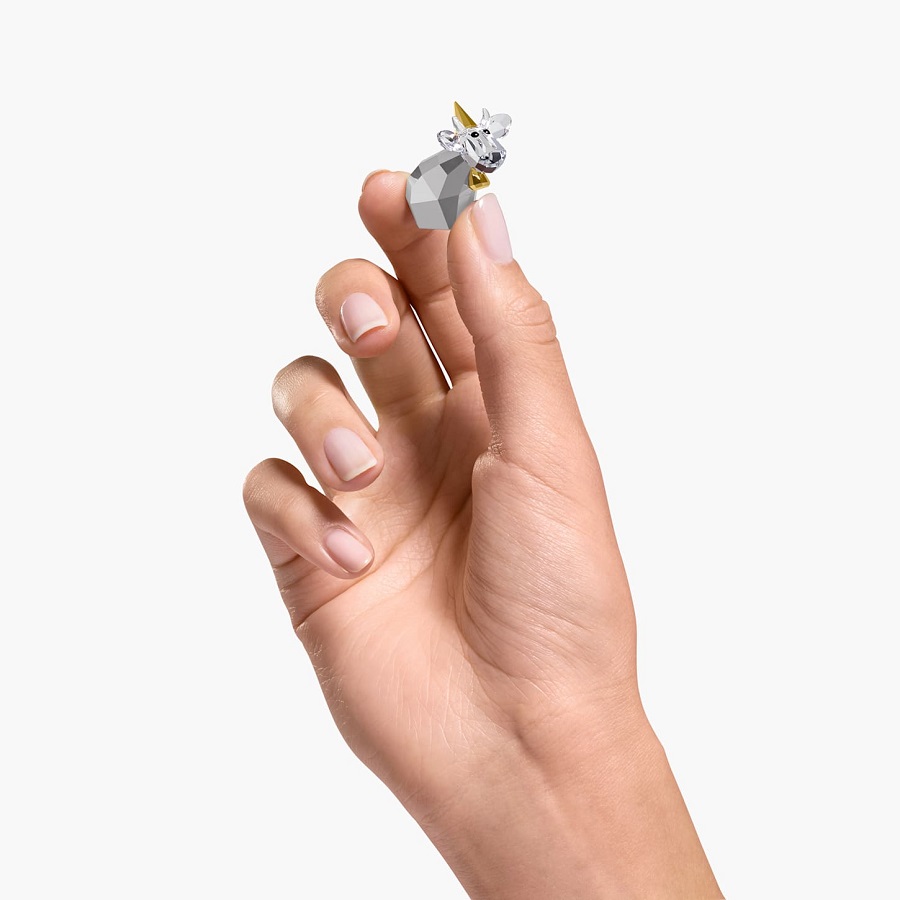 Who is it best for? If  a friend or family member has an upcoming birthday, this is the perfect petite gift to show you are thinking of them. It's small and cute, so won't take up too much space in their home, but will be a treasured keepsake to the recipient of this gift.
Not quite right? Try the Replica range for more petite animal figurines. Or shop all Swarovski Animal themed crystal.
Swarovski Crystal Light Tumblers
Add a little sparkle into everyday life with this stunning set of two Swarovski Crystal Light Tumblers. These are crafted in German-made glass and embellished with 90 delicate crystals to create a glamorous effect, day and night. These tumblers make a lovely gift because they are something special that not everyone would buy for themselves, yet make a luxurious addition to any home.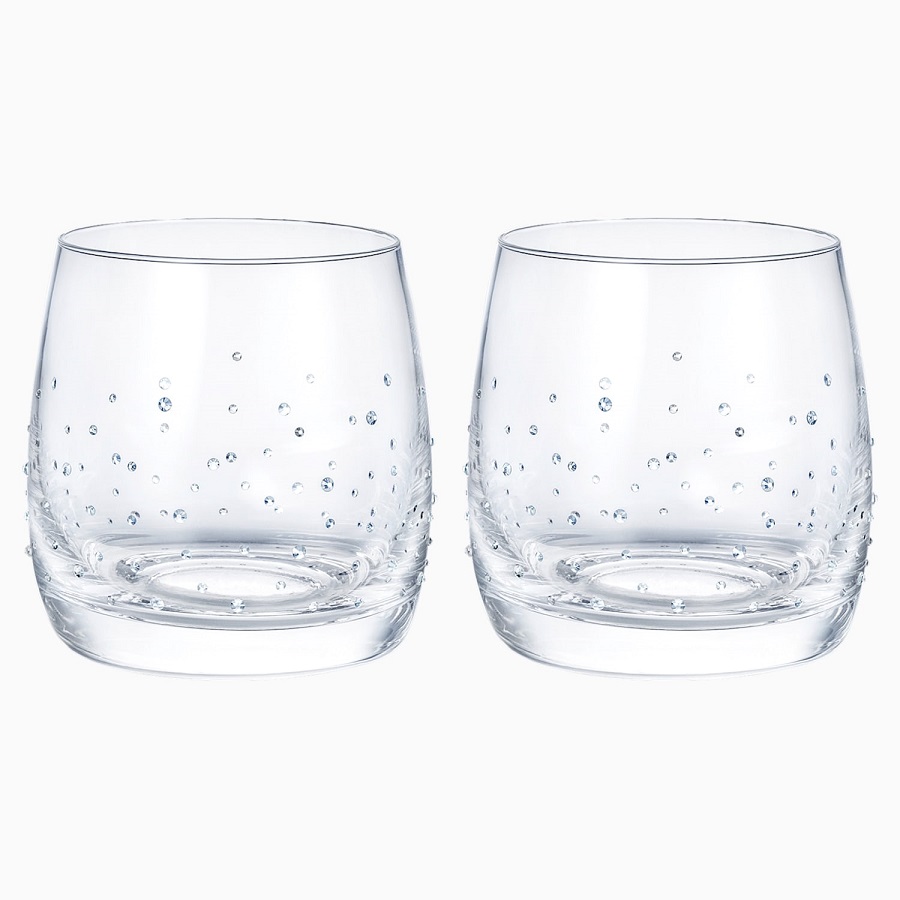 Who is it best for? These glasses are perfect for anyone who enjoys relaxing with something sparkling so make a wonderful gift for a housewarming or as an engagement or wedding gift. These tumblers are perfect for soft drinks and stronger drinks alike because they are a unique homeware that will add glamour to any home.
New Swarovski Crystal
So whether you are staying in during this time of social distancing and would like to add some dazzling light to your home, or you are looking for a gift for a friend or loved one, Swarovski Crystal will add just the right amount of sparkle.
For more newness, shop all our latest Swarovski Crystal.
And for even more inspiration, shop all Swarovski Crystal.
Take care in these challenging and unusual times. Why not cheer yourself and your home up with Swarovski Crystal decorations to add light and sparkle to your home. By doing this you can make the most of the time you are spending there.
If you are a fan of Swarovski Crystal, why not join the Swarovski Crystal Society?
Separation from all but immediate family and having to rely on remote communication methods is hard. So don't forget you can always show your friends and loved ones how much they mean. If you can't see them in person, give a sparkling Swarovski gift from Niche Jewellery.