Are you suffering from the January blues? Step up your style and your mood with these beautiful blues from the Swarovski Anniversary jewellery collection. Celebrate by adding a touch of Swarovski blue that will lift your mood rather than lower it, while also adding style to your everyday look.
This collection showcases a range of blue tones, from cool and icy blue through to dark navy perfection. Featuring some of our favourite Swarovski collections, like Sunshine and Louison. Displaying the same classic designs but with added touches of the blue to celebrate Swarovski's 125th Anniversary in 2020.
Whatever your plans this January, add beautiful blues to your jewellery collection to take you through to the warmer months. Combining classic silhouettes and stunning blue shades, start a new decade with fresh blues and added sparkle.
Biker chic
Unleash your inner biker this January with leather leggings and bright blue patterns. Team with Swarovski's stunning deep blue Anniversary Attract Round Set and Power Collection Slake Bracelet in blue to add a subtle but striking sparkle. Two classic Swarovski designs, that will guarantee to add both glamour and beauty to your everyday style. The versatility of the Slake bracelet makes this a must have regardless of the time of year. Wear as a bracelet or as a choker for two looks in one.
Clothing, handbag and shoes by reiss.com. Round off the outfit with deep navy nail polish and a splash of blue around the eyes. Shop the Swarovski Attract range for more stunning designs in this collection. A simply timeless piece, the Attract set can be worn as an everyday subtle touch of blue, as well as the finishing touches to a dressy outfit.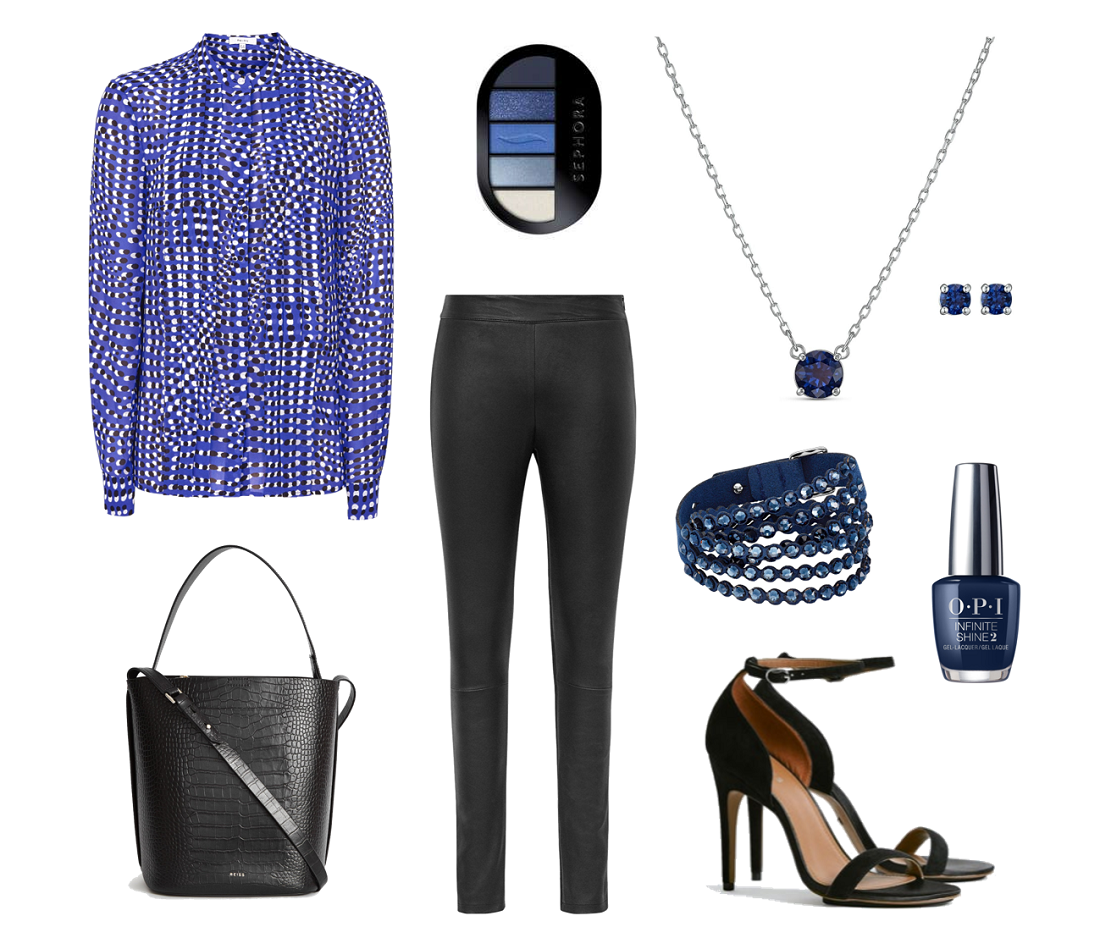 Winter sun
If you are planning a Winter sun getaway or dreaming ahead to your Summer holiday, this stunning sheer shirt dress in cobalt blue by Reiss is paired here with a fabulous black and white swimsuit and neutral accessories.
This leaves plenty of room for beach bling with the Swarovski Louison range in anniversary blue. We simply love the splash of colour added to one of Swarovski's best loved designs. Perfect to take you from the sun lounger to the cocktail bar in style!
Showcasing subtle touches of blue, what we love about the Louison range is the hidden Swarovski swan in the bracelet design. A must have for a Swarovski lover. Combining a timeless silhouette and the added design features, this collection is the perfect way to accessorise no matter the occasion.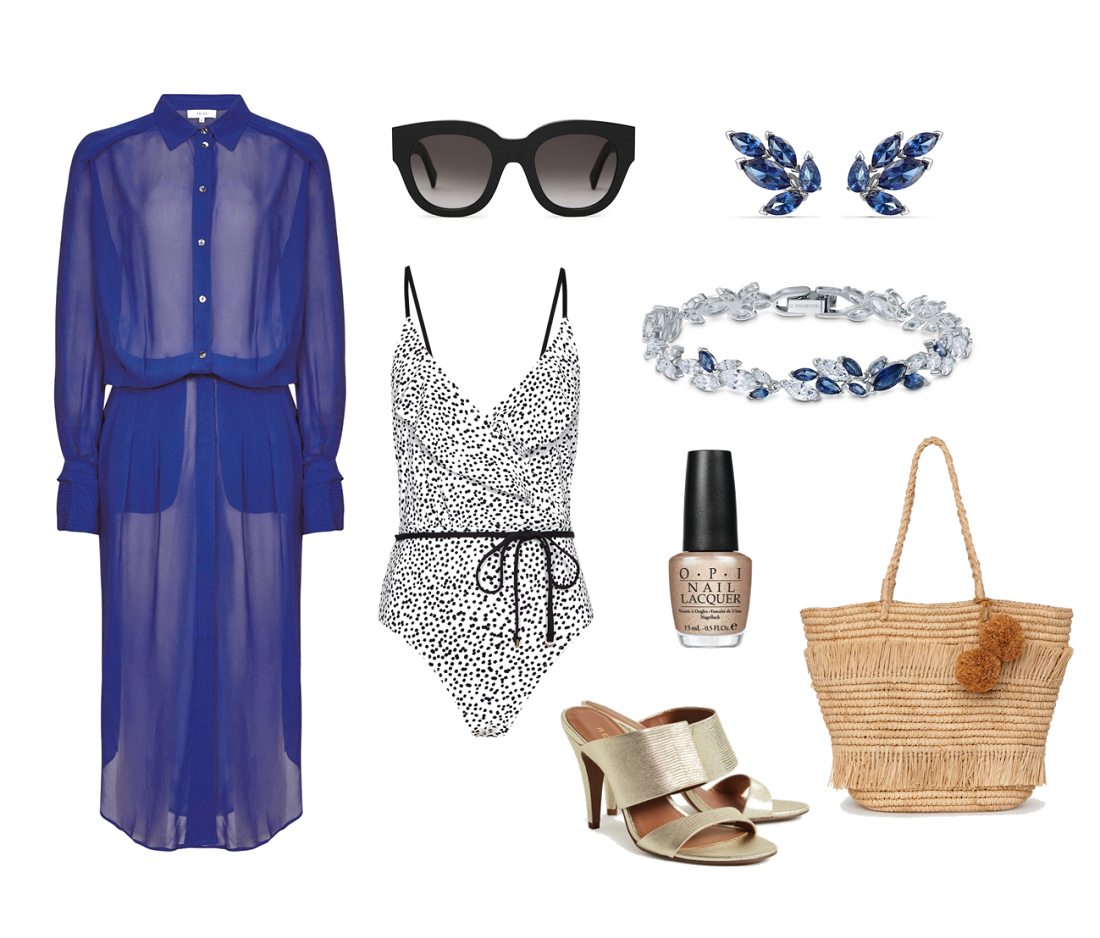 Floral perfection
This super cute floral blue jumpsuit is the perfect outfit for a matinee theatre visit, champagne brunch or a day at the races. Wear with nude tone accessories to maximise the impact of this gorgeous playsuit.
The iconic Dazzling Swan Drop Necklace and Sparkling Dance Round Ring from the Swarovski Anniversary 2020 collection add an extra feminine touch and cool blue sparkle.
Guaranteed to add eye-catching sparkle to any outfit, the Sparkling Dance Round Ring features Swarovski's dancing crystal concept. Designed on a hinge-tilt to move and catch the light at every moment.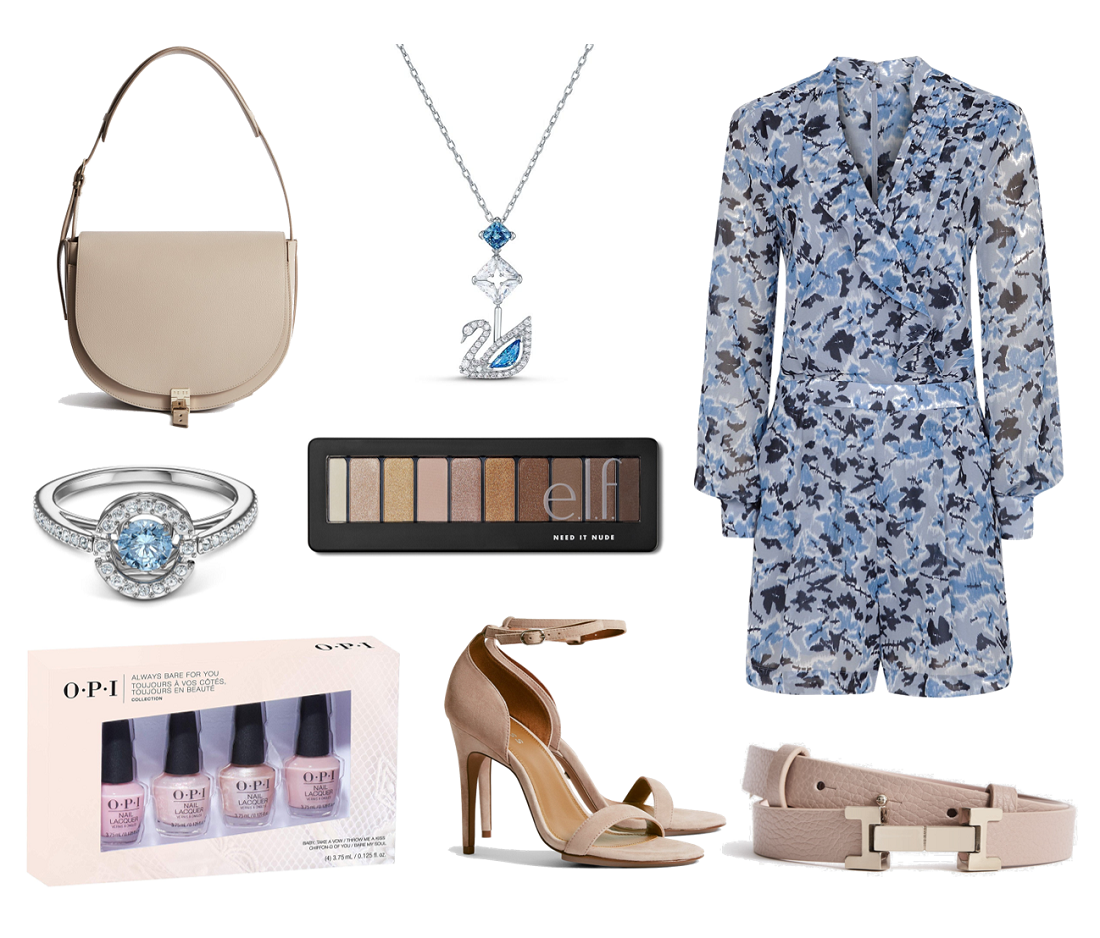 Coral crush
Every Spring, coral in varying shades has a comeback to mark the brightness and optimism of the season. But why not get started early to really lift your mood?
A capped sleeve midi dress in blue is the perfect canvas for bold splashes of coral. Team with subtle blue accents in the Swarovski Further Anniversary Bracelet and matching necklace.
Pairing stunning cool tone blue with a unique design, the Further Anniversary collection would make a great piece to add to any outfit to add that gorgeous touch of colour. In addition to this, the sliding closure makes this a comfortable but stylish addition to your jewellery box.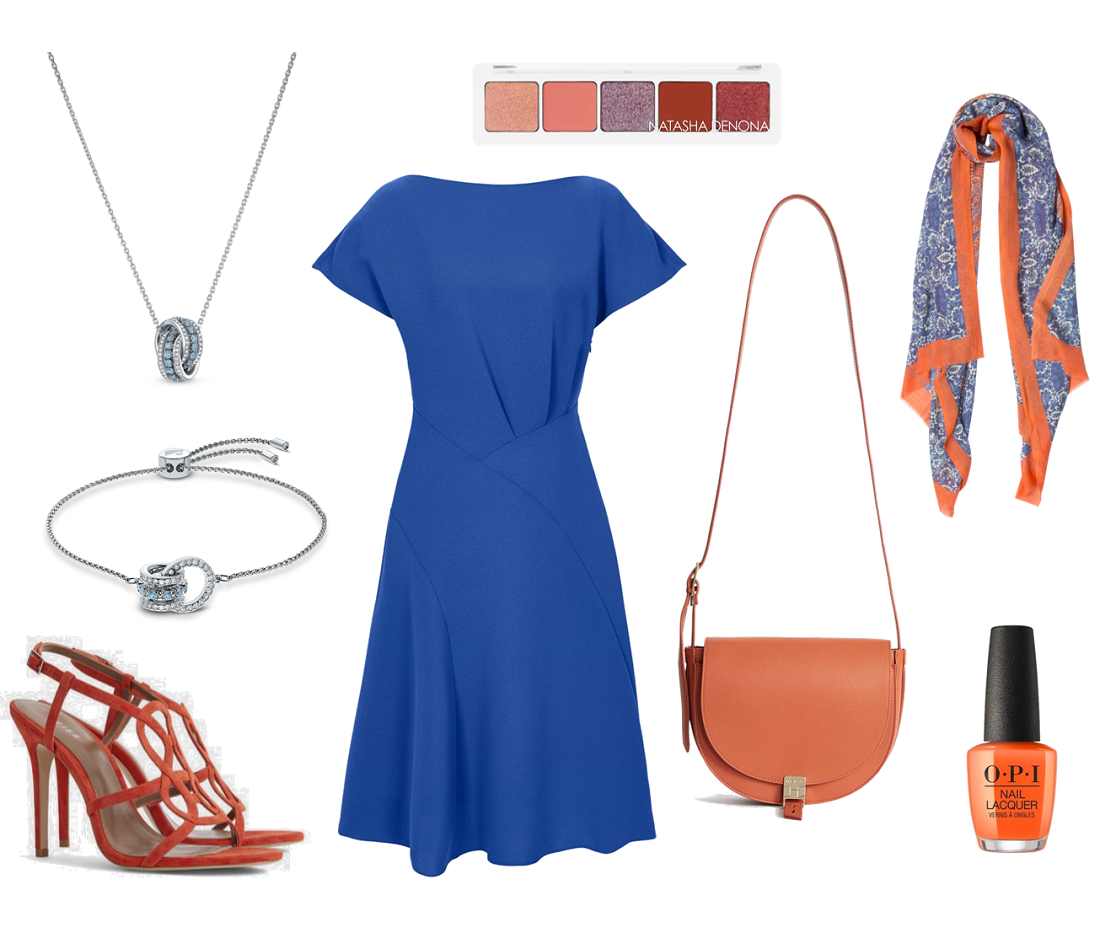 Weekend casual
Navy and neutral make a brilliant weekend combination, especially when offset by Swarovski's Sunshine Anniversary range featuring a cool blue central crystal and a stunning clear baguette halo representing the sun.
Whether it's a brunch date, lunch date or dinner date, nail the casual chic vibe with pieces from Reiss teamed with this beautiful Swarovski Anniversary jewellery.
The perfect way to add a bit of Sunshine to your winter wardrobe. A timeless and playful Swarovski design that will add a bit of feminine charm to your outfit.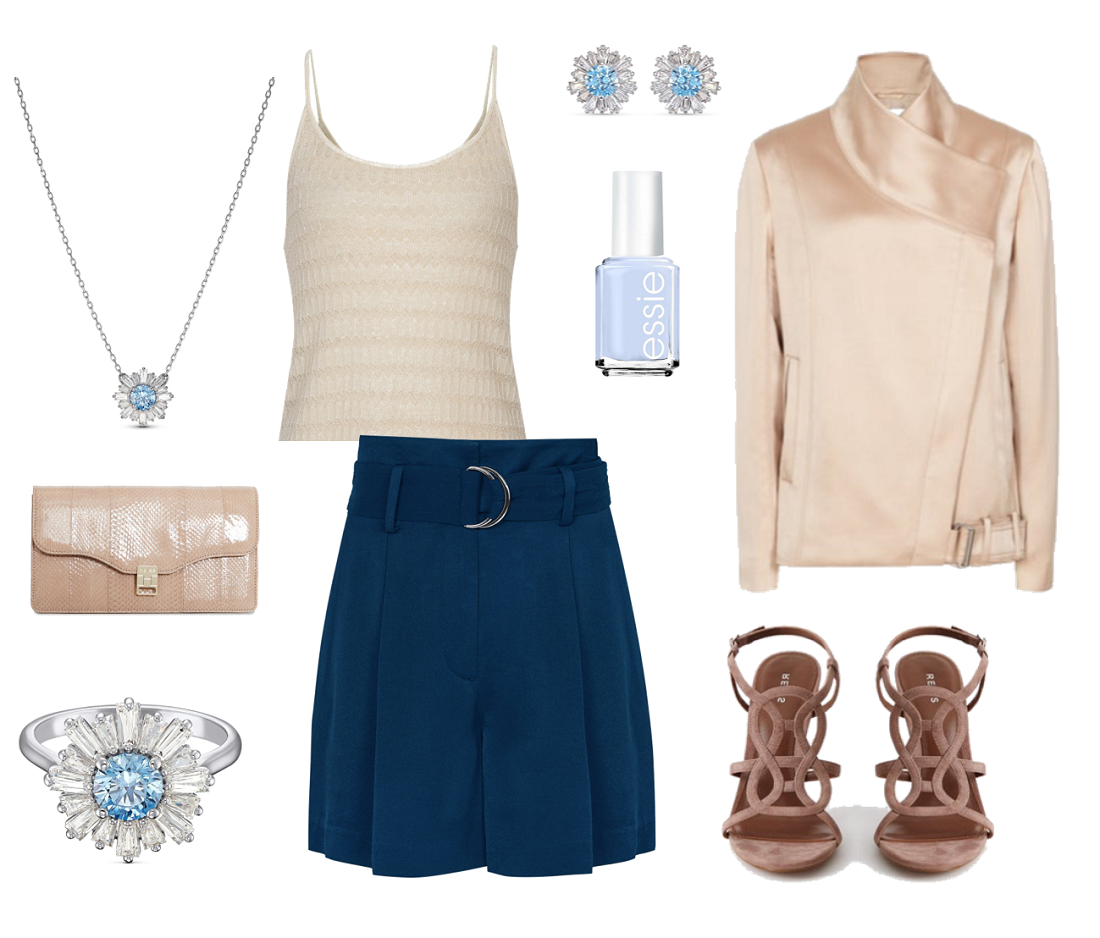 Whatever your plans for this January, brighten your mood with shades of calming blue added to your daily style and get ready to sail into Spring! Checkout collection of online jewellery in uk. The perfect combination of timeless Swarovski design and the eye-catching blue tones.
Shop the Swarovski Anniversary collection.
Make blue a statement this Winter and banish the January blues.
At Niche Jewellery we are passionate about high quality, beautiful jewellery. We love helping you find your perfect piece or gifts for friends and loved ones. From time to time we review and revise our blog content to make sure we bring you the latest jewellery style inspiration. This blog was updated for content and accuracy in June 2020.