Bridesmaids play an important role at most weddings, and it falls to the bride to make sure they look stunning and complement the bride's outfit and wedding theme.
Choosing jewellery for your bridesmaids can prove to be a tricky process. Jewellery is such a personal thing, and preferred jewellery styles vary greatly. How do you make sure the jewellery complements the bridesmaid outfits, wedding theme and bride's look, without being too overpowering?
Here are our top tips to be sure you don't end up in a jewellery muddle at the last minute!
Dresses first
First things first - don't even think about jewellery until dresses are chosen. Their dresses will heavily influence the style of jewellery that will work best. Put some budget aside for jewellery and don't leave it to the last minute, but focus on dresses first.
[caption id="attachment_335" align="aligncenter" width="400"]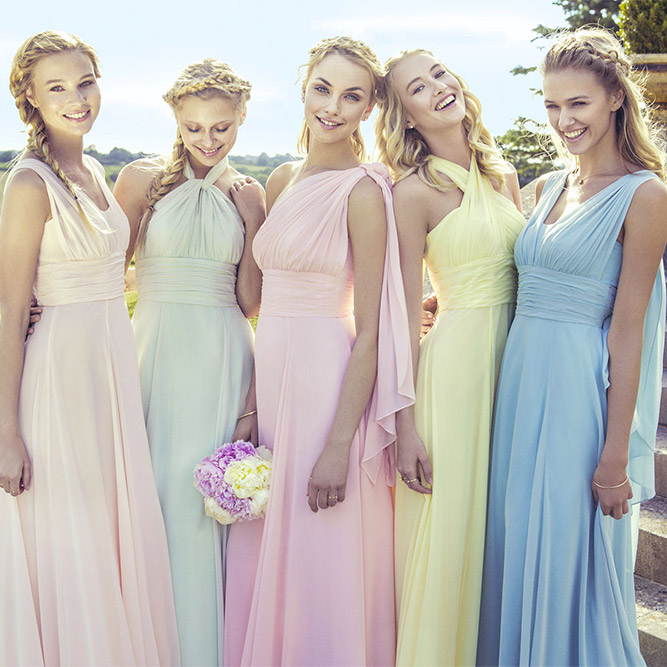 First on the list - choose the bridesmaids dresses![/caption]
Check requirements
Are any of your bridesmaids allergic to a particular metal? Do they have pierced ears? It can be surprising to find one of your best friends doesn't have pierced ears and you have never noticed! Best not to notice on the morning of the wedding.
Whilst you can involve your bridesmaids in choosing jewellery, it may be simpler to do this yourself to avoid any conflicting tastes complicating the process. However, you do need to at least find out if they have any special requirements or requests to consider before you go ahead. Once you have the crucial information, get browsing. Check out our bridesmaids jewellery suggestions here.
[caption id="attachment_337" align="aligncenter" width="400"]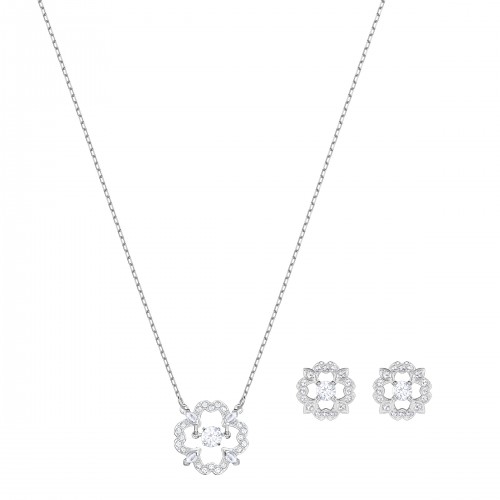 Swarovski Sparkling Dance Flower Set - simple but stunning[/caption]
Two birds
Jewellery is the perfect gift for your bridesmaids, so they can wear gorgeous matching jewels on the day and have a special gift to keep as a thank-you for their involvement in your big day. Jewellery is one of the traditional gifts from the Bride and Groom to the bridesmaids, and you can give this gift on the day before or the morning of the wedding during a few special moments before the big event.
[caption id="attachment_333" align="aligncenter" width="400"]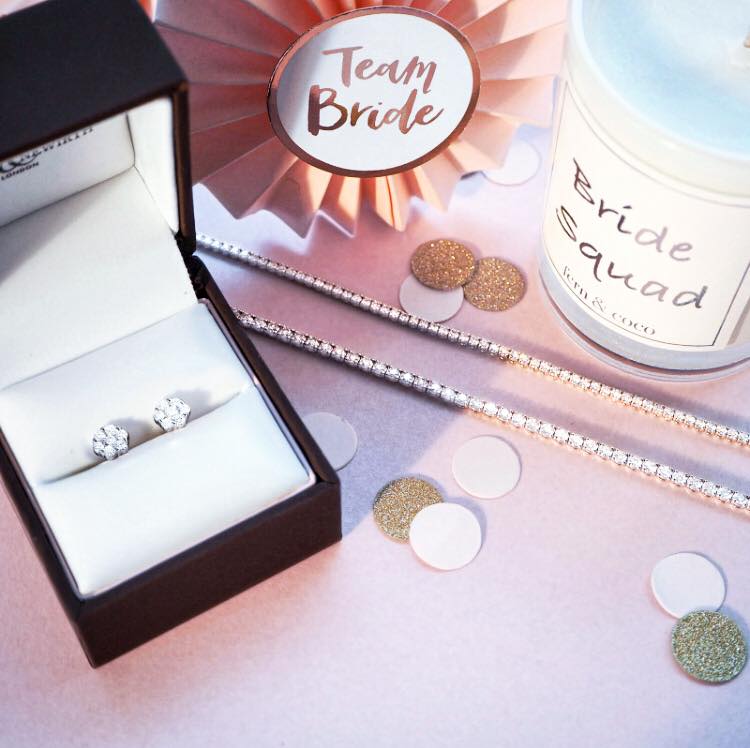 Use selected jewellery as a gift for your bridesmaids[/caption]
Versatility is queen
Don't automatically look for jewellery that matches the bridesmaid dresses you've chosen. Firstly, you don't want them to look too matchy-matchy or overpowering, especially if the dresses are a strong colour. A simple clear stone and metal finish that complements the dresses is perfect - there is still a multitude of styles to choose from within these guidelines - simple or more intricate, modern, romantic or vintage.
Secondly, and particularly if you are giving the jewellery as a gift, it's best to choose something that can be worn again and with different outfits. Emerald green may be a perfect match to the dresses, but may not go with many other clothes in her wardrobe!
[caption id="attachment_334" align="aligncenter" width="400"]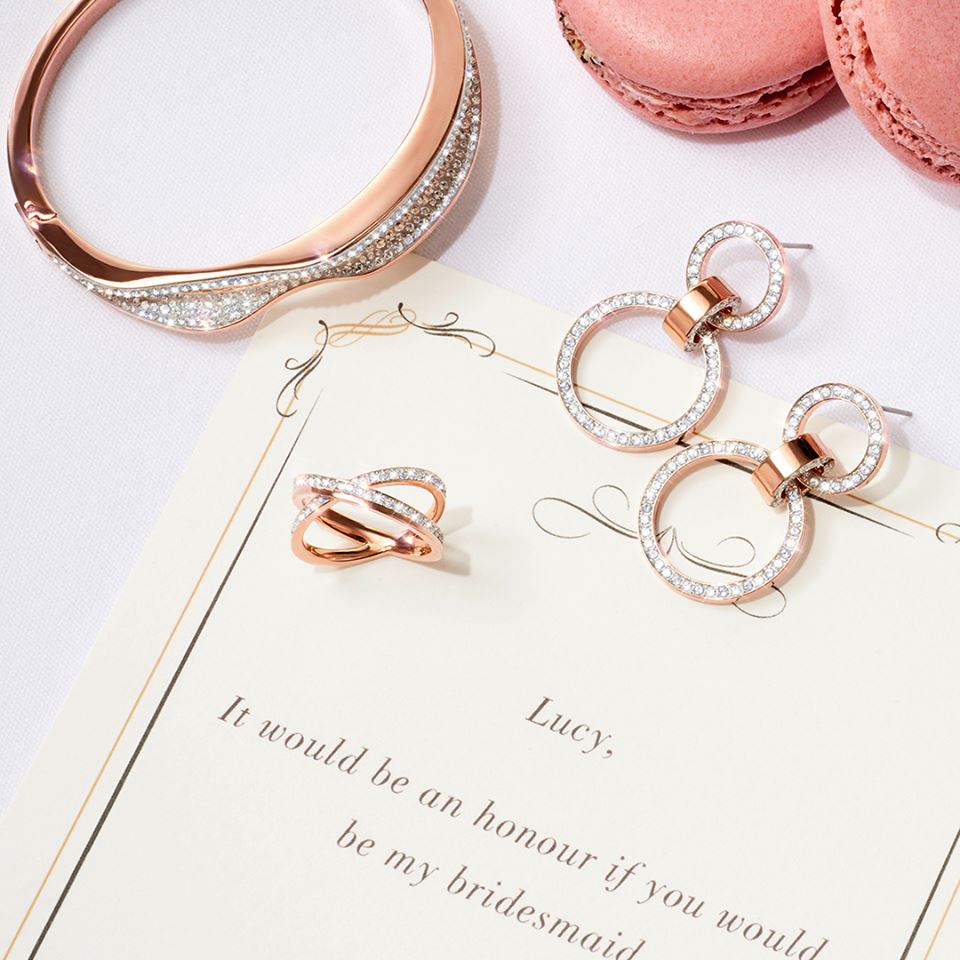 Stick to simple, versatile styles[/caption]
Personalise
There are a few ways to personalise jewellery. You could choose slightly different styles from the same range for each bridesmaid, to keep a theme but give a point of individuality. This works perfectly if the dresses are slightly different, but can also be lovely if the dresses are identical. Swarovski's Angelic, Sparkling Dance Star, Sparkling Dance Flower, Attract and Circle ranges are all brilliant for choosing different items within one of these ranges.
Another option is to choose a style that can be engraved, and have each bridesmaid's pendant or bracelet engraved with a special message, initials, significant date etc. Thomas Sabo has a fantastic range of engravable jewellery, and the engraving is relatively quick and inexpensive in most places - get some ideas for engravable jewellery here.
[caption id="attachment_336" align="aligncenter" width="400"]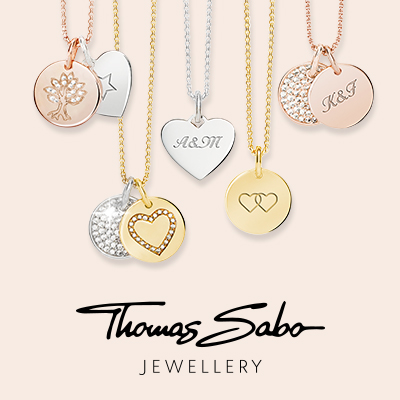 Consider personalising your jewellery gifts[/caption]
Stick to these top tips to ensure you have stunning bridesmaid jewellery and gifts without any  hassle or last-minute hiccups.
Happy wedding planning!